Are you looking to streamline your workflow and boost productivity in 2023? Look no further than the latest and most excellent AI tools available today. These tools are designed to help businesses of all sizes automate routine tasks, gain valuable insights, and make data-driven decisions. From chatbots and voice assistants to predictive analytics and machine learning, there's an AI tool for every need.
In this article, we've curated a list of the best AI tools that can help you take your business to the next level. So, whether you're looking to optimize your marketing campaigns, improve customer service, or streamline your operations, these cutting-edge AI tools have got you covered.
Music and Audio AI Tools
Not only into the work stuff but there are also AI tools that can help you create music with just a few clicks. You can also use several Audio AI tools that can help make your work lighter and easier.
Krisp AI
Do you hate it when you're in a meeting and there's unnecessary background noise and sounds entering your meeting? Well, you can now easily remove all of those sounds and noises with the help of Krisp AI. You see, Krisp AI is like a layer between you and your meeting program. Krisp AI is a layer that removes and cleans up your audio before it reaches other members in the meeting or conference. One reason a lot of people are going ahead with this tool is only that it's free for a lifetime, and you don't have to make use of any trial whatsoever.
Key Features: Completely Free | Removes Background Noise | Audio processing Happens On Device Only | Video Audio Insights | Secure Encryption With Google Auth | Supports Multiple Video Call Programs | USed By Popular Companies and Brands Worldwide
Check the Website: Krisp
Beatoven AI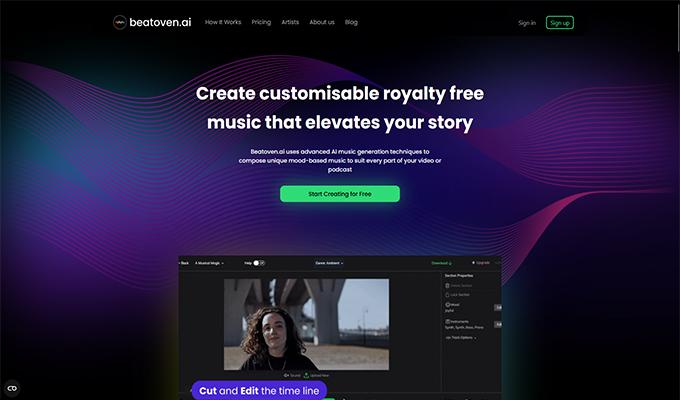 Beethoven AI helps you remove the days when you needed to understand music concepts to create music. With Beatoven AI, all you need to do is pick up a genre,  adjust different cuts on the audio track,  pick up the right mood, and then create your track. The AI will compose your track. You should have an output file ready for use anywhere and everywhere. The best part about using Beatoven AI is that the music is copyright free, meaning you can use it for videos on YouTube and other platforms without having to worry about copyright warnings.
Key Features: Easy To Use | Choose Different Music Instruments and Moods |Perpetual License To Monetize Music | Create unlimited Projects | Reasonable Paid Plans | Download Music Stems
Check the Website: Beethoven AI
Cleanvoice AI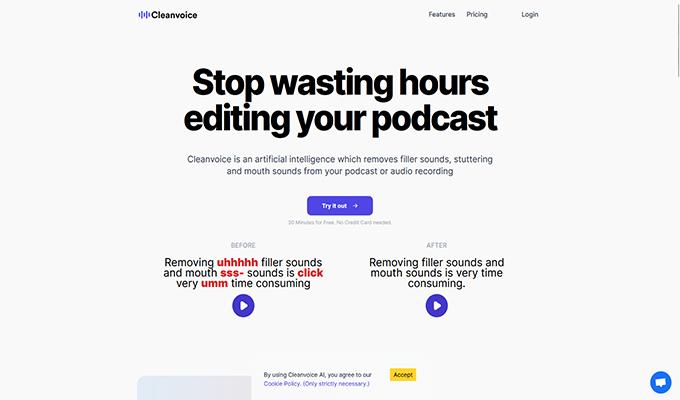 Are you someone who creates many podcasts and publishes them on various platforms? Well, you can now use an AI assistant to help you with your podcast work. Cleanvoice AI lets you edit your podcasts easily. You no longer have to worry about unwanted sounds, filler sounds, or even the long silence between words or conversations. Cleanvoie AI also has a timeline that will show you the audio clips and parts that need removal. Cleanvoice also has a Podcast name generator as well as a questions generator. Free users get to use the free 30 minutes to edit their audio podcasts.
Key Features: Quick Editor | Easy Audio Exports | Removes Filler Words And Unwanted Silence | Editing Timeline | Supports Multiple Languages |generate Podcast names | Create Episode Titles | Generate Questions For Podcast Topic | Credits Rollover To Next Month
Check the Website: Cleanvoice AI
Podcastle AI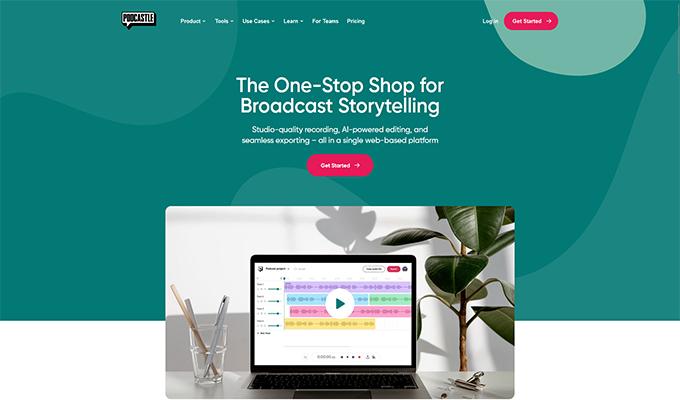 Here is another tool for all those who love creating and publishing podcasts. With Podcastle Ai, you can take care of and manage a lot of your podcast work easily. From recording audio and video, editing your audio, and removing audio silence, Podcastle AI has got your back. All of the tools that Podcastle AI has is of the highest quality, whether it's recording audio or exporting high-quality outputs, The best part about using Podcastle is that you only need a web browser to make use of the whole suite.
Key Features: High-Quality Tools | Run In Web Browser | Multi-Track Recording | Audio transcription | Text to Speech | Digital Voice Copy | Silence Remover | Reasonably Priced Plans | Access To Royalty Free Music
Check the Website: Podcastle AI
Soundraw AI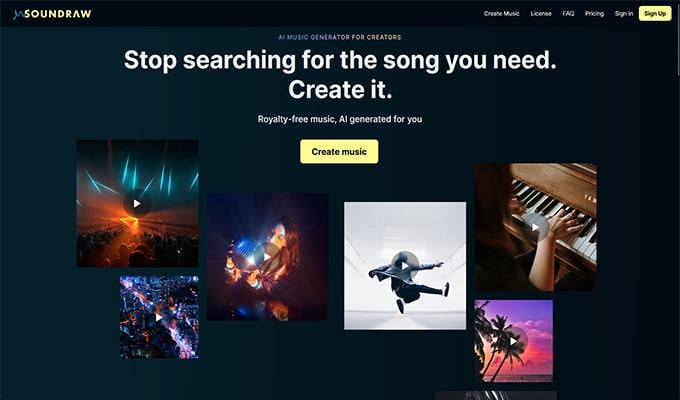 Soundraw is a great AI tool that helps you create your royalty-free music. Yes, you heard that right! You don't have to spend hours looking for the perfect music or soundtrack for your video creations. Soundraw AI lets you create short intro music as well as full-length music with ease. The good part about using Soundraw is that you get a permanent license to your created music. You can use it anywhere and everywhere without worrying about copyright strikes and permissions.
Key Features: Create Music From Scratch | Copyright Free Music | Permanent License | Unlimited Music downloads | Use Music In Youtube Videos | Games, Apps, and Advertisements |Download 50 Songs Per Day | $19.99 Per Month
Check the Website: Soundraw AI
Design AI Tools
There are now a good number of tools powered by AI that help you generate a lot of illustrations and designs by just using AI. Here are some of the best pens you need to be using.
Flair AI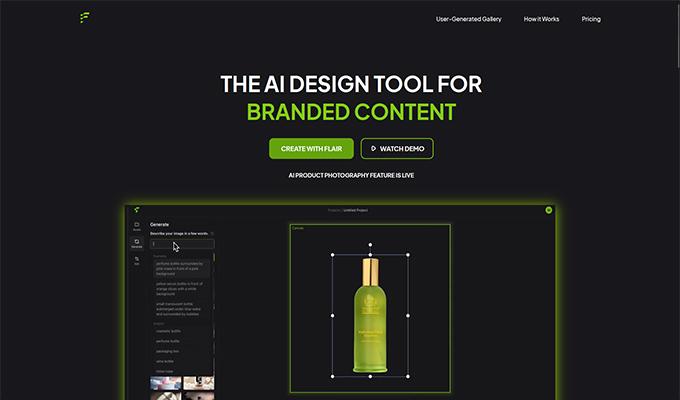 Flair AI is a great design tool that can be used by anyone. With just enough basic knowledge, you can make use of this tool simply because you need to describe your design in a few words, and the AI tool will help create the design for you right away. Once the design has been generated, you can make changes and edits and then share the final output anywhere you want, including saving it to your device or posting it to social media platforms. Flair AI has a free trial for you to try out before you choose to go ahead with a monthly subscription plan.
Key Features: Drag and Drop Interface | Lots Of Assets | Works In Browser | Basic Editing Tools | Generate Images Using Word Prompts | Easily Create Product Photography Images | Remove Backgrounds | Resize And Rotate Images | Quickly Export And Share Final images
Check the Website: Flair AI
Illustroke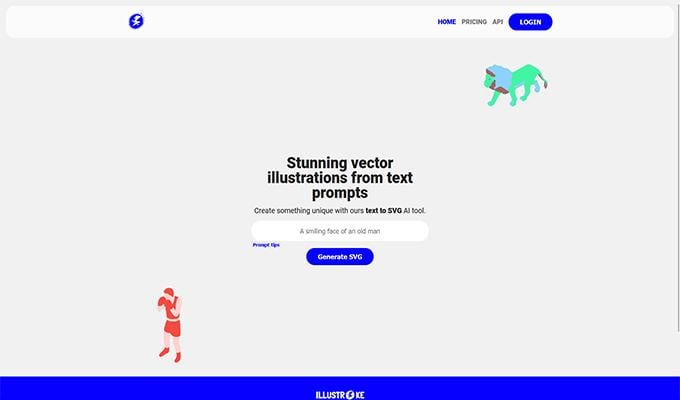 Here is another AI tool that helps you design images and create interesting posters and artwork. All you need to do is provide prompts to the tool, and the AI will generate an image based on what you have written. With Illustroke, you can easily convert text into an image within seconds. The tool is simple and easy to use. You can choose from the two plans available. This AI tool works based on tokens. You can buy the tokens or use other ways to get a free token from Illustroke itself. The AI tool provides you with up to three variants to choose from.
Key Features: Easily Generate With Word Prompts | Freely Download Illustrations | Use For Commercial and Non-Commercial Purposes | Illustrations Locked Only To You | Get Free Tokens | Use Freely Anywhere
Check the Website: Illustroke
Patterned AI
As the name of the AI goes, you can easily guess what this tool can be used for. Using his tool is super easy. All you need to do is enter in prompts. But you don't simply enter two words to generate your pattern. Patterned AI requires that you enter the core prompt followed by the type of style, artist style, and, finally, finishing touches for your pattern. Using Patterned AI requires creativity as the AI can easily generate whatever prompts you to throw at it.
Key Features: Unlimited Photo Downloads | Royalty Free Images Generated | Generated Patterns Viewable In Public Gallery | Reasonable Subscription Plans | High-Resolution Images With Paid Plans
Check the Website: Patterned AI
Stockimg. AI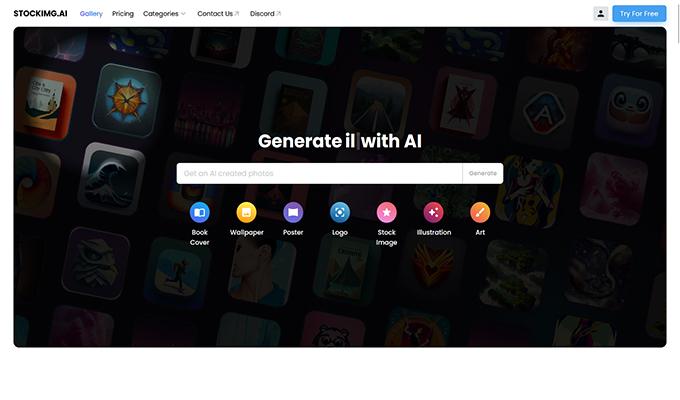 Looking for Stock Images can sometimes be a chaotic process. It takes time and requires you to browse hundreds, if not thousands, of images to see what works best for you. Thankfully, AI has now made it easier for you to look for stock images. With Stockimg.AI you can easily enter prompts. These prompts will help you create stock images, book covers, posters, logos, illustrations, and even art.
Key Features: Multiple Image Creator | Simple Interface | Free and Paid Plans | AI Upscaling To 4K Resolution | Images Generated With GPU Help | Free Use For Commercial and Non-Commercial Projects | Image History | Pocket-Friendly Monthly and Yearly Plans
Check the Website: Stockimg.AI
Looka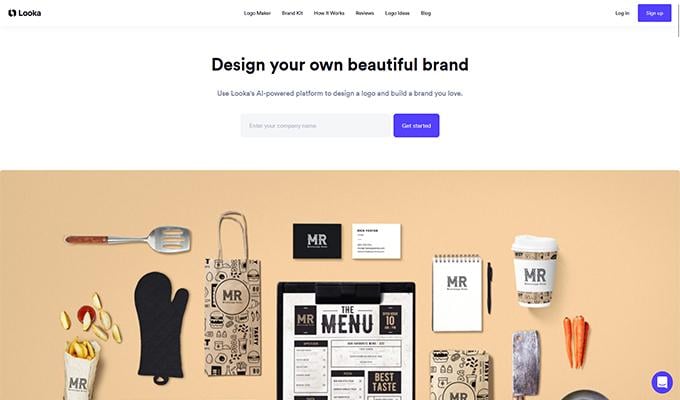 Are you a designer that has run out of all ideas and inspiration? Looka is your best friend. With Looka, you can easily and quickly design your logos with just a few text prompts. Looka will then show you many custom-designed logos.  Once you have got yourself the perfect logo design, select it and make some edits and changes according to your taste. Finally, you can preview how your logo will look in different types of articles Once you are fully satisfied, you can download and use the AI-created logo anywhere you would like to.
Key Features: Free To Use | Perfect For First-Time Users | Multiple Results Generated | Preview Logos On Products | Choose Colors With Ease | Finalize Logos With Custom Edits | Logo ideas and Tutorials
Check the Website: Looka
Cleanup.Pictures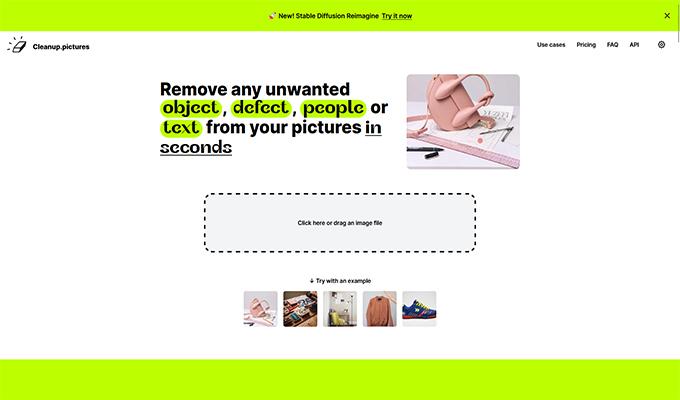 Now, we all take many pictures anywhere, and everywhere we go. However, there can always be some issues with a few pictures. These issues could be unwanted persons or objects, or for that matter, it could also be some defects such as lighting and anything else. While you would sit and adjust them out in Photoshop, AI now lets you do it quickly. Simply make use of Cleanup. Pictures and the AI will do your job. Simply direct what you want to remove, and voila, it's gone.
Key Features: Quickly Retouch Images In Seconds | Easily Remove Watermarks | Supports High-Resolution Image Outputs | Affordable Monthly Subscription Plans | Supports Mobile and Desktop
Check the Website: Cleanup.Pictures
Copywriting AI Tools
Did you know that there are a good number of AI-powered tools that can make your writing work so much easier? You can easily create good copies, emails, and even listings for Amazon by just using AI. Let's take a look at some of these AI tools.
Copy.AI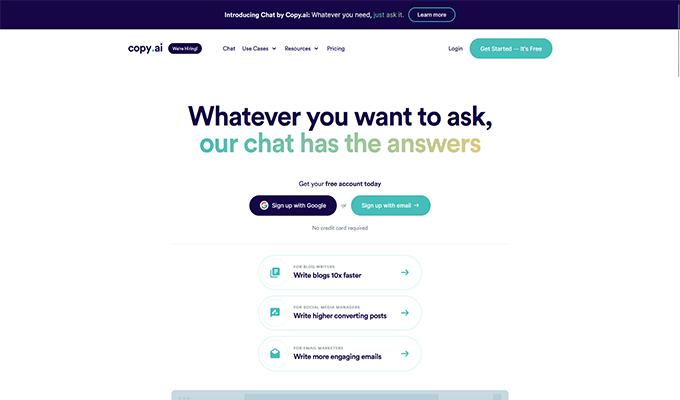 Copy.AI is a very popular AI tool used by a lot of writers. This AI tool lets you create blogs, emails, and even social media content for you. This is a great and easy-to-use tool for those who have to write a lot of copies for sales and even for eCommerce departments. Just like the rest of the AI tools, Copy AI requires inputting some sort of prompt. You also get to choose the type of tone, the main points to cover, and some sort of context. Once the AI has this information, it will immediately display the results. You can choose and organize the results according to you, make some edits, and publish the content right away.
Key Features: 7 Days Free Trial | Around 90+ Content Types To Create | Create Content For Blogs Sales, And Advertisements | Results generated Quickly | Easily Edit and Publish Content | Free Ai Writing Generator and Templates | Unlimited Projects | Supports 25+ Languages
Check the Website: Copy AI
CopyMonkey.AI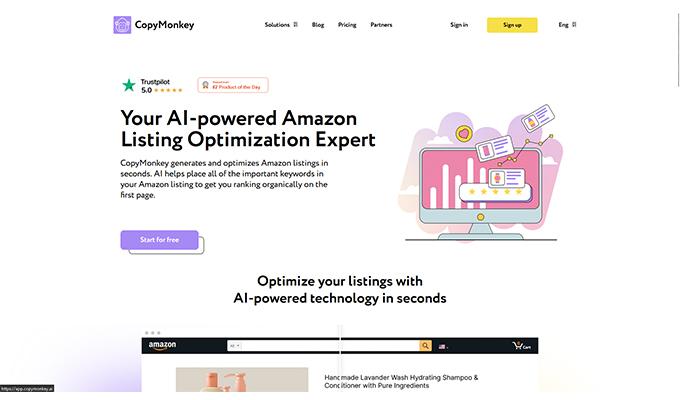 Are you someone that sells a lot of products on eCommerce websites such as Amazon? Sitting and typing out the product description, as well as the title for the product, can take some time. Sure, you do your best to ensure it reaches the top of the search results within Amazon itself. Why waste all this time when you can easily make use of AI tools to generate your Amazon product listing as well as your description?
Key Features: Listings Generator | Keywords Uploader | Quickly Export Listings | Product Description Generator | 6 Months Free On Annual Plans | Write Content Based On Competitors Listings | Optimized Listings | 100+ Users | Free Trial Available
Check the Website: CopyMonkey.AI
Ocoya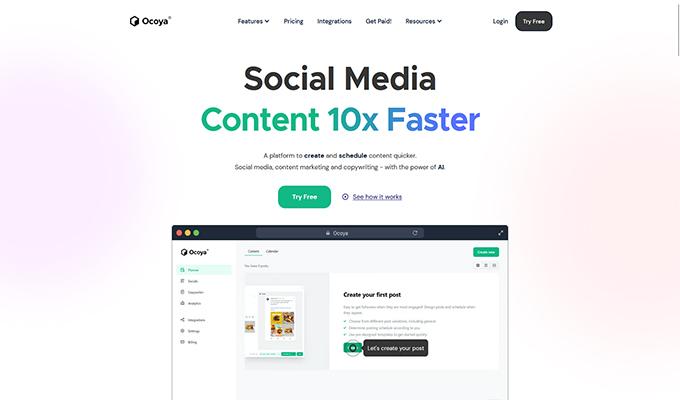 While the tool's name might not indicate what it does, Ocoya is all about creating social media content faster than you would normally take to do. Since Social Media changes quickly by the hour, you must keep up with the trends. Thankfully, with Ocoya, you can create posts, posters, and images with the help of AI. Ocoya lets you integrate more than ten types of Social Media platforms to which you can post your content. Ocoya shows you post analytics, creates short links, writes up content, and schedules your social media posts immediately.
Key Features: Create Posters and Images With AI | Schedule Posts | Generate Copywriting Content | Supports E-commerce Platforms | Auto Generated Captions And Hashtags | Reasonable Yearly Subscription Plans | Free Trial Available
Check the Website: Ocoya
Unbounce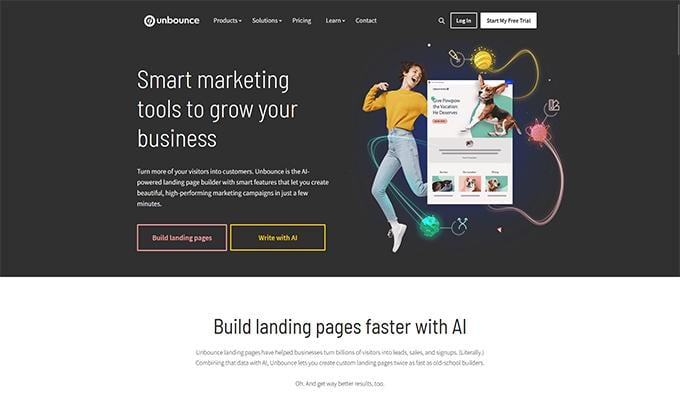 Looking to gather more customers and clients for your business but don't have the right tools? Here comes Unbounce. Unbounce is here to help you create informative yet beautiful landing pages with AI's help. Unbounce can be used to create a lot of marketing content which should help get in more leads to your business Unbounce helps you create interesting emails that get responses, create interesting advertisements, and even posts for social media. An excellent tool for those looking to grow their small and new business online.
Key Features: Create Lead generating Landing Pages | Send Cold Emails | Easily Sell Products Online | Create Social Media Posts | Create Copies | Web Traffic Optimization | Multiple Plans Based For Your Requirements | 14 Day Free Trial | Free Hosting With Select Plans
Check the Website: Unbounce
Video Creation Tools
We have seen a good number of tools that help you create audio and images. Now, here are a bunch of AI tools that will help you create videos with ease. No need to worry about not knowing the basics of video creation. Check these tools out!
Vidyo.AI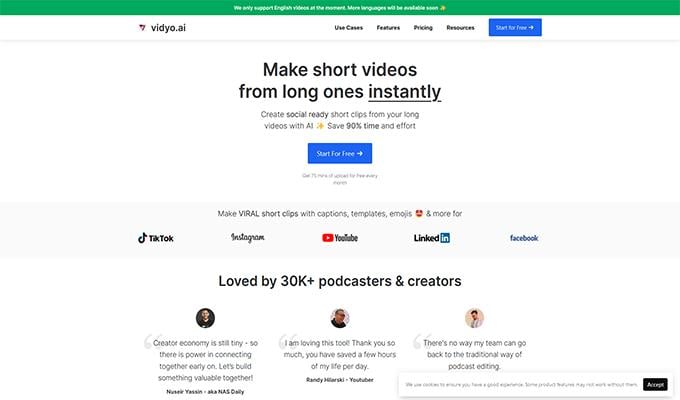 The internet has changed the way we view videos online. Gone are the days when everyone had a good attention span to watch long videos. In the age of Facebook and Instagram reels, TikTok Videos, and YouTube Shorts, the attention span has been reduced by a lot for everyone. With Vidyo.AI, you can easily upload long-form videos and create short-form one switch ease. You no longer need to waste time with a video editing tool to create short-form videos.
Key Features: Generate Shot-form Videos In Minutes | 1080p Video Quality | 100+ Templates | Easy To Use | Video Captioning | Quickly Clip Videos | Crat Video Chapters Automatically | Resize Videos | Free and Paid Plans Available
Check the Website: Vidyo.AI
Maverick AI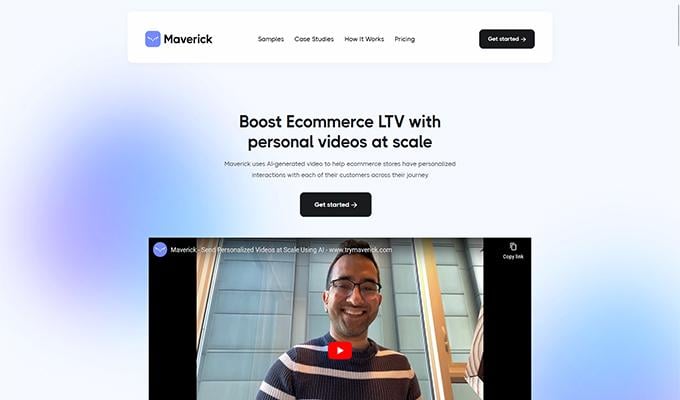 Creating personalized videos manually can be a time-consuming process. Thanks to AI, there's a tool that can help you easily create personalized videos for the masses. Maverick can help you create kinds of videos with ease. All you need to do is create one video of yourself saying something or whatever you want. Once you have that one video created, upload the video to Maverick and then ask Maverick to replace certain names in the video with other ones. Maverick will create a video with your text prompt and that's how you can easily create personalized videos.
Key Features: Create Personalized Videos In Seconds | Helps Create Brand And Customer Engagements | Numerous Pre- Built Scripts And Templates | Easy Setup And Interface
Check the Website: Maverick AI
Synthesia AI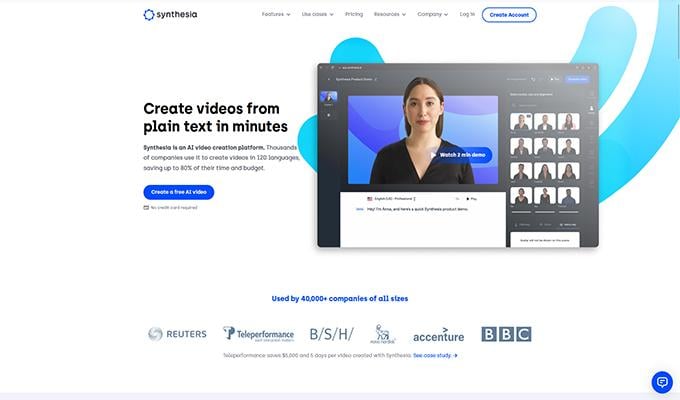 Are you tired of planning and organizing video shoots only to see that none of the videos ever get recorded? Say goodbye to all of it by making use of Synthesia AI. Synthesia AI is a video creation tool that lets you create full-fledged Training, How To, and Marketing Videos by just using a web browser on your PC. You can choose the type of person as well as the language to be used in the video. Synthesia will help you save money, time, and help create videos that serve as updates for videos that you might have already uploaded.
Key Features: Create Videos In Seconds | beginner Friendly | Supports 120 Languages and Accents | 100+ Different Avatars | Easily Edit Videos via Web Browser | High-Quality Audio | Closed Captioning Available | 60+ Video Templates | Built-In Screen Recorder Tools | Create Custom AI Avatar | Reasonable $30 Monthly Subscription Plan
Check the Website: Synthesia AI
Descript.AI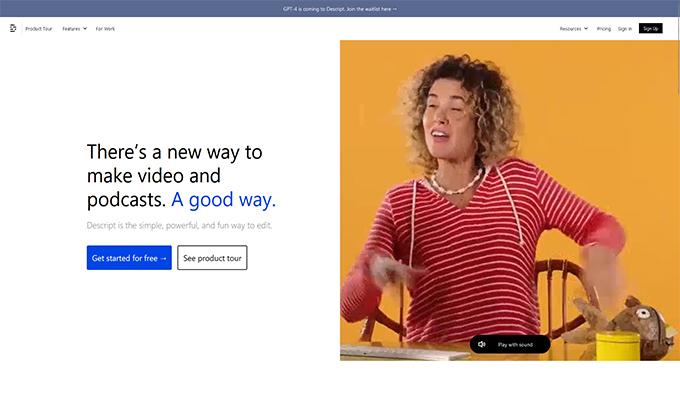 Creating videos and podcasts has become even easier. All you need to do is get your hands on Descript. With Descript you will be able to easily create your videos, edit them, add subtitles, and also be able to clean out filler words from podcast audio. Descript offers you so many tools that can be used for free and with ease. The perfect tool for those who might be getting their hands for the first time into video editing and podcasting.
Key Features: Dark Mode | Transcribed Audio From Videos | Creates Clones AUdio | Removes Filler Words | Multiple VIdeo Templates | High-Quality Stock Footage and Images | Record Screen | Green Screen Videos | Adjust Transitions Animations and Effects | Free Plan Available
Check the Website: Descript.AI
Content Generation
Say goodbye to the times when you had to spend so many hours looking for content ideas to create new content. AI has made life so much easier for people that now you simply can use a few prompts and get a good idea of what type of content you need to be creating next. Check these AI content-generating tools out.
Inkforall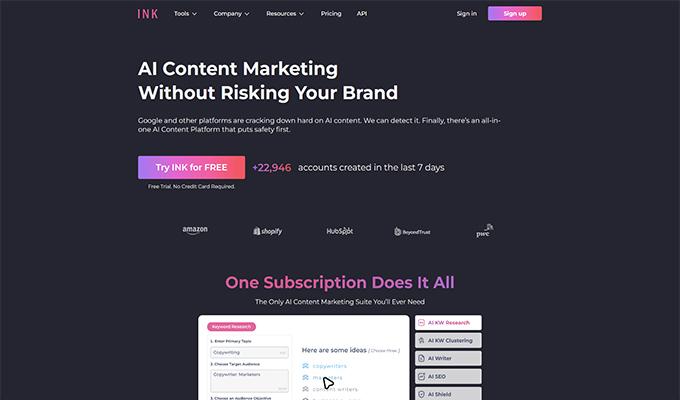 Creating content with AI can be easy, but protecting it from being detected by AI-detecting tools can be difficult. It can cause some problems with your content and nobody likes that. Thankfully with INK, you can now easily write your content with peace of mind. Ink has Ai writers, AI image creators, AI assistants, and even the ability to search for keywords for your next blog or video. However, Ink can be used for one specific reason- its AI Content Shield. With this shield, your content will be protected from AI detection tools. A large community uses Ink, which is also a good place to share and cook up new ideas.
Key Features: All In One Tool | Write Documents With AI | Create Images and Posters | Search For Keywords | SEO Optimization | Protect From Plagiarism and AI Detection Tools | Multiple Templates | Supports 20+ Languages | Free Trial Available
Check the Website: Inkforall
Thundercontent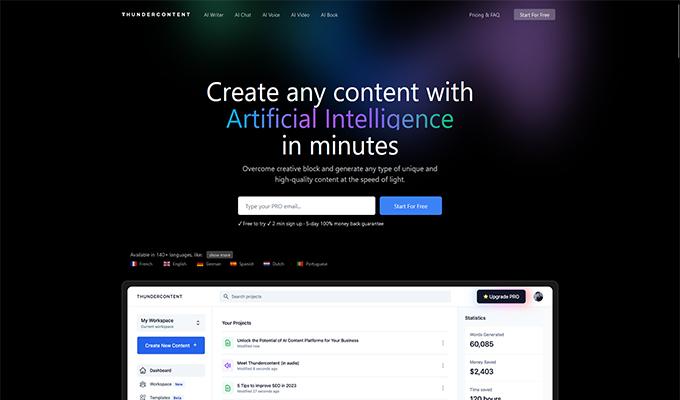 All-in-one tools powered by AI have been a great success. This is because people now want tools that have a good number of features. And, if you are someone who is a marketer or someone who creates content as a full-time job, you might want to give Thunderconent a try. Thudnercoent l You can easily write content and create online copies faster than ever, thanks to the AI writer tool. There's even an alternate version of ChatGPT with Thundercontent that you can use to research for your content creation.
Key Features: Ai Writer | ChatGPT Alternate To Search and Chat | Create AI Voices In Seconds | AI Video Creator | Writes Books With AI | Supports 140+ languages | Free Trails Available
Check the Website: Thundercontent
Qucikchat AI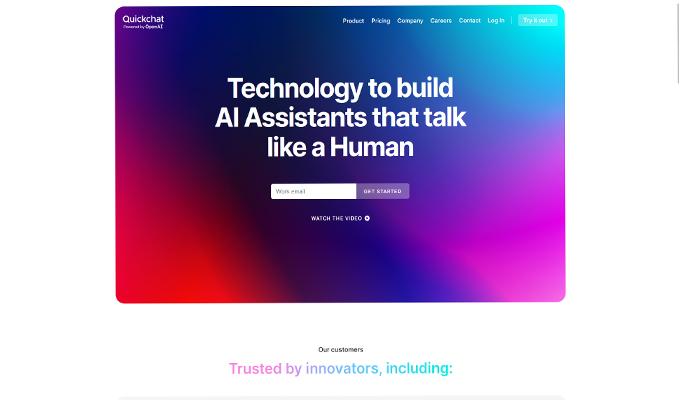 Quickchat AI can be used to create live chatbots for websites, apps, and even messaging applications. All of these assistants created with Quickchat are based on and powered by GPT-3. The best part about creating these AI chatbots is that you don't need to know or use any code. AI makes it easier to build and integrates these bots for Live chats with the visitor on websites.
Key Features: Create AI ChatBots Quickly | Supports App, Websites, and Messaging Platform Integration | No Coding Required | Powered by Open AI ChatGPT 3 | Paid 14-Day Trial For $14
Check the Website: Quickchat AI
Resume Worded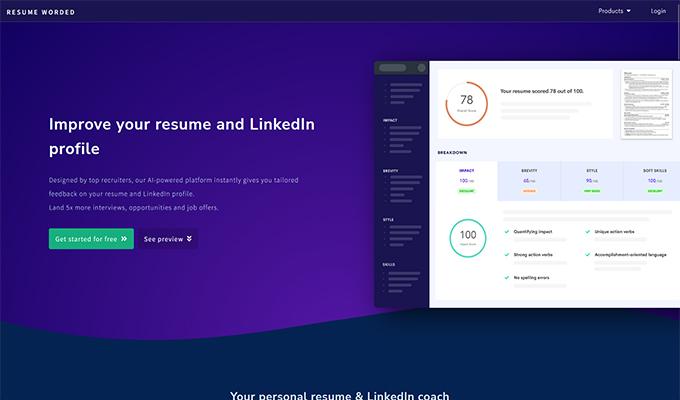 When looking for jobs from around the world, companies require you to send them your resume. Sure, your resume might seem good to you with all the information provided. However, when it reaches a company, it can be completely different. Based on your resume you may or may not get any contact from the company. So to curb and kill this problem, Resume Worded is here to help you. Resume Worder will help optimize and better up your resume. You will receive reviews of your resume instantly and best of all, you can also ask the tool to prepare your resume for a particular job that you might have been looking to apply for. The tools are powered by AI and have been created by top recruiters from various industries.
Key Features: Improve Your Resume | Get Resume Reviews Instantly | Prepare Resumes For Job Targeting | Resume Optimization | Multiple Templates Available | Resume Grammar Checker | Add Keywords To Resume | Optimize LinkedIn Profile
Check the Website: Resume Worded
Otter AI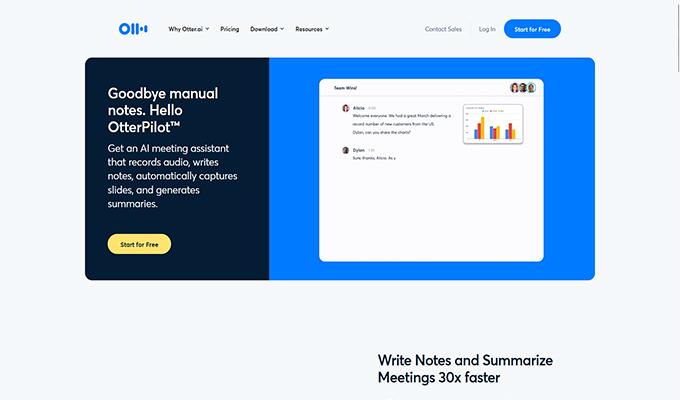 Wouldn't it be perfect if you had a meeting assistant with you at all times? Well, thanks to Otter.AI, you can fulfill your wishes. You see, Otter.AI is a meeting assistant tool that helps you by recording audio,  taking down important notes, capturing presentation slides, and creating meeting summaries on the go. Otter.AI can be integrated with popular video conference tools like Zoom, Google Meet, and Microsoft teams. A student version of Otter AI can help you take notes during your classes online.
Key Features: Free Plan Available | Takes Notes From meetings | Creates Minutes Of Meetings | Captures Presentations | Integrations WIth Video Conferencing Software | Supports Android, iOS, and Chromium Browsers
Check the Website: Otter.AI
There's An AI For That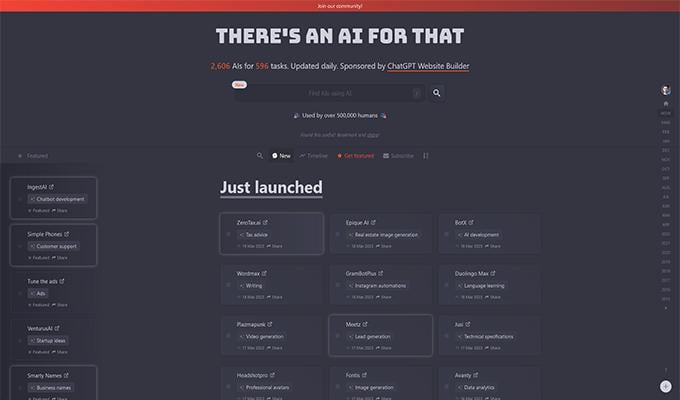 We live in a world where so many AI tools are being created and made available to the public. This is great, but keeping up with what AI tools have been released is tough. Thankfully, there's a website that has a large AI directory. So, this website shows you all the types of AI tools you can search for and use. The website is easy to navigate through. You can see what AI tools have just been released and even view them alphabetically.
Check the Website: There's An AI For That
The AI tools available today have the potential to transform the way businesses operate, streamline workflows, and drive growth. From chatbots that can handle customer inquiries to predictive analytics that can help you make data-driven decisions, these tools can help you optimize your operations and stay ahead of the competition. By leveraging the latest AI tools, businesses can achieve unprecedented levels of efficiency and productivity. Whether you're a small startup or a large enterprise, exploring the world of AI tools and embracing the latest technologies is crucial. We hope this list of the best AI tools for 2023 has inspired you to take your business to the next level and achieve your goals.