There is not a single day you don't use your phone for texting or chatting. You probably spend a good chunk of your day using your mobile phone. You most likely use Google Maps for navigation, use Gmail instead of mail, use Google Photos instead of Photos, and use YouTube for watching videos on your iPhone. And you're right to do so. So why can't you switch your keyboard to something that works like a dream? GBoard, another app from Google itself to make your typing experience easier than ever before.
Let's bring the most exciting features of Google Keyboard that are available for iPhone users.
Emoji Search with GBoard
You can say that your keyboard is fine, which may be true. But since when did you settle for fine? If you need a high-quality glide-type experience, then upgrade to GBoard for iPhone. GBoard Emoji Search function has a load full of specs to make your typing effortless. There is a lot of emojis on your phone. And there is not a single chat where you don't use an emoji. The searching of emoji which is apt for the situation is a task. Well, it's not on GBoard though.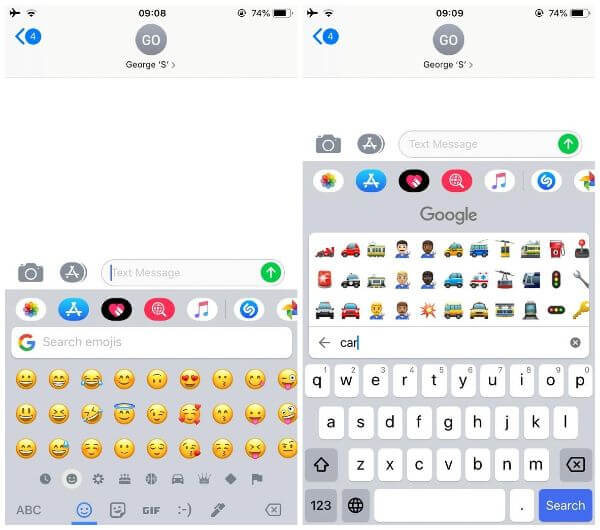 Googlle Keyboard for iOS lets you search for the right emoji by drawing it. Yes, that's right. You can draw a car on the screen to view all car related emoji. You can draw a flower on the screen to view all flower related emoji. If you're not much of an artist, you can simply search emojis by typing. That is, just type car in emoji search and you find all emojis of car related in the blink of the eye. It's nice, isn't it? And that's only one of the unique features of GBoard among plenty others.
Related: 9 iPhone Keyboard Shortcuts & Tricks to Save Time
Multilingual Typing and Customization
iPhone GBoard supports languages from A to Z. That is Afrikaans to Zulu. As of now, you can type in 58 different languages using GBoard on iPhone and probably more for Android users. And that's more than enough for you, right? GBoard for iPhone not only supports Glide typing but also Voice typing which easily dictate text on the go. Long press on the space bar to turn the microphone on.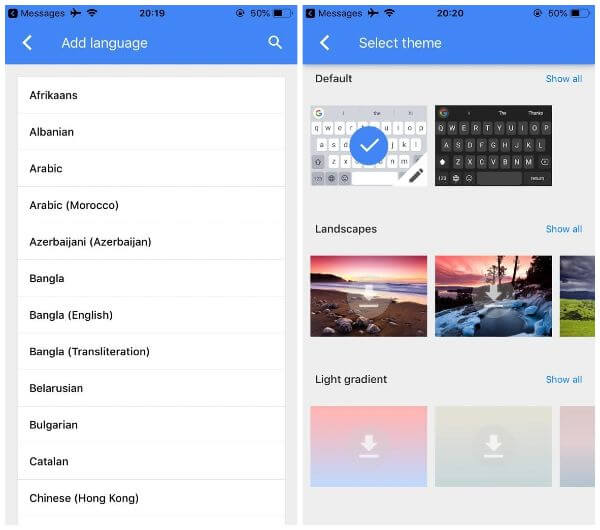 Google lets you customize your GBoard with plenty of revamped themes and gradient themes for you to pick from. You can change everything from background colors to glide tail thickness.
Built-in Google Search and Translator
The iOS GBoard app has Google search built right in. That is, you can search the web directly from the keyboard without even opening the browser. You can also translate the words and phrases in real time from any app.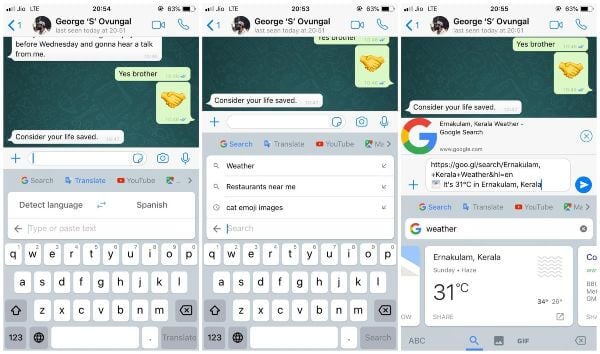 You can even share results from the web directly to chats; Nearby shops and restaurants, Videos and images, Weather forecasts, News and articles, Sports scores, etc. Literally, search and send anything from Google.
Related: 12 Best Travel Apps for Apple Watch for Next Trip
GIF and Sticker Search
GIFs are becoming unavoidable in a chat nowadays. GBoard has a GIF search built right in. You can search for GIFs for the best reaction easily. It even has a functional GIF creator too. GBoard also lets you say it with stickers.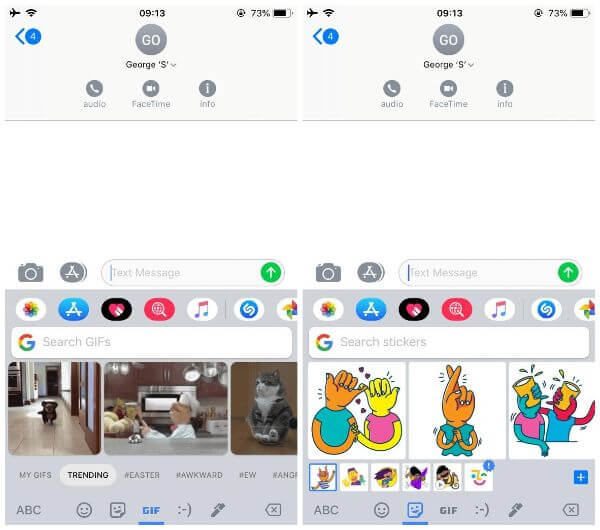 You can create stickers in GBoard. You can also download stickers from the sticker gallery. GBoard also lets you create personalized stickers of yourselves, called Minis. Create and express yourselves to your loved ones using Minis.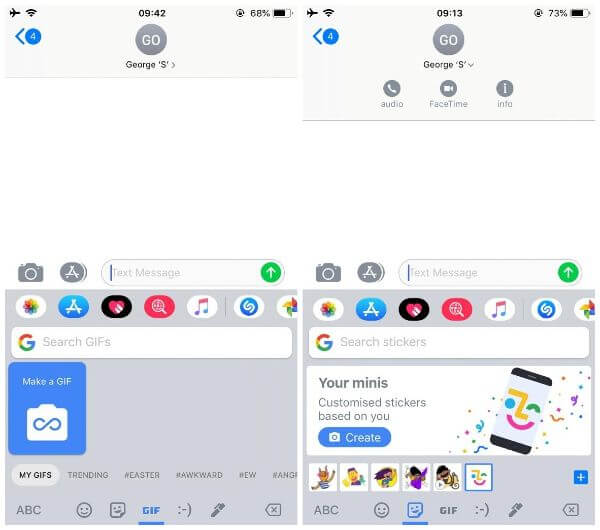 Keyboard as a Trackpad and One-handed Mode
The features of Googlr Key Board is not just limited to search for related benefits. GBoard has aplenty of touch-based features too. You can add period and space to the previous sentence by simply double tapping the space bar.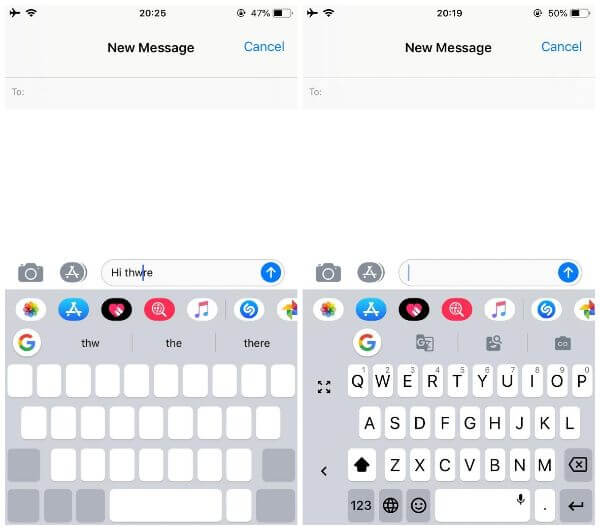 It is not easy to move the cursor to a specific word you were typing by touching on the screen. GBoard has a solution for this too. You can gently slide on the space bar back and forth to move the cursor to wherever you want. GBoard also helps you by providing one-handed mode. It lets you shrink and position the keyboard to wherever position your fingers feel most at ease.
Quick Delete
You can touch the delete button to disappear a word – surely not a new feature. But if you swipe that key a little to left, you can delete a whole word. Interesting, right? Try swiping a little bit more to left. You can vanish an entire sentence at once. As simple and convenient as that. GBoard lets you add some words to your personal dictionary. It also lets you delete words from word suggestions permanently. Shortly, it saves you from the embarrassing situations creating by the auto-correction feature of your keyboard.
Voice-to-text
If you don't feel like typing something, then just say what you want to type. Long press on the space bar and dictate what you want to type. Google's voice recognition software will detect it and type it for you. Don't worry, it is surprisingly accurate. The voice-to-text also supports dozens of languages.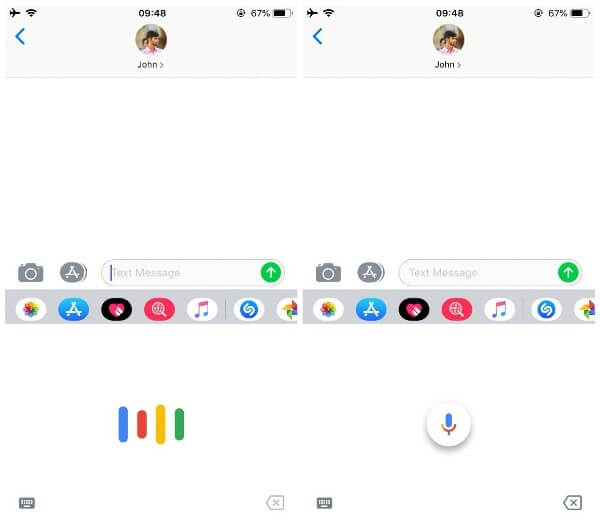 Privacy
Google not only provides you features but also privacy. They've designed GBoard to keep your private information private. Other than your searches and statistics, GBoard doesn't send anything you type to Google. You can freely chat with your friend, type and save passwords, search contacts and create your private dictionary using GBoard. None of these will go to Google.
Best GBoard Features for iPhone Users
Many of the GBoard features and functions talked above might not sound like much in isolation. Many other keyboards available in the market have some of these features, maybe most of them. But that's where GBoard for iPhone and Android stands unique: the totality. GBoard does it all. It does it well. We say all good things come with a price. But here, in the case of GBoard, it is wrong. Because GBoard for iPhone is completely free. There is no need for in-app purchases. GBoard executes everything out there as perfectly as possible. And, GBoard is not just a keyboard, it's the Google Keyboard!