The trackpad may not come handy when you work on Mac for more than a few hours a day. An external mouse for Mac is comfortable than a Mac trackpad for heavy users. As we know, Apple Magic Mouse 2 is one of the best mice from Apple for Mac users. In addition to this, there are ergonomically designed mice for Mac heavy users that can connect through Bluetooth.
Here, we've prepared a list of some of the best wireless mice for the Mac. Take a look and make sure you get the best deal.
Apple Magic Mouse 2
There is no doubt about this allrounder Apple Magic Mouse 2 when it comes to the Mac. Apple Magic 2 is rechargeable, lighter, and ergonomic. It's so sleek and stylish that you won't take your eyes away. This wireless mouse has no visible buttons along its face. Everything is touch-enabled and the multi-touch surface allows scrolling and swiping between documents as easy as possible.

Magic 2 has inbuilt Bluetooth to connect to Mac. The multi-touch surface also enables gesture support like Mac's trackpad. The Magic Mouse 2 is portable and the internal battery is also quite powerful and offers good usage time. You can charge it through the USB cable. But it's worth noting that it's a bit high when it comes to pricing. But yet its Apple, and you never understand their pricing criteria. So we'll leave it here and let you make the choice.
Logitech MX Ergo
The Logitech MX Ergo is a wireless trackball mouse that works well with the Mac. Logitech is one of the prominent sellers of the trackballs and the MX Ergo is one of their best ones yet. This wireless mouse has a sleek and ergonomic design.
The presence of the adjustable hinge allows you to customize the trackball angle. You can adjust it from 0 to 20 degrees for a more stress-free hand position. This tiltable trackball reduces the effect of hand fatigue. The cross computer controls are worth mentioning. You can access and navigate two computers and even copy documents or images from one PC to another.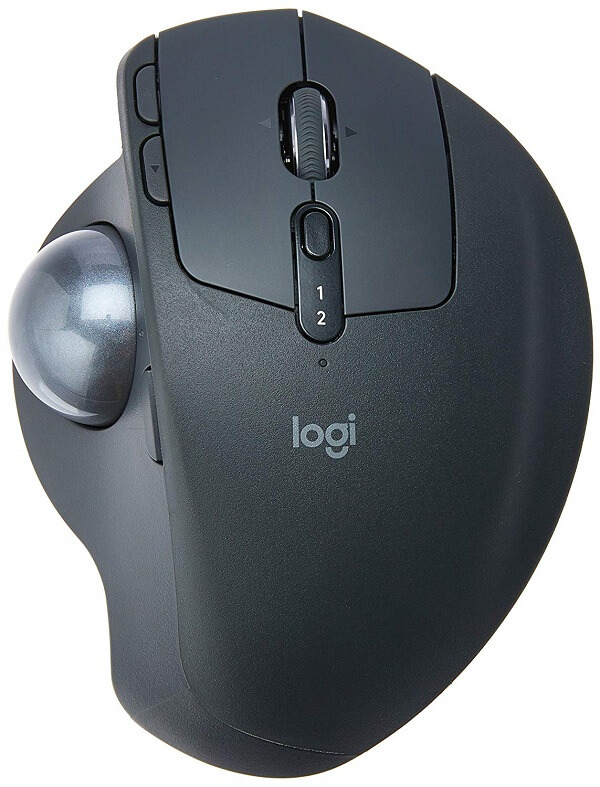 The MX Ergo connects itself to your Mac or PC through the Bluetooth or through the USB port. This trackball mouse for Mac has a total of 8 customizable buttons, give you easy adjustments and selection interfaces. You can change the speed and accuracy of the cursor with a press of a button. This wireless mouse for Mac works on an internal rechargeable battery.
The battery has enough juice to hold you up working for up to 4 months on a full charge. Even a minute's worth of recharging gives you up to a day's full usage. A slight flaw which we felt is that there is not a left-handed version yet. The tilt actions are useful but to a limited extent.
Also read: Best Wireless Presentation Clicker to Buy in 2020 
Lekvey Wireless Mouse
The Lekvey wireless mouse is a vertical mount mouse for Mac and Windows. This mouse is one of the best ergonomic mice for Mac users. This design reduces the strain in hands and you can operate it in the casual handshake position. This hand position makes it easy to move the mouse along the pad and gives a good response. The Lekvey wireless mouse comes with 6 multifunctional buttons, include the page forward and backward switch, DPI adjuster, etc.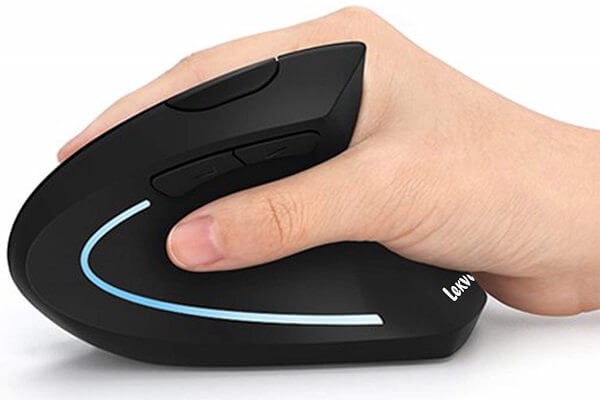 The dpi compatibility is 1600 and can be adjusted to the range of 800. This wireless mouse for Mac has an internal rechargeable battery of 700mAh. The battery is efficient and offers good usage time also. The Lekvey ergonomic mouse can be plugged in through the USB adapter that comes with the whole package.
Kensington SlimBlade
The Kensington Slimeball is the trackball of choice for professionals who prefer accuracy with ergonomic design support. It is unique in design and you can feel its uniqueness at first glance. Kensington's eye-catching because of its twist scrolling. You can twist the trackball for navigating through documents and web pages. The design is also such that it offers ergonomic support and reduces strain in your hands.
The accuracy can be controlled according to your need. The precise pointer functions are due to the dual lasers beneath the compartment. This ergonomic mouse for Mac is wired and works by connecting it to the USB port. A thing worth noting is that the mouse is customizable. You can adjust the sensitivity and by configuring the mouse with its dedicated software. Unlike most trackballs, the Slimeball suits both the right as well as left-handers.
Editor's Note: This is not a wireless mouse, but we can't avoid this from our list if you are looking for an ergonomic mouse for Mac with high precision.
Logitech MX Vertical
The Logitech MX Vertical is yet another hotshot from Logitech. This time, they've blended it keeping innovation in mind. It is vertical in design and is not that old plate-like mouse you had recently. The design is such that you can place your hands on it in a rather handshake position. The vertical inclination angle of 57 degrees makes this possible.
This blend of verticality has in fact reduced hand fatigue and muscular strain. The MX Vertical is wireless and works on the Bluetooth. You can connect your Mac via the connecting cables or through the wireless USB receiver. You can control up to three computers, thanks to the cross computer control.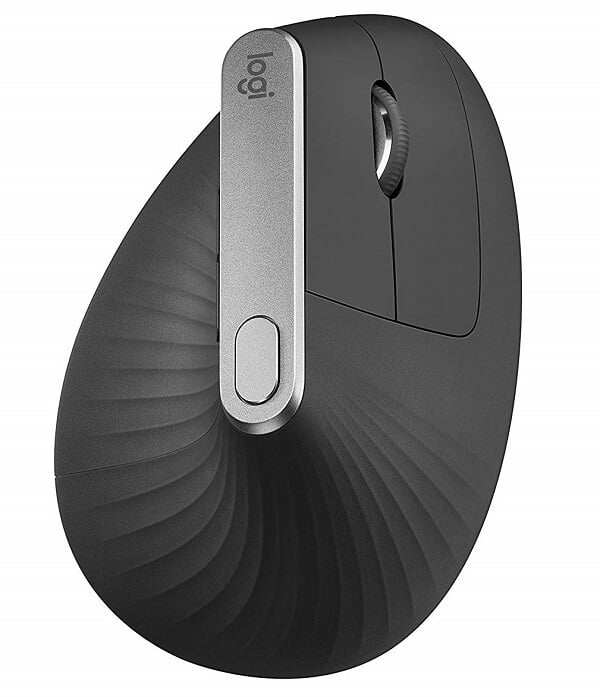 This ergonomic mouse offers 4000 DPI accuracy sensors that give you point accuracy whenever you need it. This reduces the amount of hand movement compared with the basic computer trackballs. You get customizable buttons on each side of the mouse. If you feel the cursor speed's low or high, you can adjust it with a press of a button.
This compact mouse for Mac works on its internal battery. It can last up to 4 months on a full charge. A quick charge of even a minute offers 3 hours of usage time. You receive the USB C type fast charging cable with the whole package.
Uhuru Wireless Mouse
The Uhuru wireless mouse is the slimmest device in our Mouse for Mac list. It works on Bluetooth connectivity and works with more than 98% of Bluetooth drivers. The mouse is lightweight and slim, making it the best one to take out on your business trips.
Uhuru offers 1600DI precision and can be adjusted to 800dpi according to your need. The adjustment button is placed right next to the scroll button. The three-level DPI makes it apt for gamers and professionals. The Uhuru wireless mouse works on a 750 mAh internal battery.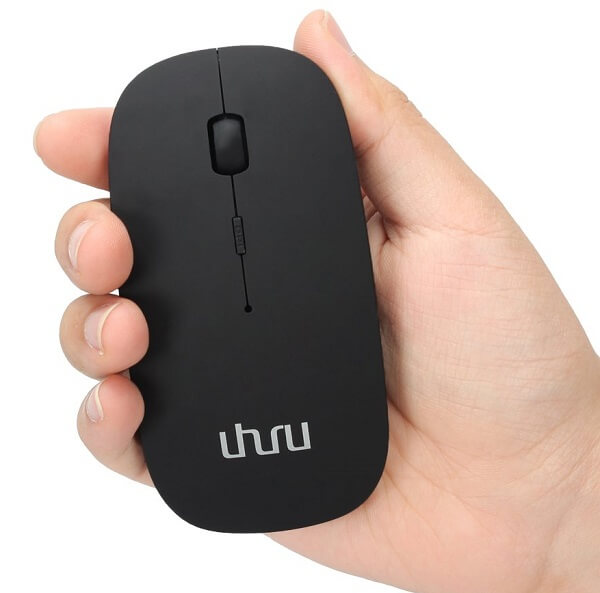 A full charge on this device makes it last for 4 weeks of continuous usage. Moreover, the features like smart idle mode help you to save a lot of battery power when the mouse is in idle condition. Also, there is a good response between sleep and wake time. You can charge the mouse through the USB charging adapter that comes with the package. It doesn't take a long time to charge it fully.
Logitech M557
The Logitech M557 is one of the best basic wireless mouse available. It is one of those devices that has earned quite a bit of reputation by its performance alone. At first glance, you can feel that its design is not so complex compared to other in our list. What makes it in our list is its reliability and performance. The M557 connects with your Mac or Windows PC through Bluetooth. You can slide or scroll through documents with the side by side-scrolling action.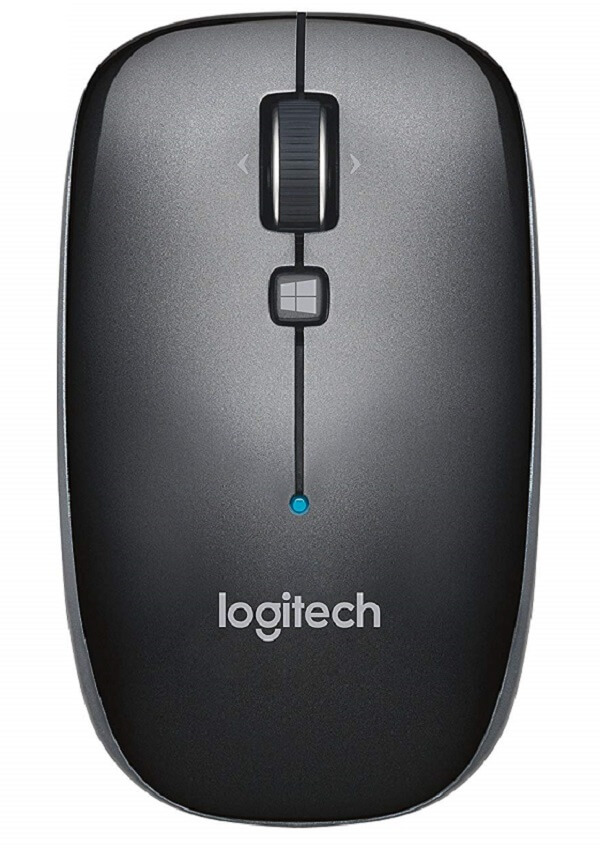 The best part of its design is that it is useful for the left as well as right-handers. Being wireless makes it portable and the power issues are in the hands of its internal battery. It offers up to 1 year of usage before replacement. The battery life and smart sleep mode help you get rid of unnecessary battery changes. Also, you can customize and program controls according to your wish.
TeckNet Wireless Mouse
The TeckNet wireless mouse might not be packed with a hell lot of features, but yet it's useful and highly portable. This Wireless mouse for Mac connects itself with your system through the Bluetooth. The design is rather compact and ergonomic. You can feel the presence of good engineering when you start using it.
The rubber sides provide a comfortable grip and smooth hand action. This wireless mouse for Mac offers 2600DPI precision. You can adjust its sensitivity within a five-level grade ranging from 800 to 2600.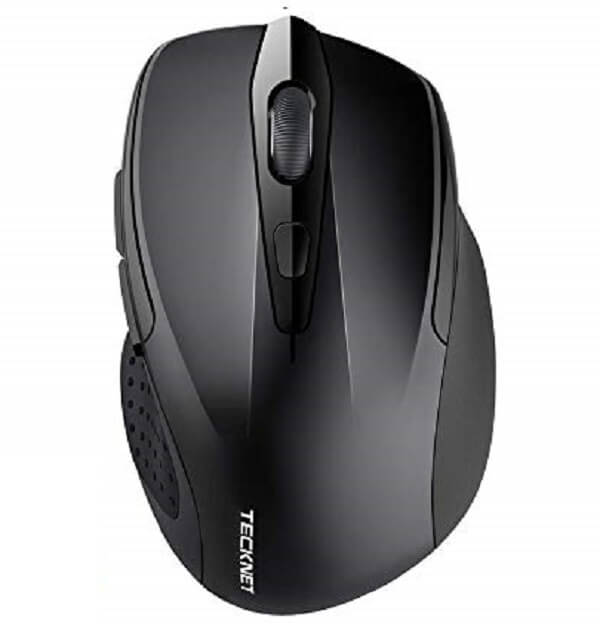 A thing to note is that you only have Bluetooth interface as a mode of connection. There is no USB interface. The TeckNet wireless mouse has two toggle buttons for convenience while skipping through pages. You can configure them according to your wish. The powering issues are met by two AAA batteries. It offers up to 24 months of usage before replacement. The battery power is saved with the smart sleep feature. This saves a lot of battery power when your mouse is in an idle position.
Inphic Wireless Mouse
The Inphic wireless mouse is a standard portable mouse that works on the Bluetooth. It offers 2.4 GHz of wireless data transfer and works well within a distance of 10m. This optical moves work on the Plug and play technology and doesn't need external drivers. The Inphic wireless mouse offers 1600dpi that can be adjusted in three stages. You can adjust the sensitivity to 1000, 1200, and 1600 as per your need.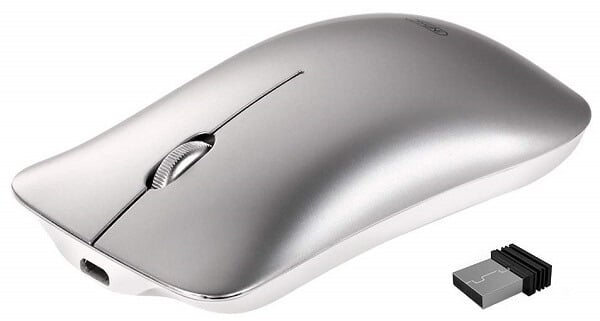 The mouse is also slim and suits both the left and right-handers. The design is such that it is designed for laptops and MacBooks. The powering issues are taken care of by the rechargeable internal battery. Once you charge it to the brim, you get 2000 hours of continuous usage. The charging process is simple. All you need to do is just connect your USB charger into its charging slot.
Consider a wireless mouse with decent battery life and a comfortable design to match your preference if you'd just like something simple and convenient. With this guide, we believe you've found a functional and reliable mouse that will save time, money, and space. Also, it is necessary to identify the reasons for buying a mouse and essential to consider other factors as well. Make sure you've gone through every detail, even the price tag before closing on to one.