This article based on several enquiries I read online and all those are pointing to the same question! How much does an iPhone cost with contract and contract- free? If you don't want a multi-year service contract or if you prefer to use a local carrier when traveling abroad, the unlocked iPhone is the best choice.

As Apple unleashes the iPhone4S and iPhone4 with a contract price with AT&T, Verizon, Sprint and an unlocked iPhone with contract-free price. Well, if you are living in US and want to stay with a contract, iPhone is cheap and starting price from $199. Still you have to pay the monthly contract price to your carrier and there is a mandatory data plan in US with iPhone contract purchase.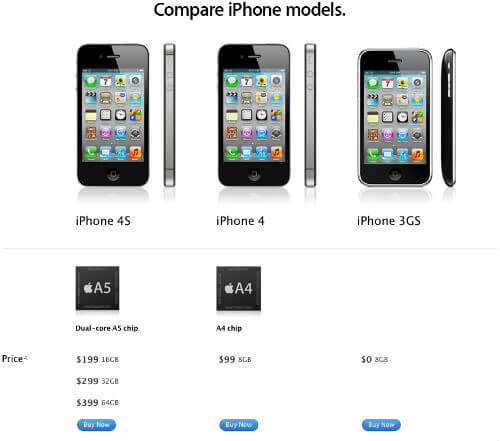 But if you visited US on your vacation and want to return to your home country as an iPhone owner, the price is little spiky. Let us go through Apple's pricing plans here.
Contract Phone
Apple sells three iPhone4S models 16GB, 32GB, and 64GB. The iPhone4S is priced at US$199, $299, $399 with a two-year AT&T, Sprint, or Verizon contract (these figures are all U.S.-specific. Different countries have other carriers and other costs).

But the cost of the phone itself isn't quite as simple as that. Those are the prices if you're signing a new contract, but there are lot of other situations you may be in with your current cellphone contract. Let us stop the story here and see the price details for a contract-free iPhone.
Contract-Free Phone
If you want to buy iPhone without being tied to the two-year contract–which will allow you to pay for your service month to month and switch to other compatible carriers whenever you want. The iPhone can be yours for the price of $649, $749, or $849 for iPhone4s 16GB, 32GB, 64GB models. Apple is selling na iPhone4 8GB model with a contract-free price of $549. These prices are much higher than contract price because they're not subsidized.

According to apple website, the unlocked iPhone includes all the features of iPhone but without a contract commitment. You can activate and use it on the supported GSM wireless network of your choice, such as AT&T in the United States. The unlocked iPhone 4 or iPhone 4S will not work with CDMA-based carriers such as Verizon Wireless or Sprint.

It arrives without a micro-SIM card, so you'll need an active micro-SIM card from any supported GSM carrier worldwide. To start using it, simply insert the micro-SIM card into the slot on your iPhone and turn it on by pressing and holding the On/Off button for a few seconds. Then follow the onscreen instructions to set up your iPhone.
Final note: For any phone model selling in US, you have to pay 7% sales tax (slight difference in state by state) with the price. Just for the sake of numbers for a iPhone 4s 16GB contract-free model will cost you $649+$45.4 = 694.4USD. Is that a fair price for your pocket?