Recent hacker attacks on Twitter, Facebook and Mac employees' laptops was through the security loop holes of java-plugins that build up for the browsers. It might be a good idea to disable Java to protect your PC from the possible attack through your internet browser. This post explains how to Disable Java on Chrome, Firefox, Safari and IE.

The java plug-in that comes with browser is more vulnerable to hacker attacks other than the java program in your PC. Let us see the browsers Google Chrome, Mozilla Firefox, Apple Safari and Internet Explorer settings to disable java plugin. You can re-enable the add-on if you want in future for java based websites or programs.
Disable Java in Chrome: It is simple to disable Java in chrome. Open Google Chrome browser and type the text below in the browser's address bar and Enter.
chrome://plugins

You will get the screen like this. Scroll down to Java and disable by clicking the link.
Disable Java in Firefox: Open Mozilla Firefox and click the Firefox button at the top. Choose the Add-ons from the drop menu.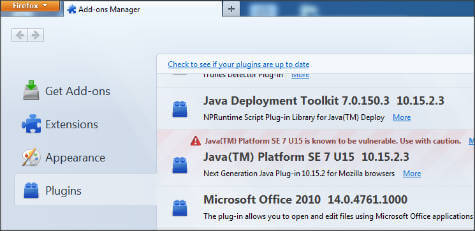 Select the Plugins tab from the left side bar, and click on disable button on java add-on.
Disable Java in Safari: You can disable java add-on by going Safari settings > preference.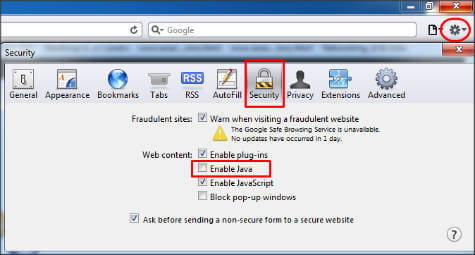 Click on Security pane and uncheck Enable Java box to disable java from safari.
Disable Java in Internet Explore: On internet Explorer, click on tools button on right top corner, select Manage add-ons >> Toolbars & Extensions and scroll down until see Java.

Click on java plug in line, click on disable button on the bottom of the screen.
Finally you can make sure you disabled the java for your browser by visiting this java test page at http://java.com/en/download/testjava.jsp. The text box will show in grey color or deactivate mode if java disabled on your browser. If you really need java for any websites in future, go to the same setting and enable it. Please check here to Disable Java on Windows.