Have you misplaced or lost your iPhone somewhere and don't remember where exactly you had lost the device? That must be very disturbing. If you had enabled the Find my iPhone, then you can easily track the device by logging into your iCloud account and erase the contents or lock the device remotely, if needed. However, you can use this option only if you have another iOS device using the same iCloud account. And, you cannot log in to your account from a new device without entering the authentication code. How will you get the authentication code if you have only one iOS device and you had lost that as well? Not easy? Right.
For iPhone users, let us have some solutions to to track your iPhone from an Android device.
1. Call/Send Message To Your Lost iPhone
Even though this is the old-fashioned method, it will work if the phone is not stolen by someone. Let's assume that you had misplaced your phone while visiting a supermarket, salon, restaurant, grocery store or somewhere else. Because it is not stolen, someone will definitely pick up and answer the phone if you make a call to your own number. If nobody picks your call, then try to send a message on WhatsApp, Facebook Messenger, Skype or any messaging options which shows the delivery status. For example, a double tick for a WhatsApp message indicates that the phone is ON.
While making the call, if you hear a message like "Not reachable" or "Switched OFF", then it is not a good sign and you need to try any of the other methods mentioned in the post.
Related: How to Track Friends Using iPhone or Android
2. Track iPhone Using Google Account
Do you have a Gmail account? Have you accessed any of the Google apps on your iPhone using your Google credentials? Then, there is a good chance to track your iPhone using your Google account.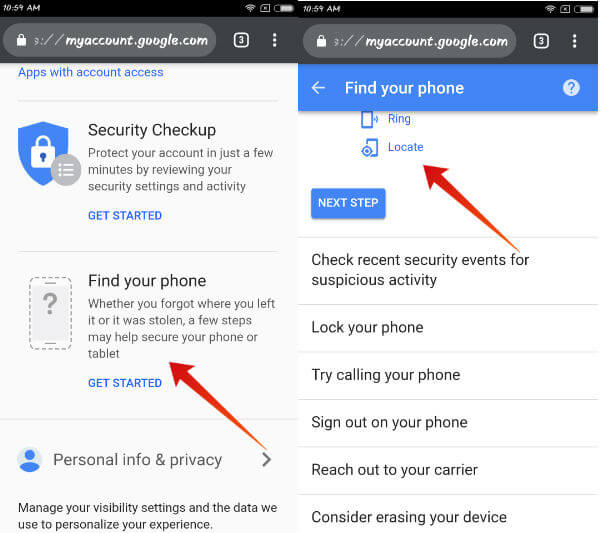 Open any browser on your Android device. If you are using Chrome, then tap Three dots icon->New incognito tab.
Navigate to https://account.google.com, tap Sign in button on the top right of the page and log in with your credentials.
Scroll down to find the section Find your phone under the title Sign-in & Security.
Tap Get Started button.
From the list of devices shown, tap on your iPhone and enter the Google account password to verify your access.
Now, you should be able to view the last seen location of your iPhone provided the location service is enabled on your device.
Related: How to Track Lost Mobile Without a Tracking App
3. Track iPhone Using Google Maps
Let's imagine that you don't have a Google account or had not installed Gmail on your iPhone. Then, you cannot track your iPhone using Google account. Even if you are using an iPhone, you might be using Google Maps to get driving routes. If your answer is Yes, then you can consider yourself a bit lucky. Because you can use Google Maps to track your iPhone even though it is not as straightforward as the Find my iPhone option.
Do remember that you should have installed Google Maps on your device and the Google Location History is enabled. Otherwise, this option won't work.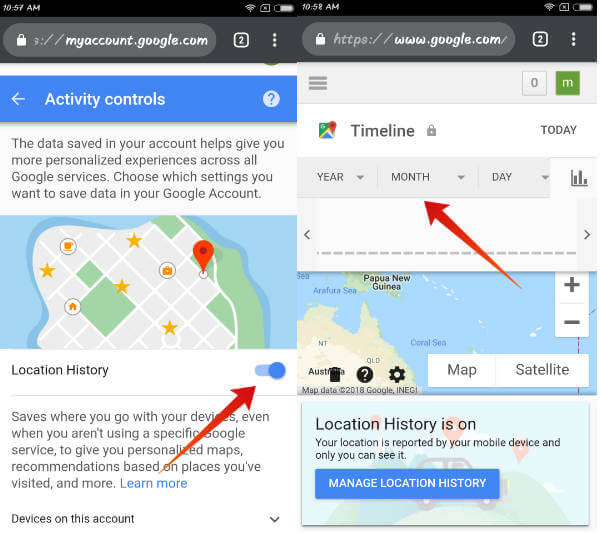 Open the incognito tab on your phone browser and navigate to Location History. In case you have multiple Google accounts, make sure you log in to the same account used on your lost device.
Now, you will see the timeline and the list of all the locations you had visited. Just select the date on which you had lost the phone and check out the places of visit to find some clues.
If Google Location History is disabled or you don't use Google Maps for navigation, then this method won't work.
4. Track iPhone Using Third Party Apps
Have you installed any GPS tracking app on your lost iPhone? Then download and install the same tracking apps (if available) on your Android phone right away. Otherwise, check if the app has a web version so that you can log in to the account on your laptop/desktop. Using GPS tracking app will be the easiest option to track your iPhone provided if you had already installed the app on your device.
5. iCloud Login from Chrome
Do you know? By default, Google Chrome or any other Android browsers won't allow you to login to the iCloud account. However, there is a simple workaround for that. Just open Chrome on your Android device, tap the Three Dots icon and enable the option Desktop site. Now, you can navigate to icloud.com from your Android browser and track your iPhone using the Find my iPhone. However, this option might not work if you are logging in to your iCloud account from a new device. Because you will be prompted to enter the authentication code while logging from a new device. And, the code will be sent only to the iOS devices which are using the same iCloud account. If you don't have any other iOS device then, this option will not work.
6. Real-Time Location Sharing
Have you enabled the location sharing on Google Maps to share your live location with any of your friends/family members? Even if they don't have a Google account, you can still track your iPhone if you had sent the link to your contact via message. Or have you turned on the Find my Friends option on your iPhone by chance? Then, you can easily find out the current or last seen location of your iPhone easily by contacting that particular contact.
Related: How to Share Live Location With iPhone/Android
7. Get Help From Your Carrier
If any of the above-listed options don't work, then you need to contact your carrier immediately. You can submit a request to them to track your iPhone. Otherwise, file a complaint that your device is lost and block your number immediately so that TOTP (Time Based One Time Password) or other sensitive information will not be sent to your lost iPhone anymore.
Have you ever misplaced or lost your iPhone and got the device back? What kind of tracking options you had used to get your iPhone?Please share your comments.