Do you have a lot of unwanted items taking up space in your home, but you prefer not to spend a day in the sun having a yard sale? Knowing these listing apps will help you clear out your home and make some additional money. Putting an item up for sale is as easy as downloading a free selling app, taking a photo of it with your phone's camera, and posting it online.
Here are the best listing apps that help you to buy pre-owned products and sell your old stuff for free.
Craigslist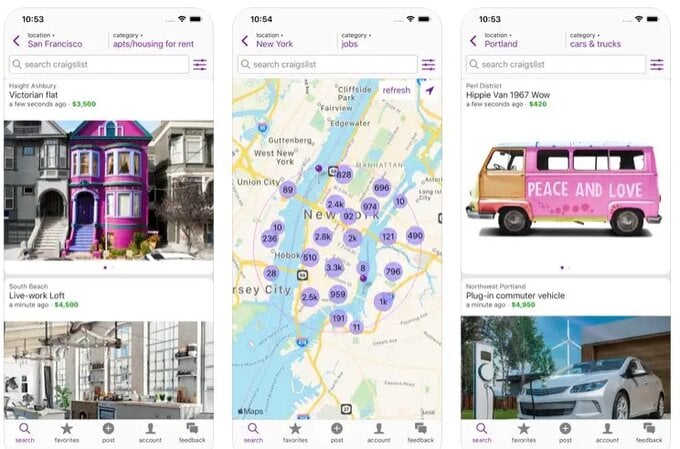 You can purchase and sell various things on Craigslist, from cars and home appliances to computers and smartphones. It will only take five minutes to get your listings up and running. Because it displays on a map, conducting local searches is much more convenient.
You won't get charged a commission when you sell your goods to buyers who live in the United States. There are options to save the favorite listings for later and set search alerts when an item becomes available for sale. You can also post, delete and renew your ads once the allotted time is completed.
Also, if you are a service provider who offers labor, you can post your services on the app and let people contact and avail of your services. Finding help for organizing your local events and parties will also be accessible with Craigslist.
Pros:
Easy to use and familiar interface
No commissions for US residents
Cons:
Duplicate listings
Photo upload errors
Key Features: Commission-free in the US | Set Sale Alerts | Post Job ads | Organize parties and events | Local searches with GPS | Favorite listings | Great UI
Download: iPhone | Android (Free)
Related: 10 Best Disposable Email Services for a Temporary Email Address.
5miles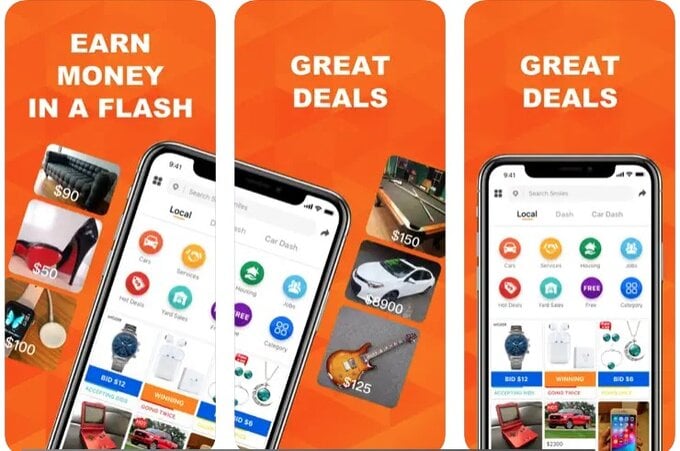 You can use 5miles to look for a new job, find a place to live, get in touch with local service providers, and even post a classified ad. The listing app allows you to post ads for free and get products without paying any commissions. Just take photos of the product and post them within seconds. 5miles also allows local product search using within 5 miles of distance.
You can use the service's SEAL (Safe Exchange Area Locator) tool to arrange a safe meeting place. The 5miles app allows you to send a message to the seller via the app's messaging system and make a bid. The 5miles crew is continually checking listings and conversations to prevent fraud. There is a money-back guarantee available for customers who are unhappy with their purchases.
Pros:
Great Fraud Prevention methods
Money back guarantee
GPS-assisted product search
Cons:
Bot sellers
Inaccurate GPS suggestions
Wrongly flags listings as duplicates
Key Features: Money-back guarantee | Fraud protection features | GPS-assisted search | SEAL – Safe Exchange Area Locator | Commission free listings | Easy to post ads
Download: iPhone | Android (Free)
Mercari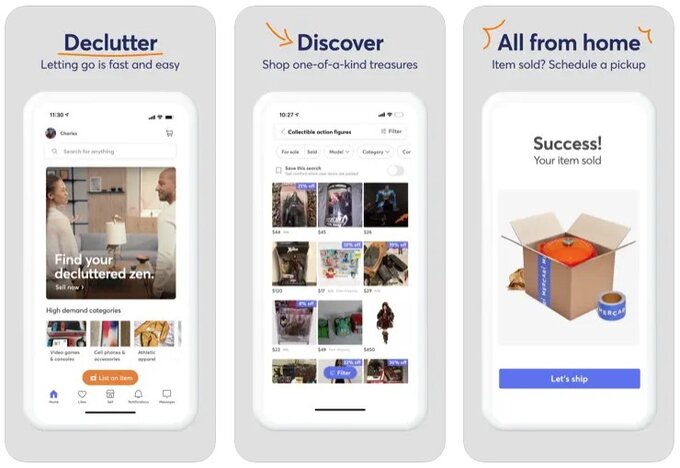 When an item you've listed on Mercari sells, you'll receive an email with a printable mailing label attached. Then, the shipment is picked up or dropped off at the address listed on the printout. This buying app has an excellent reputation for safety since it requires its users to undergo stringent identity verification procedures.
Click a few pictures, write a brief description, and hit the "list" button. Adding an item listing will never cost anything. Payment is required only after a successful sale. Instant Pay allows you to get the payment within minutes after verifying your identity.
The commission rate is reasonable at only 10% for every item sold. It has an advantage of a wide variety of available payment options. The transaction is protected for both the buyer and the seller because the funds are not transferred until the order has been delivered.
Pros:
Buyer and seller protection ensures smooth sale
Easy ship and pickup from your home
Identity verification for fraud safety
Cons:
Customer service is handled by automated bots
The interface is not that great
Key Features: 10% commission | Free listings | Buyer and Seller Protection | Automated Shipment Pickup and Delivery | Instant Pay | 1-minute ad posting
Download: iPhone | Android (Free)
Related: 10 Best Online Shopping Apps Like Wish
Facebook Marketplace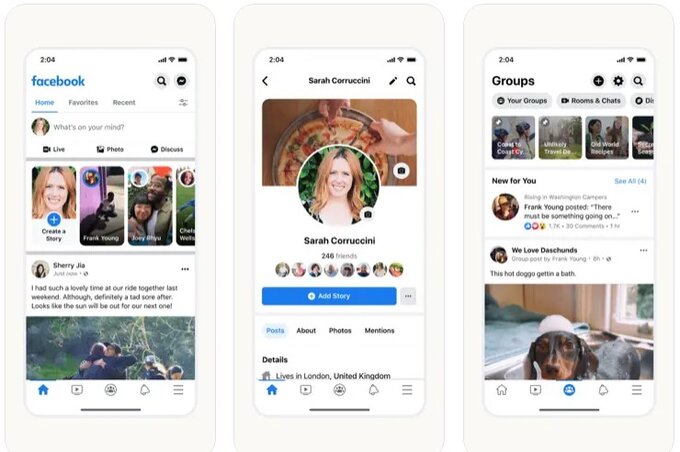 Facebook Marketplace is an excellent place to find used products and lists your products for selling. The marketplace covers whether you're looking for a common household item or something unique. More than 800 million people use Facebook Marketplace monthly to purchase and sell goods. Facebook does not charge sellers to post listings on the network.
If you want to promote your listing as an advertisement, Facebook will charge you an ad fee. It's as simple as taking a picture and uploading it with the product's name, a brief description, and the cost. In addition to the product's category and location, you will be prompted to provide further details. After creating the product page, you can publish it to the News Feed or a specific group.
Pros:
Easy discovery

Simple interface

Facebook Messenger communication
Cons:
No Buyer and Seller Protection
No proper fraud prevention methods
Key Features: Good for social features | Buyer-Seller communication via Messenger | Fee only for promoted listings | Powerful local search | Share on Whatsapp and NewsFeed |
Download: iPhone | Android (Free)
Related: How to Use Two Facebook Accounts on Android
NextDoor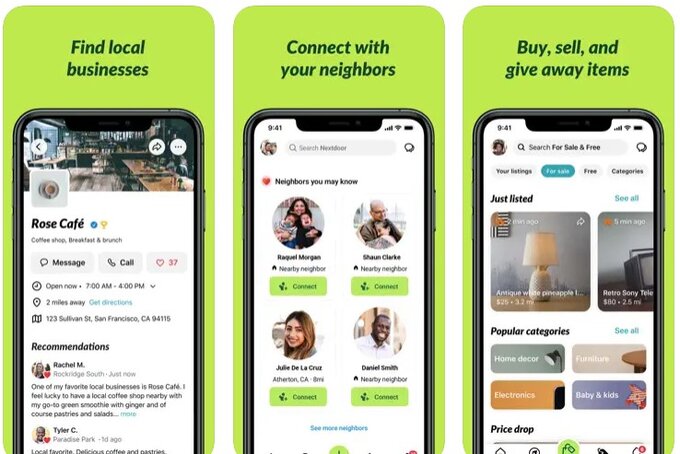 The Nextdoor app is an excellent way to meet new people in your area, learn about local events and shops, and get recommendations from your friends and neighbors. NextDoor allows you to find reputable providers of home maintenance services near you.
Look for discounts and bargains. Buy, sell, and trade pre-owned goods such as furniture, clothing, automobiles, and more. Also, learn how to make the most of garage sales and recycle your unwanted belongings.
Pros:
Local services discovery

Neighborhood sales made easy

Trustworthy and has buyer protection
Cons:
Not actually a buy and sell marketplace
Only for neighborhood

Buy and sell interface is not great
Key Features: Local Discovery Feature | Neighborhood Sales | Buyer Protection | Find Discounts and Free items | Conduct Garage Sales | Recommend things to others | Recycle unused products
Download: iPhone | Android (Free)
Poshmark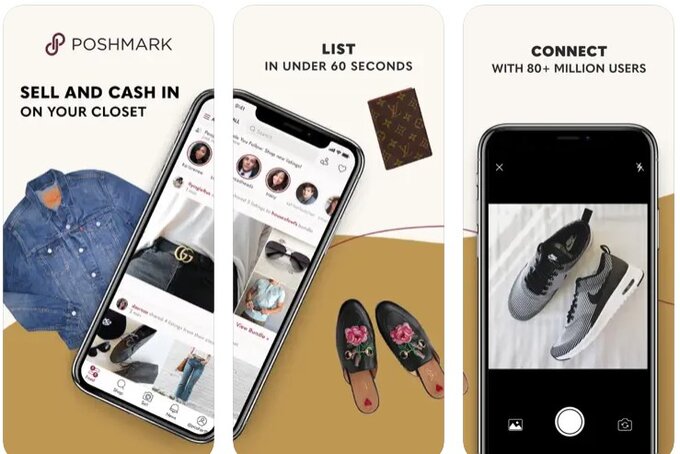 Poshmark has a wide variety of used and new items in its marketplace. Members can follow one another's shop listings and interact with them by liking, sharing, and commenting on the things they find interesting. You should upload at least one photo of the item, with details such as the brand and size, and of course, the price if you want to sell it online.
Poshmark takes 20% of all sales or $3 for transactions under $15, and purchasers pay an additional $7.50 for express shipping. Buyers can back out of a purchase for any reason within five days of the seller delivering the package to the post office. Payment to the seller typically happens within three business days of delivery of the item purchased on Poshmark.
Pros:
Good for quick sales of clothes
Individual marketplace model
Buyer and seller protection
Cons:
Slightly higher commission rates
Less number of subcategories
Key Features: Marketplace Shop model | 20% commissions or $3 under $15 | Displays average shipping times | Payment released only after item delivered | Buyer and Seller Protection | Fraud Prevention Methods
Download: iPhone | Android (Free)
Related: 10 Best House Rental Apps for Apartment Hunting Before Moving to New City
VarageSale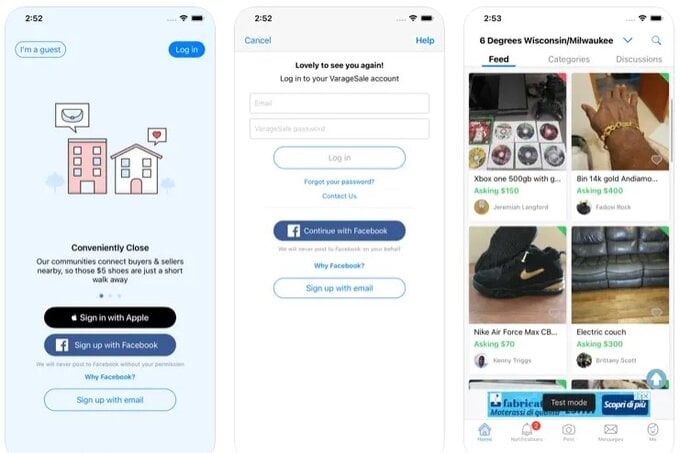 VarageSale simulates garage sales so that you can purchase and sell items online. Every user's identification is verified manually before they buy or sell. To familiarize yourself with potential buyers, check their ratings and response times. 
You can click a photo and post it online in an instant. Find a way to supplement your income. With this app, you can get rid of unused belongings from your home. VarageSale's app allows you to purchase, sell, browse, and promote your items without incurring fees, just like any yard sale near you.
Pros:
Good app interface

Good for meeting people in person and selling
Cons:
No option to hide sold products
Delayed notifications

Messaging system crashes
Key Features: Perform Garage Sales | Manual ID verification | Ratings and Response time display | One-click Ad postings | Promote products for free
Download: iPhone | Android (Free)
Yard Sale Treasure Map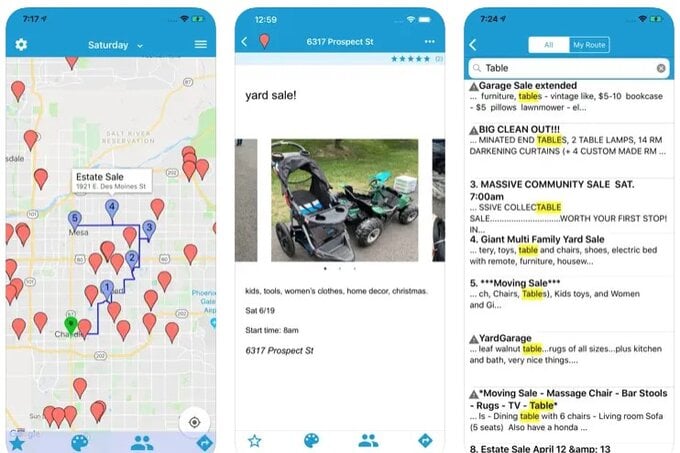 Using Yard Sale Treasure Map, you may organize your next hunt for hidden goods at yard sales. Find local yard sales easily by viewing them on a map or a list, finding more details about them through photos and descriptions, and navigating to them.
You can narrow your search results by selecting a specific day, location, distance, and keyword. You can check out user reviews and cautions about the sale's location. View the auction place in Street View before making the trip to save time and gas money by planning your route efficiently.
It also allows you to share your sales route with others and have it automatically updated on all of your mobile devices. Color codes can be used to assign a specific color to each day. When you find a good deal, you can mark it off or make it hidden.
Pros:
Random yard sale finder

Google Street view

locator
Color code deals
Cons:
Mandatory Facebook account login
Optimizing the sale route takes time
App freezes constantly
Key Features: Treasure Hunt Model | Color-coded offers | Subscription for Pro features | Street View available | Share Routes on Social Media | Buyer Protection
Download: iPhone | Android (Free)
Related: 16 Top Travel Management Apps for iPhone and Android
eBay Marketplace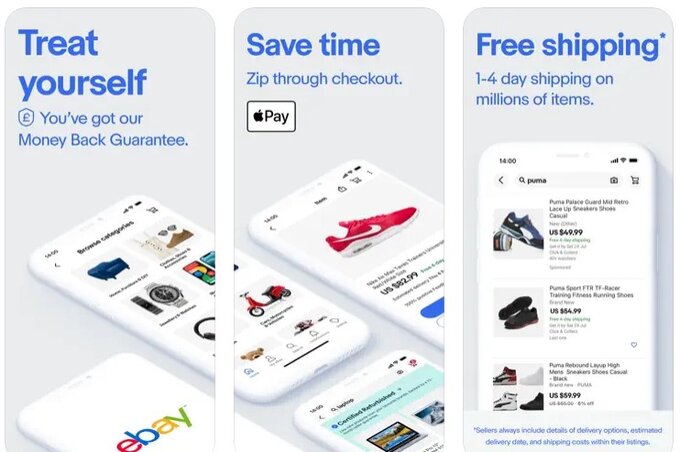 eBay is a global marketplace where sellers can connect with buyers worldwide to sell their wares. It simplifies the processing of payments and provides seller safety features.
You can either auction off your stuff or set a predetermined price for them. It allows opting for several ways to pay (PayPal, payment on pickup, credit cards). eBay guarantees your safety from buyers who make multiple claims or engage in other fraudulent activities.
All eBay refurbished items come with a 30-day no-questions-asked return policy and a money-back guarantee if they don't function as advertised. You may quickly put in the listing information (description, shipping, etc.) by scanning the barcode of the product you want to sell. Then take a photo (or upload an existing one) and remove the background to make your ad stand out.
Pros:
Global shipping available
Solid money-back guarantee
Easy to list products
Auctioning feature
Cons:
Auctions are outbid by bots
Sellers finding workarounds with money-back policy
Outdated interface
Key Features: Frequent Auctions | Simplified Payment Processing | Money-back guarantee | Worldwide Shipping | Scan Barcode and Upload Listing | Beginner-friendly layout
Download: iPhone | Android (Free)
AppKoncept Buy and Sell Marketplace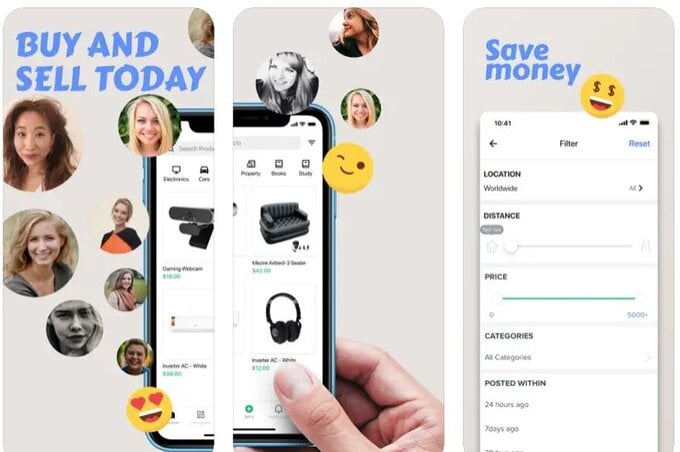 You can easily find what you're looking for and trade or sell it with locals in your area by visiting the Marketplace. Live conversation is one of its advantages, and you can also post ads for your stuff at no cost.
You can post your items for sale by just taking a photo and filling in the details and price you wish to sell for. Once the ad is live, you can expect to get inquiries from interested buyers and live chat with them to show the product over a video call.
Users can do local searches in the Market by either manually entering or automatically detecting their location with GPS. The products are then shown after being categorized into the appropriate groups. The premium subscription helps boost your ad and show it to everyone around your locality.
Pros:
A simple and easy-to-use app
Straightforward ad posting
Category-based item sorting
Cons:
Frequent crashes

Premium subscription not worth the money
Key Features: Instant Ad Listings | Category-based sorting | Premium Boost for Listings | GPS-assisted filtering | Video Call supported | Commission-free
Download: iPhone (Free)
Related: 6 Best Neighborhood Apps to Build Your Community
Carousell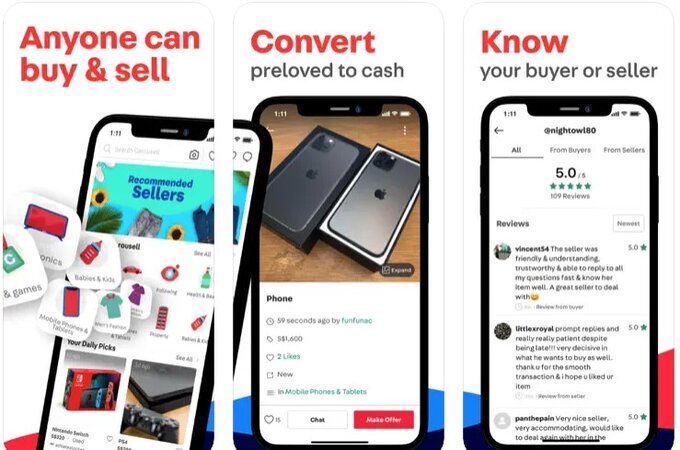 Carousell is a community marketplace/classifieds website base in Singapore, available in the United States. Put your unwanted items up for sale on Carousell, earn money and free up space in your closet.
All you need to do is take a photo, upload it to the site, and use the 10 included upload slots to sell anything you want, new or old. Shop for moderately used designer handbags, shoes, clothes, makeup, accessories, and watches.
Carousell offers buyer and seller protection for hassle-free purchases. Sellers and buyers can get ratings by using the app and purchasing products. It also allows property businesses and rent a property on the app and buy or rent cars and accessories. Listing and purchases are free of cost.
Pros:
Convenient user interface
Keyword-based searches for filtering
Provides buyer and seller protection
Fast and easy payment processing
Cons:
Business account costs are too high
Messaging system is poorly designed
Customer support is not good
Key Features: Keyword-base Searches | Buyer and Seller Protection | Payment Processing | 30-sec Listing | Global shipping | Beginner-friendly UI
Freebie Alerts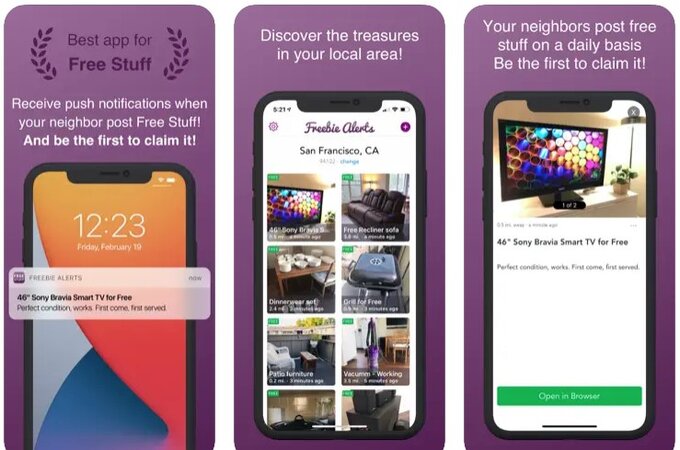 If you set up Freebie Alerts to notify you whenever a neighbor gives away something, you can check the alerts and arrange to pick up any free items you might need. It is compatible with listings from popular platforms like OfferUp, NextDoor, Letgo, Trash Nothing, and more. The main benefit is that you don't need to log in or provide details to fetch listings from your neighborhood.
People throw away perfect items every day because they no longer need them. You can grab them for free with the Freebie Alerts app. Set notifications relevant to what you want to buy and the distance of the listing from your area.
Pros:
Hassle-free local free stuff finder
Marketplace apps support

No login required
Cons:
No advanced features are available
No buyer or seller protection
Key Features: Local Freebie Finder | Fast Notifications | Keyword-based Filter | Multiple Apps Compatible | Login not required | First Come First Serve Model
Download: iPhone | Android (Free)
Every home has thousands of dollars worth of unneeded items, yet very few homeowners ever take advantage of this untapped resource. Selling your old items can seem like a burden, especially if you haven't done it in a while. Over time, accumulating unused but potentially priceless household items is a sad reality. These listing apps are beneficial to get some extra money and clear out old things.