Normally, we have one Facebook account, but in certain cases you may have two Facebook accounts for various purposes. They may be running a business and they have an account on Facebook for that. Now, they must have a personal profile that connects them to their near and dear ones. So, having separate profiles will keep a distinction between their private and work life.
Now, the question is how to access and use two Facebook accounts at the same time.? In this guide, we will tell you how to use two Facebook accounts on one Android device without setting up multiple user profiles on Android. Check out the guide below to know how you can do it.
How to Use Two Facebook Accounts on Android
In this tutorial, we won't be using any third-party applications. We will simultaneously use the regular Facebook app and its Lite variant. These two apps will represent our two accounts. We will get notifications for both accounts on a single Android device.
The Lite version of Facebook is for users with unstable network connectivity. Also, the toned-down application consumes less storage on phone memory. In fact, you can seamlessly use Facebook Lite with a 2G network connection. However, it can also serve as a platform to run our second account.
Make sure to install the primary Facebook app. You can download FaceBook app from the Play Store.
Now, you also have to download the Facebook Lite app from the Play store. Install it.
Sign-in to both of your accounts with separate user details for each Facebook apps.
Note: Make sure you download official APKs from Google Play Store. If you are downloading apps from non-official sources, install them at your own risk.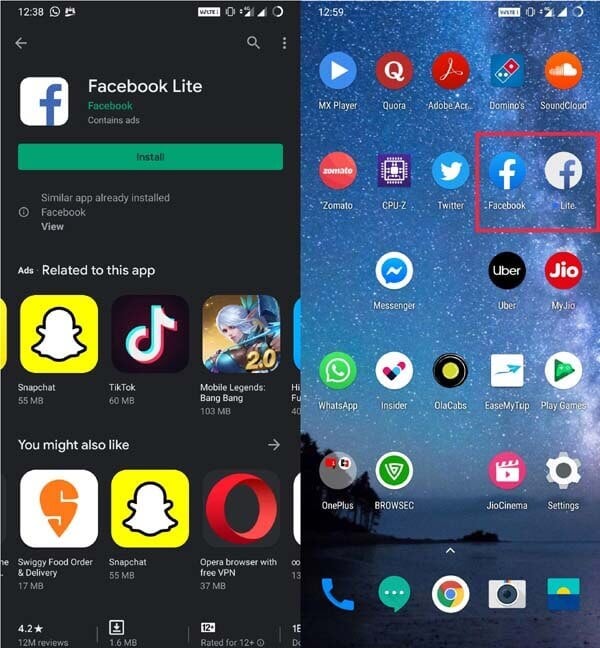 I have installed both Facebook and Lite on my phone. Here is a screenshot of my device's recent apps. You can see I am simultaneously accessing my Facebook account from the main Facebook app and its Lite variant.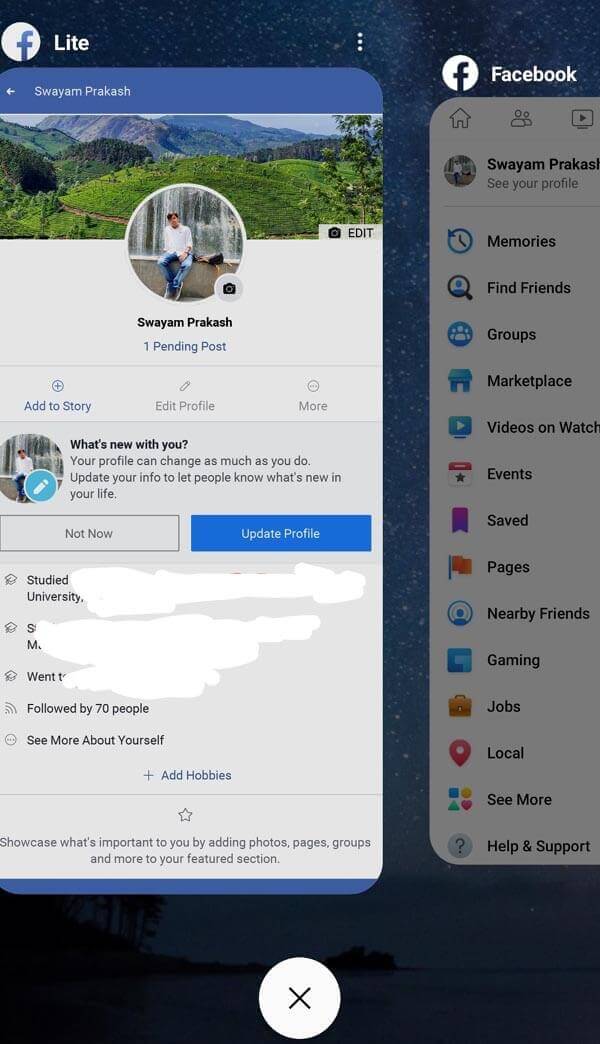 You can try this with two different accounts. It's pretty much the same thing that I did with one account. The notifications from two accounts will come separately but on one device.
Social media apps like Twitter and Instagram support multiple user accounts. A user can run two profiles on the same device. However, on Facebook, you have to install Lite along with the main app to use two separate accounts.
Also read: How to Use Android Smartphone as a Security Key
Alternatives
The other alternative is to make use of third-party apps. There are numerous such apps available over the internet. So, it's hard to decide which is genuine and useful. Besides, many users are not in support of giving access to unsolicited apps. The major reason for this is privacy infringement and spam content.
The requirement varies from user to user. There are also users who actively try out thrid-party apps to accomplish various tasks. So, you can use anything that suits you.
There can be other use of dual Facebook accounts apart from business use. You can have the second account as a backup. If you lose access to any one of your accounts, use the other one to regain access.
This is how you can use two Facebook accounts on any Android device at the same time. It is a pretty simple guide. Try it out now. Do share your experience in the comments section.