You must have wished for a battery pack for your laptop just like having a portable charger for your phone. If you have been looking for a powerful battery pack for your MacBook or laptop, Baseus has a 100W Portable laptop charger that can juice up your laptop battery all day. This charger comes with a USB C port for a wide range of compatibility.
Let's dive right into the details and see if the Baseus 100W portable charger suits your needs.
Baseus 100W Portable Laptop Charger: Overview
Size, weight, compatibility. These are the primary points of concern when it comes to buying a battery backup for your devices. The Baseus 100W Portable Charger is no less since it has got you covered on that base for a wide array of devices. This portable charger is not your usual battery pack.
The Baseus 100W battery pack is not a power bank that weighs as much as it offers or even looks like a typical battery backup. With this portable laptop charger from Baseus, you can charge your MacBook Air, PC laptops, iPad, iPhone, Samsung Galaxy Book, Nintendo Switch, and many more.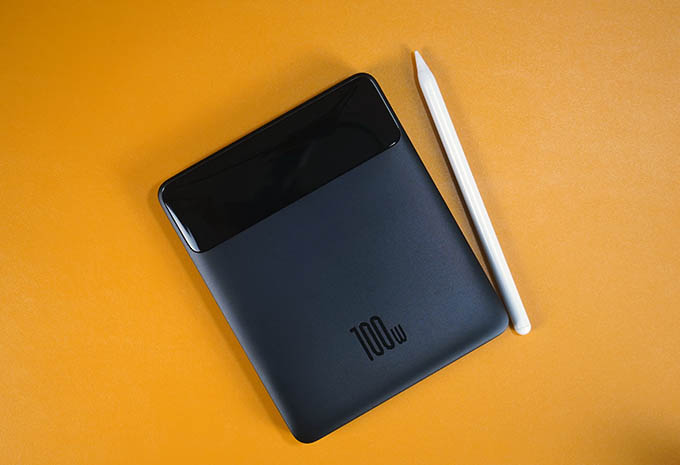 The Baseus 100W Portable Charger has 65W ports on the sides to charge its Li-polymer battery from empty to full in 90 minutes. This battery comes with a rated 20,000mAh capacity. The fast-charging capability of this power bank ranges from smart wearables to heavy laptops up to 100W power input.
One of its key highlights is its dimension which gives birth to its sleek design. It is so compact that it almost goes unnoticed in your pocket, let alone anybody spotting it in your laptop bag. But this does not mean that it compromises on the power it has to offer. It charges your phone at least twice or thrice, depending on the device's battery status.
Related: Baseus Encok S17 Bluetooth Headphone; Designed for Sports and Melodious Sound
Design
The Baseus 100W USB C laptop battery pack looks exactly like any other power bank you can get for your phone, except a bit bulkier in size if you begin to compare with the phone battery packs. The battery capacity is barred to 20,000 mAh, which makes it look exactly twice the size of usual phone power banks.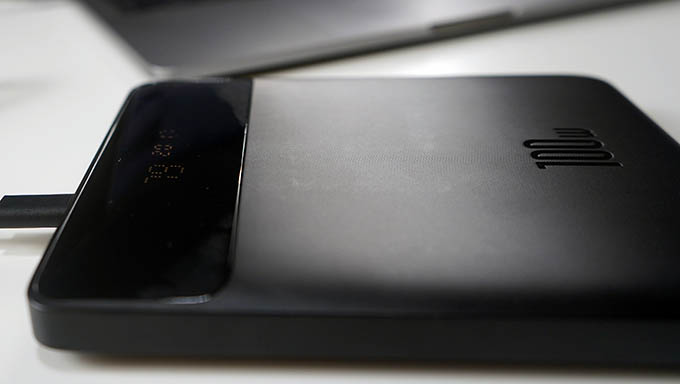 Compared with other laptop battery packs I used, Baseus managed to keep a slim profile with this one. All the power we spoke about, packed into an ABS and PC shell material, stretches to 162mm x 143mm x 18mm. This translates to 0.7 inches tall and weighs only over a pound.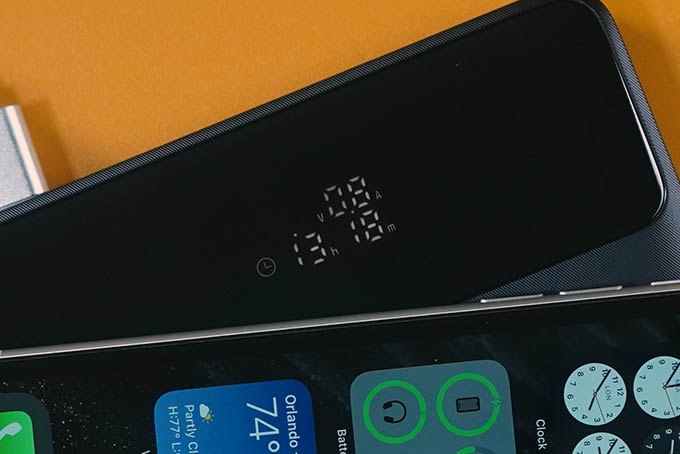 The first thing I noticed from the design aspect is its digital display. The screen will show the battery percent, current charging voltage, amperage, and the charging time for the connected device.
Related: 10 Best Portable USB-C Monitors; Get a Second Monitor for Laptop
Connectivity: One Charger for All
Baseus tries to cater to the needs of most of the gadgets you could possibly have with the ports so that you can use your existing charger cables. On one side, Baseus has given a total of four ports. Two of which allow the delivery of its power to your connected devices through a single cable at the same time. This means you can skip using your devices' adapter.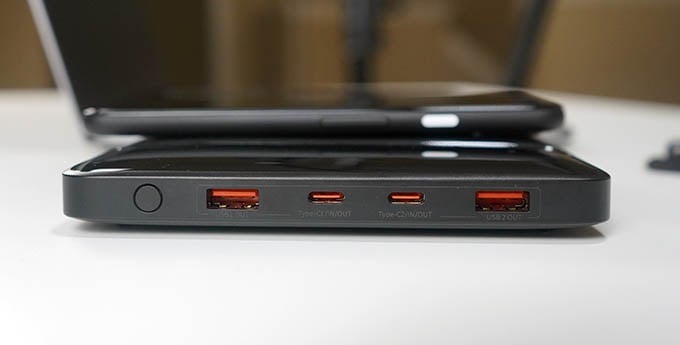 The standard USB ports are for your old iPhone cables and smartwatch chargers with a USB A cable. With the USB C ports supporting Power Delivery, you can fast charge any device from your iPhone to MacBook. Only the USB C ports support power input to fill the battery pack.
Related: 12 Best Student Laptops for College and School Students in 2022
Battery Backup, Charging
Baseus 100W laptop portable charger lets you charge an iPhone 13 Pro Max to 100% up to 2.5 times. Also, you can juice up Galaxy S20 for 3.4 times, or a MacBook Pro for 1.2 times. With our testing scenarios, we got pretty decent charging with the iPhone, iPad, MacBook Pro 13 (2019), and a TicWatch Pro 3 smartwatch.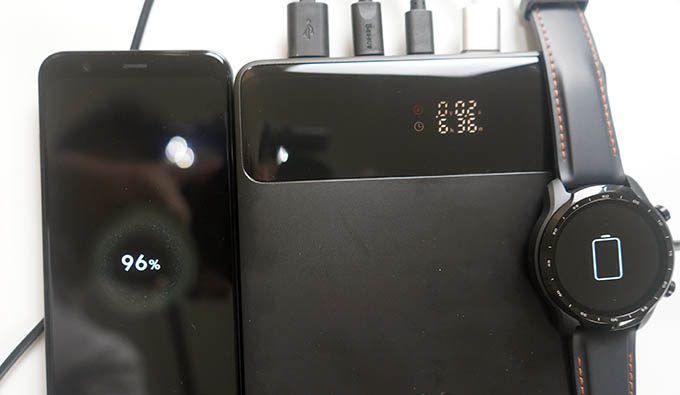 When it comes to charging the battery pack itself, its charger will take up to one and a half hours to get up to 65W of power. The pass-through charging supported in the battery pack is limited to 65W. So, it does not allow you to charge your laptop above 65W while the battery pack is plugged into the wall adapter.
Related: 10 Best USB C Car Chargers for MacBook, iPads & Phones
Pros and Cons
What we liked:
Slim profile design
Fast charging for all devices
Charge information display
PD charging
What we disliked:
No OLED display

Pass-through capped to 65W
Key Features: Fast-charging | Simultaneous charging | Double USB output | Two-way quick charge | Digital Display | Supports PD 3.0, PPS, QC.4.0, FCP, and SCP standards
What's in the Box
The Baseus 100W USB C Portable Laptop Charger is your one-stop battery pack for all your devices, from smartwatches to laptops. It will juice up your devices on the go. Let's have a look at what Baseus ships in the box then.
1x Baseus 100W 20,000 mAh Laptop Power Bank
1x USB-C to C fast charging cable
1x storage bag
1x 12-month warranty document
Related: How to Check Battery Health on MacBook
Pricing and availability
Along with on-the-go convenience, the Baseus Portable Charger has a huge bang for your buck too. The usefulness of this power bank ranges right from earbuds to a laptop. The screen tells you the time left to full charge, charging power, and remaining power in numbers as well. This comes in handy when you are dealing with multiple gadgets at a time.
The Baseus 100W laptop battery pack is available to buy from Amazon for just below $100, which is quite affordable if you want to get a powerful portable laptop charger.
Today's Deal: $40.00 Off
Our Take
The Baseus 100W portable charger comes with sufficient ports for your devices and a good amount of power. It also comes with the fastest possible port a power bank can have. This is a combination that is usually rare in the world of power banks.
And that too with a size that takes tiny space in your bag or even on your desk when charging the devices at once. Add the carrying case to the pack and the lightweight powerhouse becomes a sweet deal. You can add various devices at once and even charge the power bank at the same time. And on the go, carry this smart power bank in the carrying case as well.