The newly introduced Gallium Nitride Chargers, aka GaN Chargers, seem replacing the conventional battery charging tech. Most of the premium laptops these days support PD charger (Power Delivery chargers). These USB-C Chargers can quickly charge up the laptop batteries using the provided USB ports. The RAVPower 90W USB-C Charger is small in size and supports two MacBooks at a time to charge the battery.
Read further to know more about the latest 90W USB Charger (PD GaN Wall Charger) from RAVPower, that's the only one you need to power up to two MacBooks.
RAVPower USB-C (GaN PD Charger) Specifications
The all-new PD Charger from RAVPower uses Gallium Nitride semiconductors to provide maximum power output at a very compact size. Here are the complete specifications of this gallium nitride charger than could even replace your MacBook charger.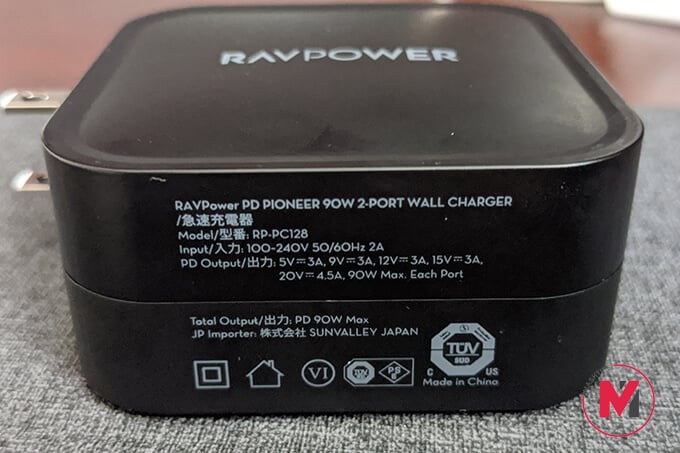 | Specification | RAVPower GaN PD Charger |
| --- | --- |
| Brand | RAVPower |
| Model | AD090W PD |
| Dimensions | 2.5 x 2.5 x 1.2 in |
| Power Output | 5V/9V/12V/15V (@3A or 5A), or 20.2V/4.3A or 20V/4.5A |
| Power Rating | 15W / 27W /36W / 25W / 45W / 60W / 65W / 87W / 90W |
| Type | Dual USB-C Power Adapter |
| Compatible | Supported Windows Laptops, MacBooks, MacBook Pro |
| Color | Black |
This 90W brick is smaller than Apple's 61W charger, but sill can supply a lot of power, that's enough to charge two MacBooks at a time. You can use the same power supply for the latest 16-inch MacBook Pro models introduced in 2019. The USB-C power supply comes with two USB-Ports, that can supply enough power to two USB-C compatible devices at the same time.
Also Read: Do I need 8GB or 16GB RAM MacBook Pro?
What is a Gallium Nitride Charger (GaN)
Gallium Nitride Charger or the GaN Charger is the new revolution in battery charging technology for gadgets. The conventional laptop chargers are so bulky just because of the excess use of silicon semiconductors in them.
These components need to be stacked to the power control board, which makes the laptop chargers so heavy. However, with a successful attempt in replacing the silicone with Gallium Nitride as the semiconductor, the crisis came to an end. GaN semiconductors have way lesser energy loss and heating compared to silicon.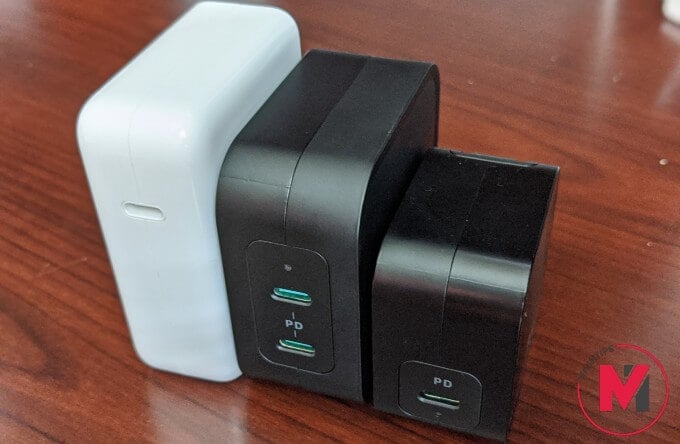 Finally, the GaN Charger adapters came into practicality. The market is now full of GaN Charger buzz, because of their compact size and express power delivery. These Gallium Nitride charger adapters are available at the size of a smartphone charger, which makes it even interesting.
You can say goodbye to the conventional old-school bulky wall adapters when you have a GaN charger for your laptop. The Gallium Nitride PD Charger adapters are way smarter and faster in delivering power. Instead of directly pushing the current to the battery, this USB-C power adapter analyzes the battery and provide enough power only.
Related: 10 Best USB C Car Chargers for MacBook, iPads & Phones
The Complete Review
The RAVPower 90W PD Charger adapter is truly a game-changer in the gadget industry with its fast-charging capability and compact size. The USB-C Power Adapter is meant to use to charge any model of laptops and MacBooks as it has the intelligent variable power delivery.
The 90W USB-C charger can analyze the power input of your laptop and pass only the appropriate amount of power to charge the battery. This reduces the risk in overcharging, overheating and avoid battery explosions to a large extent.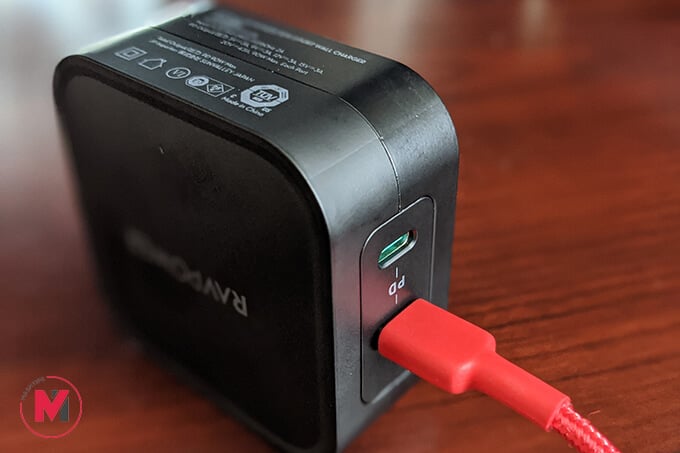 We tried replacing the stock MacBook Pro charger with the RAVPower Gallium Nitride charger to juice up a 13-inch model. In less than 2-hours, we got the MacBook Pro battery fully charged. From 15W to 90W, the power delivery of the GaN charger varies from device to device.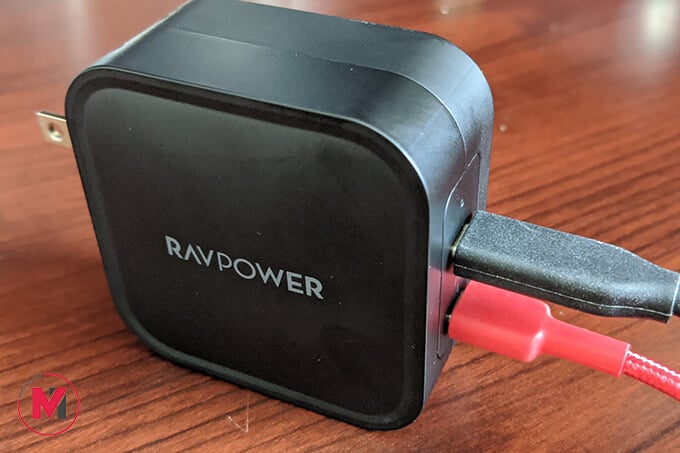 Thus, we can also plug-in any smartphone that supports PD Charger or QuickCharge above 15W input using this USB-C power adapter. We did not find any unusual heating or power input instability while charging various devices using RAVPower 90W GaN PD Charger. The usage of Gallium Nitride semiconductors definitely has a big influence on the express power delivery.
The USB-C power adapter comes with two USB Type-C ports. Thus, you can connect the PD charger to two laptops and smartphones with Type-C ports at a time.
Related: 10 Best Portable Power Banks with Wireless Charging
Can It Replace Your MacBook Pro Charger
Apple started using USB Type-C ports to charge the MacBooks with the aim of making the chargers universal across devices. The old MagSafe charger adapters are little bulky, however, the new MacBook models come with faster GaN chargers made by Apple.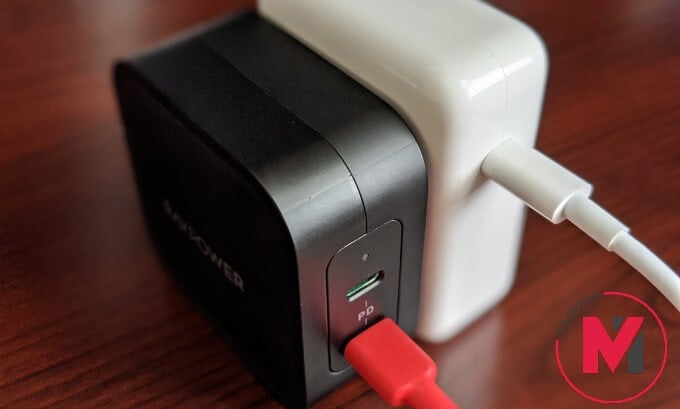 However, the new MacBook Pro charger adapters have fixed power delivery, varying with models. So, if you are having a USB-C power adapter for your MacBook Pro 13-inch, you would not be able to use the same on a 16-inch MacBook Pro. The latest 16-inch models require 90W/100W wall adapters to juice up the battery.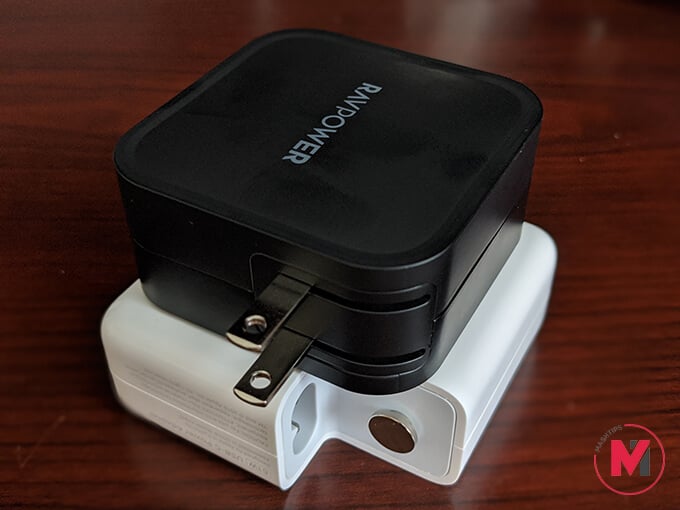 Well, the aftermarket PD Chargers and GaN charger adapters can solve this limitation. The RAVPower PD charger can intelligently deliver the power depending on the device connected. Therefore, you can charge both your 13-inch MacBook and 16-inch MacBook Pro using one single GaN charger like RAVPower.
Final Verdict
RAVPower 90W PD Charger is a new member of the Gallium Nitride Charger family in the market. The GaN Charger adapters are very compact and intelligent with the usage of GaN semiconductors and can charge various devices without flowing excess power to the batteries. Owning one PD Charger is an all-in-one solution for all your devices, as a single adapter is required for both your MacBook and smartphones.