The anti-theft backpacks are compact and handy smart backpacks that give a higher level of protection. They come in different sizes and have many compartments according to your needs. It can carry a lot of items, including your laptops, books, and gadgets. The theft free backpacks we've got here can even accommodate power bank or battery packs. This helps you took make charging convenient and your devices alive.
Here, we've got a list of some of the best anti-theft backpacks with USB power output. It can meet all your safety standards and can act as a backup power source for your smartphones.
SoSoon Laptop Backpack
The Sosoon Laptop backpack is one of the stylish and compact antitheft backpacks on the net. This antitheft backpack comes with a padded soft sleeve layer. The compartment size is of 15″x 7.9″ x 21″. You can keep almost a 15.6-inch laptop inside this theft proof backpack without much fuss. Also, there are multi-functional pockets inside as well as on the sides. This gives you convenience and a safer way to hide your things.
Apart from this, this theftproof backpack comes with an external USB interface. This lets you charge your smartphones or iPhones when you are on the go. As the backpack features the USB slot near to the side end, you don't need to open the backpack each time for charging.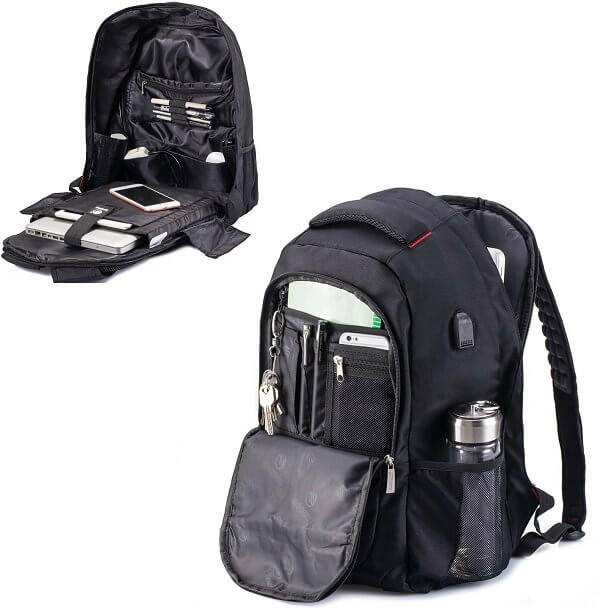 The 
zippers are not easily visible
during the first sight to avoid thefts and other issues. This anti-theft bag comes with good quality
anti-scratch and water repellent material
. Hence, it's a tough one to beat when you roam the streets. The innovative weight balance design makes you feel
20%-25% less weight
.
The bodyside and shoulder straps have a decent mesh padding. Unlike many other anti-theft backpacks, this anti-theft backpack here offers you the cushioned comfort. Moreover, the backpack is suitable for all ages and useful for business trips.
Buy from: Amazon
SAMI TUDIO Anti-theft Backpack
The Sami Tudio anti-theft backpack is durable that houses all your valuables. This backpack is quite big and comes with a 18×12.2×5 inch dimension. It lets you fit a 15.6" or a 17" laptop with ease. This anti-theft backpack comes with good quality zippers that are hidden. The backpack zippers are at the side and run down to your back. Hence, it is impossible to unzip a pocket or the compartment without your notice.
There are three pockets outside, another four inside, 2 in the bottom, and one near the back. These are all also hidden well in normal appearance. Moreover, it comes with a USB interface that lets you charge most of the USB powered devices. You can connect a power bank into the USB slot from inside and connect the device to charge. Also, the secret pockets near the sides and the straps will give you easy access to needy devices.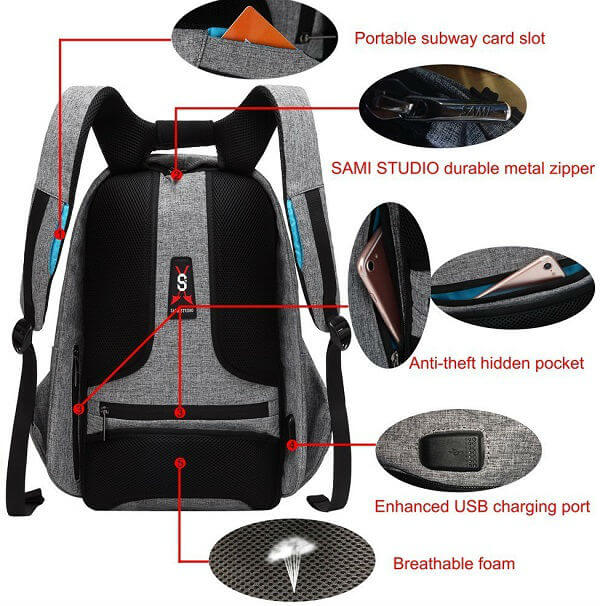 Apart from that, the backpack with a USB charger comes with a luminous strip. This strip can surprisingly be used as an accident alarm or a kind of security lighting when you're walking or riding at night. The anti repellent polyester of this USB powered backpack is highly durable and sturdy.
Note: Keep in mind that never use this backpack during heavy rains. It can withstand water for around 5 to 10 mins, but exposure more than this may leave it damaged. Also, the USB pass-through of the theft-proof backpack is using a much older USB-A protocol. Therefore, using a modern battery with Quick Charge or PowerIQ technology doesn't work. If you are in the hunt for a sturdy backpack with a large size, well, you could look this one.
Buy from: Amazon
KOLAKO  Laptop Backpack
The Kolako laptop backpack looks old-school, but yet, it's one of our top picks when it comes to safety. This theft proof backpack comes with a 18×12.2×5 inch dimension that fits a 15.6" or 17" laptop. This multi-compartment backpack comes with the modern anti-theft design. That includes a theft-proof combination lock and set of metal zippers.
The zippers are made of good quality metal that is tough to break. Moreover, this anti-theft backpack is crafted with good quality polyester with an extra PU back coating.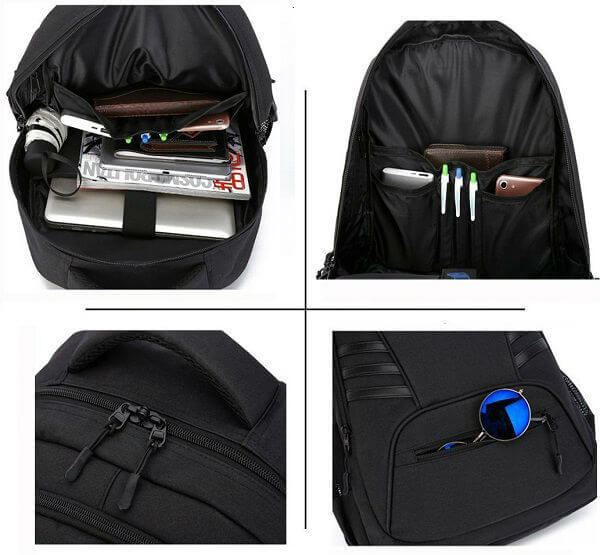 Related: 10 Best Portable Power Banks for Apple Watch and iPhone
In fact, this cool backpack also comes with an external USB interface and built-in charging cables that help you to charge devices on the go. The backpack with USB power is only providing a connection between your phone and the charger that makes you hands-free.  It can safely accommodate the power source behind the USB interface and the inbuilt cables.
The Kolako laptop backpack also provides divider pockets as well as padded compartments for more storage space than most of the anti-theft backpacks out there. Also, the padded compartments are developed in such a way that you can safely keep the laptops without any damages.
Note: The USB port can be disassembled for easy cleaning, so as not to damage your phone, portable charger, and other electronic devices.
Buy from: Amazon
Also read: Powerful USB-C Supply for two Laptops
SoSoon Laptop Backpack (Multipurpose)
Sosoon anti-theft backpack comes with an approximate capacity of 42L. The dimensions 15″ x 8″ x 22" makes it one of the best backpacks for business trips. This theft-proof bag gives the provision to keep a 15.6-inch lap with ease. This suits most of the people, businessmen, children, wanderers, etc.
The anti-theft backpack comes with a spacious packing compartment for daily necessities. The main compartment is for keeping your laptop and has padded coverings. Moreover, this cool backpack offers eight functional pockets to keep all your essentials.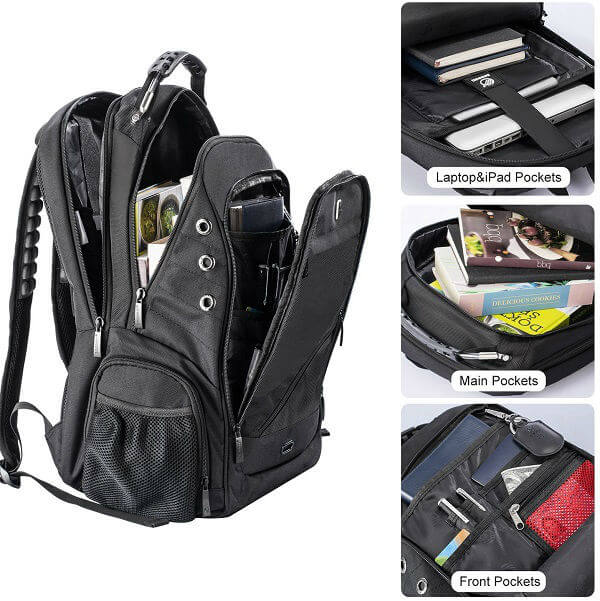 Apart from anti-theft design, this handy backpack also features a USB 3.0 charging port that resides near the shoulder strap. It also gives you built-in charging cables that help to connect to the external power source, such as a power bank. The Breathable and adjustable shoulder straps relieve the stress on your shoulders that makes a feeling of 20%-25% less weight.
This laptop backpack comes with durable polyester fabric and dual metal zippers. The build quality of the polyester fabric makes it anti-tear and water-resistant. If you are looking for a multipurpose theft proof backpack with modern features, this Sosoon laptop backpack will be your best bet.
Buy from: Amazon
Yorepek Travel/Laptop Backpack
The Yorepek travel backpack is extremely multipurpose. Whether you plan to go on a business trip or vacation, this compact backpack can be your best mate. The backpack is quite large, and it can hold an approx capacity of 45L. It is TSA friendly, and the design favors Airplane travel standards.
Moreover, the Yorepek travel backpack comes with an external micro USB port with built-in charging cables. These cables should go into the external power bank or power source. It is worth mentioning that you might need compatible charging cables to charge your smartphones. It also gives a headphone passage that gives you easy access to headphone usage without opening the backpack.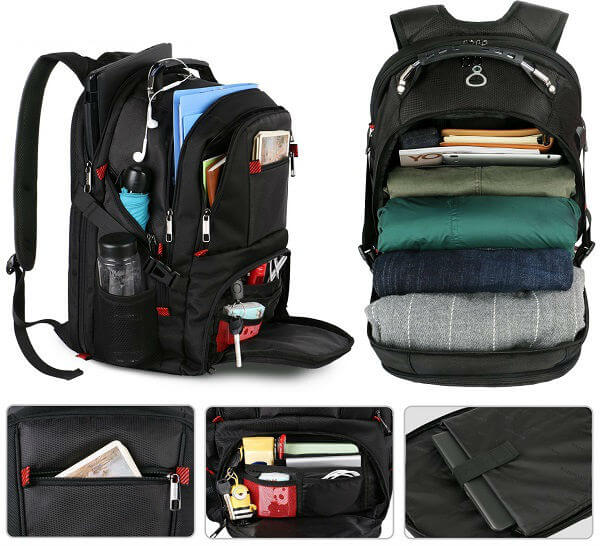 The backpack with USB power has a 19.0 *14.6*10.2 inches size that can carry a 17-inch laptop without any fuss. Moreover, it is made of high-quality polyester and nylon, and this compact backpack contains around 20+ storage pockets combined with two large multi-purpose compartments.
The anti-theft design makes that most of the pockets stay hidden at first sight. Also, the backpack comes with a U-Shaped ventilation design for easy air convections and heat elimination. The straps are designed to decrease the pressure on your shoulders. A well-crafted backpack with multi-use design makes this Yorepek backpack a good one to look for.
Buy from: Amazon
Loaged Laptop Backpack
The Loaged anti-theft backpack comes with a dedicated laptop compartment that can hold a 17-inch laptop easily. This multi-compartment backpack comes with a capacity of approx 45L and 18.9x 13 x 6.3 inches in dimension. The compartments as well the storage pockets, are quite useful during business trips and tours. The backpack includes three main pockets and seven small inner pockets that provide specific space for all your stuff.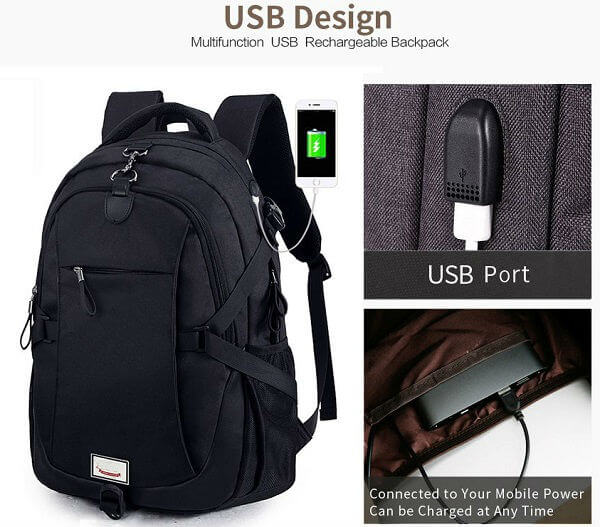 This compact backpack also comes with an external USB interface that lets you charge smartphones or tablets without even opening the backpack. All you need is an external power bank to connect. Also, the anti-theft design provides more degree of protection when you roam the streets. The front and side buckles provide an excellent protection against thefts. Unzipping the bag and stealing valuables cannot take place and more convenient than the coded lock.
Buy from: Amazon
ibagbar Laptop Backpack
iBagbar laptop backpack looks quite modern and compact. This anti-theft bag comes with multiple compartments and sturdy zippers. You can carry a 17-inch laptop without much wobble. The new theft-proof backpack, combined with an external USB charging port makes it a good companion for your trips. The port gives you access to charging the smartphone from a power bank.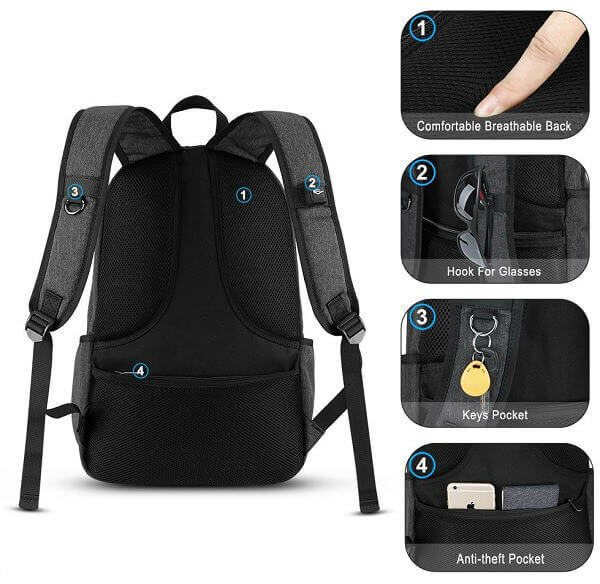 Also, this anti-theft bag comes with a fresh anti-theft design that decreases the threat from thieves and pick-pocketers. The backpack also gives you the option to secure belongings with a padlock if needed. The bigger shoulder strap can help to decreases the pressure on shoulders.
Download from: Amazon
GAOAG Laptop Backpack
The Gaoag laptop backpack is an anti-theft bag that meets all your needs. This anti-theft backpack is made from high-quality oxford material and has strong metal zippers. The presence of padded adjustable straps sees that you experience minimal pressure while you carry. Also, the theft-proof design, combined with coded locks and buckles makes it safe while traveling.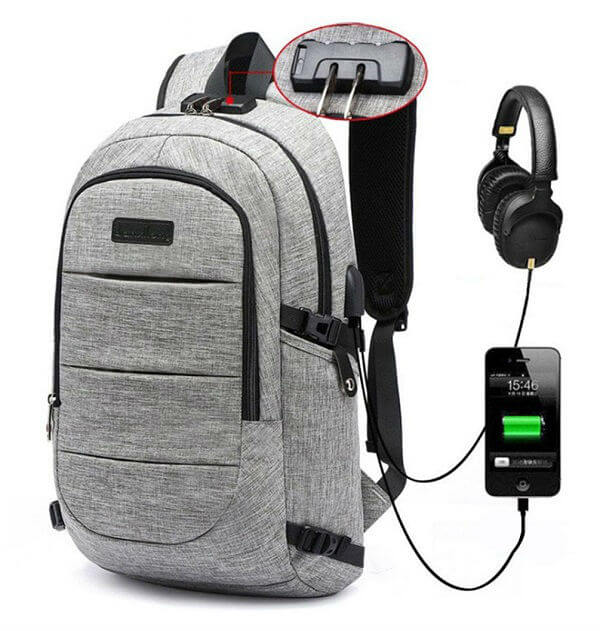 Compared to others, this anti-theft backpack is a bit small and compressed. It can accommodate a 15.6-inch laptop, with a few issues, though. The laptop compartment comes with an average layer of padding. Also, the multi-functional pockets and hidden compartments make it a great backpack for those who are on the move. This cool theft proof backpack also features an external USB charging port with inbuilt charging cables. It also gives a headphone port or a headphone passage. This headphone port lets you keep connected to your playlist every time. Also, you can charge the phone and use headphones when your phone's docked inside the backpack.
Buy from: Amazon
Bobby Anti-theft Backpack, by XD Design
The Bobby backpack by XD design is really mainstream, nothing too fancy. It's quite modern when it comes to design. This theft proof backpack is made out of fine quality polyester, and the hard stitching design ensures strength. It has a padded compartment for keeping laptops and a normal wide compartment for keeping other necessities. You could just keep a 17-inch laptop and that too, with a bit of additional effort. The polyester material makes this theftproof backpack durable and water repellent.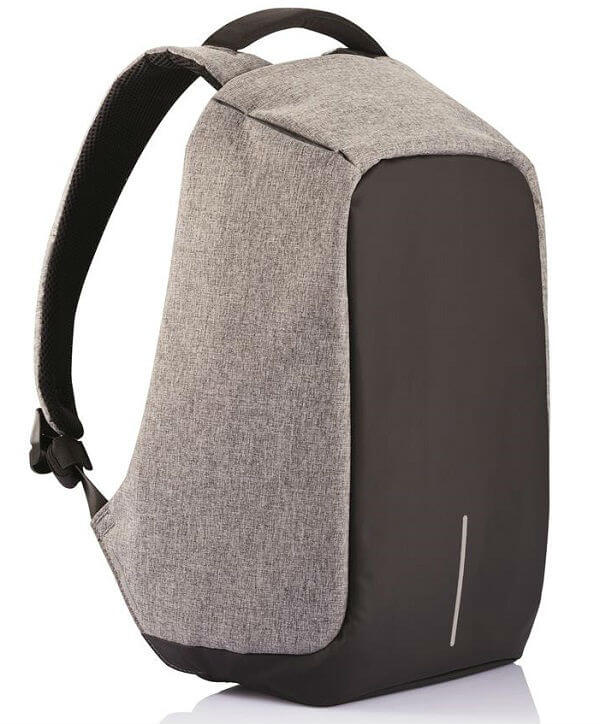 Moreover, the anti-theft bag design and sturdy material make it apt for road trips. This antitheft bag comes with an external USB port. You can find this port near the shoulder strap for charging the gadgets. All you need is a power bank with suitable cables. The power bank connects to the USB input inside the backpack. You can keep your phone in the docking compartment. Another feature that's worth mentioning is the reflective bars on the side straps. this is useful for safe travel during the night.
Buy from: Amazon
The backpacks are everywhere, and people are looking for more innovative ideas. Everyone has a regular-sized old gen laptop bag that's used to keep almost anything. The antitheft backpacks with USB power can meet the safety and convenience standards.
Most of these theft-proof backpacks are coming with a USB charging facility. These anti-theft backpacks are developed by keeping all safety and comfort standards. The new anti-theft design keeps nasty robbers away. Our top picks also fall in the average price tag which most people can afford.