Is your iPhone suddenly charging slower than usual? Before assuming that your iPhone gotten into some trouble, there are a few things to check to fix this issue. Here we listed out the best possible methods to fix iPhone charging slowly.
Let's get started.
Why Is My iPhone Charging Very Slowly?
Apple lets you charge your iPhone easily using the lightning cable or a wireless charger. Although the iPhone chargers are not that fast in general, they can get slow in some cases caused by several reasons.
First of all, if you are new to iPhone and comparing the charging speed with a high-end Android phone, let me stop you there. Many Android phones these days have ultra-fast chargers that range from 24W to even 68W that juice up the battery in a blink of an eye. Apple iPhones support a charger with a maximum power drawing of 18W, that too in the latest iPhone 12 Pro and 13 Pro models. Unless you have these iPhone models, you are likely to experience a comparatively slower charging rate.
If that is not the case, and you are a regular iPhone user who is seeing a dip in charging speed recently, there can be other technical issues with your device or its charger. If your iPhone charger is not giving the required amount of power to your iPhone, the charging speed can reduce.
There can be many other factors including the quality of the charger cable, debris inside the lightning port, and much more that affect the iPhone battery charging speed. Let us go through each of them and see how to solve any such issues.
Fix iPhone Charging Slowly
Find out the major reasons for your iPhone to charge slowly and their fixes in here. In case one of them does not fix the issue, move on to the next troubleshooting method.
Turn Off Optimized Battery Charging on iPhone
Optimized Battery Charging is a smart option on iPhone that prevents the battery from being fully charged. This does not happen during the usual time you are using your iPhone. When the Optimized Battery Charging is enabled, your iPhone will adaptively learn the time you do not use the phone, say, nighttime.
If you plug your iPhone into the charger during that time, it will slow down after charging past 80%. In order to prevent the iPhone battery from wearing by quickly charging to 100%, optimized battery charging will slow down the charging speed so that it will reach there only by the time you are awake.
In case you are seeing the iPhone charging slowly during the time you are mostly inactive on other days, head over to the settings and turn this option off. See how.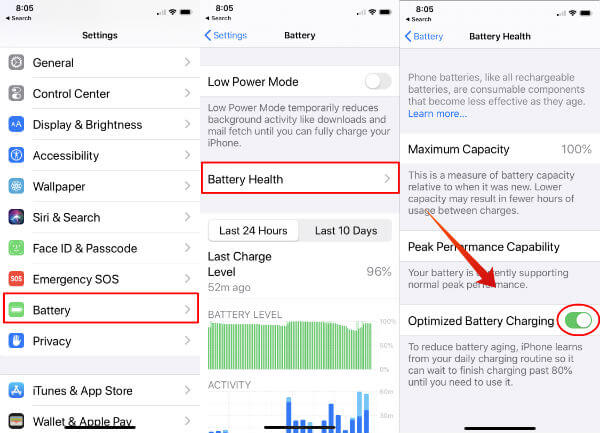 Open Settings on iPhone and go to Battery.
Tap on Battery Health.
Toggle off "Optimized Battery Charging" from the next screen.
Clean Up the Lightning Port
Most of us care to clean up the iPhone screen and camera but forget about the lightning port. The charging port on your iPhone is where the debris is most likely to get stuck. Especially if you are working in a dusty environment, dust particles can get clogged into your iPhone's lightning port.
To clean the debris out of your iPhone lightning port, take a toothpick and carefully scrape the port, and pull out any dirt. Make sure you can see the port while cleaning otherwise you may break a thing or two. Move the toothpick gently otherwise it may hurt the connection pins inside the lightning port. Also, use an air blaster or canned air to gently remove the dust from your iPhone charging port.
After cleaning up, check if the charger is working properly with your iPhone. To prevent this from happening again, buy a dust port plug for your iPhone to secure the lightning port while not charging.
Related: 7 Best Ways to Clean iPhone Speaker and Remove Dust or Water
Stop Using Wireless Charging
If your iPhone supports wireless charging and you are using one for the sake of convenience, you cannot expect the speed you get from wired charging. There are certain reasons that slow down the iPhone charging when you use a wireless charger.
The major reason is the power loss due to wireless power transmission. Even if the wall adapter gives out enough power, your wireless charger will still lose some of it while charging your iPhone.
For the second reason, your iPhone supports only a maximum of 7.5 Watts power input in wireless charging, which is equal to a 5V, 1.5A wall adapter (or less). This is lesser than charging from a wall adapter so, if you are using a wireless charger for your iPhone, consider switching to a normal wall charger to fix your iPhone charging slowly.
Note: MagSafe wireless chargers for iPhone 12 and 13 are comparatively faster (12W) than the conventional wireless chargers.
Related: 10 Best iPhone Wireless Chargers for iPhone Xs, XR, 10 & iPhone 8
Check Your Lightning Cable
If the above steps did not fix your problem, the next step is to take a look at your lightning cable. The charging cable (aka lightning cable) for iPhone comes with 8 pins on a single side. They are so tiny that even a small scratch can be deadly for them.
Look at either side of the lightning connector on the charger cable and check for any change in color or any gloopy dirt on top of the connection pics. If it has any, take cotton buds, gently clean the connector pins, and try charging your iPhone again.
Once you make sure the pins are all right, look for any breaks or bends on the iPhone cable. If your lightning cable is broken internally, you can either break the insulation and fix it or buy a new charger cable.
If you are seeing the 4th or 5th pin turned black, that means the lightning cable is damaged and it is time to get a new one.
Get the Better, Shorter Lightning Cable
If you are planning to get a new cable for your iPhone because the existing one does not charge fast, there are a few things you should look for first.
Rule number one, long cables are not favorable for fast charging. When the length of the cable increases, there will be power loss due to the resistance on the cable. Buy a shorter cable to fix your iPhone charging slowly.
That's not it. It is always better to make sure the cable is MFi certified since they are certified by Apple for iPhones. Cheaper lightning cables can charge your iPhone, but they may not be that fast and secure, and may not last long.
Another factor to look for while buying a lightning cable is the USB C connecter. The standard USB to lightning cables can only support up to 2A current flow while the USB C to lightning cables are much faster. So, getting a better lightning cable for your iPhone can be a working solution to fix iPhone charging slowly.
Related: 20 Best iPhone USB-C Charger Adapters and Cables for iPhone 12
Choose the Right Charger for Your iPhone
You cannot blame your iPhone for slow charging if you are using a wall adapter that delivers lesser power than what your iPhone wants. The standard wall adapter that comes with most iPhones is the 5W adapter (5V, 1A), which is basically slower than most Android phone chargers.
Apple says that iPhone 8 and newer models support fast charging up to 18W. You can use a safe wall adapter with sufficient power output to charge your iPhone battery faster.
Most chargers will have the power output mentioned on them (like 5W, 10W, 15W). In case you cannot find any wattage information, look for the output voltage and current (mentioned in "V" and "A"). The wattage is calculated by multiplying the output and current (ampere). So, if your wall adapter says "Output: 5V–2A", that means you have a 10W charger. An adapter with 6V-3A output can charge your iPhone at 18W, which is quite fast.
Next time you are getting a power adapter to charge your iPhone faster, look for the output power and get a suitable adapter. The same applies for battery packs (powerbanks) as well. Even if you have a powerful wall adapter and still it is not charging your iPhone as you expect, it needs to be replaced.
The same applies for car chargers as well. If you want to get fast charging on your iPhone while driving, first, make sure the car power outlet (cigarrette lighter adapter) has enough power output for the car charger to work properly. Most cars have more than 50W of power output which will be quite enough for iPhone fast charging. Also, choose the car charger that supports iPhone fast charging.
Note: Using fast charger for your iPhone always is not a safe practice. It is always better to use the 5W or 10W wall adapter recommended by Apple to maintiain a better battery health.
Related: 7 Best USB C Wall Adapters with Power Bank for iPhone, iPad, and Android
Check Your iPhone Battery Health (And Replace)
The iPhone battery must be in a good shape to juice it up fastly. Apple lets you check battery health information on your iPhone so that you can know whether your battery is healthy or not.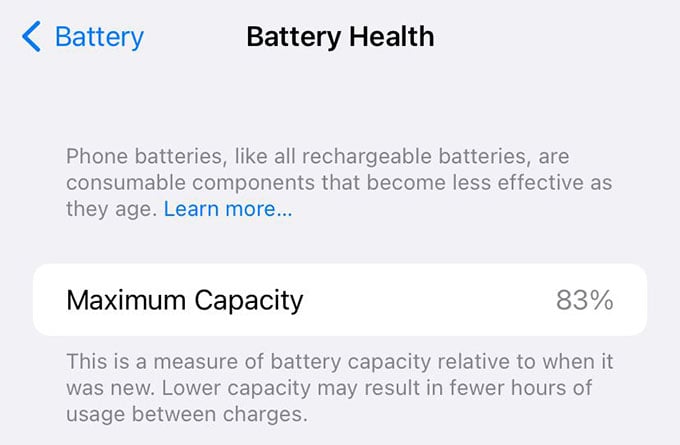 To check your iPhone battery health, head over to Settings > Battery > Battery Health. There you will find the battery health percentage for your iPhone. If it is under 80%, you should get a battery replacement for the proper battery charging and better battery backup.
To get a battery replacement for your iPhone, visit your nearby Apple service providers. Also, soon you will be able to buy genuine parts from Apple and replace the battery on your own.
Related: Ready for an iPhone Battery Replacement, How to Check?
Check for Household Power Fluctuation
Sudden fluctuations in your household power supply can result in slow charging of your iPhone battery. Variation in the voltage can damage your wall adapter easily. In case you suspect some serious power fluctuation in your house, get it checked with a voltage tester/multimeter or an electricity usage monitor plug.
Pay a Visit to Apple Technicians
In most cases, your iPhone will fix the slow charging issue and get back to normal charging after going through the above troubleshooting methods. If you checked the charger, cable, lightning port, battery settings, and even battery health and everything seems to be alright, your iPhone must charge as usual.
If you are still facing the slow charging issue with your iPhone, it could be something else. Take your iPhone to an authorized Apple service provider so that they can look it up and fix it for you.
Related: How to Get Your iPhone and Mac Fixed for Free Direct from Apple
FAQ: iPhone Charging Slowly
How can my iPhone charge faster?
You can use a fast charger adapter that supports your iPhone to charge the battery faster. Also, it would help to have shorter, MFi certified cables for faster charging.
Is it OK to use my iPhone while charging?
It is completely safe to use your iPhone while charging. However, if you are doing power-intensive tasks like 4G/5G video calling, or video rendering, it may affect your battery health and might cause iPhone charging slow.