Mobvoi is known for its low-cost Wear OS smartwatches. It started with the 2017 TicWatch E costing $159. One of their latest Android Wear lineup TicWatch Pro 3 GPS, is definitely not an impulse buy at sub-300 bucks. Does the Mobvoi TicWatch Pro 3 GPS really justify the price tag? Read our TicWatch Pro 3 GPS watch review to find out.
Let's go through the detailed review of the Mobvoi TicWatch Pro 3 GPS detailed review and our final take on such a powerful Wear OS smartwatch.
Content
TicWatch Pro 3 GPS Overview
If you're familiar with the world of smartwatches, you'd know Wear OS does not necessarily have the best reputation. Wear OS smartwatches tend to be sluggish, or they run out of battery soon, not to mention their not-so-fancy app ecosystem. Previous TicWatches have suffered the platform's weaknesses, but the TicWatch Pro 3 from Mobvoi comes fixing some of those reputations.
Mobvoic TicWatch Pro 3 GPS is definitely not the first smartwatch the company makes, but considering their lineups, this has to be one of the most powerful in the Wear OS aisle. TicWatch Pro 3 GPS was preceded by the TicWatch Pro LTE which lets you add an eSIM, make and receive calls within the smartwatch. Well, the name "GPS" suggests this one here comes without any LTE option. There is a lot to this smartwatch you need to see about.
Related: 12 Best Apple Watch Alternatives and Best Smartwatches for iPhone
TicWatch Pro 3 GPS Specifications
One of the things that give TicWatch Pro 3 GPS an upper hand in the smartwatch market is its powerful hardware specifications. Let's see the hardware specifications first and move towards the full review.
Specifications
Mobvoi TicWatch Pro 3 GPS
Display
1.4" Retina AMOLED 454 x 454
FSTN LCD (Always-On Display)
Chipset
Qualcomm Snapdragon Wear 4100
Memory
1GB
Storage
8GB
Battery
595mAh
Battery Life
3 days (Normal)
45 days (Essential Mode)
Dimensions
47 x 48 x 12.2 mm
Color
Minimal Black
Case Material
Stainless Steel
Strap Material
Silicone
Speaker and Mic
Yes
Inputs
Touch screen, 2 Buttons
Sensors
GPS, NFC, Vibration Motor, Accelerometer, Gyroscope, Ambient Light Sensor, Barometer
Charging
Magnetic charger
Weight
41.9g
Familiar, Slimmer Design
The 2020 TicWatch Pro 3 continues the same design language as its predecessors. In a few words, the Mobvoi TicWatch Pro 3 GPS is big, chunky, round, and black. The two-tone metal rounded bezel has time designations, dual push buttons and sits atop a plastic body. Although it isn't the slimmest smartwatch, at 12.2 mm, TicWatch Pro 3 GPS is significantly thinner compared to the TicWatch Pro LTE. At 41.9g it is also slightly lighter than its predecessor.
The chunky stainless steel body may look "too much" if you are a minimalist. Comparing with the Apple Watch or other minimal smartwatches in the market, the dial and covering around it might seem a bit overkill. Well, of course, Samsung Gear watch got a similar chin, but even minimal. Apart from giving the smartwatch an aesthetic appearance, there is nothing much the top plastic covering do. Unlike Samsung's watches, you do not get a rotating dial on top to scroll or select.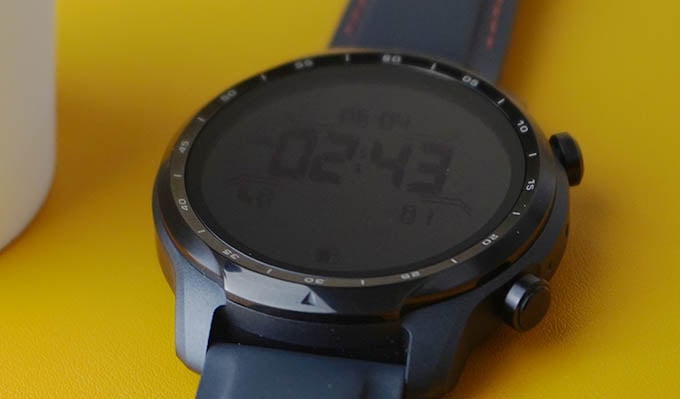 Next part is the best things about the TicWatch Pro 3 smartwatch from Mobvoi – strap. There is no leather strap or metal chain to couple up with your luxury outfit, but the hard silicone material is quite sturdy and good-looking enough for pretty much any occasion. The strap is tailored to look more like a leather strap with the stitches on either sides. If you do not like the way it looks or feels, you can simply change the strap with any 22mm watch straps you can get online.
Stunning Dual Display
Most of the smartwatches, especially the Wear OS ones usually come with screen sizes ranging from 1.1-inches to 1.3-inches. Look at that! Mobvoi TicWatch Pro 3 GPS boasts a larger 1.4″ OLED display as the primary screen. On top of it is the surprise element, a secondary screen layer that acts as an always-on display. We will talk about it.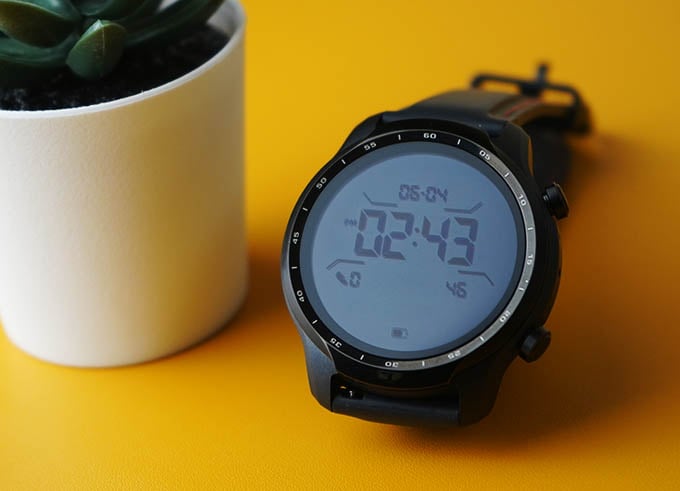 The secondary display is an FSTN LCD, the same screen you could find on a normal digital watch or an old calculator. TicWatch Pro 3 GPS has the top layer as an always-on and energy-efficient screen for daily usage. When the main OLED screen goes off, the top layer becomes visible showing the time, step counts and more.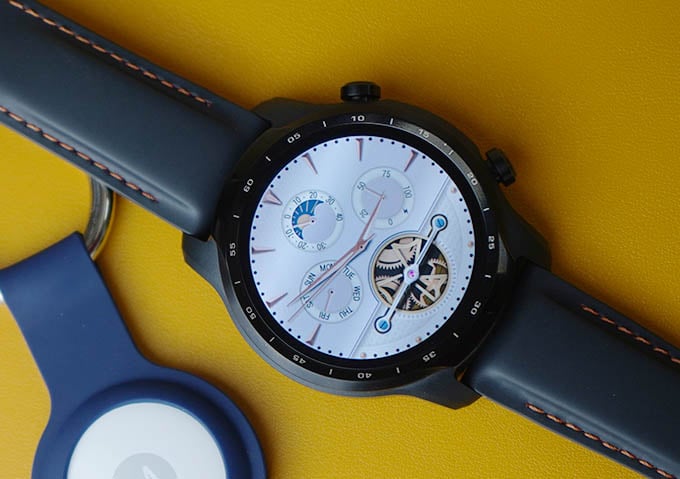 The top-layer screen is still perfectly visible in direct sunlight without wasting much battery at all. A battery indicator and live seconds counter has also been added. One of the drawbacks of this display was that ambient light was necessary to see anything on it. Just like those old digital watches, a tiny backlight illuminates the secondary display of TicWatch Pro 3 GPS.
Lift to Wake and Always On Display can be enabled for the secondary LCD screen. However, if you prefer looking at the colorful AMOLED retina display instead, you can disable the backlit LCD as well.
Faster, Smoother Wear OS Experience
One of the most distinguishing features of this TicWatch is its chipset under the hood. Up until the TicWatch 3, Mobvoi has been using outdated Qualcomm processors. This one has the Qualcomm Snapdragon 4100 instead. In fact, at the time of launch TicWatch Pro 3 was the only smartwatch to feature this processor.
Smartwatches until Snapdragon 4100 have been really struggling with the Wear OS. Unlike Apple's WatchOS, the Android Wear OS is always hungry for power but the manufacturers failed to make a powerful smartwatch enough to run the whole. TicWatch on the other hand has a significantly improved performance with the Android Wear OS on the board, which really impressed me.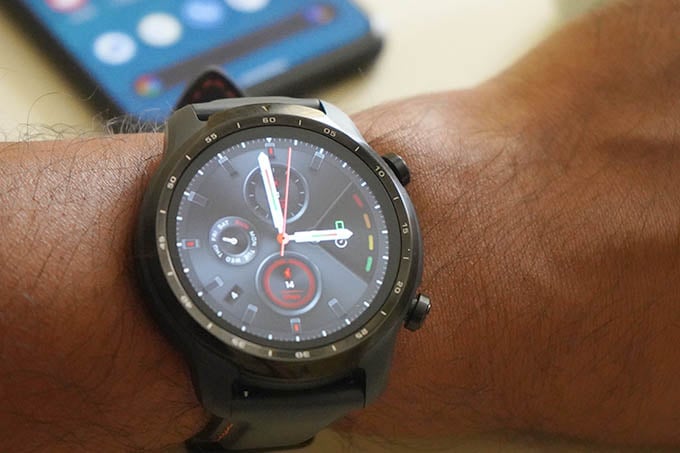 Everything feels a lot smoother, thanks to the 1GB RAM. If you look around, most of the smartwatches you see run on 512MB or 768MB RAM onboard. I wouldn't blame if somebody says Wear OS finally got salvation. However, it still lags a bit behind the Apple Watch or even Samsung's Gear watches.
Despite being a Wear OS watch, the TicWatch Pro 3 GPS is not just limited for Android users. If you are iPhone user and looking for a stylish watch like this, Mobvoi TicWatch Pro 3 GPS goes very well with notification syncing, health updates and more. There are some indeed some limitations, as you expect.
TicWatch App and Syncing
Speaking of updates, let's talk about the software side of things. We've already mentioned that the TicWatch Pro 3 runs Wear OS. At the time of reviewing, the smartwatch even got the latest Android 11 Wear OS version update.
You can control the TicWatch Pro 3 using the Mobvoi app available on the Play Store or App Store. This app lets you see what's happening on your watch. In addition to that, you can see all your health data in one place. You can listen to all the audio notes recorded with the watch, convert them to text, and even view screenshots from the watch. Mobvoi app on Android does not support exporting health data yet which is a bummer. There are tons of watch faces you can download and set right from the companion app on your phone.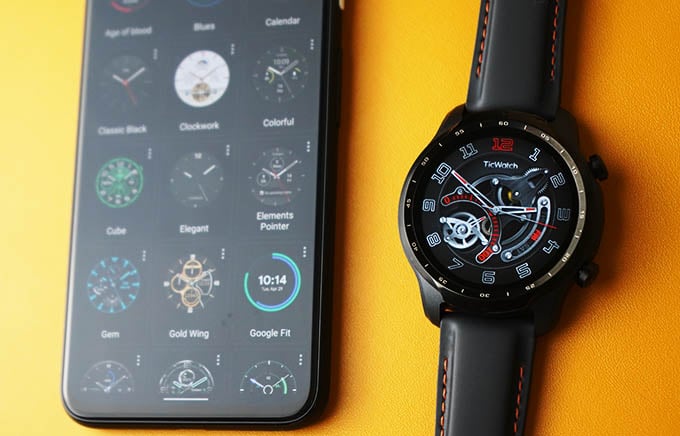 TicWatch Pro 3 GPS has inbuilt options to tweak Always-on display, gestures, notifications, apps, and more. Speaking of bloatware, you get a few fitness and health apps from TicWatch which are used to track our footsteps, exercise, health conditions. These are not very disturbing. Even if they do, you can simply disable those apps from the TicWatch itself.
Health Tracking
Showing time is the primary function of any watch, but it only becomes smart with health tracking features. So, in a way, health tracking is one of the two primary features, if not, the primary feature of a smartwatch. To do that, the TicWatch Pro 3 brings in some new sensors including a night infrared static heart rate sensor with non-visible light. You no longer have to worry about that weird green flickering light coming out the smartwatch back.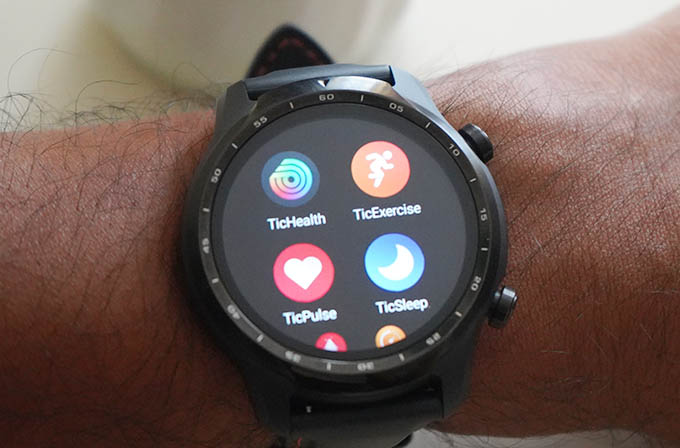 Seeing the latest Apple Watch Series 6 spec sheet, you must be already disappointed with most Wear OS watches. I was too, until I started using the TicWatch Pro 3 GPS. Right out of the box, you get an SpO2 (blood oxygen saturation) sensor, PPG heart rate sensor, barometer, accelerometer, and what not.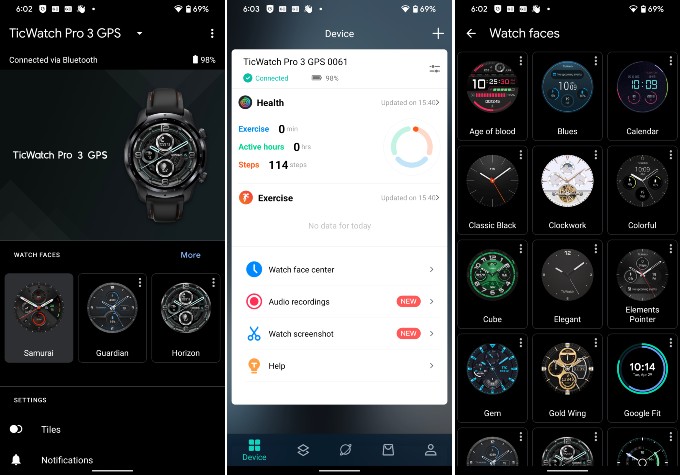 Plus, the TicWatch Pro 3 has some new tricks up its sleeve. The watch can measure stress levels using SDNN and even the ambient noise around you. The watch continues to track steps, heart rate, sleep, and SpO2 even in the essential mode (power saving mode) which is rather impressive.
Overall, there are 15 workout modes in the TicExcercise app that you can manually enable. TicMotion can also auto-detect your exercise and enable the corresponding mode.
Battery Life and Charging
The efficient Snapdragon processor also provides the TicWatch Pro 3 with a near two to three-day battery life in normal cases. It might last even longer by turning off some bells and whistles. Still, this is one of the highest battery life in a fully-fledged smartwatch while comparing.
According to TicWatch, the Pro 3 GPS can last up to 45 days in essential mode. Unfortunately, alarms don't work in this mode. Perhaps that can be added with a software update. Mobvoi has released several updates to further improve both the performance and battery life.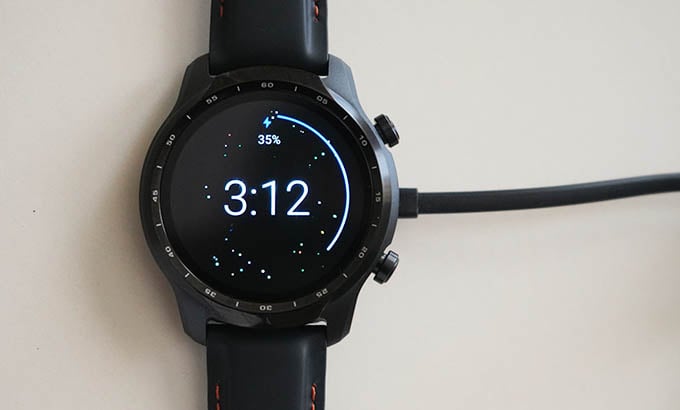 Charging the smartwatch battery is pretty easy with the USB magnetic cable included in the box. You can connect the USB cable to any wall adapter or your PC USB port and stick the magnetic end to the back of the TicWatch. It took us nearly one and half hours to charge the battery from 10% to full, which is to last for up to 3 days.
TicWatch Pro 3 GPS: Pros and Cons
Before we make a final statement about the Mobvoi TicWatch Pro 3 GPS Wear OS smartwatch, here are a few things we have on our mind, both what we like and do not.
What we like:
Best performance ever in a Wear OS smartwatch
Works with both Android and iPhone
Impressive dual-display
Up to 45 days battery in essential mode
High quality body and strap
What we dislike:
Unreliable connectivity
No health data exporting
Chunky design
Key Features: Qualcomm Snapdragon Wear 4100 | Wear OS 11 | 1GB RAM, 8GB ROM | Dual-screen setup | 22mm changeable silicone strap | Water and dust proof | Google Assistant | 3-45 Days battery | Google Pay support
Related: Amazfit GTR Review: Smartwatch for Professionals up to 74 Days Battery Life
Pricing and Availability
As mentioned before, the TicWatch Pro 3 GPS was launched in 2020 with a price tag under $300. You can buy the Wear OS smartwatch from Amazon with occasional discounts. You can also find better luck at Walmart or Mobvoi's Store for the TicWatch Pro 3 GPS smartwatch.
Final Verdict: Should You Buy?
Recommending Wear OS smartwatches has been difficult in the past and frankly, Wear OS has not improved enough to change that. However, TicWatch Pro 3 GPS is one of the best smartwatches that money can buy (unless you're an iPhone user). That's not to say it's perfect, of course.
The large display, for instance, might not be everyone's cup of tea, especially people with smaller wrists. Moreover, as functional as the secondary LCD is, you can't choose what it shows. Also, we have encountered certain connectivity issues while paired with the Pixel 4 over Bluetooth. Except for such minor disagreements, TicWatch Pro 3 GPS is a great deal at the price tag it offers.