Back in 2013, Facebook introduced Face recognition which allowed users to easily tag their friends in pictures they've taken. However, recently in December 2017, Facebook rolled out some new features for Face Recognition. This has caused some confusion among many people on what to expect from this update and how it affects privacy. The social networking company has taken care to make users aware of the changes, and even offers a one switch toggle for those who aren't very comfortable with it. In fact, in the last couple of days, you may have noticed a message on your news feed informing you of the same.
Let us take a look at what has really changed and for those who are concern about your privacy, you can turn off Face Recognition feature on Facebook.
What's Face Recognition on Facebook?
Facebook's updated face recognition technology comes with three new features. It helps identify when strangers use the photo. Since profile pictures are always public, Facebook will notify you if your photo is being used by a different account. Once notified about it, the individual can feel free to report and remove the fake account from Facebook. The feature hence provides an effective way to protect privacy.
Facebook also uses face recognition technology to identify when someone uploads a photo of you but doesn't tag you in it. Facebook then sends out a notification, allowing you to review and tag yourself in the photo. This feature only works if the person who uploaded the photo has included you in the selected audience. This basically means that you will be notified when friends uploading pictures of you, as long as the privacy is set to friends or public.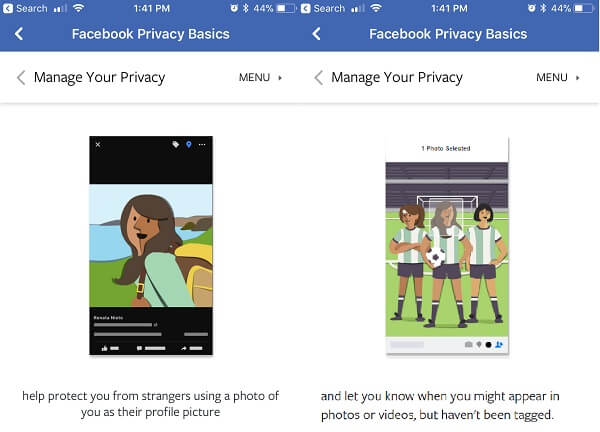 Face recognition on Facebook also proves a helpful feature for people with visual impairments. Using this technology, it can tell who's in a photo or video, while scrolling through the news feed, even if that person isn't tagged in the picture. This, however, would only work if the said individual in the picture is already a friend on Facebook.
Facebook set the Face Recognition is ON by default; however if in the past you have switched off face recognition for photo tagging; then it will remain OFF until activated. That said, eventually, everything boils down to personal preference. But, if face recognition isn't your cup of tea, Facebook has made it easy to switch it off completely. Doing that will cause to miss out on all the features of face recognition, as individual toggles for each specific feature is currently unavailable.
Switch off Face Recognition on Android
The Facebook settings for Android and iPhone is almost identical. However, for the sake of smartphone users, we will explain with screenshots, how to turn off Facebook Face Recognition feature on Android and iPhone. You have to turn off the face recognition only on one device, then Facebook will keep the same changes on all devices in case if you are using the same Faacebook account on multiple devices.
To switch off Face Recognition on your Android smartphone;

Open the Facebook mobile app tap on Settings icon > More > Account Settings  > Face Recognition Settings.

Under this category, you can disable Face Recognition by selecting 'No' as a response to the question 'Do you want Facebook to be able to recognize you in photos and videos?'.
Facebook Face Recognition on iPhone
Face Recognition can similarly be disabled on iOS from the Facebook mobile app. Follow these few simple steps to turn off the face recognition feature:

Open Facebook App on iPhone > Tap bottom right for Menu > Scroll Down for Settings > Account Settings > Face Recognition.

From the Account settings menu, tap 'Face Recognition'. To switch off Face Recognition, tap on the question 'Do you want Facebook to be able to recognize you in photos and videos?' and select 'No'.
Turn off Facebook Face Recognition on Desktop
If you don't have access to the mobile phone you can use the desktop browser to tun off face recognition on Facebook. Just like your mobile phone, you can do the same on desktop. Follow these easy steps to turn off face recognition on a desktop:

First, open Facebook on desktop and login into your account. Now, click on the down arrow and go to 'Settings' on the right top corner.

Once you open the Facebook Settings, you can see the settings for Face Recognition on the left sidebar menu. Click on Face Recognition and then edit to proceed.

Now you have the option to select Yes or No for Face Recognition on facebook account. You can choose 'No' here to turn off Face Recognition on Facebook.
Thanks to the simple switch Facebook has made, anyone can easily turn off Face Recognition. As with all new technology, Face recognition also has a cloud of doubt surrounding it. Even though it shows promise and comes with some great features, it may not be to everyone's choice. But, whether it is going to be here to stay depends on you today. After all, we are the veins that power the heart of this social network.