iMessage for Android, that's a dream Android users have been watching for the better part of a decade. Every time Google comes up with a messaging app, the headlines explode. We've all seen it. Hangouts, Allo, and Duo are recent memories of such apps. Then Google announced RCS Messaging, and naturally, it also earned the title of being the iMessage for Android. That was years ago, and since then it has only been talked about.
The search giant is finally rolling out RCS and here is how you can enable RCS Chat on Android devices.
Enable RCS Chat on Any Android
Google is rolling out this feature on Pixel phones and limited Android OS versions at this moment. However, you can already get this RCS messaging on your Android phone. Follow the steps below to get the RCS Message on your Android phone.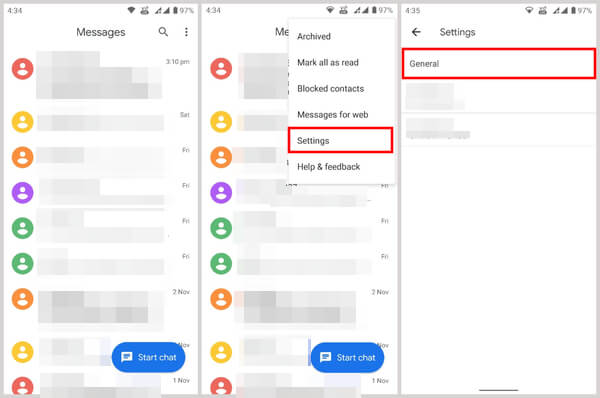 Download and install the Google Messages app from the Play Store, available for free.

When you launch the app, it will ask to be set as the default SMS app.

Now tap on the three-dot overflow menu button in the top-right corner.
Select Settings.
Next, tap Chat. On dual SIM devices you will have to tap General, then Chat.
Enter your phone number on the next screen.
Tap Continue.
Your number will then be verified, and RCS chat will be enabled in Google Messages. The verification can take anywhere from a few seconds to a few minutes. Once it has been done though, you will see your Status change from "Setting up" to "Connected" in the RCS Chat settings page in Google Messages.
What is RCS Chat?
For the uninitiated, RCS (Rich Communications Services) Char or Messaging is a new SMS standard like MMS, except it is light years ahead. RCS Chat aims to bring features that you're used to on messenger apps, to the good old SMS. This means you'll be able to see read receipts, send stickers, your current location, and much more. RCS will also allow for higher quality picture messaging up to 10MB in size, group chats, and even video calls by default. It is easy to think of it as an iMessage alternative or iMessage for Android.
Related: How Do You Recognize RCS/SMS Message
For the first time though, I agree with that assumption. It can even be an iMessage alternative for everyone, not just Android users. It will still be SMS of course, and you might not get all the fancy iMessage features like animoji, big and small text, etc. But more or less, it will be the same seamless experience. Anyone you text who has an RCS supported the SMS app, and the right carrier will receive an RCS message. If not, they receive regular SMS.
An obvious advantage over other messengers is that OEMs can build RCS support in their own SMS apps. Hopefully down the line, even third-party SMS apps might be able to tap into it. This essentially levels the playing field. You wouldn't need to have a particular third-party messenger service to enjoy all the advanced chat features. Moreover, if successful, RCS Chat will make iMessage users the green bubble they seem to hate. Unless Apple too adopts RCS chat in iMessage.
How to Get Animoji or Memoji Stickers on WhatsApp for Android
Where is RCS Chat Available?
The RCS Chat features depend on the carriers to enable them, though. And that is a serious disadvantage which has been holding back the rollout for years. Google has finally decided to go ahead and roll out the RCS Chat feature bypassing carriers. For the time being, the service will only be available in the US, UK, and France as well as some other countries on supported carriers like Canada.