Google Calendar is a cross platform calendar can be used to sync on all your devices like Android, iOS, Windows or MAC. Google Calendar is easy to export, back up and support to import any other calendar events into Google Calendar.

Google Calendars supports multiple calendar in one account and you can share separate calendar in your office, family  or in your business. Here we are going to see how to import iCal format (eg. Apple Calendar) to import into Google Calendar.
Here we assume that we already have iCal file saved in our PC. iCal format is generating in the exporting process of other calendars like  iCloud, or any other clients that support the the exporting feature in iCal format.
You can create a new calendar with the same name of iCal calendar in your Google Account to import the iCal calendar. Or you can use the existing calendar to import iCal if you choose to do so.
You have to login to Google Calendar as the first step to proceed. Once you login, click on right top setting button on the calendar. Select Calendar setting. Click on create a new calendar, name it and come back to Calendar setting.

Click on import calendar > Choose File > Select the iCal file already downloaded to your PC. In the second drop down menu, select the calendar you want to import the events.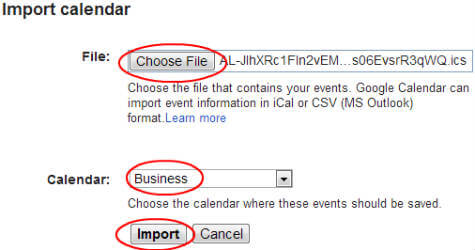 Click on import, and you will get a pop-up window saying that the number of events imported to your Google Calendars.
Now come back to the Google Calendar and see the same events in Google Calendar that you had in your iCal entry Calendar.