Apple released iOS 9 last week with awesome additional features and more user controls and flexibility. This feature list expands with 3D Touch, Apple News, Better battery life and more. As usual, Apple is offering more stability and performance improvement for iPhone with new iOS9.
But couple of these extended features like background app refresh resulted a wrong outcome, at least for the users who have limited data plan and heavy phone usage.
There are reports from iPhone users stating that they found a huge hike in their data plan usage after upgrading into iOS 9 from iOS 8. The new feature on iOS 9 might be the reason for this high data consumption with your existing iPhone.
Related: Get Complete Command Of iPhone Data Usage & Save Money!
Apple offer the new feature in iOS9 to save battery life by temporarily limiting iPhone fancy features (like app background refreshing, email checking) into only essential functions.
Turn-Off Wi-Fi Assist to Save Data Usage
Apple introduced Wi-Fi Assist feature in iOS 9 to back up your poor Wi-Fi signal. This feature coming as Tuned On by default with iOS 9 upgrade and new iPhone 6S models. When you turn on this feature, your phone will automatically use cellular data when Wi-Fi connectivity is poor. This will happen without your knowledge when you use the phone. So when you are watching a movie in home in a poor Wi-Fi signal area, iOS will automatically switch your Wi-Fi to a data connection to provide you best streaming experience.
If this feature enabled in your phone and you have WiFi blind spots in your home, you don't need to search any other place to find out the reason behind your last month excess data bill. If you don't have unlimited data plan or very limited data plan under 1GB, please turn off this feature. Please open IOS 9 Settings > Cellular > Scroll Down to Bottom of Screen > Wi-Fi Assist > Turn Off
Turn-On Low Power Mode to Save Battery
The great new features in iOS 9 bring you Apple News, Powerful Siri, Deep Search and lot of other cool functions. But the downside of these features are, most of these features like Apple News, Siri search need to work in background and connect your data connection or Wi-Fi plan even if you are not using the phone. This will cause to drain your phone battery even when you keep your phone ideal.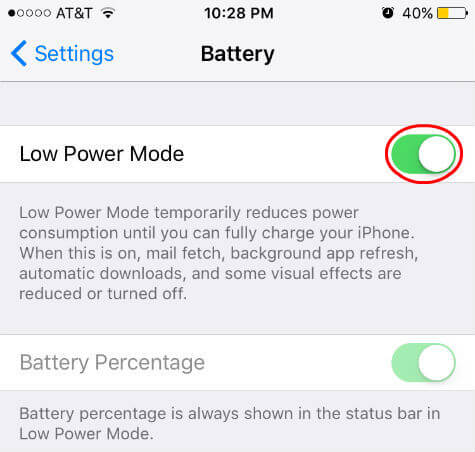 iOS 9 brings a single touch control to save your battery by disabling background refresh, automatic downloads, mail fetching and some visual effects. Your phone will ask you to turn on Low Battery Mode when your phone battery discharge to 20% of the battery power.
In addition to this, you can manually turn on this feature to limit your battery consumption if you are looking for less features and more backup time for your iPhone. Once your phone fully charged back, this setting will automatically turn off to bring back your phone fully functional. Go to iOS Settings > Battery > Low Power Mode > Turn On.
Related: The Ultimate Buying Guide for iPhone Backup Flash Drive.
Thanks to Apple for giving more controls to the phone users where they can determine to use their phone with fully functional mode or more battery backup time mode. Also the users have freedom to disable the Wi-Fi assist mode to save the expensive data plan instead of non breaking video streaming.