Whenever you try to take a screenshot, the annoying shutter sound comes up. This sound does not go away even if you put your phone in silent mode. If you are looking to mute the screenshot shutter sound on your Android phone to avoid being misinterpreted by others as you are taking photos, here are the ways.
Let us begin.
Turn Off Screenshot Sound on Android
Imagine having your phone on silent mode, so you do not disturb anyone around you, or attract attention. But then you take a screenshot and your phone makes that sound. What's worse is that on some phones, this sound is very similar to the camera shutter sound. So, people might think you've taken their picture.
If you have a Google Pixel, or any other phone running stock or close to stock Android, you may be out of luck. Because as surprising as it may sound, stock Android still does not have an easy toggle to turn off screenshot sound. But if you have a device from Oppo, Vivo, OnePlus, Xiaomi here's how to do it.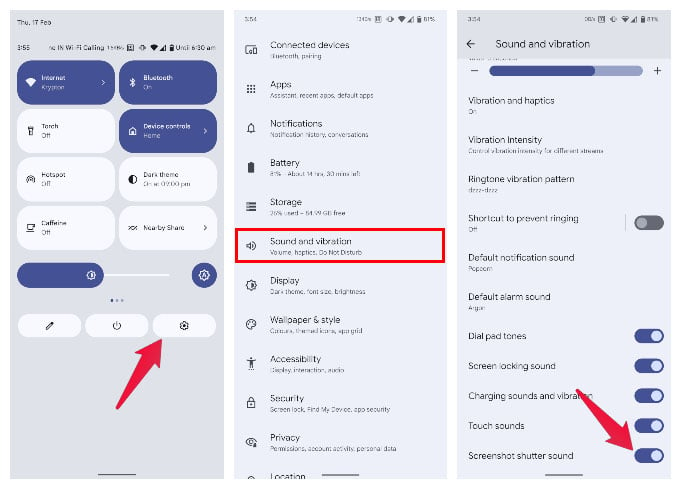 Swipe down twice from the top of the screen to go to quick settings.
Tap on the Settings (gear) icon.
Scroll down and select Sound and vibration.
Scroll to the bottom, and you should find a toggle labelled Screenshot shutter sound, Screenshot sound, or something similar.
This will not get enabled again, however, if you switch ringer modes. You'll have to come back and enable the option manually. Samsung's devices work as expected, so you don't need to do anything other than put the phone into the silent mode to turn off screenshot sound.
Related: How to Take Screenshot on Android By Tapping Back of Your Phone
Put Your Phone in Silent Mode to Take Screenshots Discretely
Certain smartphones, especially the Samsung ones, do not have the option to toggle off the screenshot shutter sound. In such cases, putting your phone in silent mode should be helpful.
In our case, we tried to take screenshots after putting our Samsung Galaxy phone in silent mode. Surprisingly, it silenced the screenshot shutter sound as well, which is a big relief. So, try enabling silent mode or vibrating mode on your Android phone if it does not have an option to silence screenshot shutter.
Use Google Assistant to Take Screenshots Silently
If you do happen to have a Pixel or a device running stock Android, there is a trick to take silent screenshots. As the title says, if you use Google Assistant to take a screenshot, it does not make any sound. This also isn't affected by ringer modes.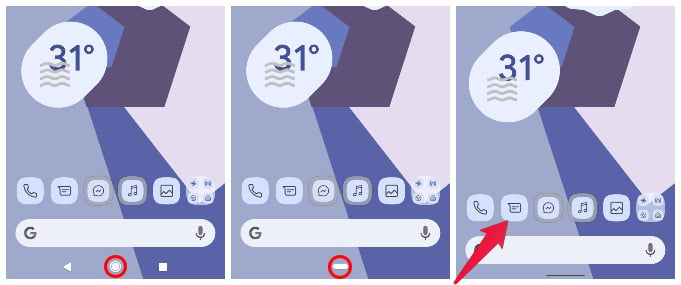 Launch Google Assistant.

If you're using the three or two button navigation, long-press on the home button.
Swipe obliquely from the left or right corner if you're using gesture navigation.

Tap on the keyboard icon and type the command: take screenshot, or take a screenshot
Google Assistant will then take a screenshot without triggering the screenshot sound.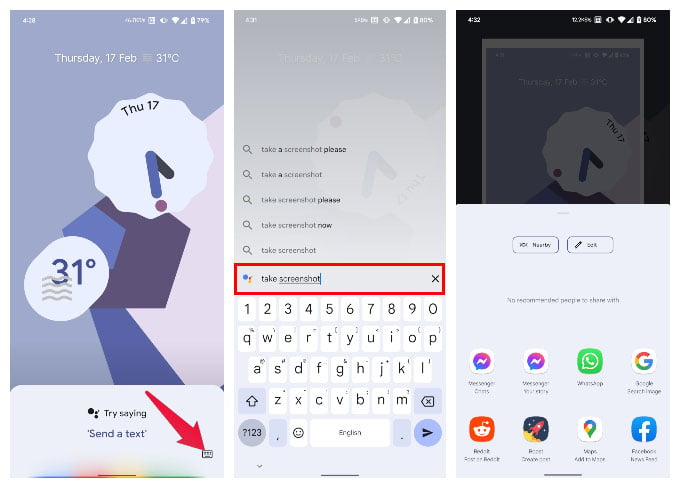 As soon as it takes the screenshot, the Android share sheet opens up. You can directly share the screenshot from here, but keep in mind that this screenshot is not yet saved. So, if you do share it on an app, you will not see the screenshot in your gallery.
This is good if you were going to delete the screenshot anyway. If you do want to save the screenshot, tap on the Edit button, then Save.
You can also speak the screenshot command instead of typing it when Google Assistant shows up. But that kind of beats the purpose of taking a screenshot without sound. There are many third-party apps on the Google Play Store that you can also try. Many of these either do not make a sound or have the option to turn it off.
Related: How to Take Scrolling Long Screenshot on Android
FAQ: Turn Off Android Screenshot Shutter Sound
How do I mute the screenshot sound on my Samsung?
Samsung devices work a little differently from every other Android phone. For a change, in this case, that is for the better. On Samsung smartphones, when you put the device into silent mode or vibrate mode, it turns off the screenshot sound automatically. This not only is convenient but also makes sense, and is expected behavior.
How do I turn off screenshot sound in pixels?
Google Pixel devices and other Android devices running stock Android do not have this option. Even when you put the phone in silent mode, screenshots still make a sound. Even if you completely turn down the media, ringer, and alarm volume, screenshots still make a sound. You can only avoid it by taking a screenshot using Google Assistant or using third-party screenshot apps.