Many Android phones have the scrolling screenshot feature, also sometimes called long screenshot. Google has finally baked it into Android 12 which means any Android phone can now take long screenshots.
Let's begin.
How to Take Scrolling Screenshot on Android Phone
Scrolling screenshot lets you take a screenshot of content while scrolling through it. This lets you take a long screenshot and include content that would otherwise not be visible in a normal screenshot. For example, if you wanted to take a screenshot of a long Facebook post that does not fit on your screen at once.
If you're on Android 12, the job is very easy. Most manufacturer skins also work in a similar fashion, so this will probably also work if you have a recent Android device from Samsung, Huawei, Oppo, Vivo, Xiaomi, OnePlus.
Take a normal screenshot by pressing down the Power and Volume down buttons together.
The screenshot is taken, and a preview is shown in the bottom left corner with some options.
Tap Capture more among the available options on the screenshot preview to take a scrolling screenshot in Android 12.
Use the selection tool to select as much of the content as you want in your scrolling screenshot.
You can also use the floating edit button (with a pencil icon) in the bottom right to annotate the screenshot.
When you're done, tap on the Save button in the top right corner.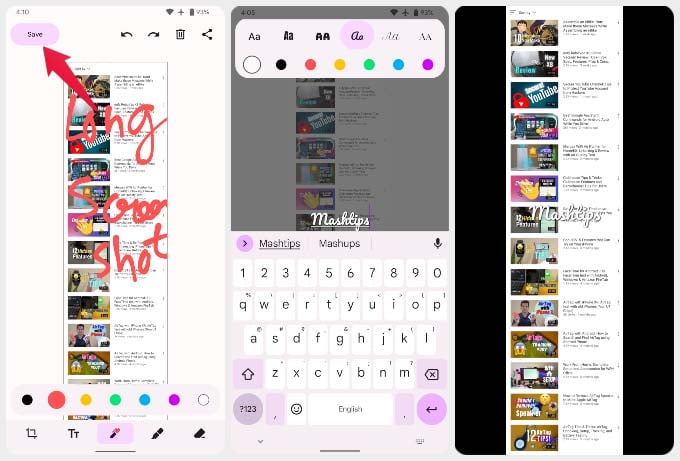 Your screenshot is saved in the Screenshots folder just as any other screenshot. There are a few limitations to scrolling screenshots on Android 12. It does not work everywhere, for now at least. If you want to take a long screenshot of a webpage in your browser, this will not work. For that, you can depend on Chrome's built-in long screenshot feature. But even when you take a screenshot of the Google discover feed, for instance, the Capture more option does not appear.
Related: How to Take Screenshot on Android TV
Android 12 also allows you to take app screenshots from the recent apps screen. If you prefer to simply tap on the Screenshot option present in the recent apps screen, instead of pressing hardware buttons, there's some bad news for you as well. No matter which app you're taking a screenshot of, scrolling screenshots on Android 12 don't work if you take the screenshot from the recent apps screen.