You may not realize it, but you can also take screenshots on Android TV. There are a few ways to take screenshots on Android TV. Some Android TV devices have built-in tools for taking screenshots, some don't. So not all the methods work on all the devices. But here are some of the easiest ways to take a screenshot on Android TV.
Let's begin.
Ways to Take Screenshot on Android TV
There are several ways you can take a screenshot on your Android TV, regardless of the manufacturer or the Android TV OS version.
Take Screenshot on Android TV Using Power and Volume Down
It may be on your TV, but it is still Android. Just like your smartphone or tablet, you can take a screenshot on your Android TV by pressing the Power and Volume Down buttons simultaneously. You may have to hold down the buttons for a second before releasing them to take the screenshot.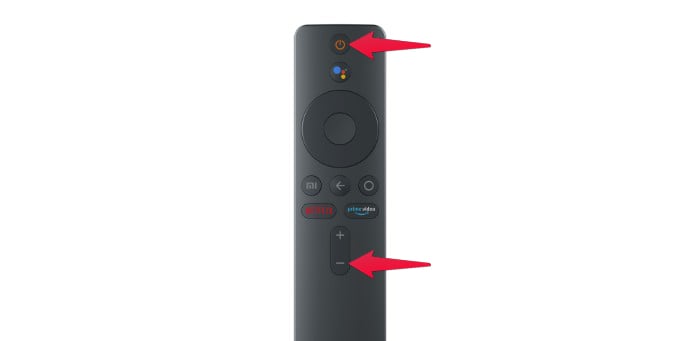 Related: 10 Best Android TV Box to Convert TV to Smart TV
Screenshot Android TV Using Power Menu
On Android TV 9.0 and above, you have the screenshot functionality baked into the Power menu. It works just like on an Android smartphone running Android 9.0. Let's see how to use the screenshot function in the power menu to take screen snaps on Android TV.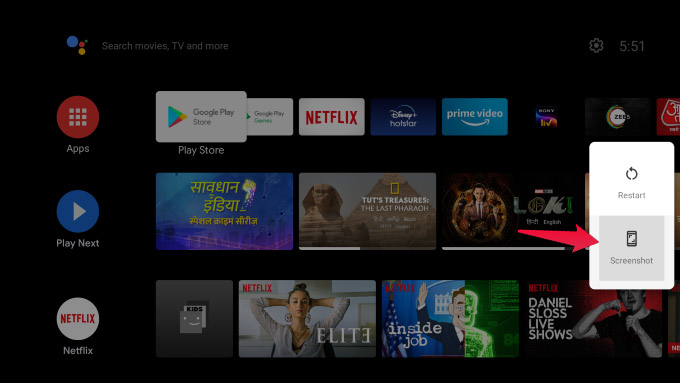 To take a screenshot on Android TV, press and hold the Power button on the remote to bring up the Power menu.
Select Screenshot from the Power menu.
Related: 10 Best Android TV Remotes with WiFi Keyboard & Mouse Connectivity.
Take Android TV Screenshot Using Smartphone
Most of the time, Android TV and boxes have their own Android apps to remotely control the TV. Manufacturers usually bake in the screenshot functionality in these apps. Unfortunately, all these apps are different, and it wouldn't be possible to showcase every app from every Android TV manufacturer.

The screenshot you see here is of the Mi TV app which has many functionalities that could save you a lot of time. Among them, you can select the "Screenshot" option to skip all the methods above and quickly take a screenshot of what's on the TV screen.
Related: 10 Best Android TV Boxes for Your Big Screen TV
Where to Find Screenshots on Android TV?
Your Android TV, much like your smartphone, stores screenshots in a folder named Screenshots located inside the Pictures folder. You can use any File Explorer apps for Android TV to access the screenshot. Most File Explorers even have built-in cloud storage support, so you can upload the screenshot to Google Drive to retrieve it on your smartphone or PC.
There are many third-party Android apps available on the Play Store for Android smartphones as well. Many of these third-party apps also allow you to take screenshots on Android TV. We cannot vouch for their quality or reliability, however. All the methods mentioned above are officially supported on Android TV and should work reliably regardless of your TV manufacturer.
It should be noted that some streaming apps such as Netflix may simply show a black screen instead of showing the content that was present on the screen while taking the screenshot.