Background apps on Android let you quickly get notifications and access the apps, but they generally take up a lot of battery on your phone. They also open up room for malicious apps. Android is now allowing you to close background apps on your Android phone.
Let's find the out the ways to force close background apps on your Android phone without using any apps.
How to Close Background Apps on Android
While Android has always offered options to allow users to close background apps, it was not a fully-fledged option. It has been buried in the settings for a long time, and you can quickly close background apps that are taking up memory and battery on your phone.
If you've got a Pixel or have an Android phone with Android 13 or later, you can quickly close background apps.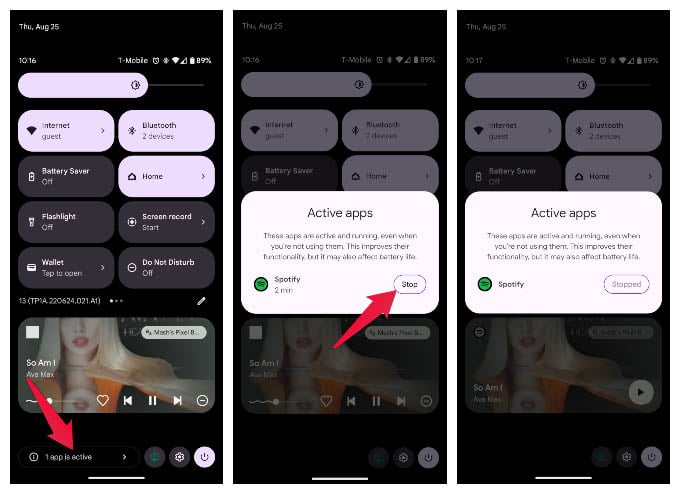 Swipe down from the top of the screen twice to open the quick settings.
At the bottom, you will see info on how many active apps you have.
Tap on the text shown.
Then, tap the Stop button against the app you want to close from the list.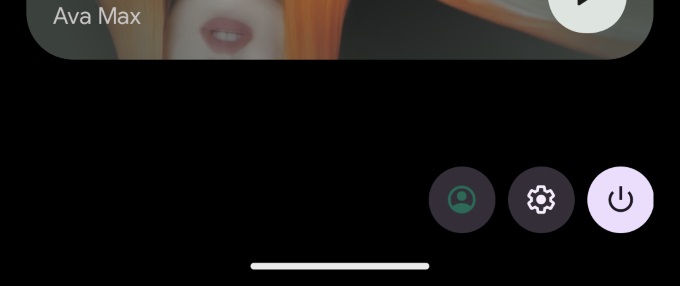 That's how easy the process has become on Android 13. Coupled with the privacy indicators and toggles added on Android 12, Android users now have so much control over their apps.
Related: How to Use Android App/Screen Pinning to Protect Your Privacy
How to Kill Background Apps on Android 12 and Older
As said above, killing background apps was always an option on Android but never easy. The option was buried in the Developer settings. If you're not using Android 13, you can still close background apps from the Settings on your phone.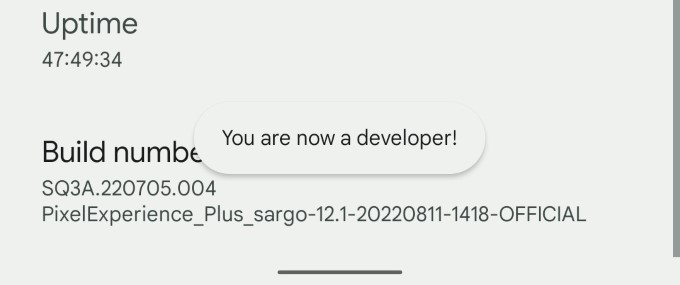 Open the Settings app on your phone and go to About phone.
Scroll down to the bottom and tap the Build number repeatedly 5-7 times.
Enter your PIN or password when prompted.
If you did this right, you will see a toast message that says, "You are now a developer!."
Go back to Settings and System.
Tap on Developer options.
Select Running services.
Here, you'll see a list of background apps and processes from different apps.
Tap on any background app or process you want to close.
Tap on the Stop button.
Many apps will stay in the background even after you close them from the recent apps window. You can get rid of such apps by using the above methods; however, if an active app needs another in the background, it might not be the best idea.
Related: Best Android Apps to Monitor Data and Control Data Usage
Force Stop Android Apps
While we're talking about closing unwanted apps, here's something you can do to close misbehaving apps. Force close apps on your phone. Maybe, an app that has become unresponsive or just a background app you already know about.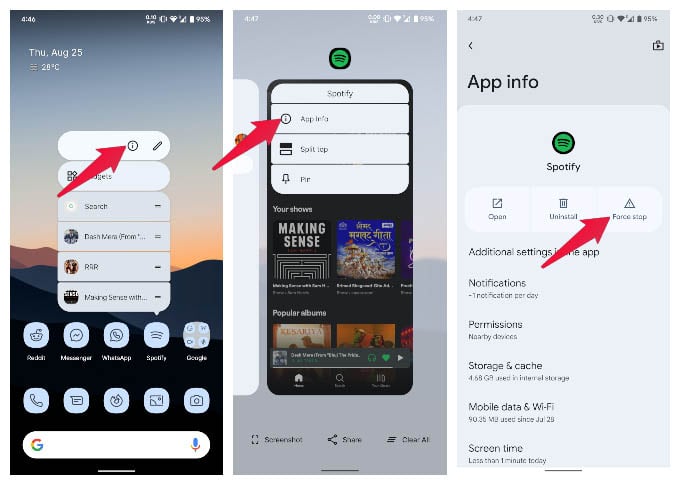 To Force close an app on Android, go to Settings.
Next, tap on Apps, and then select the app. Tap See all apps if you don't see the app right away.
On the App info screen, tap Force stop.
There are alternative ways to get to an app's info page quicker. You can long-press on an app icon on some devices to see the App info option. Similarly, you can tap on the app icon in the recent apps screen to see the same option.
Now, you might wonder, you can do the same thing by swiping up an app on the recent apps screen. However, the recent apps screen only shows you your recently opened apps. It does not show background apps that were never opened. The methods above show you background apps that might be running with or without your permission.
Related: Find and Control Which Android Apps Can Access Your Mic & Camera
FAQ: Close Background Apps on Android
Does Android automatically close background apps?

To extend your battery life, Android will automatically close background apps that haven't been used in a while. You can allow certain apps to run in the background uninterrupted by exempting them from Android's battery optimization settings.
Can I close apps running in background?

Android offers manual ways to close background apps. On Android 13, the process is very straightforward; on previous versions, it's a bit hidden. You'll need to turn on developer options if you're running Android 12 or below. Both methods are mentioned above.
How do I know what apps are running in the background Android?

On Android 13, you can see which apps are running in the background directly at the bottom of the quick settings page.