If you have a smartphone, you've probably experienced the anxiety when you have to hand over your phone to someone for whatever reason. For example, you want to show them a picture, but you're afraid that they might open other apps. With the app screen pinning on Android, you can make sure that it is the only thing they see.
By pinning an app on your Android phone screen, you can make sure anyone you gave your phone to is not opening other apps without your permission. Let's see how to get screen pinning and use it on your Android phone.
What Is App Pinning or Screen Pinning on Android?
App pinning is a feature on Android devices that lets you pin an app to the screen. This ensures that anyone you hand the phone over to cannot get out of that app and start looking at other things on your phone. It's an incredibly helpful feature when you have friends or relatives that are nosy, but you still love them.
The App Pinning feature has been around for a long time on Android phones. However, it remains one of the many useful but relatively unknown features on the platform. It used to be called Screen pinning.
Once an app is pinned to the screen, one can only exit it with a special button combination. Maybe you can put android tablets on the back of the seats of your cab with screen pinning turned on. This lets the riders enjoy the entertainment on offer, but not the ability to do anything else.
Related: How to Add Multiple Users and Work Profile on Android
How to Use App Pinning on Android
Screen pinning is a built-in Android feature, which means it's available on any Android device running Android 5.0 Lollipop or above. It doesn't matter if it's a Samsung phone or Xiaomi. However, these manufacturers may change some labels here and there. Below is how you can use Android App Pinning on most phones to lock the screen while using any app;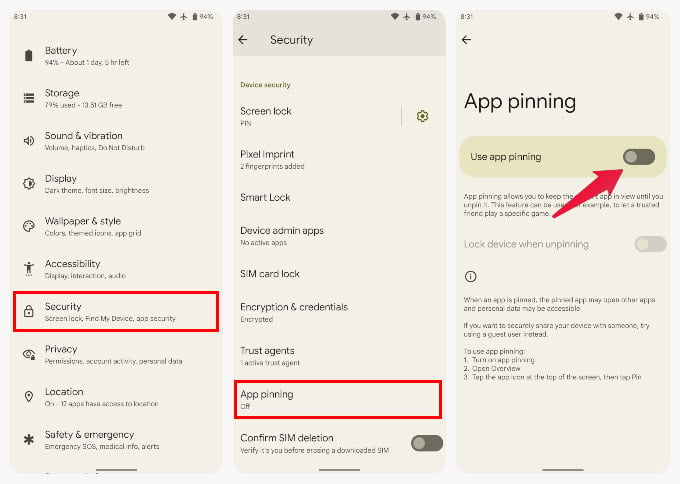 Open the Settings app on your Android phone and go to Security.
Scroll down to the bottom and select App pinning. This is where you will find all information about the App Pinning feature.
Turn on the toggle at the top.
Press OK on the popup message.
Now, exit the Settings and launch an app you want to pin to the screen.
Swipe up and hold to access the Recents apps screen.

If you're using the 3-button navigation, tap on the recent apps button.
For the 2-button navigation, simply swipe up on the home pill.

Tap on the app icon that you want to pin.
Select Pin.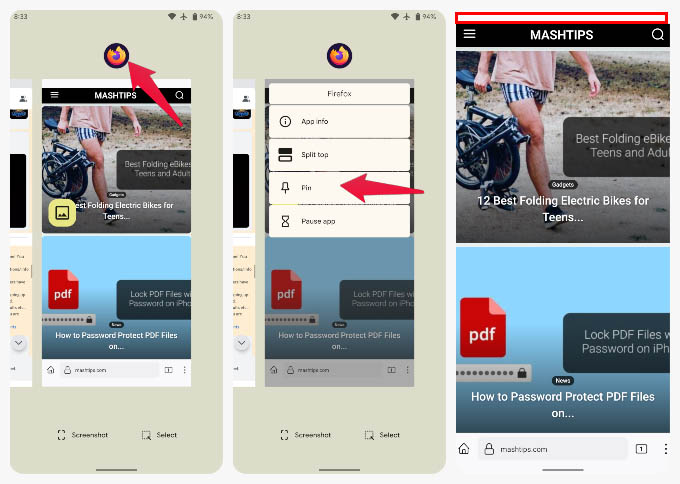 You can tell if the app is pinned by looking at the status bar. On a pinned app, the status bar is not visible anymore. You cannot even pull down the notifications tray or the quick settings. The app is all anyone can access.
Related: Wake Your Android Phone Without Touching the Screen Like Google Pixel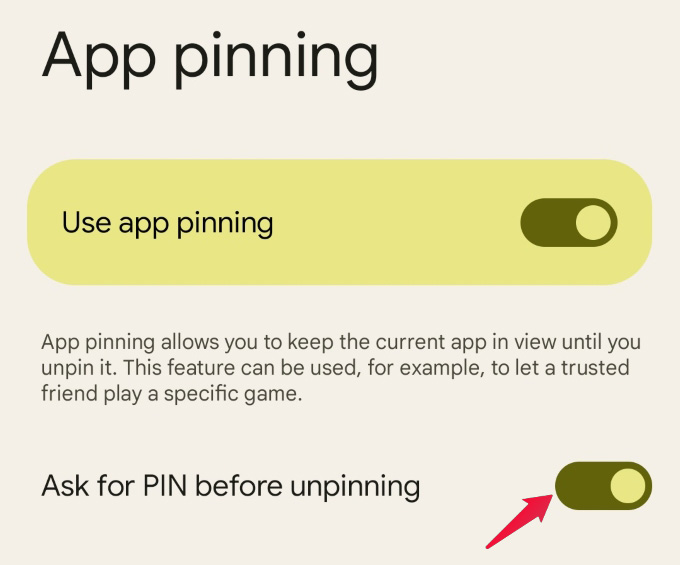 You will want to make sure that the "Lock device when unpinning" toggle is also on. On some phones, this may be labeled as Ask for PIN before unpinning. Without it, anyone can unpin the app, and you're back to square one.
The method to unpin the app is different depending on your navigation method.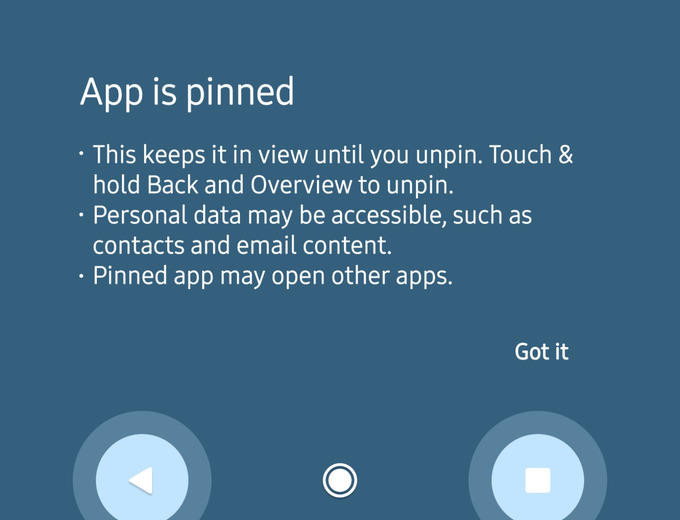 Gesture navigation: Swipe up and hold.
2-button navigation: Press and hold the back and home buttons.
3-button navigation: Press and hold back and recent buttons.
As long as you have the Lock device when unpinning/Ask for PIN before unpinning toggle on, unpinning an app will take you right back to the lock screen. So even if anyone tries to unpin the app, they'll end up on the lock screen instead, at which point they can't do anything but hand you the phone back. They will not also see any chat bubbles or popups once you pin an app.
Related: Get Beautiful Custom Spotify Widgets on Android With These Apps
FAQ: App Pinning on Android
What is the benefit of screen pinning?
Screen pinning, now called app pinning, helps you prevent someone from digging around on your phone. Once an app is pinned to the screen, you can give your phone to someone to use that app, and they can only use that app. They won't see your notifications, texts, photos, or something else that you don't want them to see.
What is the purpose of pinning an app?
The purpose of pinning an app to the screen is to make sure it is the only app accessible to anyone who does not know your PIN/password or has your biometrics.