Best Android Music Players have to support all of the music formats including MP3 song on Android phone. The biggest factor that makes the music listening experience more than ordinary is the unique features offered by these best music players. There are many best music apps for Android claiming to be the perfect music player for Android device owned by you.
Here are some of the Best Android Music Player for Amazing Experience with your Android device.
1. Spotify Music
Spotify is popular for music streaming service to people allowing them to listen to their music easily with the internet. This music player app is one of the best Android music players for starters with appealing features. Spotify is free, but for better features and look an upgrade of $9.99 per month must be chosen.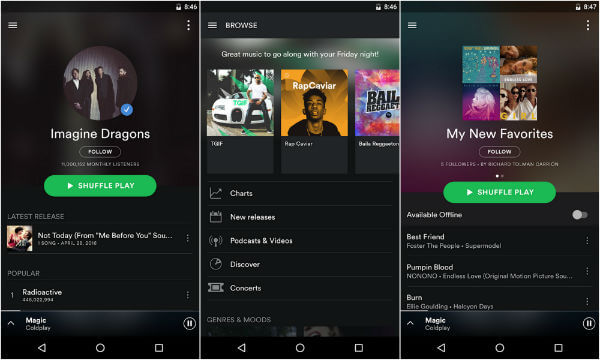 With a library of 20 million tracks and thousands of inbuilt playlists, there is no dearth of music in the app. With the inbuilt suggestion engine, you can constantly get music recommendations to soothe your ears and mind. The music player for Android is perfect for smartphone users those who enjoy music every day.
Supported Formats: All music formats other than FLAC | Key Features: Large Library (20Million Tracks) | Crisp Audio | Immersive User interface | Playstore Link
Related: 12 Best Noise Canceling Headphones for Great Music Experience.
2. Google Play Music
The Google Play music app, Googles own music player for Android users. Google is trying to give the users more control over their music listening experience. With this music player app, you can easily play 320Kbps tracks with excellent sound quality.
This best Android music player lets you upload your songs to the cloud, that can save space on your Android phone especially when you run out of memory.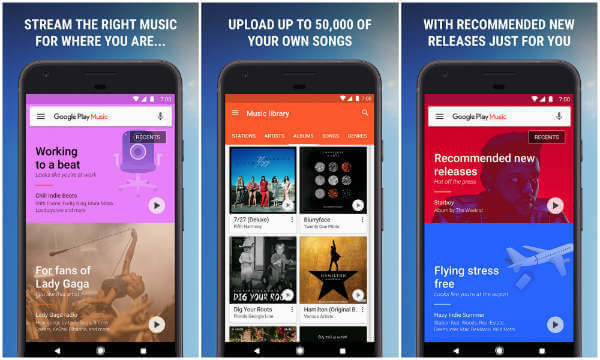 The audio player for Android comes with a unique feature called discover weekly and release radar options. With the help of these features, the user can encounter a lot more than their preferred music. Just tell the app how mood is and how you are feeling then it will show you the perfect playlist.
Supported Formats: FLAC, MP3, AAC, ALAC, WMA, DRM protected AAC (.m4p),ALAC (.m4a) and OGG | Key Features: Online Music Player | Support Local Music Player | Unlimited skips on Radio | Great taste prediction | Upload Songs from Cloud | Find music based on user mood | Playstore Link
3. Deezer
Deezer is a music player for Android that offers a simple and interactive interface on each platform no matter where it is used. When this music player app is opened, the person can see all the new releases from their favorite artists.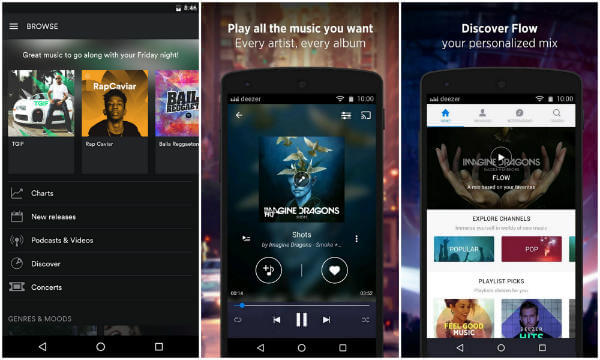 The most appealing thing about this best Android music player is the flow characteristic. Flow ensures that the track disliked by the user never comes up in the list. On hitting the dislike button, the song instantly stops and player moves to the next track.
Supported Formats: MP3, MP4/M4A (INCL. ALAC), OGG, WMA*, FLAC, WAV, APE, WV, TTA, MPC, AIFF | Key Features: Diverse Song Catalog | Onscreen Lyrics | Public & Private Playlist Support | Playstore Link
Also Read: How to Search Music on Android with Google?
4. Music Player
Music Player from Leopard V7 is one of the best Android music players that allows you to a custom tone the music style. The app automatically scans all your lyric files present in the device to give the necessary help while listening to the songs. The background skin of the app is replaceable and inherits about 22+ skins for the users.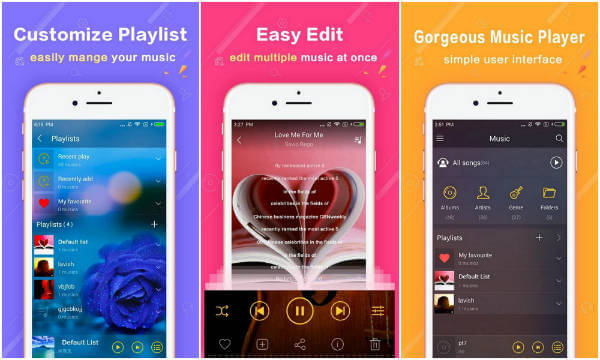 With this Android audio player app, you can customize and create a playlist to get your favorite tracks in one place. With the headset and Bluetooth controls easily change the tracks. You can re-edit the album and artist name. The interface of the app is pretty neat and easy to use.
Supported Formats: MP3, AAC, M4A, ALAC, M4A, WAV, Ogg Vorbis, Ogg Opus, WMA, FLAC, DTS, DSD, Magic Radio, FLAC | Key Features: More than 22 Preset | Shake device to change track | Multi Select Operation | Playstore Link
5. Music Player
The elegant design and stylish look is the trademark of Music Player. Renowned among best music apps for Android, this app inherits a simple look for the users. There is no slowness as it instantly scans all your media and shows them classified in albums, tracks, etc. This Android player app has the standard features of skipping the track and repeating them.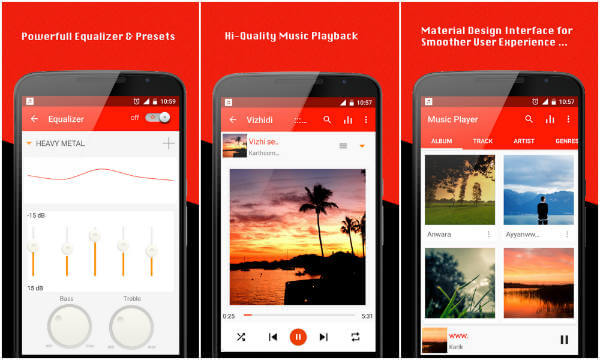 With the sleep timer feature, you can shut down the player after a particular time. Customize your listening experience with the Bass and 3D effect to get most of it. You can easily control while the device is locked through the handy lock screen controls.
Supported Formats: MP3, MP4/M4A (INCL. ALAC), OGG, WMA*, FLAC, WAV, APE, WV, TTA, MPC, AIFF | Key Features: Bass and 3D effect | Support of Google Cast Apps | Color Theme Skins | Playstore Link
6. Rocket Player: Music Player
Rocket Player contains all the elements that can motivate a normal Android user to switch from the normal music player. This Android Music player is around for a couple of years, and on Play Store, over 10 million downloads. Coming with a dozen good reasons to download it, this music app is acclaimed as the best Android music player.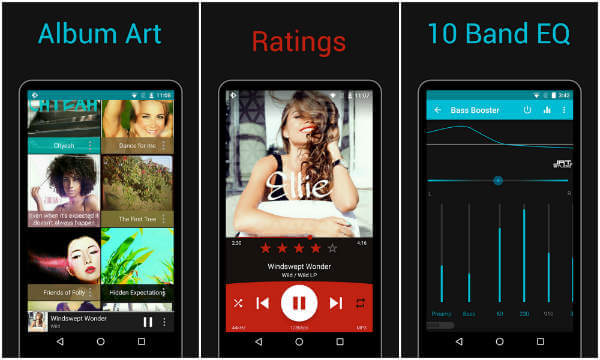 The music app comes with some limited functionality in its free version that broadens in the premium one. Through batch selection option of the app, a user can easily select multiple files at once for playback. With this audio player for Android, you can also play stored videos on the device.
Supported Formats: Wav, .ogg, .mp3, .3gp, .mp4, .m4a – advanced formats require Rocket Player Premium | Key Features: 30+ Themes | Custom Lock Screen | Batch Selection | Playstore Link
7. Poweramp
In this list of best music apps for Android, Poweramp is the #1 paid music player present on Play Store. Ruling the store for almost six years, it is the most powerful music player due to wide features. The elegant design of the app completely adapts with the cover of the album.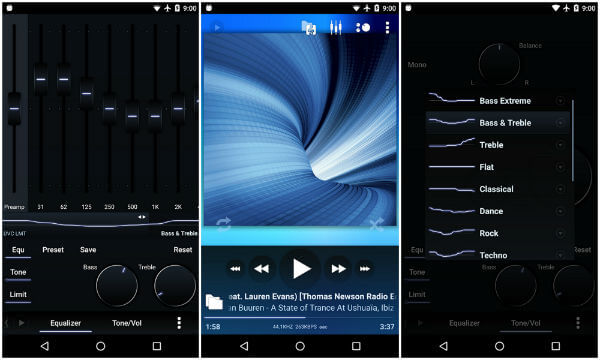 Poweramp is a unique music app for serious music lovers giving them tons of audio preferences. Diverse types of profiles depending upon the sound output medium can be created and run smoothly without any stutter or lag.
Supported Features: MP3, MP4/M4A (INCL. ALAC), OGG, WMA*, FLAC, WAV, APE, WV, TTA, MPC, AIFF | Key Features: Third Party Skins Support | Missing Album Art Download | High customization option | Playstore Link
8. Mp3 Player
Featuring the material design, the Mp3 player is a great music app for Android. Anybody can use the app easily for playing the tracks they love on the go. The high-quality equalizer makes the listening experience fantastic. It also comes with music visualizer support giving the best feel while listening.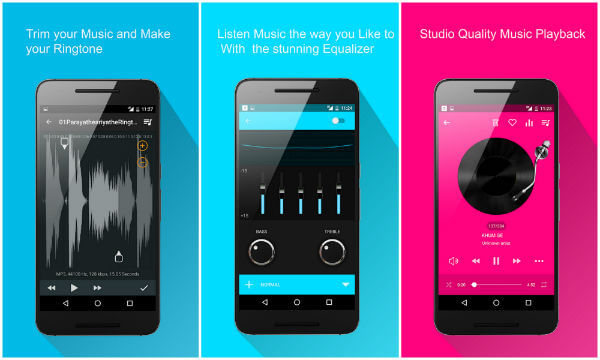 You can also control the playback of the tracks with just a shake of the device. Enjoy your music every time without hitting the play button as it auto-plays as soon as you open it.
Supported Formats: MP3, MP4/M4A (INCL. ALAC), OGG, WMA*, FLAC, WAV, APE, WV, TTA, MPC, AIFF | Key Features: Wearable Support | MP3 ringtone maker | Autoplay | Playstore Link
9. doubleTwist Music Player
Being in the market for the early days of Android, doubleTwist music player is a great app. This audio player app that does all for the user from playing the music from videos. Through the built-in compatibility with Android Wear and Android Auto, the app gives you more control over your music.
This mobile music player app is linked with cloud-based streaming services like Dropbox, OneDrive, and Google Drive to allow you more storage options. The latest addition to this audio app is Radio that offers a broad variety of internet radio channels. doubleTwist is a clean looking app willing to give you more.
Supported Formats: MP3, AAC, M4A, ALAC, M4A, WAV, Ogg Vorbis, Ogg Opus, WMA, FLAC, DTS, DSD, Magic Radio, FLAC | Key Features: Airplay | Stream music on Xbox 360, PS3 & Sonos speakers | Support Cloud Streaming | Support Android Wear | Playstore Link
10. Default Music Player
Default music player is a straightforward app that does not come with any tutorial. After installing the app, the user can instantly use it for listening to their favorite tracks on the go. It is one of the best music apps for Android that is simple in every way possible. Many people do like the overflow of simplicity in the app. The user interface is quite annoying and does not contain the materialistic look. Several advertisements do pop-up in the bottom of the screen while using the app.
Supported Formats: MP3, MP4/M4A (INCL. ALAC), OGG, WMA*, FLAC, WAV, APE, WV, TTA, MPC, AIFF | Key Features: Simple Interface | Less Lagging | Good Audio Quality | Playstore Link
11. Shuttle Music Player
Shuttle Music Player is a lightweight material design music player for Android device. This music player app has 6-band equalizer with bass boost and tons of theme options.
Key Features: Lightweight | material Design | 6-band equalizer | Sleep Timer | Playstore Link
Best Android Music Player Apps
How do you pick the best Audio Player for Android from these tons of music players available in the Google Play Store? Well, there are certain things you have to consider.
The first unique quality of an audio player is measured by the number of formats supports. There are a bunch of music formats available like MP3, AAC, WMA, etc. and these Android music player app should support all of these most common formats including MP3.
The next feature that can consider for this music player for Android is cloud support and the collection of the playlist. The best Android music player must a have a large database of tracks and also should support to stream music from cloud drives like Google Drive, Dropbox, etc. The additional audio player features like playlist support, social sharing, song search, and download are the additional features seeking by the music lovers.
A lot of people are searching for the best alternative for their inbuilt Android music app. The way we all listen to music has changed a lot in the recent years. With the help of the best Android music player, anybody can easily manage their music with extensive playlist support. Here is the list of best audio player for Android that supports music player format, cloud streaming support and other nice features that you can enjoy.