Have you noticed an unexpected increase in your mobile data usage? If you're certain you haven't used much data on media-intensive activities like streaming movies and TV shows, it may be worth checking if your system services are consuming too much data. In this article, we'll guide you on how to check the data usage of system services on your iPhone.
How to Check Data Used by System Services on iPhone
It's important to monitor mobile data usage to avoid exceeding your plan's limit and incurring extra charges, especially if you have a limited data plan. Besides checking the data used by apps like YouTube, Netflix, Safari, Prime Video, etc., you should also check the data used by System Services. Let's see how to do that.
On your device, go to Settings->Cellular.
Scroll down to the section APPS BY USAGE and check the value of System Services.
Generally, the value should be less than 500 MB as it contains the data usage for services like Siri, Apple ID, iCloud, and Push Notifications. However, if the value exceeds 1 GB, tap System Services to find out the reason for high data usage.
When I checked the data usage on my iPhone, I was surprised to see a value of more than 10 GB for System Services. By tapping the System Services, I found the usage of around 6 GB for Software Updates. It means that the iOS software on my device is updated using the mobile data.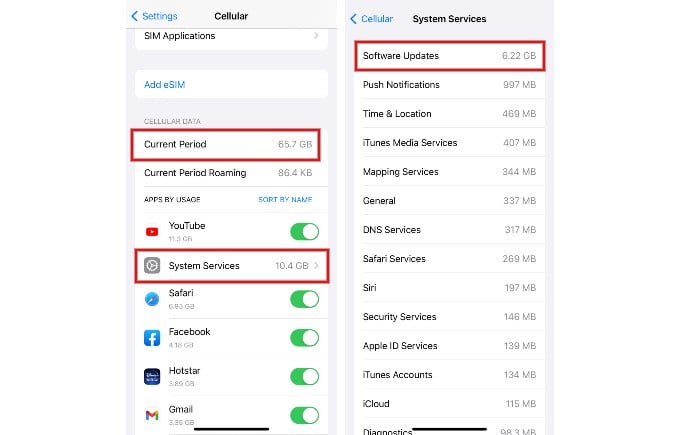 If you have a limited data plan, you should ensure your iPhone is connected to the Wi-Fi network before upgrading the software. Also, you will get a pop-up on your iPhone to provide confirmation for downloading software using mobile data. If you tap Continue, the software will be updated using the cellular data.