Carrying a wall charger for each of your gadgets is really annoying when you travel more often. Putting all those charging needs into a single charger adapter definitely is the best way to keep everything organized, and reduce your packing hassles.
Nekmit USB Charger with 4 USB Port, including a PD USB C Port is an amazing choice if you are looking to buy an all-in-one travel charger adapter for your smartphones, iPhone, iPad, and other tablets. Check out our review on the Nekmit USB C Charger with Smart Power Delivery. 
Nekmit USB C Charger Review
The Nekmit USB C Charger with four USB and USB Type-C port boasts a sleek design, which does not take music space both in your handbag as well as the wall plug. There are four power outlet USB ports available on the Nekmit USB C Charger, including an 18W PD (Power Delivery) USB-C port that enables fast charging on your supported smartphones and tablets. The sleek design helps the device to stay on the wall plug without taking much space so that you can even plug this into the wall sockets behind your furniture or wardrobes.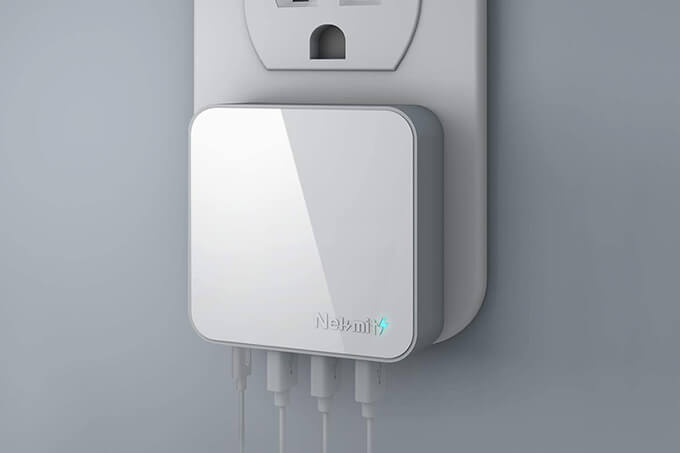 One of the best things about the Nekmit USB Charger that makes it stand out is the simultaneous charging of four devices without taking much space. Whether it is your iPhone or the latest iPad that needs a higher power to juice up, you can plug in four devices at the same time.
Also Read: Check all the updated USB-C Power supply deals for Mac and iPad at PD Chargers
To ensure maximum charging speed for all the devices, the Nekmit thin flat 42W USB C charger uses an intelligent technique to auto-detect the maximum power input for the connected device and delivery accordingly. Since it can deliver up to 12W-18W power through the USB ports, you can plug in any of your smartphones or tablets without any doubt. Whether you have the USB Type-C to Standard USB, USB C to USB C, or even USB C to Lightning cable, it is possible to plug into the Nekmit charger.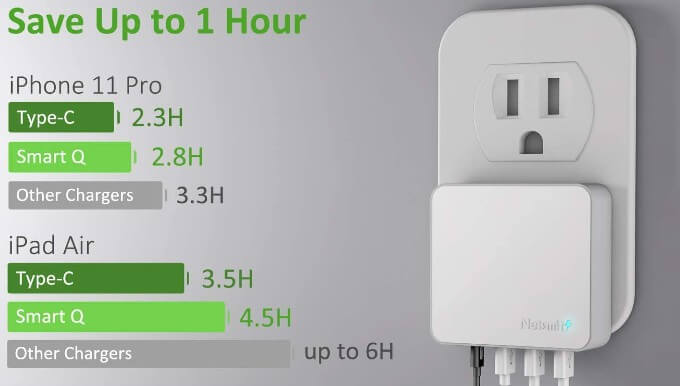 Nekmit also adopts safety measures to avoid overheating, overcharging, and other charging related issues. Therefore, it is very safe to leave your smartphones plugged into the Nekmit USB C PD Charger. Also, you can even use the Nekmit PD charger even if your smartphone does not support fast charging. The charger adjusts the power output according to the device connected. 
If you are a frequent traveler and struggles to find a charger that can be used universally for all of your devices anywhere, the Nekmit USB C Charger seems to be the best fit. Although, you can even use this single charger to organize your office desk, clubbing all your gadget chargers into a single charger.
Also Read: RAVPower 90W PD Charger Review:- Powerful USB-C Supply for two Laptops
Pros and Cons
Pros
Sleek design.
Downwards ports design makes it easier to insert USB cables.
Simultaneous charging of multiple devices.
Cons
Cannot replace mobile chargers above 18W.
Not suitable for charging the MacBook or laptops.
Final Verdict
The Nekmit USB C Charger is an excellent, handy multi-device charger for everyone who uses multiple devices as their daily drivers. Getting one Nekmit USB C Charger means you no longer have to carry your separate chargers for your iPhone, iPad, Pixel, and other fast chargers for any other device always. You can use this one charger to boost up to four devices with the maximum power delivery possible at the same time.
This is for you if you are the type of person who would travel a lot or having chunks of chargers plugged into power sockets on the desk.