Apple provides lots of general as well as a few unique features that iPhone users can make use of. AirPods Announce Calls feature through the truly wireless earbuds was one of the most accentuated unique features which Apple provided. Still, many of the iPhone users may not be well-used with much of its features.
In this guide, we will show you how to set up and use the Announce Call feature on AirPods by pairing with your Apple iPhone.
How to Make AirPods Announce Calls?
It is not a new feature which makes your iPhone announce calls and caller name or ID. The feature has been in the market since the telephonic era. With their iconic AirPods, Apple is bringing the caller name announcer feature into the wireless earbuds works specifically on supported iPhone models only. You can now set the Announce Calls feature on device-specific, i.e, you can either get them directly through the AirPods itself or through your iPhone loudspeaker.
Not everybody loves to pull the smartphones out of the pockets when a call arrives. In such cases, the announce calls feature can help you find who is calling. Things would become much easier when the announce calls feature is working within the AirPods only, or you can choose to accept or reject calls.
Here are the complete steps simplified, to make your AirPods announce calls or caller name.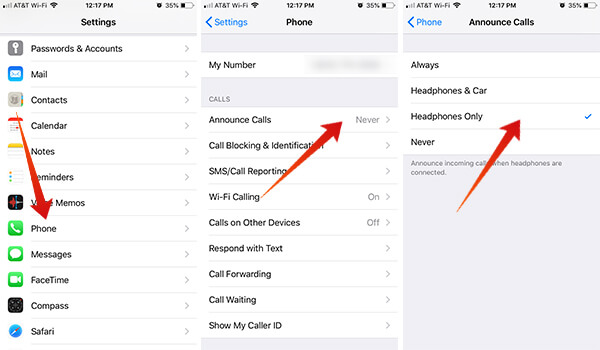 Pair your Apple AirPods with the supported iPhone model.
From your iPhone, open "Settings."
Scroll down and tap the Phone to change the settings related to the Phone app and call settings.
From the next window, you could find various options to change or modify.
Tap "Announce Calls."
By default, the Announce Calls feature is set to never. You have to choose "Headphones Only" here.
Also Read: How to Hard Reset Apple AirPods?
After you choose to run the Announce Calls feature through headphones only, you will listen to the caller name announcer through your AirPods. However, the iPhone loudspeaker will only have your Caller Ringtone instead of caller name announcer. If you want the same through the iPhone loudspeaker as well, you can opt for the "Always" option from Announce Calls settings.
This feature "Headphones & Car" is also going to be handy when you use Apple CarPlay. You can enable this feature to announce caller name while you drive and you don't need to distract your eyes to know who is calling.
The AirPod's Call Announce feature is going to be useful when you have AirPod and no iPhone near to you to check who is calling. The AirPod will announce the caller name along with the ringtone, and you can double-tap on AirPod to accept the call or reject it. There no need to have the iPhone in hand to know who is calling. A simple, pretty handy feature for AirPod owners.