It wouldn't be wrong to term today's generation as the texting generation. Even the older generations are texting more and more. However, that hasn't made phone calls less significant. It's still the more reliable way to communicate with someone. More often than not, you'll find yourself calling customer service or a restaurant instead of texting. Also more often than not, you might be using Google Chrome to find these phone numbers.
Fortunately for you, Google Chrome now allows you to make calls from the browser. So today we'll show you how to make a call direct from Google Chrome browser.
How To Make A Call From Chrome Browser
This feature does not work with iPhones, however. So you'll need an Android phone with the Google Chrome browser installed. You should also be signed in to Chrome using the same Google ID on both your phone and desktop. The desktop OS you use is of no concern because this works across Chrome OS, macOS, Windows, and Linux. If you have an Android phone, you can follow the steps below to call a phone number from the Chrome desktop browser.
Launch Google Chrome on the desktop.
Visit a webpage with the number that you want to call.
Select the number with the cursors that it is highlighted.
Now right-click on the highlighted text.
In the context menu, you should see an option labeled Call from your device.
Move the cursor over it and you will see a list of devices that you can make phone calls from.
Click on the device you want to make the call from.
If you only have one available device, you will simply see Call from 'device-name' in the context menu.
You will see a notification on your Android phone.
Tap on the notification and the number will be dialed up in your default Phone app.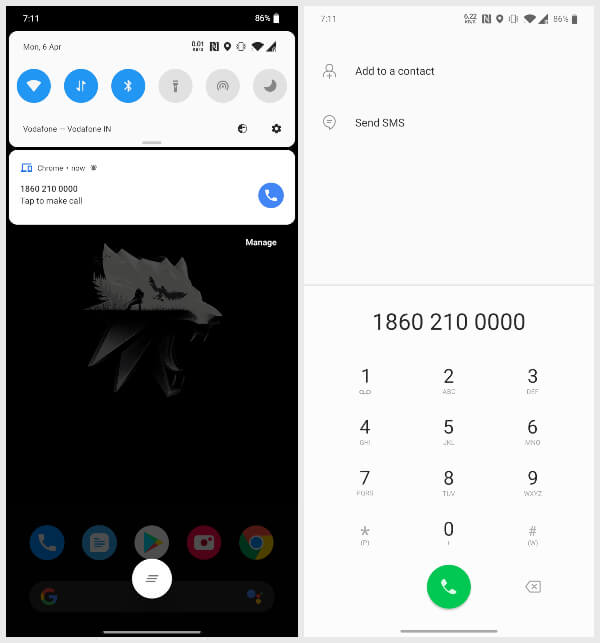 From here, you simply have to press on the call button to call the phone number. At this point, your Android phone will kick on and start dialing the number that you selected in Google Chrome browser. At this point you can consider this as a regular phone call.
This tip typically saves your time instead of typing the entire number from the website to your phone.
If you were looking to make a phone call from your Windows PC directly, we've got you covered as well. Please check our detailed tutorial to directly call someone from your Windows computer.
Related: How to Share Link between PC and Mac using Chrome
Making Calls From Chrome
If you can't tell by now, you can not exactly call a person or a business from within the browser. Chrome simply allows you to dial a number on your phone straight from the browser. You'll still need your phone to make the call. This feature does make the process easier though. Without it, you'd be dialing the number manually while looking at your browser. Whereas you can pretty much click to dial a phone number from Chrome.