Apple rolled out a simple but an excellent feature on iOS11, iPhone WiFi Sharing without typing the password. The feature allows iPhone owner to share WiFi Network or Hotspot Connection without revealing the real password. The beauty of this option is you can let your friends use your WiFi even you don't remember WiFi password. In addition to this WiFi Sharing on iPhone, this feature is applicable when you share a Hotspot connection from iPhone. You can allow other members to connect your hotspot network with one simple tap. No More Password Typing.
Let us see how to share iPhone WiFi password and Hotspot network without a password, in one simple touch.
Share WiFi Network on iPhone (No Password Required)
iPhone WiFi Share is applicable when you want to share the WiFi password with your friends at a party or family gathering. We already mentioned how to share WiFi password with QR Code for iPhone users.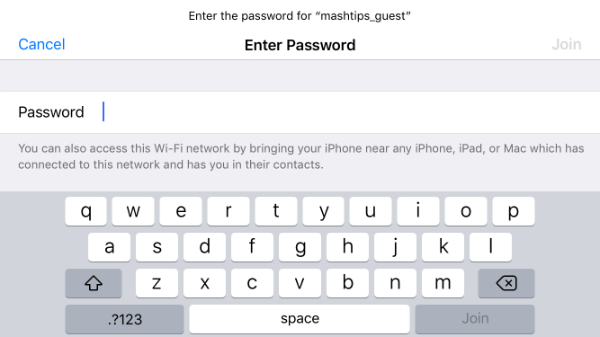 Here we are going to show you a simple solution that works for iOS 11 and upwards. Let us assume you are on the WiFi network already and your friend is requesting to join the same network by selecting the SSID. In the above screenshot, my friend is trying to access mashtips_guest WiFi network from his iPhone.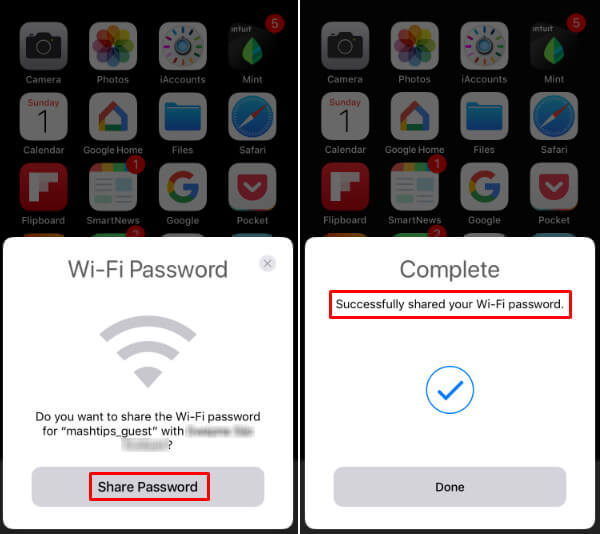 Since I'm already connected to this network with the password, my phone will get a popup. iPhone will ask you to share WiFi password for that particular SSID, to my friend who requested to join the network. I have to just tap on this popup to Share password. My iPhone will communicate with my friend's iPhone and share the password to join the network. He doesn't need to type any password or request password to me. He has just to wait few seconds until I tap on the Share password button the popup. His iPhone will automatically get WiFi password from my phone and join in the network.
Note: We noticed that this handshaking to transfer WiFi is going through Bluetooth. Your friends have to be in your Bluetooth range to share WiFi password. iPhone WiFi Sharing will not work for public shared networks. Also, this iPhone WiFi Share pop-up will display on other phones who are on the same network.
Note: We assume your friend has to be on your contact list to allow him WiFi sharing. Since we couldn't find out any setting for this iPhone WiFi sharing, there is no further customization available at this point on your iPhone.
Share HotSpot on iPhone without Password
The same scenario will work when you share Hotpot from iPhone to your colleagues or family members. I turned on my Hotspot sharing on my iPhone, and my friend is trying to connect to this iPhone Hotspot.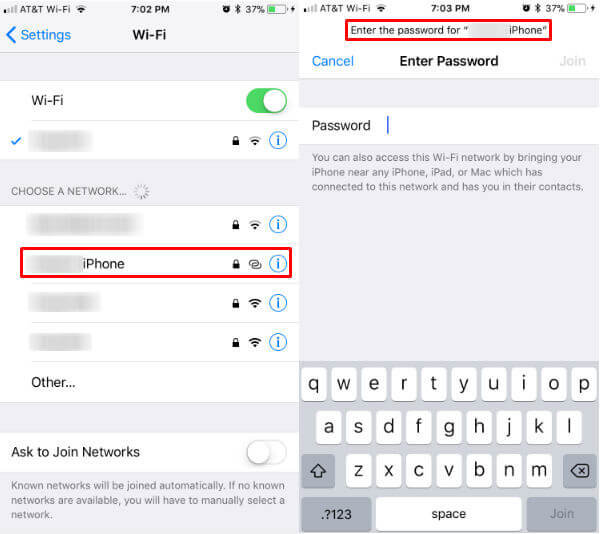 As you see, when he tries to join on iPhone Hotspot, and open the password screen to type the password to get access. At this point, on my iPhone, I will get a popup window. This popup window on my phone will ask permission to join my friend on the Hotspot I provided.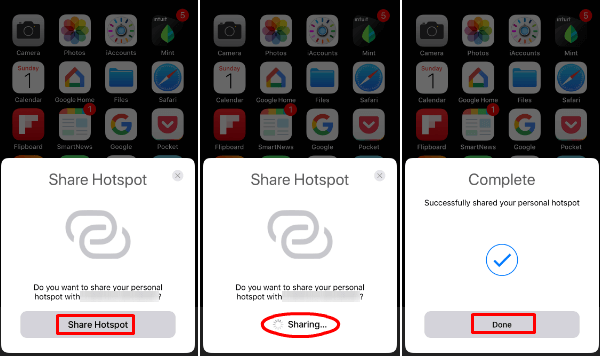 When I tap on Share Hotspot, my iPhone will start to communicate with his phone and share the password to join on my hotspot. I don't have to provide any password for him. His phone will automatically join on my Hotspot without typing any password.
No more password revealing required for sharing your WiFi or Hotpost with iPhone. You just have to tap on allow to share your WiFi with your friend. This is extremely useful, and you can keep your password safe without revealing to your friend. The beauty of this feature is, you can allow joining your friend to any network, that you already joined before even you don't remember the password.