WhatsApp Sticker is a pretty fun way to chat with your favorite ones over WhatsApp. Following the image stickers, you can now send animated stickers too on WhatsApp. With the new animated stickers on WhatsApp, texting has become more fun. You can also get these amazing animated stickers.
In this article, we will show you how to get animated stickers on WhatsApp, for both Android and iPhone users.
Content
Get Animated Stickers in WhatsApp on Android
WhatsApp rolled out the animated stickers for the newer versions of WhatsApp. So, if you are using an older version, install the latest update from the Play Store. When you have the latest update for WhatsApp on your Android smartphone, you can get animated stickers.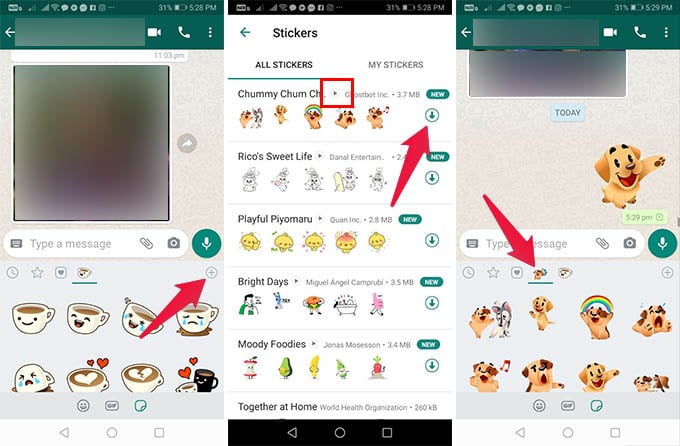 Open any chat on WhatsApp.
Tap the emoji icon on the left edge.
Tap the Sticker icon at the bottom.
You will see a "+" button on the right edge. Tap on it.
Find the available official sticker packs.
Tap the download button on any sticker pack with the Play icon. Only such stickers packs have animation.
Once you get the animated sticker packs in WhatsApp on your Android, you can send the stickers to anyone.
Related: How to Get Animoji or Memoji Stickers on WhatsApp for Android
Get Animated Stickers in WhatsApp on iPhone
The animated stickers are now available for iPhone users as well. Are you still looking where you could get animated stickers in WhatsApp on your iPhone? Here is how to get it.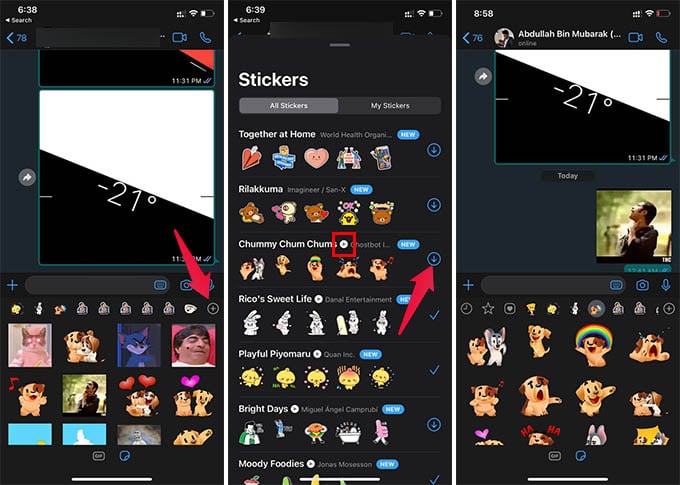 Open any WhatsApp chat on the iPhone.
Tap the stickers icon on the right edge of the text box.
Tap the "+" icon to the right.
Download any animated packs available on the screen.
Similarly, you can get more animated stickers for WhatsApp on iPhone. The animated stickers on WhatsApp support both Android and iOS. So, you can use it with any WhatsApp chat.
Related: An Ultimate Guide to Use and Create WhatsApp Stickers
How to Get Third-Party Animated Stickers for WhatsApp?
You can add and use third-party WhatsApp stickers. It is the same on iPhone and Android. Likewise, it is possible to get third-party animated stickers as well. There are some apps for Android users to get third-party WhatsApp animated stickers.
Here is a list of Android apps you can get third-party animated stickers for WhatsApp.
Aivatar: Animated Stickers WhatsApp WAStickerApps – Download.
Animated Stickers For WhatsApp: Ani WAStickerApps – Download.
How to Make Your Own Animated Stickers on WhatsApp?
When WhatsApp announced the stickers for the first time, it allowed the users to make their own stickers. There are many sticker maker apps available for Android and iOS right now.
But, there was no clarity about allowing users to make custom animated stickers. Well, with some apps you can make your own animated stickers for WhatsApp. The following are some of the few apps available for Android.
Animated Sticker Maker for WA WAStickerApps – Download.
Animated Sticker Maker from WhatsApp WAStickerApps – Download.
With the above apps, you can make your own stickers. For animated stickers, you can use videos, photos, and gif files. Even some apps allow you to erase the background on the animated sticker. So, you can make clean and neat sticker packs with them.
As of now, there is no app available for iPhone users to make animated stickers. Instead, you can add stickers sent by others to your favorite collection. Until there is a public app for iPhone users, you can continue using the inbuilt stickers on WhatsApp. The default stickers are actually from Facebook Messenger. So, you will find them much familiar.
Stay tuned with us to know more about the animated stickers and new features on WhatsApp.