Recently Microsoft released its latest preview build 9879 for the Windows 10 users. In the new build, the main change we can find out is the Notification Center, where all the notifications will be saved until we are acknowledging that.
This Notification Center in Windows 10 is configurable for the users for those who wants to remove from the desktop. In addition to that, the Windows 10 new build presents the Windows Insider hub to make their feedback reporting easy.
Also in new build, Microsoft gives the option to hide the Search icon and Task View icon from Taskbar for those who wants to remove it  by right clicking on Taskbar. Here we will see the simple step for removal of Notification Center from desktop and can be accomplished by with a couple of easy steps.
To start with, right click on empty space of Taskbar to take the properties. You will get the same settings from Control panel too. From here, we can also remove the integrated Search icon and Task view icon from Taskbar, by unchecking both. Select properties here and the Taskbar and Start menu properties window will be open up.
In the Taskbar and Start menu window, there are options for customizing the taskbar location and presentation of programs. Below that we can see the Notification Area settings with a "Customize" button.
We need to click on that "Customize Button to remove the Notification Center from Windows 10. Settings for Notification Area Icons will be open for customization.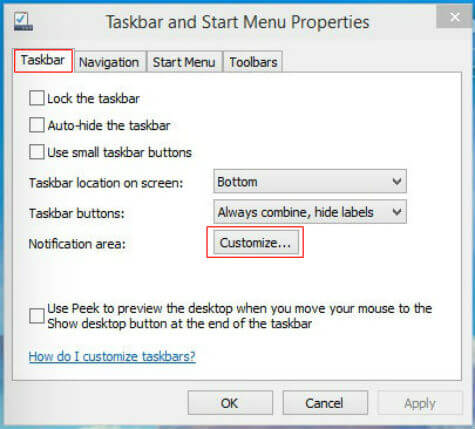 In the Notification Area Icons windows, there are options given for different icons like Network, Security and Maintenance, Microsoft OneDrive etc to disable the notifications and icons too.
Here we need to look at the bottom of these icons to find out "Turn system icons on or off" setting and click on that. Now the settings for System Icons window will display.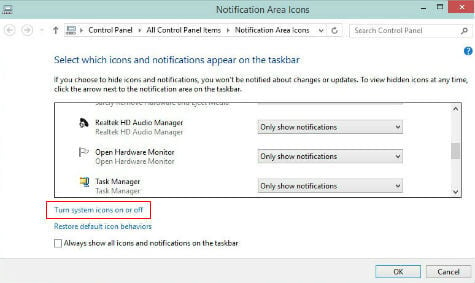 In the System Icon window settings, we can see the icons like Clock, Volume, Network etc along with the Notification Center with the current setting as ON.
To remove the Notification Center from the Taskbar, we only need to turn this setting to OFF. You can see the notification center will be disappearing as soon as the settings change.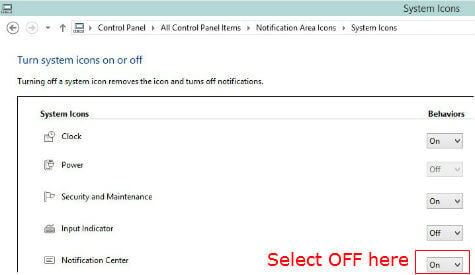 From the System Icon Window, it is also possible to remove the icons for Clock, Network, Power and other icons to look your desktop as clean one.
This shows that the new Windows 10 OS is designed to have more customization options in system level when compared to previous Windows versions to address the customer feedbacks. We will expect more features and customizations in the coming builds which is expected at mid-January 2015.