Apple brought some cool features from iOS to MAC OS and badge notification is one of the cool one. It is very convenient to see the status of apps in your MAC in a quick shot. This badge notification is very helpful to get the realtime update of your MAC applications.
Once you used with this feature, it is annoying when you lose them. We found some time this badge notification is not coming up in Apple Mail especially after Mavericks OS release.
Apple Mail badge count can display number of unread messages on the app icon. If you have more than one email accounts with Apple Mail client, it can set to display total unread count of emails from all email accounts.

This article is a work around to solve and retrieve back the badge count display of Apple Mail Client App.
Solution 1: Make Sure Badge App Icon Turned On
Make sure Badge app icon turned on, Please go to System Preferences > Notifications > Mail, and make sure that the "Badge app icon" box is checked.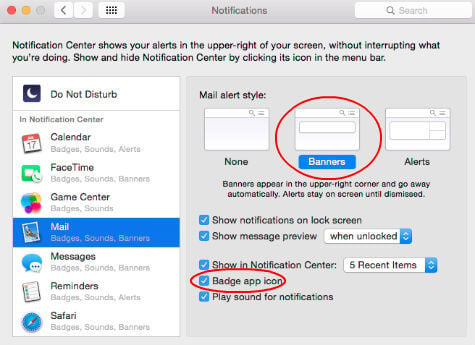 Solution 2: Delete Email Accounts and Add back Again
Delete the email accounts from the App and add back, Apple Mail will retrieve all emails again from your email account as a fresh copy and start to display the unread counts of inbox and badge count on the mail app.
Solution 3: Refresh Envelope Index files
First you need to quit your mail entirely. Right click on Mail app and select Quit.

Now open your terminal and copy paste the line in terminal, this moves all your "Envelope Index*" files to your desktop.
mv ~/Library/Mail/V2/MailData/Envelope* ~/Desktop
Reopen the Mail App and it will start from the beginning, but this solution will not remove your email accounts. Now you will see the Badge Count on the Apple Mail app.
If you feel some thing wrong after opening the Mail app or you think it getting crashing, you can put back the Envelope Index back to ~/Library/Mail location.
Hope this will resolve your issue. Please share other possible solutions that you al ready find working.