How will you rate your selfie-taking skills? To be frank, I'm not so good at taking selfies on my iPhone. In my view, a good selfie should not like a selfie at all. Instead, it should like an image captured by someone. Of course, a lot of things like angle, lighting, shooting distance depends on the quality of a selfie image. However, I feel that the quality of the selfie image is getting affected mostly when you use your fingers to capture the image.
Luckily, there are so many shortcuts available on your iPhone which will help you to take high-quality selfies on iPhone without spending too much time.
1. Volume Button Snap a Picture
There is no need to extend your fingers to the screen button to snap a picture. You can use the iPhone volume button to take the picture. This is the easiest option to take a selfie on the iPhone. Of course, you can use either of the volume control buttons to capture images.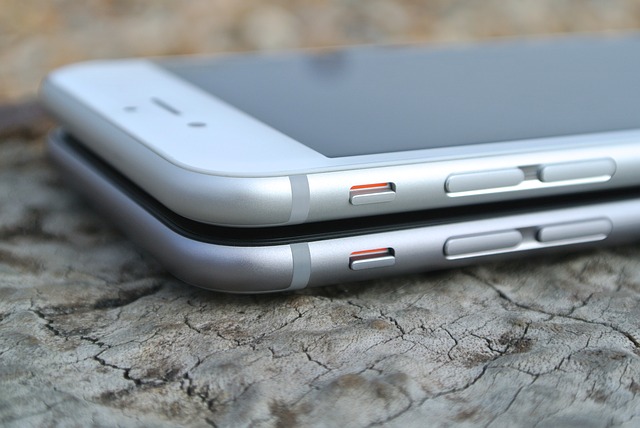 Tap Camera icon on your iPhone. Whenever you are ready to take the selfie, just tap the Volume Up or Down button. Just hold the phone tightly with one of your hands and tap either of the volume control buttons. Alternatively, you can also take the selfie single-handedly, if you can stabilize using one hand.
2. Using Timer for Selfies
Are you someone who is using the iPhone or any smartphone for the first time? Then, I would highly recommend using the timer option so that you can take good quality selfie images without any shaking effects.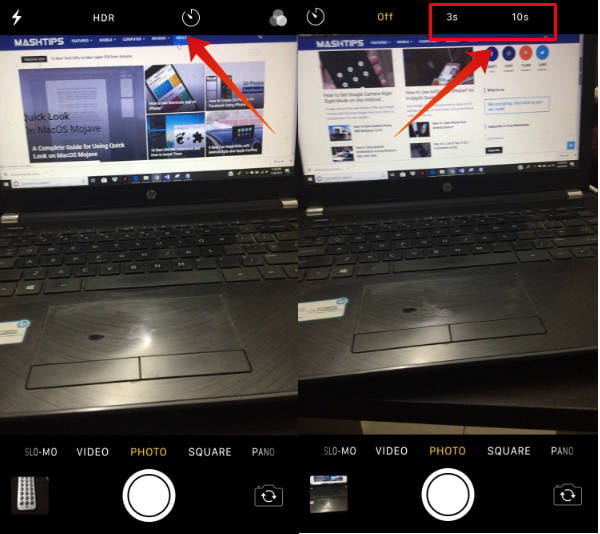 Just tap the Camera icon from your home screen. Then, tap the Clock icon located at the top of your screen. Here, you will find two options: 3s and 10s. Go ahead and tap your desired time interval.
Make sure that you are seeing the front-facing camera by tapping the Camera+Arrow icon located on the bottom right. Then, tap the Circle (White) icon located on the bottom of the screen. Now, your iOS will take the selfie automatically after 3s or 10s, based on which option you had selected.
Don't forget to turn the timer off after taking the selfie. Otherwise, you will be forced to wait for a few seconds for taking normal images as well.
Related: Best Selfie Apps for iPhone to Enhance Your Images
3. Siri Command to Take a Selfie
When you drive or want a picture without holding your iPhone in hand, Siri can help you. Siri will be of great help to take cool selfie images without the need to touch a lot of icons, as she is a great camera assistant. Just launch Siri by making a long press on the Home button and say something like "Take a Selfie". Then, she will launch the Camera app in the front facing mode.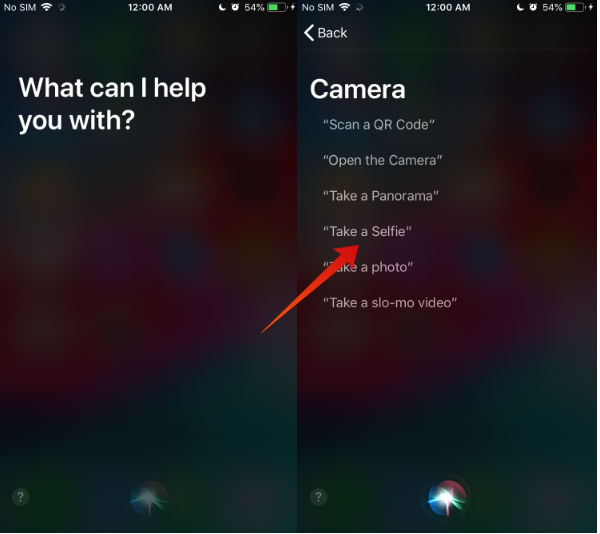 Unfortunately, she can't take the image by herself. Hence, you need to tap the White Circle icon to take the selfie. The good thing about using Siri is that you don't need to unlock your phone with a passcode, touch ID or Face ID, as you can activate Siri from your locked screen itself.
Related: Hey Siri, List of Top Siri Commands on iOS
4. Selfie Stick with Bluetooth
In case you need to capture selfie images along with a distant background like mountains, tall buildings, lakes or something else, then it is better to use a selfie stick. Otherwise, you won't be able to capture the background as your arms can stretch only up to a foot.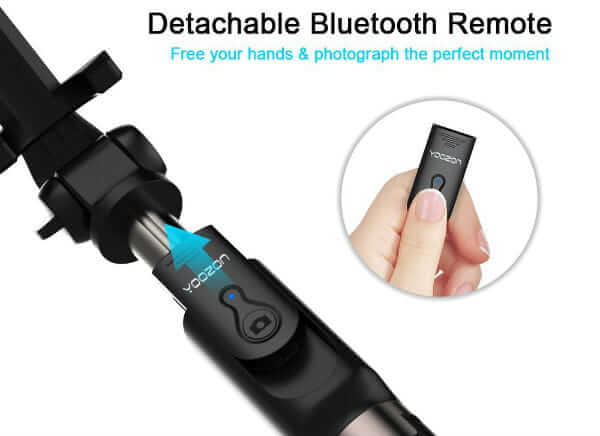 Just buy a good quality selfie stick and place your iPhone on that before taking the selfie. While selecting the selfie sticks, you can have a Bluetooth Selfie Stick or wired Selfie Sticks. For selfie lovers who are also frequent travelers, an extendable Selfie Stick with Bluetooth connectivity will be a great choice, as it is possible to adjust the distance covered easily.
Buy from Amazon: Yoozon Selfie Stick Tripod Bluetooth | Fugetek High-End Selfie Stick Monopod
5. Bluetooth Controller
If you are someone who loves traveling to different tourist destinations regularly, then you can use Bluetooth based Wireless camera shutter for your iPhone. This small handheld remote will help you to take stunning selfies from long distances, say up to 25-30 feet. And, you don't even need to hold your iPhone to capture the selfie images.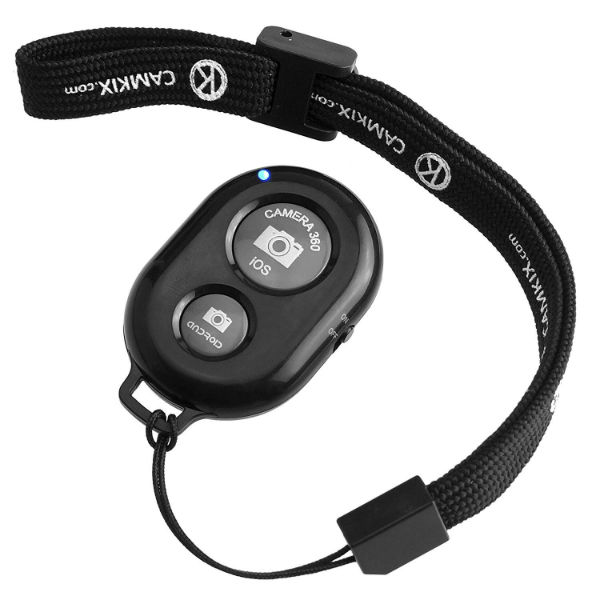 The remote camera shutter is easy to store and compact to carry anywhere as a keychain.  It comes with an adjustable wrist strap for quick access when in use. You have to pair the camera shutter before you use it. Most of these remote has two buttons and compatible with Android and iPhone to use as a camera shutter.
Buy from Amazon: CamKix Camera Shutter Remote Control | Bluetooth Selfie Remote Control Camera Shutter
6. Use Headphones to Take Selfie
Do you know? You can take a selfie using the Volume button located on your Apple Earpods.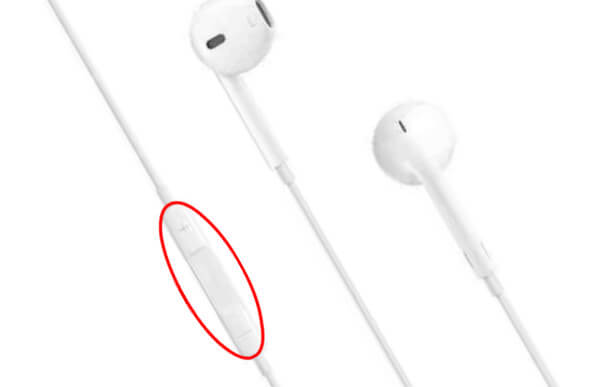 Just launch the Camera app from your iPhone and make sure that is in the front facing mode. Then, tap the Volume + button on your Apple Earpod. That's it. Your selfie is captured successfully without using Timer or the need to tap any icons on your iPhone. Of course, you need to connect your Apple Earpods to the iPhone to try out this option.
Also Read: 12 Things You Should Know About Your iPhone Headphone
Alternative Selfie Accessories for iPhone
If you are willing to spend some money on the tech gadgets, then you can buy accessories like Tripod kit, Handgrip Kit or a Pocket lens to capture images. To take selfies on city tours, using a mobile device holder like NanoHold will be a good option as it can hold your iPhone on flat and smooth surfaces (like glass doors/windows) for few minutes.
These days, taking selfies and sharing them instantly on Social Media platforms like Facebook, Instagram, WhatsApp is so crazy especially among teens and young people. If you are someone on that category, then you will be definitely interested to check out our another post on how to convert selfies to WhatsApp stickers and GIFs. As long as you have only iPhone, you can use the volume buttons to take the selfie. You can carry around a Bluetooth Camera Shutter for iPhone if you enjoy taking a lot of selfies.