We have several paid plans available for texting from your phone. SMS Apps price varies from a flat rate for a large number of SMS per month and a pay as you go plan if you are a person using a couple of SMS (Short Message Service) per month.
We choose a couple of free apps for iOS and Android those offering free text or SMS service. Most of these apps are supporting in other Mobile platforms and PCs. These apps will help you for sending the text message from your phone at free of cost.
Most of these chat Apps allow you to send pictures and video clips as MMS (Multimedia Message Service) as free. The standard data charge for internet usage may apply if you are using 3G/4G network.
Text Free from Pinger
Pinger Textfree enables you to send and receive free texts with your very own free texting number. You can get a free texting phone number to send free texts while you register with this app. You can send free texts to your friends who don't need to be using this free app to receive them. In addition, send free texts from anywhere in the world as long as you have a data connection.
The downside of this apps is that the free number will expire after one month of continued inactivity. But if you are crazy SMS user, this is made for you. It supports text, picture, video clips and voice clips and support chat with your Facebook friends.This app can save your free texts in the cloud when offline and delivered to you when you are back.
TextPlus Free
This app supports free text and group SMS with your free US or Canadian textPlus phone number. The free SMS text messaging allows text to/from any US or Canadian mobile even friends without the app.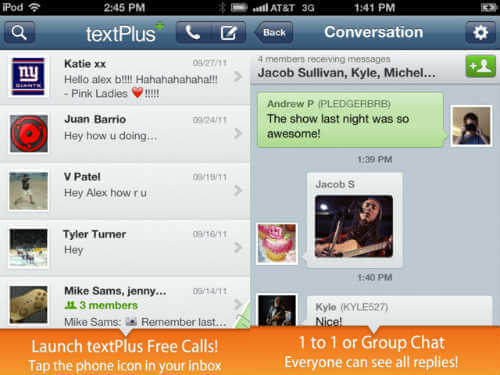 You get the free US or Canadian textPlus phone number. You can share your TextPlus phone number with friends so they can text message and call you.
iMessage
iMessage ( iOS 5 and above)iMessage, Apple's built-in texting app is my favorite feature in iOS. iMessage allows for free texting across all iOS devices running iOS 5 so long as they have internet access.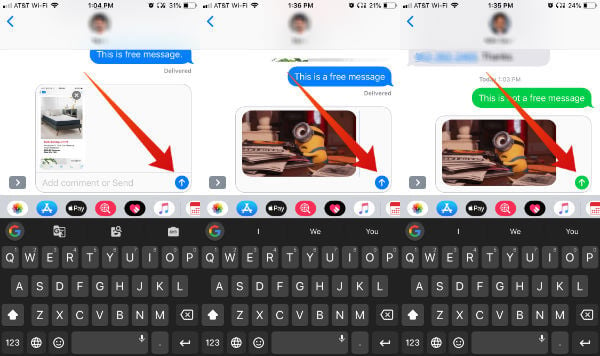 You can send picture or text messages to any other iOS device as free of charge.
Support: iOS 5 and Above
Hike Messenger
Do much more than just simple messaging with Hike messenger. The social messaging app comes loaded with features allowing you to do more just than plain messaging. Communicate with anyone over the hike messenger and ensure data protection with 128-bit encryption at all cost.
You can easily send unlimited free SMS to your contacts and get an additional bonus on completion of several tasks. Express your feelings better with 20,000+ stickers and make the conversation more fun. Use the hidden mode on Hike to secure your private chats, making the chats only be accessible with a password. All the hidden messages will not be visible on the chat screen of the app.
TextNow
Make messaging more easy with TextNow app. The app offers the users unlimited texts and picture messaging to the US and Canada. Use the emojis, stickers, and GIFs available to other people to make the conversation more enjoyable.
Get the transcripts of your voicemail in order to know more about them. Keep your message under security with lock and key away from others. Supporting Google SmartLock, there is no need to remember your password while unlocking the private chats. Add your own signatures to each text as well as text-tone, ringtones, and vibrations. Assign quick reply and respond easily in a quick manner to friends.
Textra SMS
Textra SMS is a super fast and highly customizable messaging app. Inheriting about 180+ material design theme, you can customize it easily. Send free SMS to people without any trouble and pin the chats to the top for easy access. Choose one of the 21 text sizes to get your own preferred text size in the app to message easily.
Multiple bubble styles are present on the app and support quick reply for the users. Just slide to delete and call a contact over the app. Add quick voice memos to note down the things in an easy manner. Select the perfect Emoji style among the diverse styles in the app.
Download for: Android
Text Free
Use the Text Free app to send text messages and call easily to other numbers with the phone number provided by the app. Choose the area code and select the preferred digits for your phone number to use it for messaging and calling. Send unlimited SMS and MMS picture messages without any trouble. Select the stickers for sharing your emotions in a perfect manner.
Seamlessly perform group messaging over the app in the manner that you find it suitable. The number is real and you can easily use it to call others as well. Overcome the foundation of boring plain old messaging by selecting the app for your device.
Text Me
Make calls and send messages instantly with the UK number provided by Text Me easily. You can easily use the number for messaging any person in the world. Call any person living in the US, UK, Canada and 200 other listed countries without any trouble. Share your Dropbox photos and videos via text directly through the app easily.
Watch the advertisement videos to get free calling minutes to use it for calling any phone number easily. With super simple sign up, you can easily access the features of the app in an instance. The app is one of the best offerings for sending free messages to other people.
Fring
Fring is good for Free Calls, Video Calls, Group Video with Chat and Texting. This app supports all third-party messengers like GTalk, Yahoo Messenger, MSN Messenger etc. You can add these service to Fring apps and can use to chat with each other.
Download: iOS | Android
Nimbuzz Messenger
Nimbuzz Messenger is a free chat & calling app to connect with your buddies. Nimbuzz Messenger combines the power of the internet and smart phone messenger into one, and lets you send unlimited chat messages, share files on any mobile device across popular messengers. Nimbuzz Messenger is available on Android, iOS, Blackberry, Symbian, Java, Windows PC, and Mac. Nimbuzz Messenger lets you chat with your buddies on Facebook, Gtalk Messenger, Yahoo Messenger, Live Messenger (MSN).
Download: iOS | Android
Tango Free Voice and Video Calls
Tango is allowing you to send free text and free Video Messages. You need to install Tango apps on your phone to activate this free service and it communicates between Tango users.
Viber: Free Phone Calls & Text
Viber lets everyone in the world connect. Freely. More than 40 million Viber users call, text, send photos and locations with each other worldwide – for free. Viber is available for iPhone® and other smartphones.
Skype
Skype is good for voice chat, also supports the text message and file sharing. There are a couple of more apps for Android and iOS users for free texting. Please share your experience with those apps.
Talkatone
This is one of the best app for working with Google Voice Number. You can use these apps to call, text with your Google voice number.
The app allows you to call and text any phone number without requiring them to install Talkatone. These apps also allow you to call and text your Facebook and Google friends for free, anywhere.