There are plenty of internet radio apps are available on your Android phone for free to listen to your local FM stations. These radio player apps are not just for local FM stations. These radio apps for Android is offering free music streaming, AM Stations, podcasts, etc. Most of these are free radio apps and bring you all the FM and AM stations around the word for free.
Let us see the best radio Player App for Android that brings your local FM & AM Stations, Music Streaming and Podcasts.
TuneIn Radio
Stream a wide range of AM & FM radio stations through the TuneIn radio app. The app consists of more than 100,000 AM and FM stations along with varied programming from around the world. Live sports coverage is also available for the app. The live sports include NFL football, MLB playoffs, NHL and NBA games.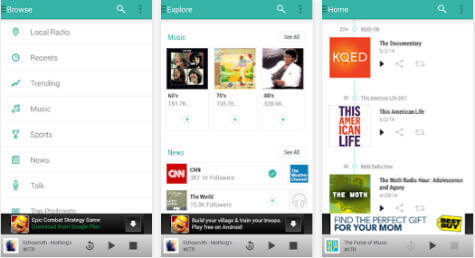 The users can download the audiobooks and podcasts for offline listening. Listen to your favorite talk shows and podcasts on demand from around the world. Stream the radio station over the internet on the app. Let's listen to NCAA college football and basketball games. This includes live CFB and March Madness broadcasts on Westwood One.
PlayStore Link: TuneIn Radio
iHeart Radio
iHeartRadio gives you access to all favorite music and all the favorite stations at the same moment for free. The internet radio app allows the people to hear the iconic sports stations and their commentaries like ESPN Radio, Fox Sports, and others.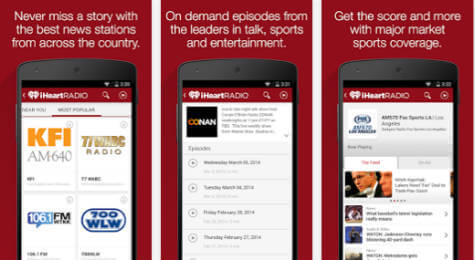 Through the 'My Favorite Radio,' see all the songs that you love in a station that personalized just for you. You can save and replay any song from the radio station. Over the app, search and play every song from the library that counts up to millions on demand. Create unlimited playlists and listen to the music offline on your device with ease.
PlayStore Link: iHeart Radio
Radio Online – PCRADIO
Radio Online –PCRADIO does allow you to listen to diverse radio station even with a low-speed internet connection. Access the music, as you like the genres like electro, dance, pop, relax, rock. The best channels of music, news and talk radio for the users are there to give them more than just a radio station.
You can use the app, and the app interface is slick and simple to use. The novice user can also reach to their song regardless of any hassle. You can also create playlists for the app to reach your favorite artists instantly to hear songs.
PlayStore Link: Radio Online
Slacker Radio
The internet radio app gives the users access to highly curated music programs. You can customize the radio station according to listen to the best tunes on the go. The app brings hundreds of radio stations. These stations gives you hosted music shows almost every week.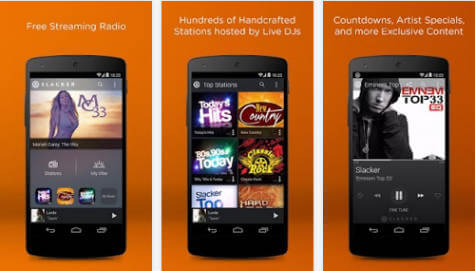 Slacker comes with unique interactive news and sports programming to provide much more than plain radio service. Slacker does create a station based on musician along with similar artists as soon as you input the name of band or artist. This Android radio app comes with a patented offline mode to allow the subscribers to perform dynamic personalization to listen without any data.
PlayStore Link: Slacker radio
Radio FM
Enjoy a variety of genres like classical, rock, pop, instrumental, hip-hop, etc, over Radio FM internet radio app. The Radio app for Android comes with full support for Android Auto, Google Chromecast, Android watch/ wearable. Radio FM comes with an auto-on feature that allows you to start the app on a defined alarm time to tune in automatically to Radio.
The user interface of the app is simple and comes with material design feature. Fast notification control allows the user to quickly start or stop the radio streaming from the home screen. Country list of the app is visible along with the flag of the country.
PlayStore Link: Play Store
Simple Radio – Free
As the name says Simple Radio – Free comes with a hassle-free interface for its users. Listen to more than 30,000+ stations that are categorized as music, news, talk & sports stations. The radio tuner app is highly reliable and aims to minimize the drops at any cost.
The Simple Radio app also allows the users to try out a foreign language without any trouble. Listen to your favorite radio station on the move regardless of any trouble whatsoever. Set the sleep timer to fall asleep while listening to your favorite station and sound sleep full night. No sort of advertisements is there to ruin your good jolly mood.
Download: Play Store
myTuner Radio App
myTuner Radio App is a highly rich internet radio app that comprises of 15,000 US radio stations. Every radio station comes from several stations and has a list of stations of more than 150 countries. The radio stations of the Android app are not just limited to music as the person can listen to news, sports, and others.
Listen to the podcasts shows and real radio while on the move. You can Share your current music or track over social networking site like Facebook, Twitter, SM, and Email. Easily listen to diverse music by searching according to their genres, as there are pop stations along with many stations that do aid in giving you the best listening experience.
PlayStore Link: myTuner Radio
Radio FM
Listen to your favorite radio stations with the Radio FM. You can search the perfect radio station popular in your country or in some other to hear the playing music or content. Turn your Android phone as well as tablet into a universal radio through the internet radio app. With an active internet connection get the best out of the app.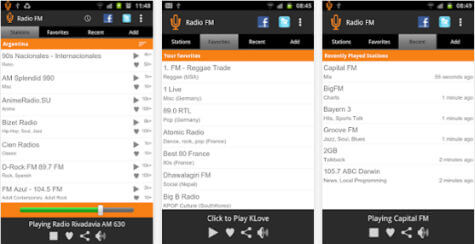 The radio stations are broadly classified into pop, rock, rap, reggae, news, classical music. The Android Radio app gives you access to 10,000+ radio stations and allows them to access them regardless of the location and time. The interface of the app is easy to use and configure making everybody stay connected to their favorite radio stations.
PlayStore Link: RadioFM
Free Radio Apps Android to Listen to Local AM &FM
Wherever you are in the world, still you can hear your favorite local FM and AM channels with these radio apps on Android. Since you are connecting this internet radio through WiFi, you don't need to be in your local place to hear your local radio news. Some of these apps are powerful to integrate with your contact list. You can use Google Plus or Facebook account to find out your friends and follow them with their favorite radio channels with these Android Am/FM Radio Apps.