The Pixel Lineup from Google is the only Android device that gets some interesting features. One cool feature that was released with the Google Pixel 6 last year, was the Magic Eraser. For those who don't know what the Magic Eraser is, well, it's a tool that allows you to remove unwanted objects from your images. Whether it's a random object that's appeared in your frame or someone photobombing your images- Magic Eraser is there to save you.
While the Magic Eraser tool is exclusive to Google Pixels via the Google Photos app, here are other alternative apps that you can use to get similar functionality as that of the magic eraser.
Snapseed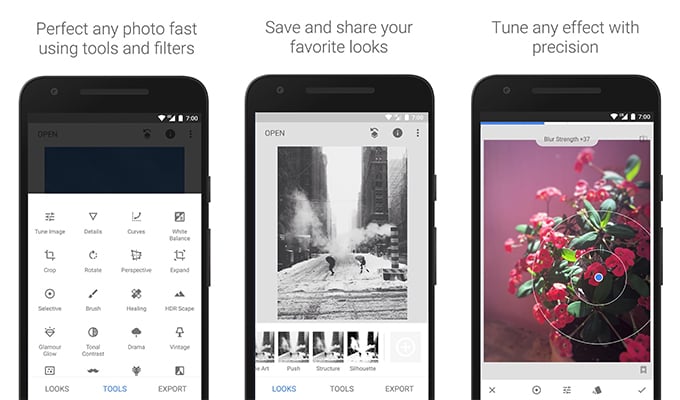 Snapseed is a very popular image editing app that has been created by Google itself. Instead of the magic eraser tool, Snapseed has a tool called the Heal tool. However, with Snapseed, you will have to manually erase anything that you don't want in the image, unlike the magic eraser which uses AI to remove unwanted objects in the image. The tool will work perfectly fine if the image doesn't have too many unwanted objects or the background has some sort of pattern. You can follow these steps to open the Heal tool
Launch the Snapseed app and open up an image.
Tap on the Tools icon from the bar at the bottom.
Select the Healing tool and use it on the image that you wish to remove certain objects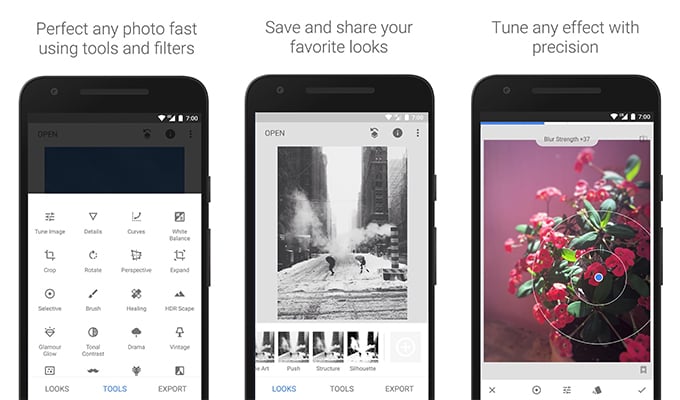 Pros:
Good for Simple Object Removal
Cons:
No AI Image removal
Works on Objects with Similar Patterns
Key Features: Free to Use | Good Image Editing and Re-Touching | Multiple Editing Tools |
Download: PlayStore (Free)
TouchRetouch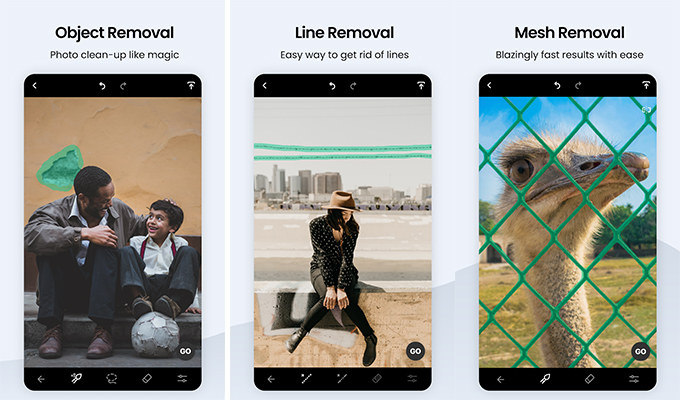 Touch Retouch is a great alternative to Google's Magic Eraser. With this app, you can easily remove any objects that you don't need from your image. The app uses AI to detect objects as well as create meshes that you can easily tap on to remove from your image. Whether the object is a small one or a considerably large one, the TouchRetouch tool will work its magic, just like the Magic eraser.
Apart from just removing objects from the image, the TouchRetouch tool is also able to edit and tweak your images that have been captured in 360 degrees. The app has no ads or subscriptions to use the service. The best feature of the TouchRetouch tool is it can easily help your images automatically.
Pros:
Simple UI and Easy to Use
Numerous Tutorials Available
Cons:
Unable to Remove Objects faster than Magic Eraser
Key Features: Image Editor | AI IObject remover | Completely Free with Zero Ads | Install on any Android Device
Download: PlayStore (Free)
RetouchLeap – Remove Object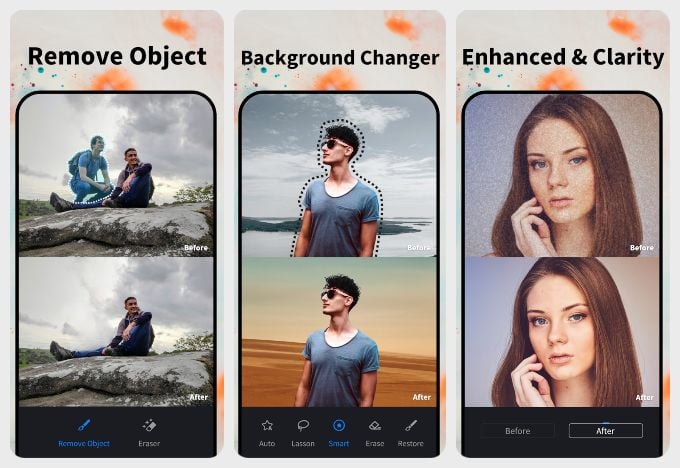 RetouchLeap does a little more than just be the Pixel Magic eraser for any Android. It removes background objects as well as entire backgrounds. You can blur backgrounds, enhance clarity, add objects to a photo, clone objects, remove blemishes, and use other photo editing tools.
Even though removing objects is not the only thing it does, it still does it as well as any other app on this list. As always, the quality advertised in screenshots is rarely achieved in complex images. The app is ad-supported, but you can get rid of ads with a subscription and unlock more features.
Pros:
Additional image editing features
Multiple selection tools
Smart object selection
Cons:
Some features are locked behind a paywall
The free version has ads
Key Features: Remove objects | Enhance clarity | Blemish removal | Add blur | Change Background
Download from PlayStore: RetouchLeap – Remove Object
Lightroom: Photo and Video Editor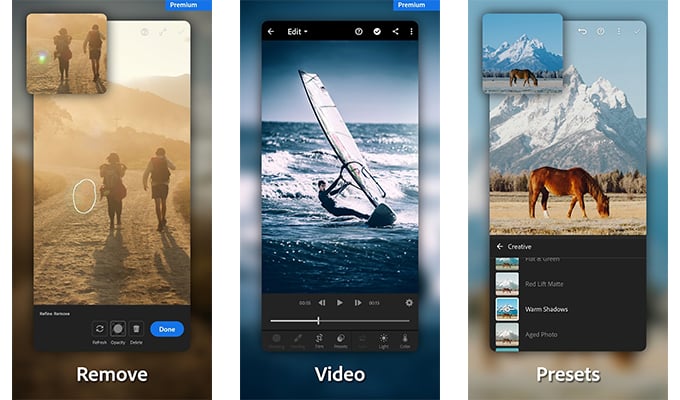 A list of Magic Eraser alternatives and not a mention of an Adobe Photoshop app? Impossible! One of the most popular image editors out there has a bunch of tools to 9tweak and turn your image. When it comes to removing objects, you can make use of the Healing tool. The Healing tools easily help in removing objects from an image, In fact, it works better than the Heal tool present on Snapseed.
However, when you compare it with Google's magic Eraser, the results are miles apart. First off, Magic Eraser is able to remove the object faster than Adobe's Lightroom. Secondly, the final output of the removed object from the image is way better with Google's Magic Eraser as compared to Lightroom.
Cons:
Tool available via Subscription Only
Key Features: Professional Image Editor | Multiple Tools | Mask and Remove Objects
Download: PlayStore( Freemium)
Photo Retouch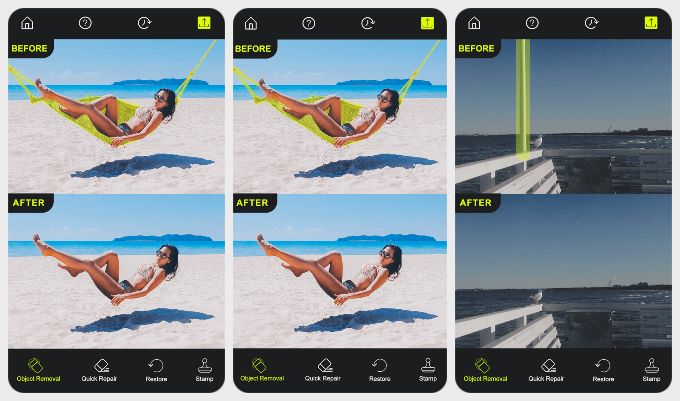 Photo Retouch is a little different in that it actually gives you a couple of choices. Yes, it can act as a Pixel Magic eraser alternative, but once you've removed the object, you can press Alter up to two times to get two different results. That's a total of 3 different results.
Likely, the app may not achieve the result you expected unless the background around the object is plain and clean. You might prefer one of the other two options, however. Sometimes, it actually does the magic, but that's rare. Unfortunately, you cannot export any images without a watermark unless you pay up.
Pros:
Multiple object removal configurations
Clean interface
Cons:
Watermarks images in free version
Key Features: Offers multiple results | Filters | Blur options
Download: PlayStore
Handy Photo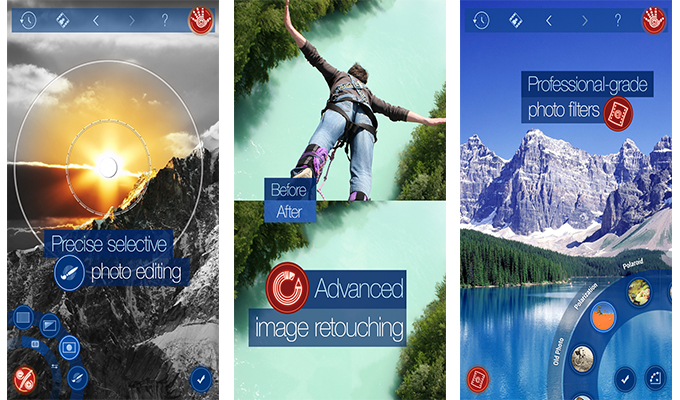 Want to remove an object from one image and place it in another image? Handy Photos has got your back. You can easily replace objects or remove them completely from images with just a few steps. Aloof this is possible thanks to the Move Me tool. One other reason why the app is popular is because of its simple and easy-navigating UI.
Apart from removing and moving objects from images, you can also use it as a photo editor. Whether you want to add filters, textures, or corp your images, the Handy photos app does it for you. While it has no ads. You will have to pay a one-time fee to purchase and use the app all the way.
Pros:
Easily Move and Remove Objects
Cons:
No Trial or Free Tier Available
Key Features: Quickly Remove Objects | Add Partial Filters and textures to Images | Multiple Unique Image Cropping Tools | Large Number of Image Frames
Download: PlayStore (Paid)
Remove Unwanted Object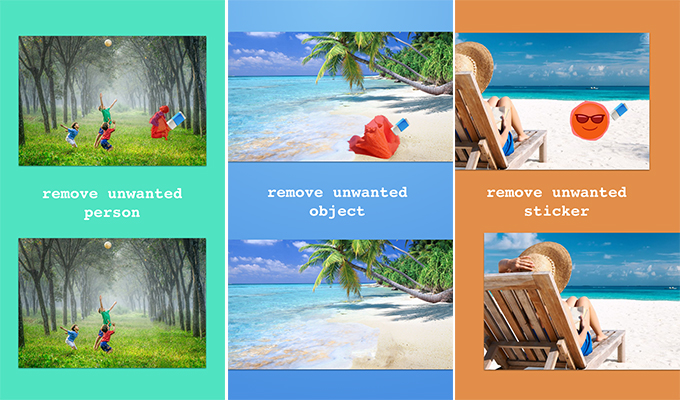 You guessed it from the title of this app. This app specializes in removing objects from images. No matter what the object is, this app helps you to remove them right away. In fact, the process to remove images via the Remove Unwanted Objects app is simple. Simply pick or select the image from the Gallery and choose the objects you want o erase. You can then tap on the Process button. When the button is pressed, the app will begin to remove the objects that you have selected.
Apart from removing objects from your images, it can also remove text as well as stickers that might have been added to the image. This makes the Remove Unwanted Tool app an edge over the apps but, it sits below the Magic Eraser as it's not as fast as the Magic Eraser tool by Google.
Pros:
Removes Anything You Select from the Image
Key Features: Removes Any Objects | Simple Steps | Basic UI | Removes Texts and Stickers | Free with Ads
Download: PlayStore (Free with Ads)
PicsArt: Photo Editor and Filters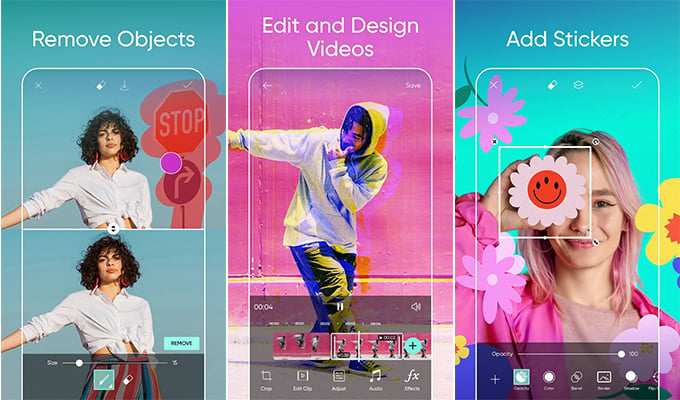 PicsArt is a very popular photo editing app that has been around for a long time. Starting out as a basic image editor, the app now has a ton of editing tools and features that allow you to use it as a full-fledged image editor. Whether it's about adding filters, fine-tuning your image, or even creating whole new images, PicsArt is the app to use. Speaking about object removal, PicsArt is able to also remove unwanted objects, texts, and even people from your images.
Don't like the person photobombing your image? Use the removal tool in PcisArt to easily get rid of such people. For some images, you will also be able to remove the background right away. Even if the image contains some text, PicsArt is able to remove it easily. PicsArt is an edge over Snapseed in many ways, but, the subscription model and ads steer a number of people away from PicsArt.
Pros:
Feature Rich Image Editor
Create New Images from Scratch
Cons:
Has Too Many Advertisements
Key Features: Multiple Image Editing Tools | Free with Ads | Easily Removes Texts and Objects
Download: PlayStore (Freemium)
Samsung's Object Remover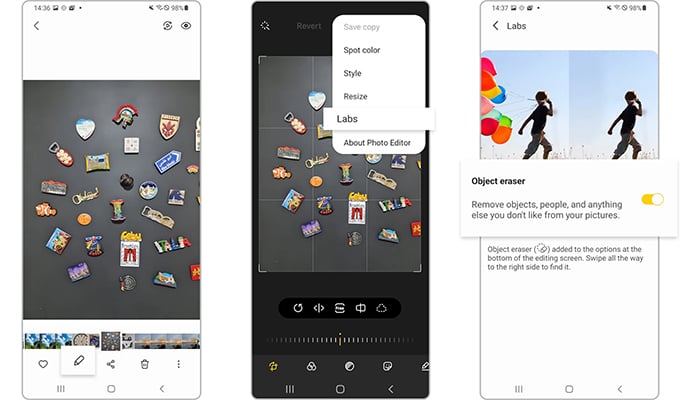 Seeing how Google released the Magic Eraser for its Pixel lineup, Samsung decided to also enter the competition with its own version of the magic eraser. Aptly named Object Remover, this tool does exactly what the magic Eraser does- removes objects and people from your images. Object Remover requires you to select or mark objects However, you need to understand that this feature is only available for Samsung services running Android 11 and above.
If you have a Samsung device that runs above Android 11, you can launch the Gallery app on your Samsung device. And tap on Edit Photo option from the bottom of the screen. Get the Object eraser from the three-dot menu at the bottom right. Now you can highlight or mark the objects you wish to remove and tap on Erase to erase the highlighted object.
Cons:
Only Available for Samsung Devices
Key Features: Free to use | Comes Pre-installed | Ad-Free | Quick Image Removal
Download: Object Remover (Pre-Installed on Samsung Devices)
Adobe Photoshop Fix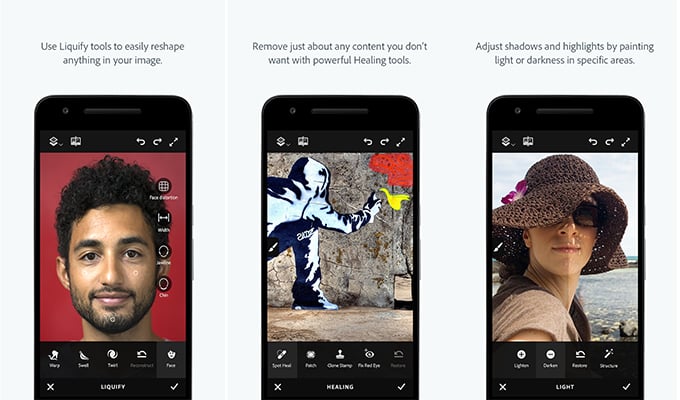 Here's another Adobe product that allows you to remove objects from your image. Now, unlike Magic Eraser which uses AI to remove objects, Photoshop Fix requires you to be using the Healing Tool. With the Healing Tool, you will be able to manually remove any object from the image. As you know, Photoshop Fix has a good number of image editing tools that allow you to make the best out of your images.
Provided that you have your Adobe account connected to the app, you'll be able to save and edit your images via the cloud itself. Want to make dramatic adjustments to images that have faces in them? Use the Face-aware Liquify tool. While removing an object will be easier for anyone, mastering the other tools will require some skill and a good amount of understanding as to what is going on.
Cons:
Buggy and Prone to Crashes
Requires Mastering to SUe Other Tools
Key Features: Multiple Image Editing Tools | Cloud Storage | Mask and Remove Objects
Download PlayStore (Free)
Retouch- Remove Objects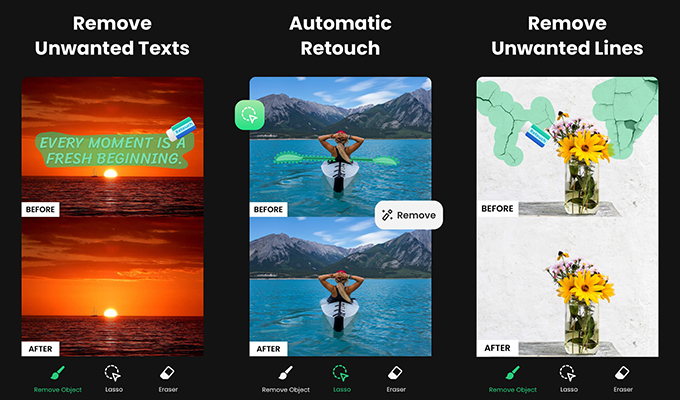 Looking for a dedicated app that allows you to remove all sorts of objects from your images? The Retouch- Remove Object app is here to help you remove anything you want. Whether it s about removing people, objects, cables, or even texts, the app does it with the help of AI. The process for removing objects from the images is simple. All you need to do is mask the object with the brush tool and then use the eraser to enhance the brushed area.
Once you have done all the marking, simply tap on the remove button. The Retouch app will begin to remove the object with the help of its AI and provide you with an image with the particular object removed. In order to make the app even better, it will be having a one-touch AI object Remover just like Magic Eraser. However, this feature is yet to be released.
Pros:
Free to Use
Remove all Sorts of Objects
Key Features: Fee | Removes Lines| Erases Blemishes | Delete Texts and Logos | Removes People
Download: PlayStore (Freemium)
Remove It- Object Remover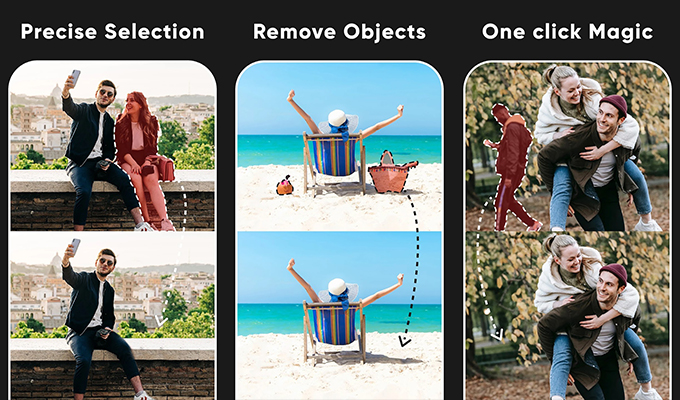 Here's another app that is dedicated to removing objects from your images. The app allows you to select and highlight the objects that you wish to remove. Whether it is about removing people, logos, text, backgrounds, and even vehicles, the app is able to do it all. If you've made some mistakes, you can easily undo and redo them with a single tap.
You can also compare both images within the app to see how well the particular object has been removed and, if you want to make some changes, you can do them right away. You can also change the thickness of the selected object for better object removal.
Pros:
Simple Object Removal
Removes Different Types of Objects
Cons:
Requires Subscription to Remove Ads
Key Features: Free | Easy To Use | Removes All Types of Objects |Comapre Images | Easy Undo and Redo
Download: PlayStore (Freemium)
SnapEdit: Remove Objects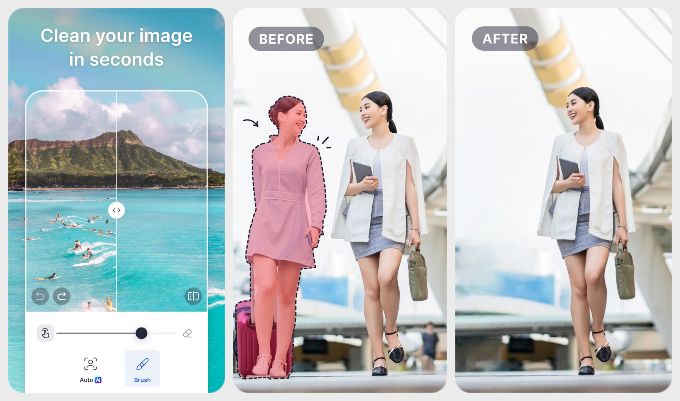 Have unwanted objects or people photobombed your images? Erase the worry forever with the SnapEdit: Remove Objects app. The app makes it simple and easy for new users to remove any object. Just like the other apps on his list, you need to brush over the objects you wish to remove and tap on the Remove button. The app also makes use of AI to detect and remove unwanted objects from the background of your images. You can even follow these steps to remove the objects from the image for the SnapEdit app.
SnapEdit is one of the smarter apps on this list. You can remove objects from photos with SnapEdit the typical way. Alternatively, you can let the AI figure out the objects in the image and then select the objects to be removed with a single tap. Regarding how satisfactory the results are, your mileage will vary from image to image.
Compared to every other app out there, the results are quite good. However, there are too many ads, which you can avoid by paying up for the Pro version. The app also has some extra features that can come in handy. For instance, it can make your blurry photos look more clear and sharp, and it does a decent job at that.
Pros:
Smart AI-powered object recognition
Intuitive UI
Key Features: In-Built Camera | Easy to Use | Free | Compare Images | Highlight and Remove | Image Enhancement | Face Enhancement Tools
Download from PlayStore: SnapEdit
Object Remover by Vyro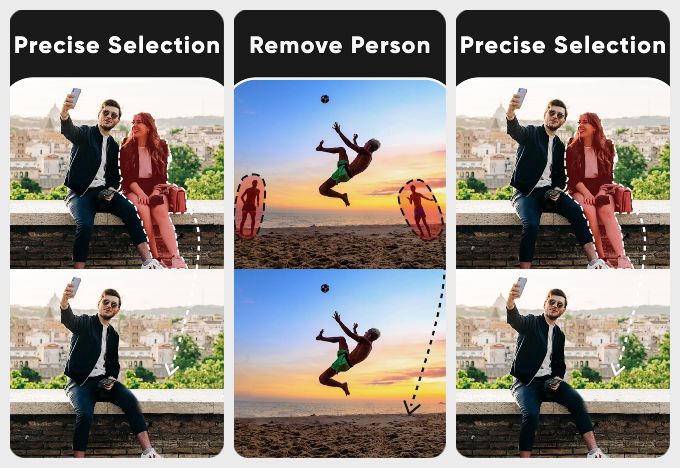 Object Remover by Vyro is limited to removing background objects, as the name suggests. The app is intuitively designed, pleasant to look at, and easy to use. Although, as mentioned before, the quality of the output really depends on the image and the object you want to remove.
Results are more satisfactory when the background around the object you want to remove is simple. While the app is available for free, it does have ads. And you cannot export images in HD. You can opt for a paid subscription, which removes ads, lets you export in HD, and more.
Pros:
Clean, intuitive interface
No bloat
Smart object selection
Cons:
Free version does not allow HD export
Ridiculous one-time pricing
High subscription cost
Key Features: No unwanted features | Easy-to-use interface
Download from PlayStore: Object Remover by Vyro
Object Eraser: Erase, Remove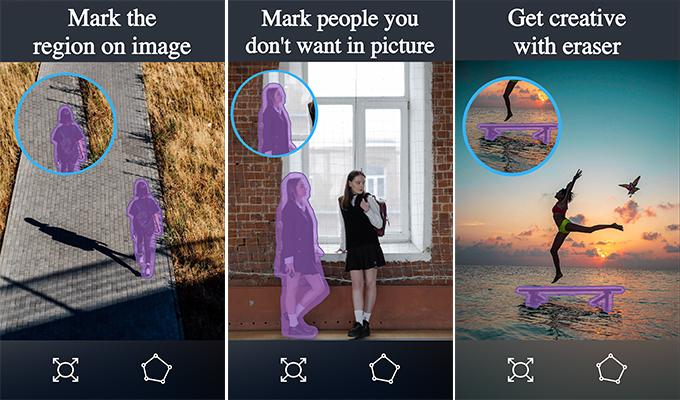 Another alternative to the Magic Eraser on Google Pixel is the Object Eraser app. As the name of the app suggests, you can use this app to easily remove unwanted objects or people from your images. Removing objects from the image is very simple. All you need to do is mask and select the particular object that you wish to remove. With the help of AI, the app will begin to remove a particular person or object from your image.
Apart from removing objects from the image, you can also use the app to make basic image edits. The app also has a dedicated facial image editor that allows you to perfectly tone up portraits and faces in your images. The app also allows you to remove any cables and power lines, fences, cracks and fences, logos, and even texts or stickers from your image.
Pros:
Mask and Remove Objects
Remove Distractions in the Image
Cons:
No One Tap Object Removal
Key Features: Removes Logos and text | Removes Telephone Lines and, People and Objects | Basic Image Editor | Adjust Faces in Portraits | Ad-Free
Download: PlayStore (Freemium)
If you go looking on the Play Store, you will find even more apps that claim to remove objects from photos, of course. That's essentially what the Google Photos magic eraser does, so they might all seem like good alternatives. However, we cannot vouch for the quality of those apps. They might not be as good, but they're better than nothing. Some of these apps are paid apps, while others are free, albeit ridden with ads.
These are the best alternatives to Magic Eraser that you can install on your Android device. If you are looking for the best one from this list, you can always choose between the TouchRetouch App and the Remove Unwanted Object app as these are apps dedicated to removing objects from your images.