Ever thought of flying like a bird in the sky, The FPV drones can make that dream a reality. FPV or First Person View drones are drones that can be flown in the sky at high speed and can transmit the visuals to your goggles in real-time. This gives you a bird-like vision. Here, let us look into some of the best FPV drones that are currently available in the market.
Let's begin.
Best FPV Drones with Goggles
FPV Drones are available in all price ranges depending on quality, speed, and video output. Let's see the best of them you can buy now.
DJI FPV Drone Combo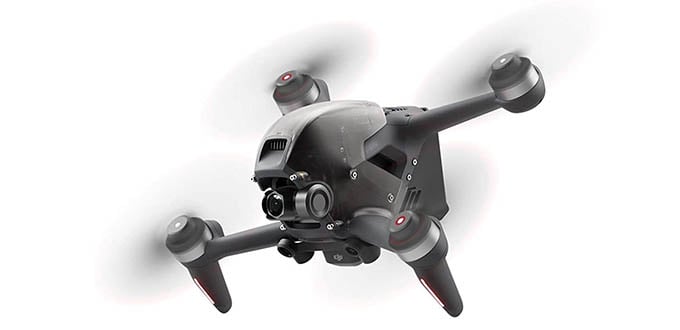 The DJI FPV combo is a highly customizable FPV drone that offers colors that match your style. The FPV drone combo comes packed with the FPV goggles V2 that gives you a real-time aerial view. The device consists of a 4k 60fps gimbal camera with highly efficient video stabilization.
THE DJI FPV drone has a super-wide 150° field of view. It has 3 different flying modes to choose from. The drone can provide a bitrate up to 50 mb/s. Highly stabilized aerial images and videos, 4 times slow-motion, real-time view of the visuals through the goggles, etc are the features that make the DJI FPV drone stand out.
Key Features: 4K 60 FPS recording | Comes packed with FPV goggles | Low latency | Superfast transmission
Related: 15 Best Drones for Kids and Beginners to Buy
iFlight Nazgul Evoque F5 HD FPV Drone
The iFlight Nazgul Evoque F5X HD is a high-performance racing drone with fully protected electronics along with lightweight side panels. It has an integrated XT60 battery plug. It also has an integrated XT60 connecter on its back. The Evoque F5X HD drone comes with XING2 performance motors for high power and speed.
The FPV drone has LED indicators for battery voltage. The support for DJI FPV goggles and DJI FPV controller feels like the cherry on top of the cake.
Key Features: Lightweight panel | Integrated battery plug | Illumination lights | XING 2 motors
Parrot Anafi FPV Drone

The parrot Anafi drone set comes with the FPV cockpit glasses 3 that provides an immersive flight experience. The quadcopter is very lightweight and can be folded. The device supports full HD live streaming. The parrot Anafi can take extremely good photos with its 21 mp camera that can support up to 4k HDR. It also has a 180-degree vertical orientation and digital zoom that does not have quality loss. The sky controller 3 can be used to control the aerial path of the FPV drone.
There are many preset modes in the Parrot Anafi FPV drone, like cinematic, racing, sport, arcade, classic, etc, It supports USB c charging and offers 25-minute flight timing. The maximum transmission distance of the drone is 4km while using the Parrot Skycontroller 3. The drone has a maximum flight time of about 26min and a maximum working altitude of 4,500m above sea level.
Key Features: Lightweight | Foldable | FPV Cockpitglasses 3 support |Full HD Live Streaming
Related: 10 Best Drones with Camera to Buy
iFlight Nazgul5 V2 5-inch 6S FPV Racing Drone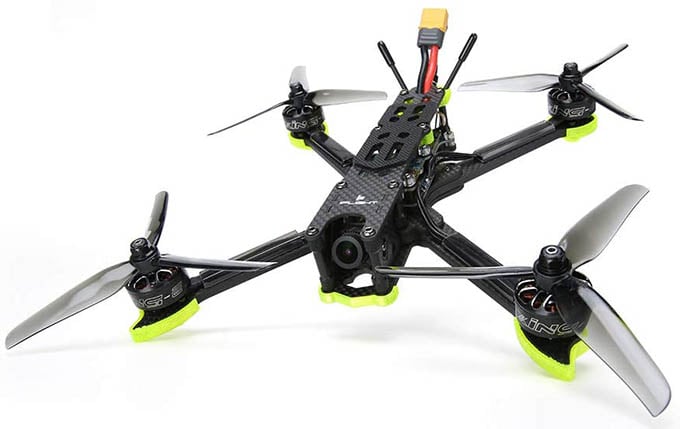 The iFlight Nazgul 5 V2 is a 5 inch fully assembled FPV drone that is made up of high-quality carbon fiber. It has a shock-absorbing FPV camera design along with its 5mm arms that increases its durability. It is also a flight cast racing drone that comes with XING-E 2207 motors and NAZGUL 5140 props.
The NSK bearings that come with the drone are efficient and long-lasting. The drone has superior damage protection in its various design features like the TPU crash-guards. This high-powered quadcopter is an ideal chase for an FPV drone.
Key Features: XING-E motors | fully assembled | Carbon build | X frame layout
iFlight ProTek35 6S CineWhoop HD Drone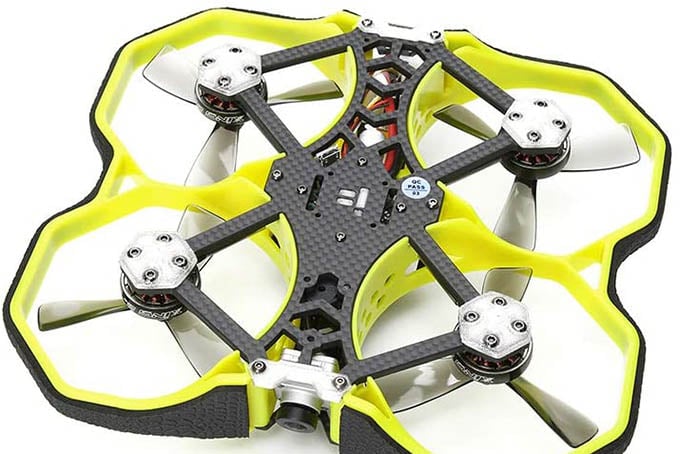 This drone from iFlight comes with a Caddx polar vista camera that can shoot at 720p 60 fps resolution. The device is Tagged with Xing 2205 2300 kV 6s motor that produces less heat and thereby increases durability.
The iFlight Protek 35 HD also offers support for DJI FPV remote and DJI goggles which is an added advantage. The powerful motors, solid strength, lightweight frame, various mounts, extra propellers, all make the FPV drone a great beginner drone.
Key Features: Xing 2205 motors | 720p 60 fps recording | support for DJI goggles and controller
Related: 5 Best High Endurance Micro SD Card for Dash Cams & Drones
Makerfire Micro FPV Racing Drone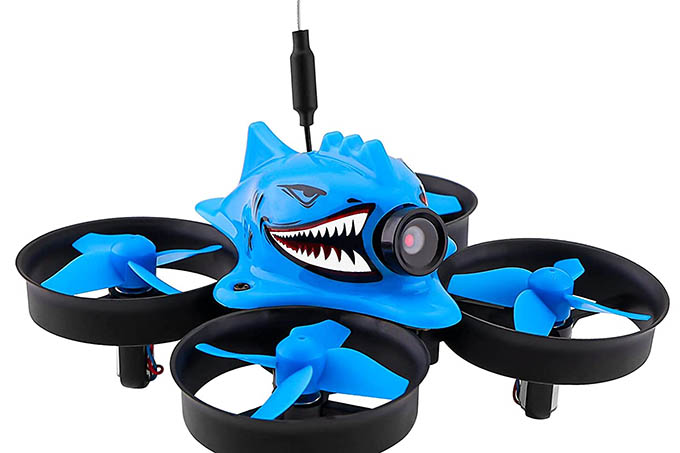 The Makerfire Micro is an FPV racing drone that has many cool features. Its features include one key start that can easily take off and an emergency stop that can easily bring down the drone. The 1000 T VLMT lens combined with 120° field of view H 170° wide-angle provides highly immersive shots.
The altitude hold mode makes things easier for the user along with the headless mode. The battery that comes with the drone offers a flight time of up to 6 minutes, which is pretty decent for a beginner FPV drone.
Key Features: 120-degree FOV | Single-button functions | Headless mode | Altitude hold mode
EMAX Tinyhawk 2 Freestyle 2.5 inch FPV Drone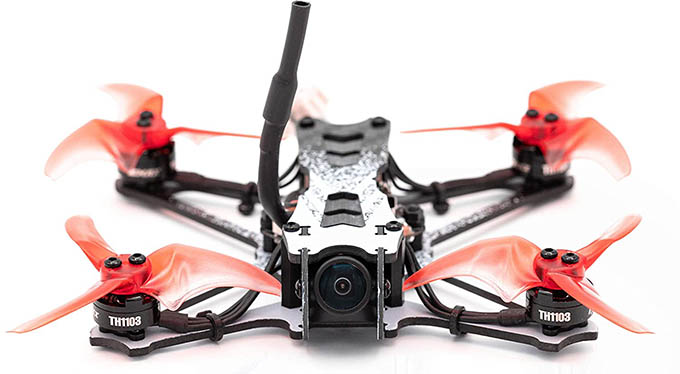 This is a 75 mm indoor racing drone that comes with multiple capabilities. The Tinyhawk 2 Freestyle RTF kit comes with FPV goggles, a controller, and a pair of 450MAH batteries. The is a great drone for beginners. It is very durable and lightweight due to its carbon fiber build. It comes with a 200mw VTX, 2s capable, 700kv motors. The motors are brushless and have a ball bearing form factor for better durability.
The EMAX Tinyhawk 2 FPV drone can reach up to a total speed of more than 56 Kmph. It offers a flight time of about 4 to 6 minutes which is plenty for a beginner. The unique inverted motor design, smart audio function, customized controls all make the drone a great choice for beginners.
Key Features: Indoor racing drone | FPV goggles included | high power motors | carbon fiber build
These are some of the best FPV drones that are available in the market right now. There are beginner-friendly as well as expert-level FPV drones on this list. All these drones offer a great real-time FPV experience if you have the goggles attached and streaming enabled. Find which one world is the best for you and give it a go.