Imagine paying for fast internet and having a slow router ruin your online gaming experience. If you are using the wrong router for gaming, this is your reminder to start looking for the best gaming routers that guarantee the most fluid experience. In 2022, playing games over WiFi shouldn't be a frustrating, lagging experience.
Here are some of the best and fastest gaming routers in 2022 you can buy.
Top Gaming Routers in 2022
We have handpicked the best Gaming Routers that you can find from Amazon for your online gaming sessions. All of them have dual-band WiFi, with WiFi 6 technology. Ensure your gaming laptop or PC supports faster WiFi protocols to achieve the full potential of buying a gaming router.
ASUS RT-AX82U Dual Band WiFi-6 GUNDAM Edition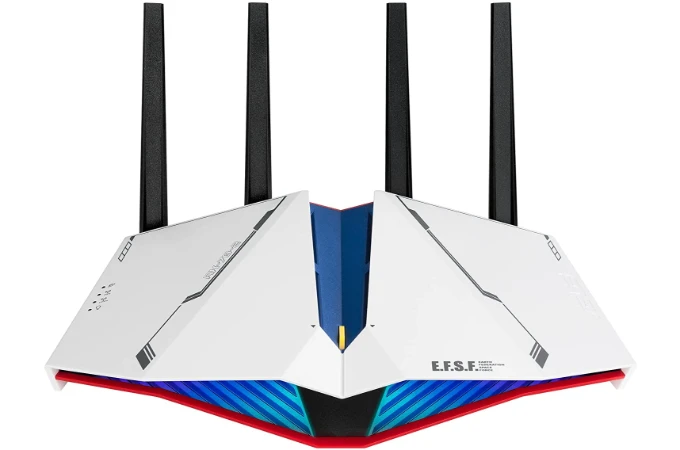 Enjoy lightning-fast speeds of up to 5400 Mbps with the newest WiFi 6 (802.11ax) technology and 160MHz channels with this device's new generation of WiFi. Mobile Game Mode allows you to reduce lag and latency when playing games on your mobile device with only the push of a button in the Asus Router app.
Lighting options – ASUS Aura RGB lighting effects feature a variety of visual effects and can be customized to match various modes. With ASUS AiMesh support, you can create a versatile and seamless whole-home mesh network.
Commercial-grade security for your home network with ASUS AiProtection Pro is free for life and comes with WPA3 and advanced parental controls to keep your home network safe.
Pros:
Lightning-fast speeds
Mesh Network supported
RGB lighting
Cons:
DHCP errors
Slightly overpriced
Key Features: WiFi 6 (802.11ax) | RGB Lighting | ASUS AiProtection Pro Firewall | AiMesh Mesh Networking | Mobile App Supported
Related: 8 Best WiFi 6 Mesh Routers to Speed Up Your Home WiFi
TP-Link Archer AX10000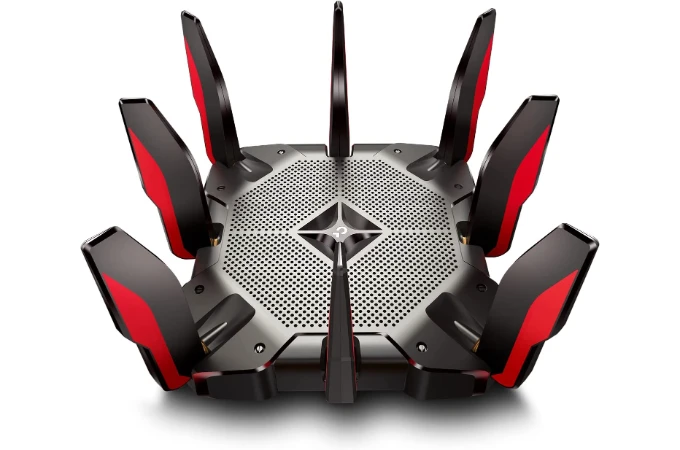 Fast WiFi for High-Intensity Gaming – The AX10000 is a speed machine that can give WiFi speeds of up to 10 gigabits per second. It can improve the quality of your gaming experience with a Game Accelerator tool.
Extensive connectivity is provided through a WAN port with a bandwidth of 2.5 Gbps, 8 LAN ports with a bandwidth of 1 Gbps each, and two USB 3.0 interfaces, one of type A and type C.
More Devices with Significantly Reduced Lag: The technologies known as OFDMA and MU-MIMO distribute data to numerous devices at the same time. It supports creating a mesh network in your home.
Pros:
Works with all ISPs
Extensive Wired and Wireless Connectivity
Parental controls supported
Cons:
Packet drops sometimes
No support for Audio Streaming
Key Features: MU-MIMO Low Latency Mode | Wired & Wireless Connectivity Options | USB Type-C Support | Game Accelerator Tool
Today's Deal: $50.00 Off
ASUS AX6100 Triband Router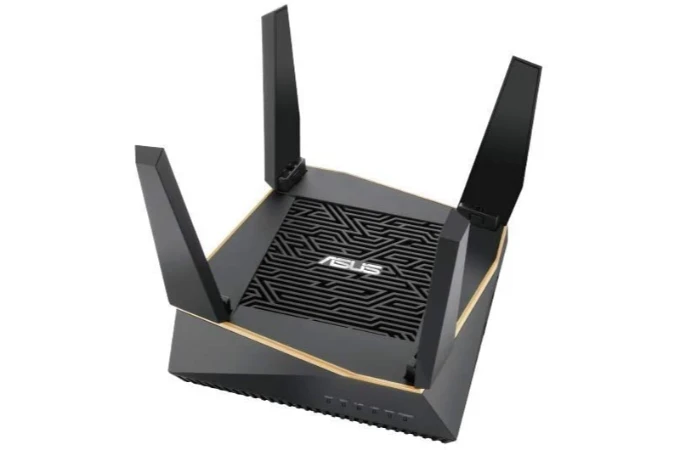 With the AiMesh AX6100's WiFi 6 AX technology and MU-MIMO, several devices can transfer data at the same time, making the AiMesh WiFi management more reliable, stable, and faster. AiMesh technology allows you to construct a stronger mesh WiFi System using 802. 11Ax as the wireless uplink to transmit data between Asus AiMesh compatible routers, delivering stable WiFi for connected devices.
Commercial network security for families with AiProtection Pro secures all your home network devices and has parental controls to manage internet use. Using the Asus router app available for Android and iOS, you can easily control and manage your network; check which devices are connected, share your WiFi connection, restart your router, and activate game boost mode.
Pros:
Mobile app for customizing
Mesh Network Support
Cons:
Unstable 2.4GHz mode
Firmware Update issues
Key Features: AiMesh Mesh Networking | WiFi 6 Support | Advanced Firewall Feature | Control via Android & iOS App
Related: Speedefy K8 Smart WiFi Router: A Wise Choice to Step Up Your Home WiFi?
TP-Link Archer AX90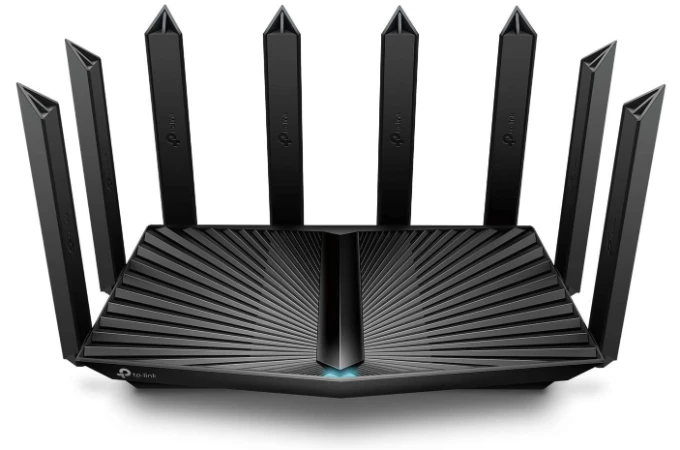 The Tri-Band WiFi on the AX6600 is capable of speeds of up to 4804 Mbps (5 GHz), 1202 Mbps (5 GHz), and 574 Mbps (2.4 GHz). Archer AX90, which TP-Link OneMesh supports, can be used to create flexible Whole-Home WiFi by adding a Range Extender that is OneMesh-compatible, such as RE505X.
Eight high-gain antennas enabled with beamforming work together to provide maximum coverage across a wide area. The OFDMA and MU-MIMO technologies simultaneously provide data to several devices with less lag.
Pros:
Free Network Security Suite
WPA3 encryption Support
Cons:
Buggy Firmware Updates
Random Disconnecting issues
Key Features: Tri-Band WiFi | TP-Link OneMesh | 4804Mbps Max Speeds | 8 High-Gain Antennas | MU-MIMO
NETGEAR Nighthawk Pro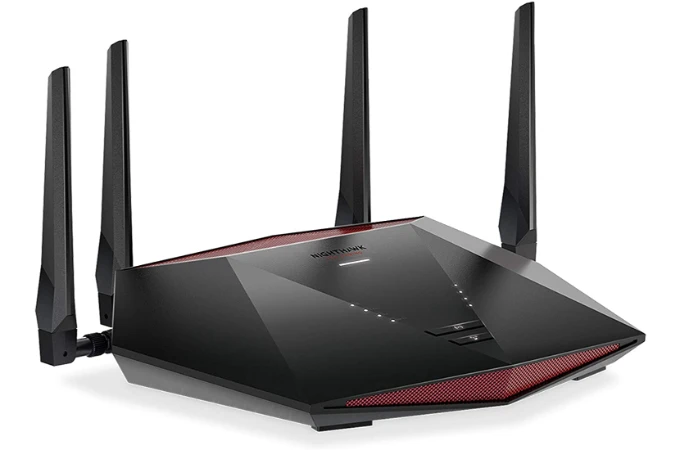 It comes with a DumaOS custom firmware interface. The router supports WiFi 6 and has a maximum speed of 5.4Gbps. The X5400 Dual-Band speed offers up to 2500 square feet of coverage and can simultaneously support 25 devices.
You can connect any nearby wired devices, such as PCs, game consoles, streaming devices, and more, via the available 4 x 1 Gigabit Ethernet connections. Using all the advantages of WiFi 6, this router gives your PS5 unheard-of speeds and decreased latency.
Pros:
DumaOS interface
Low Latency Mode for PS5
Up to 25 devices supported
Cons:
DHCP errors
Adblocker blocks OTT platforms
Key Features: DumaOS – Better UI | WiFi 6 | Ultra Low Latency for PS5 | Dual Band WiFi
Today's Deal: $14.89 Off
Related: TaoTronics Tri-Band AC3000 Mesh WiFi Router for Home & Office
Speedefy AC2100 Smart WiFi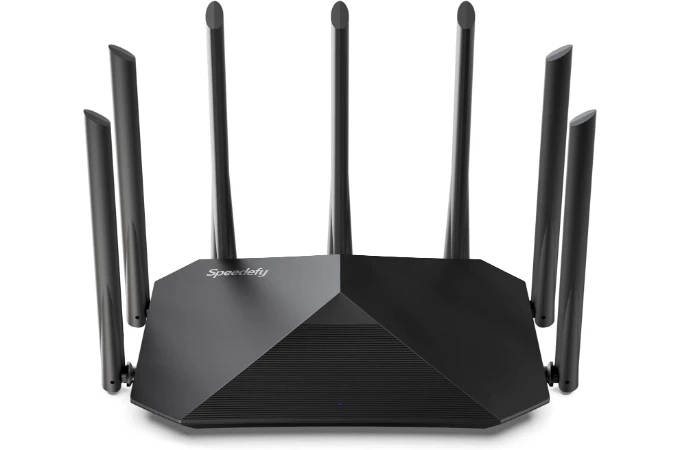 The Speedefy K7 smart wireless router delivers 2100M dual band gigabit WiFi, which translates to 1733Mbps/5GHz and 300Mbps/2.4GHz combined. Using a CPU with two cores reduces buffering and allows faster online browsing, video streaming, and gaming.
The powerful signal delivered by the 7*6dBi exterior Antennas and the 4*4 MU-MIMO technology covers every inch of the space. Internet security is ensured by complete WPA2 protocols, which identify and prevent threats from the internet in real-time and make your WiFi network stable and secure.
Pros:
Parental controls available
Easy installation
Less buffering due to Dual CPUs
Cons:
The smartphone app is useless
Poorly designed Admin page
Key Features: Dual-Bank Gigabit WiFi | MU-MIMO Technology | WPA2 Encryption Support
TP-Link AX6000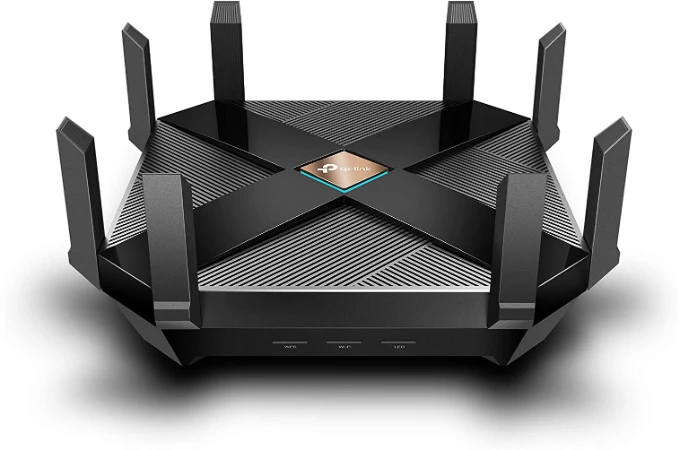 The AX6000 Dual Band WiFi performance is increased by 1024QAM, delivering 5952 Mbps maximum speed: 4804 Mbps (5GHz) and 1148 Mbps (2.4GHz). This makes it one of the best gaming routers on the list.
Long Range WiFi Coverage: The eight exterior antennae provide a powerful WiFi signal across your home. BSS color technology offers smooth, stable connections by eliminating signal interference from neighbors, while Beamforming and Range boost deliver a stronger, farther-reaching network. There is one 2.5Gbps WAN port, eight Gigabit LAN ports, and two Type A and Type C USB 3.0 ports on the router.
Pros:
Long Coverage
Stable connections
Cons:
Requires subscription for parental control
Heating issues
Key Features: 8 External Antennas | USB Type-C Support | BSS Color Technology – Signal Interference Removal
Today's Deal: $40.00 Off
Related: How to Change WiFi Router Channel to Improve Signal Quality?
ASUS AX6100 (RT-AX92U 2 Pack)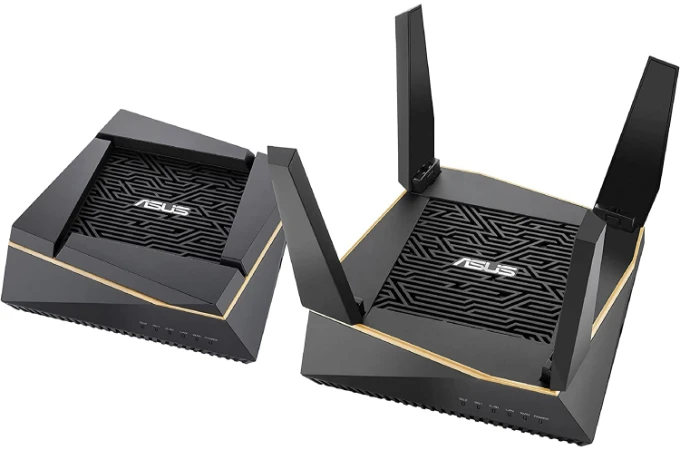 Commercial-grade security for family networks is included — AiProtection Pro safeguards your home network and its connected devices. At the same time, advanced parental controls enable you to regulate how your family uses the internet.
You will have access to the vast majority of connections for any mesh framework with its four LAN ports, one USB 3.1 port, and one USB 2.0 port, all of which provide connections for your wired devices. The following operating systems are supported: Windows 10, 64-bit editions of Windows 8.1, Windows 8, Windows 7, and Linux.
The AiMesh technology makes it possible to set up an even more robust WiFi network by using the 802.11ax standard as a wireless backhaul to carry data between two RT-AX92U. This guarantees the most reliable WiFi for all devices connected to the network.
Pros:
Easy to set up Mesh Networks
Firewall included
Cons:
Unstable 2.4GHz connection
Terrible warranty service
Key Features: AiMesh Mesh Networking Tool | Commercial Grade Protection AiProtection
Today's Deal: $48.56 Off
NetGear Triband MK83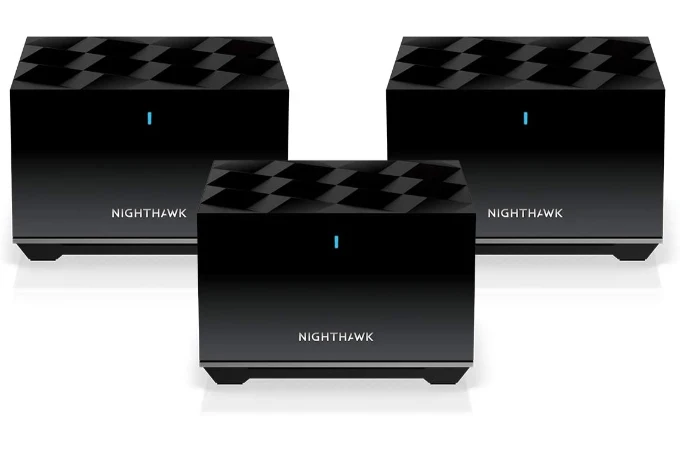 The lightning-fast AX3600 Gigabit speed on the NetGear MK83 combined with the latest WiFi 6 technology enables seamless streaming, HD video gaming, and online conferencing. It replaces your current WiFi router while also connecting to your cable modem. Any internet service provider up to 1Gbps, including cable, satellite, fiber, and DSL, is supported.
The router and the satellites each come equipped with seven Gigabit Ethernet LAN connections, allowing users to connect various devices such as laptops, game consoles, and streaming players.
Pros:
NetGear Cybersecurity Protection
40+ device supported
Mobile App is great
Cons:
Heating issue
Constant reboots
Key Features: Built-in Cybersecurity Protection | Gigabit LAN | Mobile App-based Control
Today's Deal: $90.00 Off
Google Nest WiFi
To set up a WiFi network, simply plug a WiFi router into the modem of your internet service provider. The other enhances the range of the wireless network and ensures that your connection is quick to all devices in every room. Adding more Nest WiFi routers or access points to your system will increase your network coverage.
The WiFi routers of Google Nest are powerful enough to support up to 200 connected devices and quick enough to simultaneously stream multiple 4K films. In addition to that, there are Ethernet ports built right into the rear of it.
Pros:
Intelligent WiFi optimization
Suitable for IoT apps
Automatic Updates
Cons:
Less manual controls
Bad Customer Support
Key Features: Google Home Support | Integrated with Google Ecosystem | Simultaneous connection up to 200+ Devices
Today's Deal: $20.00 Off
Related: Google Wifi vs. Nest Wifi: Which Mesh WiFi Router Suits Your Home
FAQ: Best WiFi Router for Gaming
Are gaming routers better?
The Quality of Service (QoS) feature, which prioritizes your gaming traffic to cut through network congestion, is a gaming router's most significant advantage. Despite this, most online games can benefit from a wired connection, which is truly independent of the wireless router.
Are gaming routers good for gaming?
Gaming routers are designed to prioritize traffic going to gaming consoles and personal computers because that's what gamers want most. Even if other devices in your home are streaming or downloading, the best gaming router eliminates lag.
Do gaming routers reduce ping?
As a general rule, the closer the server, the better the performance, so a router's goal during gaming is to minimize the impact of pings. Or creating a network of distant routers equipped with the most reliable connections.
Will a gaming router increase Internet speed?
By upgrading to a faster router, you can have a more stable WiFi or Ethernet connection from your ISP's modem to your computer or console. However, it has no control over the connection between the game server and the server at your Internet service provider.
Does an expensive router make a difference?
More expensive routers can make a difference. However, typical internet users may not notice these advantages or benefits. Some things that haven't been widely used yet might be better with a more expensive router.