It is almost time you ditch your old home WiFi router that can only connect a couple of devices and replace it with a more capable smart router. Speedefy K8 AC2100 is such an upgradable router for your home, especially if you have plenty of smartphones, laptops, and smart gadgets in your home. We've had some really nice experiences with this affordable high-speed WiFi router and here is our hands-on experience with the Speedefy K8 AC2100 router.
Let's take a look at what the Speedefy router has to put on the table.
Speedefy K8 Smart WiFi Router: Overview
WiFi routers are no longer simple WiFi emitting devices with a couple of antennas on them. A number of factors matter while looking for a home WiFi router that includes the speed, number of connections, WiFi bands available, and much more. While taking Speedefy router on account based on these, our impression was not that bad.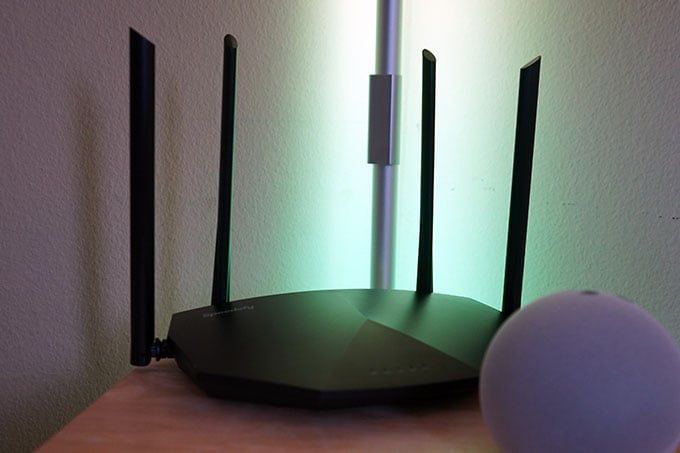 Speedefy K8 is the new addition to the Speedefy AC2100 lineup of smart wireless routers. Unlike its predecessor Speedefy K7/K7W with 7 antennas, the new K8 sports only 4 antennas, which still offers a good connectivity range across your house. We have had our hand son this router from Speedefy for a few weeks so we had the chance to put it through some tests to find out whether the Speedefy K8 is suitable for you or not.
Speedefy K8 Smart WiFi Router: Specifications
Here are the complete specifications of the Speedefy K8 Smart WiFi router before we begin with our hands-on experience.
| Specifications | Speedefy K8 AC2100 Router |
| --- | --- |
| Brand | Speedefy |
| Model | AC2100 (K8) |
| CPU | Dual-Core |
| Antennas | 4 |
| Coverage | 2000 sq. ft. |
| Device Support | 35 devices |
| WiFi Standard | WiFi 5 |
| Bands | 2.4GHz & 5GHz |
| Speed | Up to 2100 Mbps |
| WiFi Security | WPA2-PSK encryption |
| Firewall | SPI Firewall |
| Guest Network | Yes |
| Parental Control | Yes |
Design
The diamond-cut design on the Speedefy K8 looks very familiar. It is the very same design profile they used with the previous models. The router looks more rounded at the front, making a futuristic design appearance.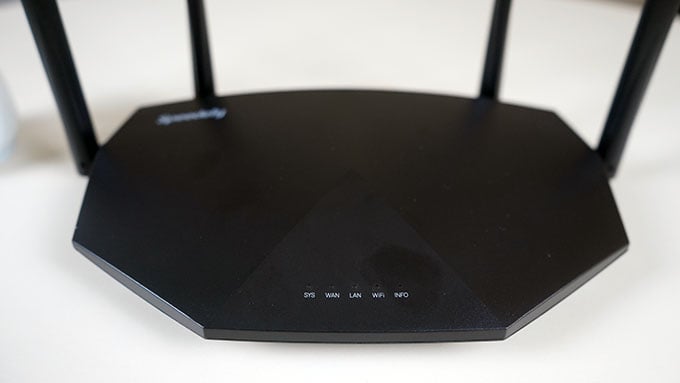 The black polymer material looks durable and sturdy enough to withstand any scratches or accidental falls. If you are familiar with the Speedefy K7 series of routers, you will instantly notice the lack of 3-extra antennas they had in this model. Speedefy K7 WiFi router sports 4 high-gain antennas; one on each side and two at the rear.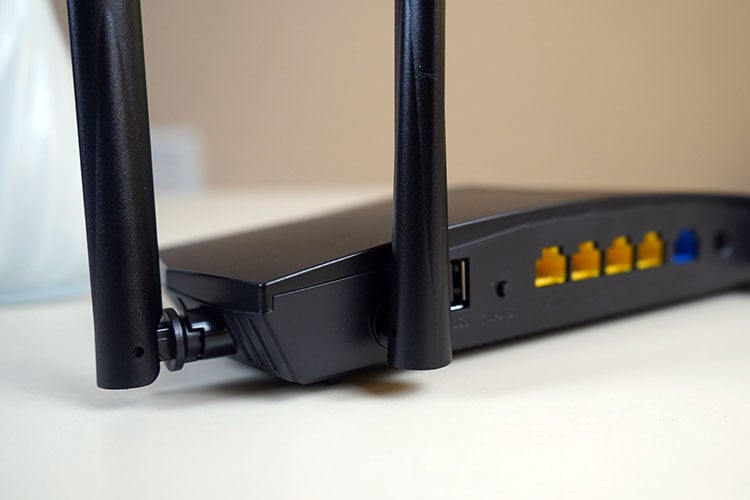 As usual, the power and network indicator lights are aligned to the top front with soft blue LEDs. Coming to the rear, you could find a bunch of ports over there, good enough to keep your home network connected. The blue-colored WAN port is where you can connect your modem or internet connections. Apart from that, there are 4 LAN ports with three of them IPv6 and one with IPv4. Plus, the USB port provided lets you connect your printer or scanner to the network so that you can network print from any device within your home.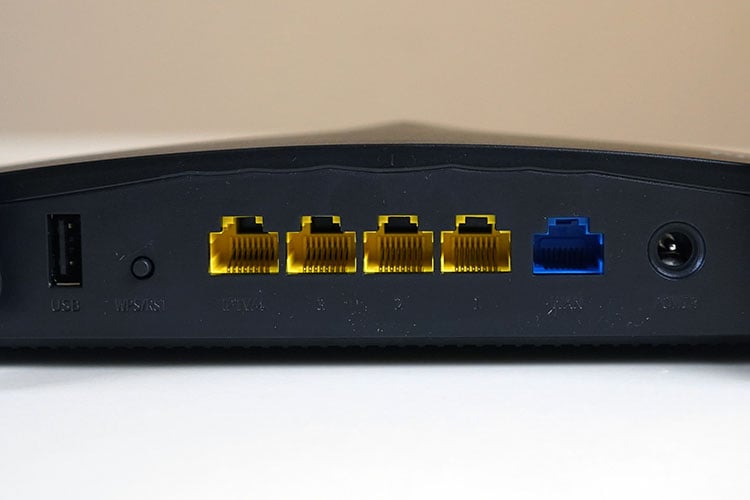 In total, there is only one hardware button that is dedicated to WPS and Reset. There is no power button on the Speedefy K8 router, which will make you want to unplug and connect the wall adapter in case you want to restart.
Related: 12 Best Portable WiFi Routers for Travelers.
Installation and Setup
As a standalone WiFi router for your home, Speedefy K8 did not cause us any headaches while setting up. Unlike the conventional Modem+Router combo, this router needed to be connected to the existing home internet modem. That's the catch here when you want to receive high-bandwidth internet from the service provider but have an old modem.
Since we already have been using a high-speed modem for the internet, the only thing left to do was to connect the smart WiFi router with the existing modem. The packaging comes with a 2 meters long ethernet cable, which you can use to connect the router with your modem.
Once the router is connected and power on, simply open the Speedefy WiFi app and follow the on-screen methods. The guided setup option is really helpful in enabling the router to be up and running in no time.
Once the initial setup is complete, you can keep using the app to control the router, change settings tweak any other options within. You can see and control all the connected devices, enable the guest network, schedule the WiFi, and even set speed limits for the whole network as well as individual users on your home WiFi network.
Download Speedefy WiFi: Android | iPhone/iPad
Connectivity and Coverage
In terms of network speed, Speedefy offers a total of 2100 Mbps data bandwidth but is a summed-up value of both channels. As we saw above, the router does come with 2.4GHz and 5Hz bands which lets you use the devices by connecting to the appropriate networks. The 5GHz channel offers up to 1733 Mbps (1.7Gbps) bandwidth speed while the 2.4GHz channel can deliver up to 300 Mbps, both at the same time.
In case you are confused, the 5GHz channel is shorter in range, but is the fastest. On the other hand, the 2.4GHz gives you more range but the speed will be limited. You can connect to either of the networks depending on the device requirements. For instance, you can connect your gaming PC to 5GHz WiFi for faster internet (make sure it is closer to the router) and connect your phone to the 2.4GHz for just texting and browsing.
All the wireless channels are pretty fast enough and are sufficient for an average household. The total range of the WiFi router is limited to 2000 square feet, which is pretty disappointing if you have a big house or big office space. This will even reduce depends on the walls and other obstacles.
Related: 8 Best WiFi 6 Mesh Routers to Speed Up Your Home WiFi
When it comes to the wired connectivity, we are not that satisfied at all. The advertised speed is not well projected when we connected via the ethernet cables. That being said, the Speedefy routers are mainly aimed at wireless connections and to boost up your home WiFi. If you have an ultra-fast internet plan and are trying to get the same result with the ethernet as you got with the 5GHz channel, there is a chance you get disappointed.
Here's another part of this router that upset me as a home WiFi router – device limits. Speedefy offers up to 35 devices connectivity, which might be sufficient for many people. But as the homes are getting smarter with smart home gadgets, I am pretty sure this won't be enough in near future.
As I've counted, there are over 30+ WiFi-connected gadgets including phones, laptops, smartwatches, smart bulbs, smart speakers, and even smart sprinklers. Not to mention the couple of garage door openers I have ordered recently. If your home is full of gadgets and trying to expand your smart home, I'm afraid choosing Speedefy could possibly be the wrong decision here. The only way to get past it is to get some mesh WiFi routers.
If you do not have many smart home gadgets or devices, Speedefy K8 would be the deal for you. You can connect all your household computers and smartphones without worrying about the device limit.
Related: The WiFi Router Buying Guide for Power Users
Security and Firewall
Securing your home network is as important as keeping your devices free from any malware or spyware. Hackers may attempt to get into your home WiFi and steal data from your phones, but it seems Speedefy got a better shield against them.
The Speedefy K8 router comes with WPA2-PSK encryption, which is the latest wireless network encryption form. Apart from this, the router comes with an inbuilt SPI firewall to protect you against DoS attacks and other unwanted interventions. The firewall does not slow down the internet in any form, it just helps with an extra layer of protection.
The guest WiFi network which you can create is an entirely detached network from your actual home WiFi which increases the protection. Hackers will not be able to reach your devices even if they manage to enter the guest WiFi.
Using the Speedefy WiFi app, you can also enable parental controls and website restrictions without using any other tools. You no longer have to block websites from within the router using DNS when you have the one-click solution on the app.
Pros and Cons
Here are a few things that we liked and disliked about the Speedefy K8 AC2100 smart WiFi router.
What we like:
Fast WiFi network
Dual channel WiFi
One-click security, parental control, bandwidth limiting
Guest WiFi
What we dislike:
Limited device connectivity
WiFi range is limited
Ethernet speed is limited
No WiFi 6 standard
Pricing and Availability
We have gone through both the good and bad sides of the Speedefy WiFi router. If you are well satisfied with what it has to offer, you can buy the router directly from Amazon. You can also get one from the Speedefy website as well. You can get 10% off discount with the code MQSF6LMH, Expire Date: 2021-12-31
Final Verdict
Speedefy K8 AC2100 is an impressive wireless router for small and medium home-usage. Although the range is limited, you will surely get an impressive WiFI speed within a certain radius. This is an ideal choice for those who do not move around much inside the house and want to get the full-swing internet bandwidth over WiFi without spending much on a router.
If you are planning for a bigger house, especially with lots of smart home gadgets, we would not recommend the Speedefy K8. Instead, you can look for any mesh WiFi routers like Google WiFi, Amazon Eero, or TP-Link Deco.