WiFi mesh routers enhance home WiFi signals and get signals to every corner of the house. Comparing with old school routers, mesh routers give you a swift and excellent network reception. Upgrading to the mesh systems is the most cost-effective way to deal with choppy, unreliable signals, and dead spots. The Tri-Band mesh router from Taotronics is an excellent set of home mesh wifi routers you can get.
Let us take a glimpse at the TaoTronics AC3000 tri-band mesh WiFi router.
Content
TaoTronics AC3000 Mesh Router: Overview
The TaoTronics Mesh WiFi Router is a pretty straight forward device that effectively increases your WiFi signals at home with full coverage and no dead zones. You can connect it to all your smart devices from your smart TVs to smartphones and to home security devices snd many more. It is perfect for homes up to 6000 sqft and can connect up to 200 smart devices at a time.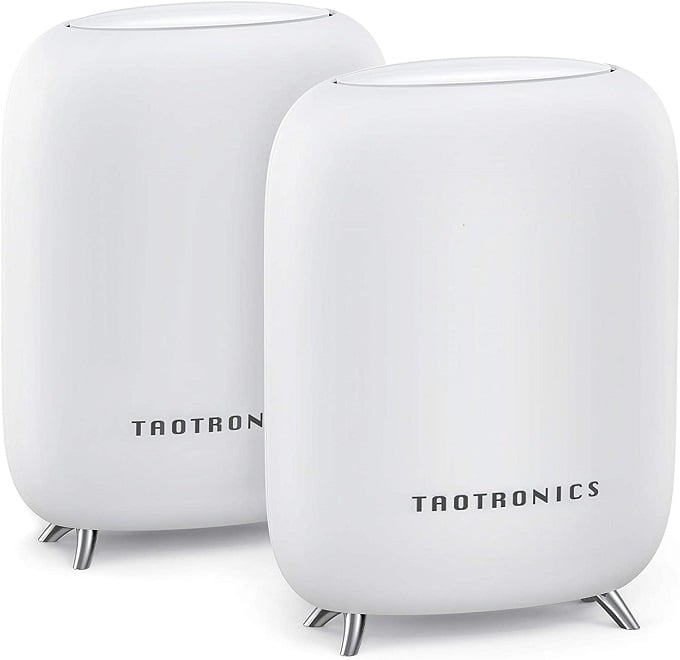 This tri-band WiFi mesh router comes with three-band support. You get strong and reliable connections on both the 2.4GHz, 5.0Ghz, and 5.8Ghz. The tri-band setup lets you connect up to 200 devices and enables you to stream HD and 4K through your TV streaming box.
With dashing speeds of 500 Mbps max bandwidth, you can be sure to get the best possible connections. The combination of the mesh router enables complete signal strength throughout your home with a switching time of just 40ms.
The TaoTronics Mesh WiFi router comes with NAS cloud storage, secure network management, and smart parental controls. The device setup is pretty easy and there is more to talk about when it comes to design and major features.
Related: 12 Best WiFi Mesh Routers to Ensure Maximum WiFi Range
Design and Ports
The Tao Tronics WiFi mesh router unit is stylish and suits every home. It has an elegant LED ring that shows an active connection status. The smooth cylindrical design makes it stay where you wish to keep. The casing has a nice silver luster and matte finish at the bottom.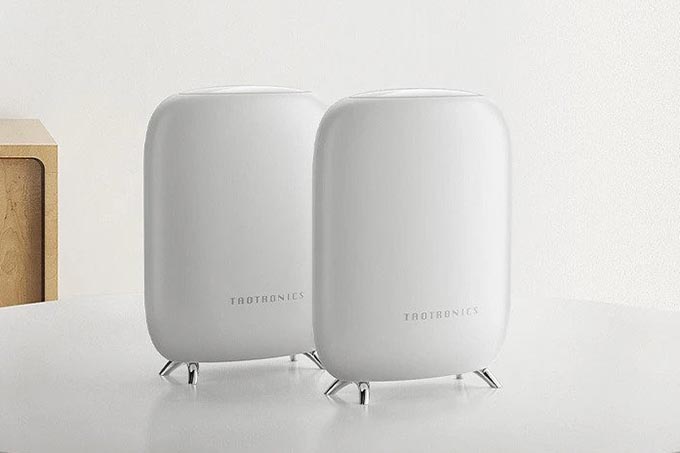 When it comes to the wired connection ports, you can see a USB 3.0 and 4 Gigabit Ethernet ports. These ports are on the rear side of the router and let you access the superfast network when connected with smart devices.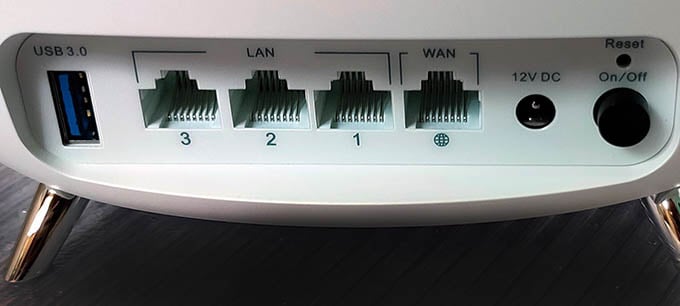 The mesh router comes with a 12V DC supply. It is best to have a 3 node mesh router so that the signals get repeated in the case of a large home of size up to 6000 sqft.
WiFi and Network Capabilities
The TaoTronics Mesh WiFi router comes with a tri-band setup consisting of 2.4GHz, 5.0Ghz, and 5.8Ghz. You can get WiFi speeds of up to 3 Gbps combined. The 2.4GHz gives you speeds of up to 400 Mbps, the 5.0GHz gives a max of 866 Mbps. The upper band of 5.8GHz is capable of providing speeds of 1733 Mbps in optimum conditions.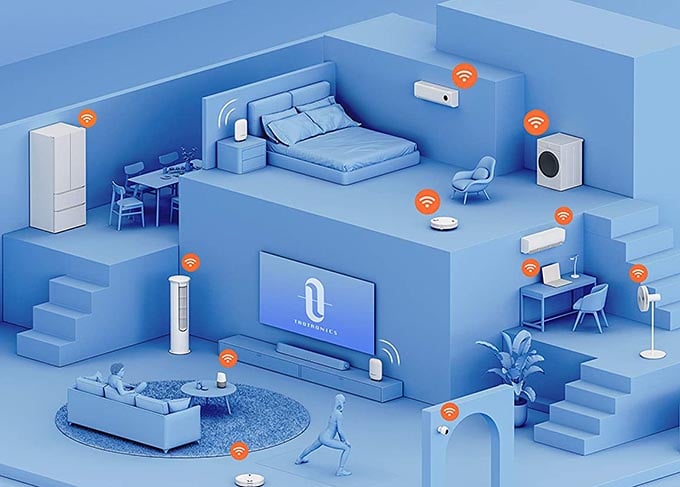 The complete coverage and the advanced router switching limits the number of dead zones and boost the signal. It creates a stable WiFi connection by limiting the switching time to under 40ms. The mesh router supports the automatic channel and bandwidth channel selection. This enables you to get the best signal strength throughout your home with the TaoTronics WiFi mesh router.
Related: How to Auto Turn Off iPhone WiFi When You Away from Home
Connectivity and Setup
Unlike a conventional router or mesh routers, there is no much hassle with the initial setup of TaoTronics WiFi mesh router. The device with Bluetooth connectivity and lets you connect with your smartphones via the TT Mesh app. The app works well with both iPhone and Android phones. The TT Mesh app flawlessly guides you through the setup process.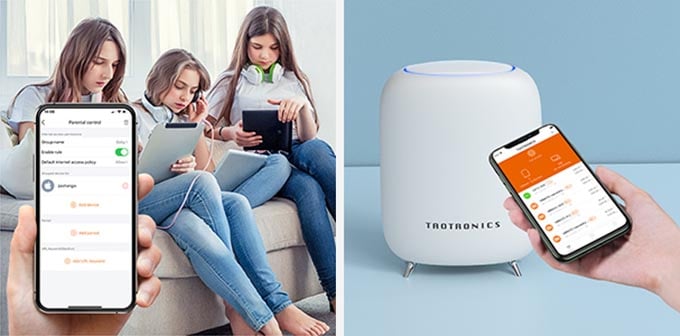 The app also enables you to set up guest profiles and parental guidance on selected devices. What's more, the app tells you the right spot to keep the router or its node in order to get the best signal strength.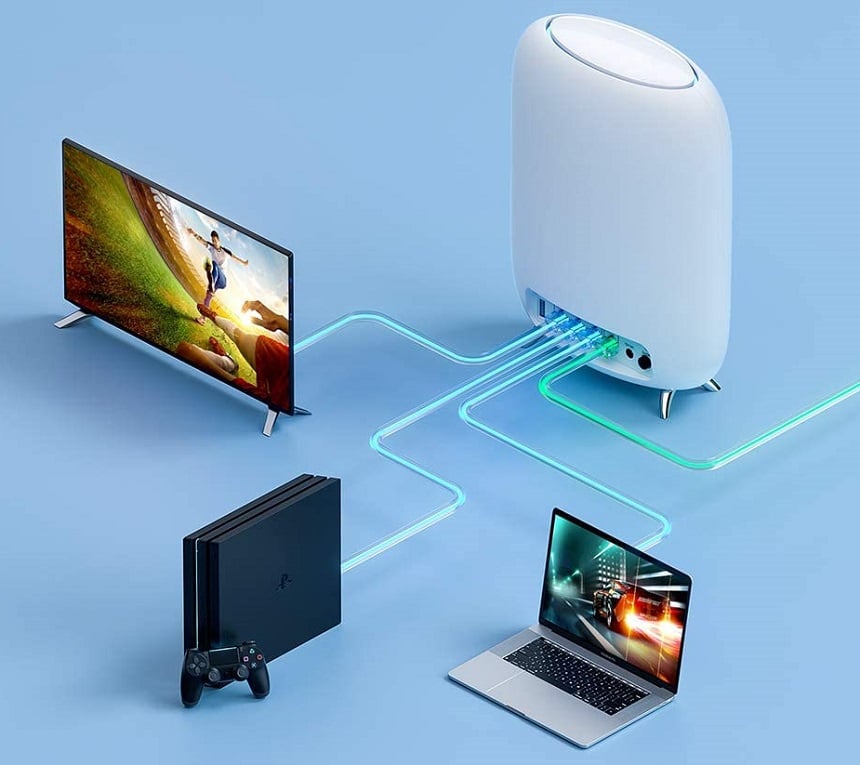 The wiring part of the TaoTronics WiFi mesh router is also pretty easy. All you need to do is to connect the power adapter to your power socket and switch it on. If you have devices that can access the internet through the ethernet ports then you can simply wire them together through the ethernet cables. The mesh router has 4 ethernet ports with varying data transfer speeds.
Related: 10 Best WiFi Smart Plugs to Work with Alexa & Google Assistant
Security and Privacy
The TaoTronics Mesh WiFi Router comes with features like parental guidance and Secure Network. You can enable Parental guidance settings straight from the app. With this, you can track your child's activity online and filter content or websites. You can also set up the WiFi usage limit for your kids.
Secure Network Management includes network stats checks, device monitoring, and speed controls. There is also the network protection and MAC address filtering to protect from threats and scams. There is also the Guest Profile that gives access to your guest a particular profile. This helps you keep your home network safe from unauthorized access.
Key Features: Tri-Band Mesh System | WiFi bands- 2.4Ghz, 5.0GHz, 5.8GHz | Multi-hop routing | Connects up to 200 smart devices | Max 3Gbps WiFi speeds | 500Mbps | Max. Band Width | Bluetooth 5.0 | Control using App | 4 Gigabit Ethernet ports | USB 3.0 | Parental Controls | Secure network management | Guest Profile
Pros:
Stable and reliable connection
Quick setup process
Control using app
Offers speed up to 3 Gbps via tri-band 
Cons:
Not compatible with Alexa or Google Assistant
Only one USB port
Pricing and Availability
The TaoTronics Mesh WiFi Router is an excellent alternative to the costly Google Nest or Linksys Mesh WiFi router. It comes with a reasonable price tag and offers good quality and value for money. The WiFi mesh router is pretty much available easily on Amazon and you can get the device as a pack of 2 or 3, according to your needs.
Verdict
The Taotronics Tri-band WiFi Mesh Router comes with exceptional stability and range to extend your home WiFi network. It comes with an app-based setup that works like a breeze. The mesh router is powerful enough to give full coverage to your homes without adding repeaters. If you are in the hunt for a decent mesh WiFi router that doesn't burn a hole in your pockets, then this one here could be your best choice.