Heavy vacuums are replaced by robovacs and apart from the mopping and sweeping, what else these tiny robots could do? The Trifo Lucy is a robot vacuum that can do the job of a security bot, with of course the home sweeping at its fullest. The AI-enabled robot vacuum is nothing like I expected from a vacuum. We have been living with it for a couple of weeks and here is our complete review of this smart home sweeping robot.
Let's get started.
Trifo Lucy: Overview
Trifo Lucy purely reflects the technological advancements happening in the robot vacuum industry. The vacuum cleaner has a dedicated AI-backed camera for navigation and real-time object identification among others. You are now expecting a robot vacuum that just moves smartly across your house, but that's not it. Lucy's camera works as a smart security camera for your house which can sense any intruder motions and alert you real time.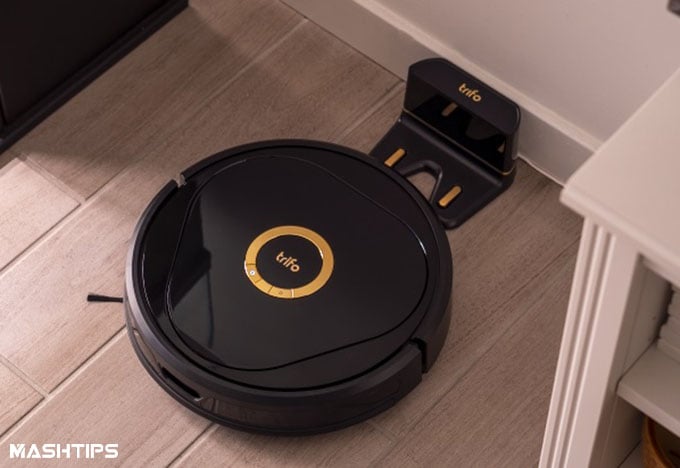 Apart from the power full vacuum with 3,000Pa suction power, Trifo Lucy can clean your floors with its mopping capabilities as well. The detachable mopping module makes it easy for you to clean the house without having to buy an extra mopping bot. Let's have a deeper look into the Trifo Lucy robot vacuum.
Related: 10 Best Rechargeable Cordless Stick Vacuum Cleaners
Trifo Lucy: Specifications
The Trifo Lucy surely has what it takes to be your next robot vacuum and your home security patrol robot. Smart room mapping, object identification, and intruder alerts make it a whole-another-level vacuum for your home.
| Specifications | Trifo Lucy |
| --- | --- |
| Total Suction Power | 3,000 Pa |
| Dust Box Capacity | 600 ML |
| Connectivity | WiFi (2.4GHz & 5GHz) with Phone App |
| Smart Home | Alexa |
| Navigation | vSLAM (AI-based Camera) |
| Battery | 5200mAh |
| Cleaning Time | Max. 120 mins |
| Charging Time | 1.5-3 Hrs |
| Noise Level | 50-70 dB |
| Climbing Height | 18mm |
| Height | 3.3-inches / 84mm |
| Diameter | 14.2-inches / 360mm |
Design
Robot vacuums have been following the circular design ever since the iRobot Roombas, and the Lucy is no different than that. The familiar design language with a piano black and gold-finished top give it a premium look while roaming around your house. At 14.2-inches in diameter and 3.3 inches in height, the Lucy robot vacuum is quite packed to run errands under your armchairs and get in between the furniture without any hesitance. Still, I felt the diameter could have been slightly lesser so that it could cover more area. We will talk about its cleaning performance later.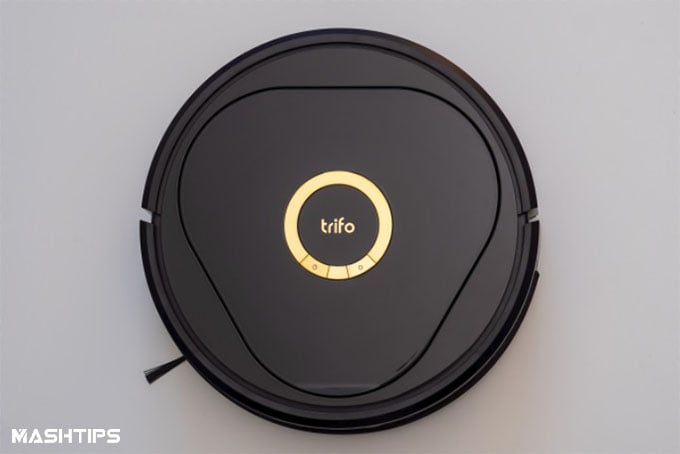 The buttons are placed neatly over the top lid along with the logo. You can see the same buttons once you raise the top cover. I truly loved the control buttons as there are two of them – one for running and one for returning to its charging base. Once you lift the lid, you can find an additional button for resetting the robot, a USB charging port, and a WiFi indicator light.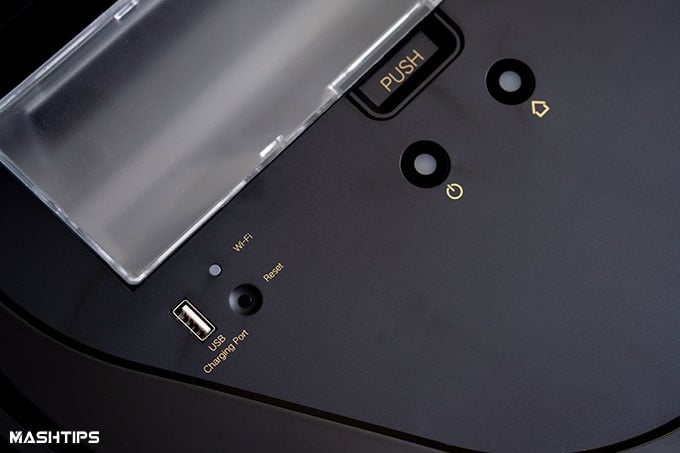 Before we get started with the dustbin and filters, let's look at other things from the outside. No additional buttons or ports are provided on the sides. You can find the anti-collision bumper at the front with a pair of sensors. If you have been wondering, one of them is an actual camera with depth sensing.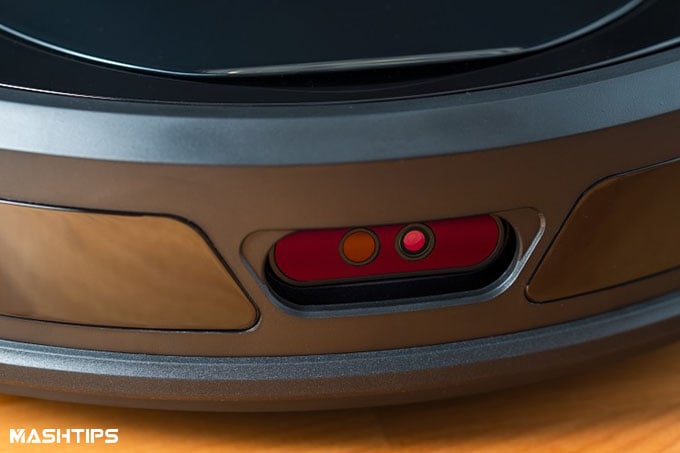 The bottom panel looks very similar to other vacuums we saw before; it has two side wheels and an omnidirectional front wheel. The only shortcoming at a glance is the lack of an additional side brush. You can find only one side brush on the Trifo Lucy vacuum, but it has long and short bristles for effective cleaning. The lack of a second brush is well-managed by the main roller brush within the suction inlet that can suck in all the residues and pet hairs.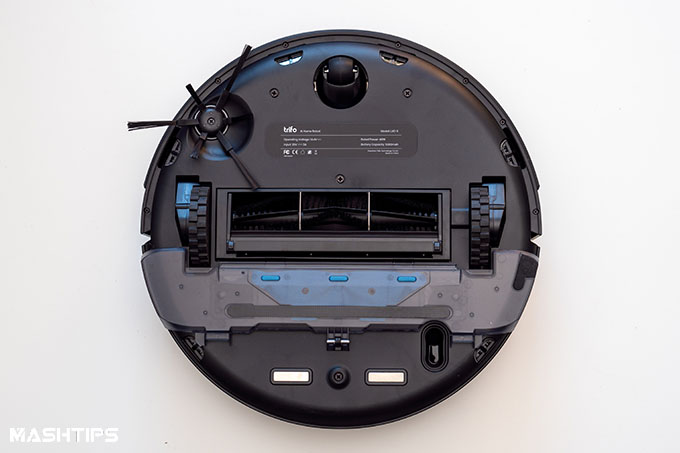 Trifo adds one mount for the mopping unit behind the side wheels. This detachable mopping module has small water storage, and you can attach the mopping fabric to it seamlessly.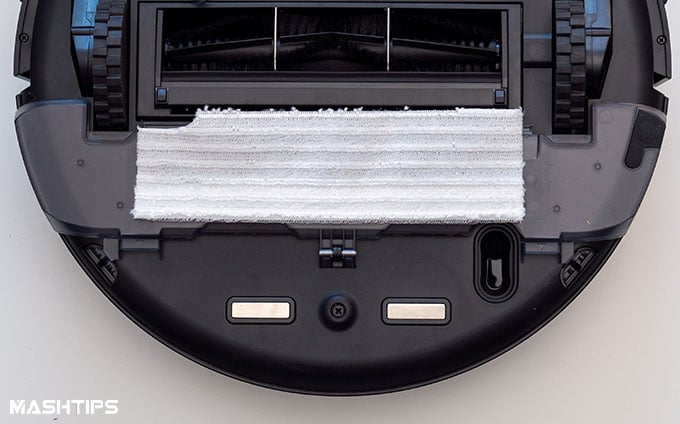 The dustbin is easy to remove with a button after lifting the top lid. A HEPA filter is added to the dustbin to eliminate any amount of dust. The dustbin with 600 ML capacity can hold up to several days without emptying it more often.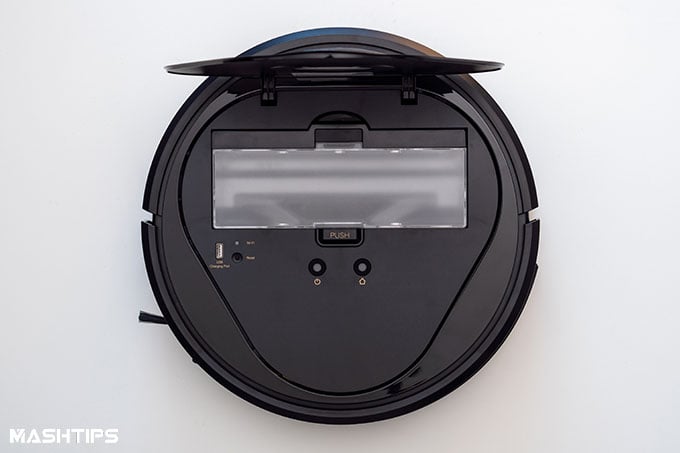 When the cleaning is done, the vacuum can return to the neatly designed charging base, which you can place on the floor, connected to the wall outlet. The charging connectors and the base designs are all ordinary and will look very similar to most vacuums.
Lucy from Trifo packs quite many features, but that does not affect the sleek design language. The mopping module and an extra-large dustbin are neatly seated within a compact, loveable design.
Related: 8 Best HomeKit Motion Sensors to Automate Your Smart Home Setup
Cleaning and Performance
After a few weeks of running the vacuum in my house, all I can say is Trifo is taking vacuuming to another level for those who have pets. Powerful suctioning at 3,000 Pa is no joke, especially on the unclean carpets. It can suck in dust, food residues, and pet hairs from every nook and corner without missing a bit.
Talking of pet hair, Lucy has a Pet edition with a pet hair extractor on it. We have a regular one, so this model has no special filter for pet hairs. Instead, we got a mopping module which we will talk about later.
The single side brush did not convince me when I unboxed the Lucy vacuum for the first time. Although, it proved me wrong eventually. Trifo Lucy can work magic on your floors and carpets with intelligent floor monitoring and object identification. Unlike the cheaper robot vacuums, this one does not bump into the wall and scratch your furniture. Dirt swept by the side brush is then caught by the roller brush in the middle, which works quite effectively.
Carpet Performance
Every robot vacuum on the market says you can get it on the carpet and get the cleaning done. All such vacuums can climb, but not everyone was made for a fully-fledged carpet cleaning. Here is how it went with the Lucy vacuum.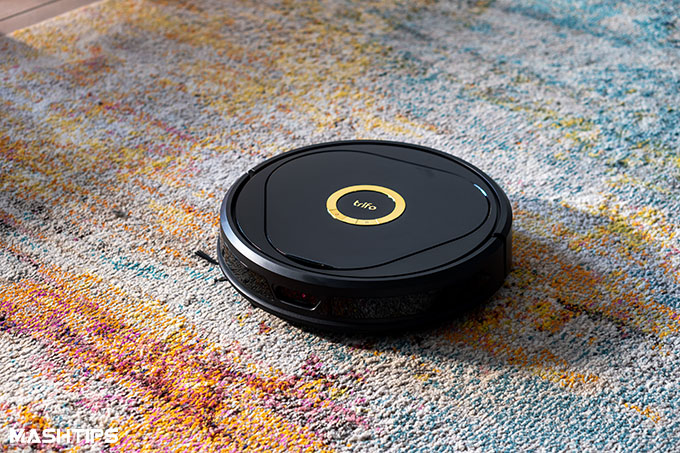 I have a medium pile rug in my living room which I tried to clean with Lucy. With the suction power of 3,000 Pa and the middle rolling brush was quite effective in tackling the dust particles and pet hair without leaving any remainings.
How good is the mopping?
Trifo Lucy is not just limited to home sweeping; this is a mopping combo vacuum that can wipe the floors and clean up every last dime of dirt. Having tried similar mop vacuums from iRobot and iLife, I personally expected a top-of-the-notch cleaning from Lucy. However, with all these hypes, the mopping was not that adequate to replace my existing mopping bots immediately.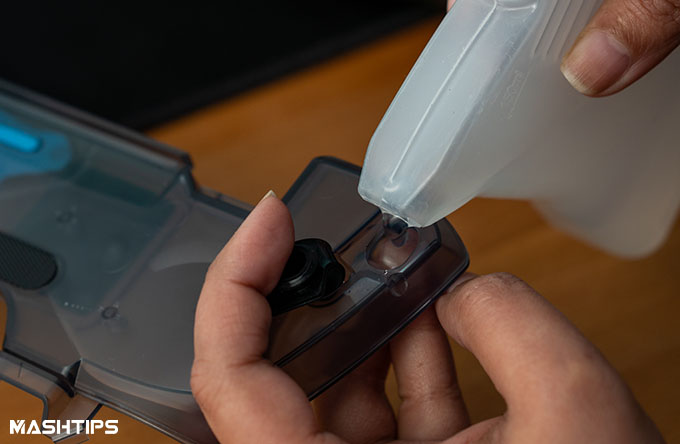 Once the brooming was done, I fixed the mopping module to the bottom and filled it with water to clean the surfaces. The suction was off, and the robot started creeping across the floor through the map it had already created. The mopping stopped automatically whenever it was on carpets, for which I am giving a huge thumbs up. Lucy could not make sure or double-check for the clean surface; it kept going along its way. I'd give it a 3/5 for the mopping alone, while the vacuuming was pretty neat.
Does the Trifo Lucy get stuck?
Robot vacuums are usually either bulky or have an extra LIDAR sensor on top which make them stuck under furniture. Lucy, on the other hand, is sleeky, even though the diameter was not that compact.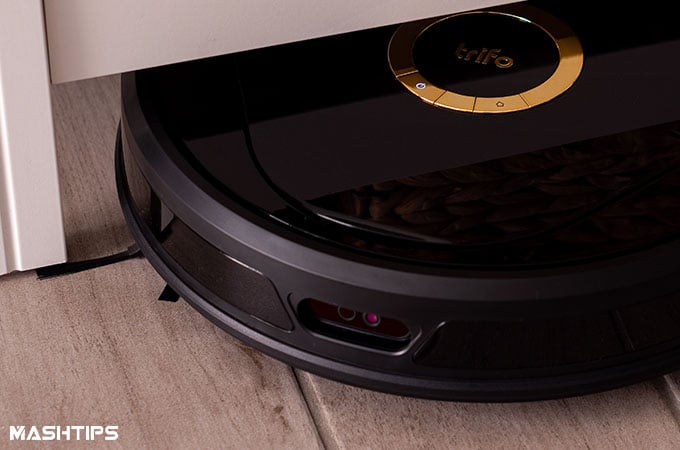 It neither got stuck under any furniture nor between any chairs and table legs, thanks to its intelligent vision that can identify objects and avoid any possibility to get stuck. No more bumping into the cables on the floor and lost around it crying for help. Lucy can even identify smaller things on the floor including pet feces and avoid making your household a mess.
What about the noise?
Having a noisy machine running all day inside the house is not a pleasant thing to have, especially if you are working from home. We tested Lucy in my household only to see that it makes just the same noise as any other robot vacuums we tested so far. While the Max mode produces around 70dB of noise, the silent mode could only take it down to around 50dB which is still noisy.
The high noise from the Trifo Lucy is because of the side brush, roller brush, and vacuum pump working in tandem to make sure the surface is clean. I would recommend scheduling the cleaning when you are not home so that you can avoid a noisy background while doing other house chores. The robot vacuum from Trifo can run buttery smooth even when you are not around with its intelligent abilities and cleaning modes.
Home Security and Navigation
As I said before, the Trifo Lucy doubles as a home security patrol robot as well. With the intelligent camera on wheels, you can have your eyes on every corner of your house when you are away. You don't need Jeff Bezos' home patrol bot when you have this robot vacuum.
The camera with a night vision sensor on Trifo Lucy works to learn and adapt your room environments, as well as to show you the indoor visuals when you are away. You can schedule motion sensing with the Lucy so that it alerts if it finds somebody moving inside your empty house. You can see the footage whether or not it is vacuuming. When the cleaning is all done and you want a visual of your household, there is an option to set the suction to zero and let the vacuum do its job.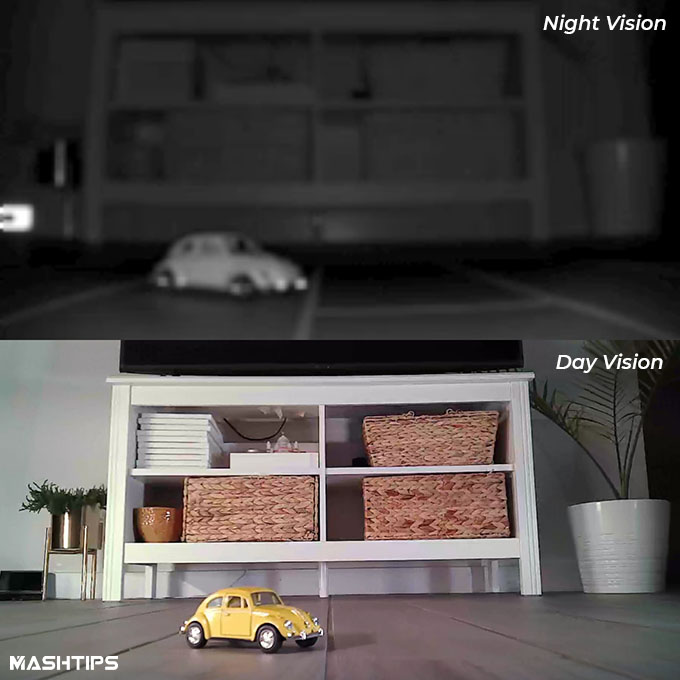 Lucy can show you 1080P HDR footage throughout the day with support from the night vision IR LEDs. Video output is quite good with the natural daylight. But do not expect a top-notch video quality if your hallways and rooms are not lit.
How good is the navigation?
Trifo walks away from the conventional LIDAR-based navigation. With the intelligence-backed camera on Lucy, the robot vacuum can adaptively move through the floor without bumping into unnecessary things, humans, or pets. While the LIDAR-based navigation on conventional vacuums uses the IR light to sense the obstacles and take turns, this one has an actual vision.
The front-facing camera detects objects and avoids any obstacles. But this was not the case when I ran the vacuum for the first time. It went absurdly through the floor to create a room map for the first time. Within a couple more runs, the robot vacuum had created a whole 3D map of my house inside the Trifo app on my phone. Eventually, Lucy got better and better at moving around the house and avoiding any obstacles.
The vision-based navigation helps the vacuum to get back to its charging station peacefully without roaming around other rooms. Also, when it completes almost 2 hours of running, the vacuum gets back to the base, charge itself, and resumes the job if your house is that big. I didn't have to wait for that since the robot vacuum did finish all the jobs in a single charge.
Related: 10 Best HomeKit Secure Video Camera for Indoor and Outdoor Security
App and Remote Controls
Trifo Lucy is completely controlled by your phone and Alexa-enabled smart speakers. This household robot vacuum has a fully-fledged mobile app for both Android and iPhone users. I was able to power up the vacuum and get the full features after signing in and adding the device to the app.
You can connect the Trifo Lucy to both 2.4GHz and 5GHz WiFi networks which is quite smooth if you have a mesh WiFI network across your house. Connecting the vacuum to a single 5GHz router is not a great idea since the real-time updates need a constant internet connection. I connected it with my Nest WiFi's 5GHz channel which still works nicely to get the real-time status of the vacuum on my phone.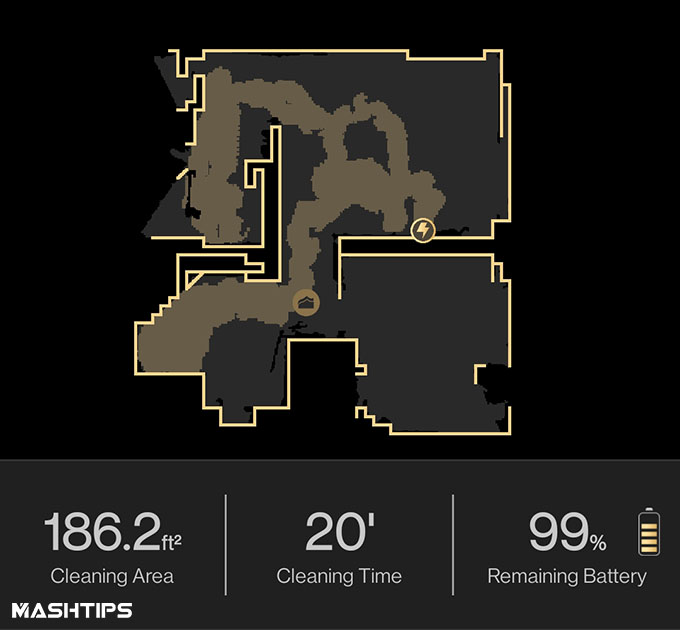 Once you start the device from the app, you can see the map of your house, which it creates from the first few runs. A handful of buttons are provided in the app to control the bt, take it back to the charging base, and watch the live video stream from its 1080P camera.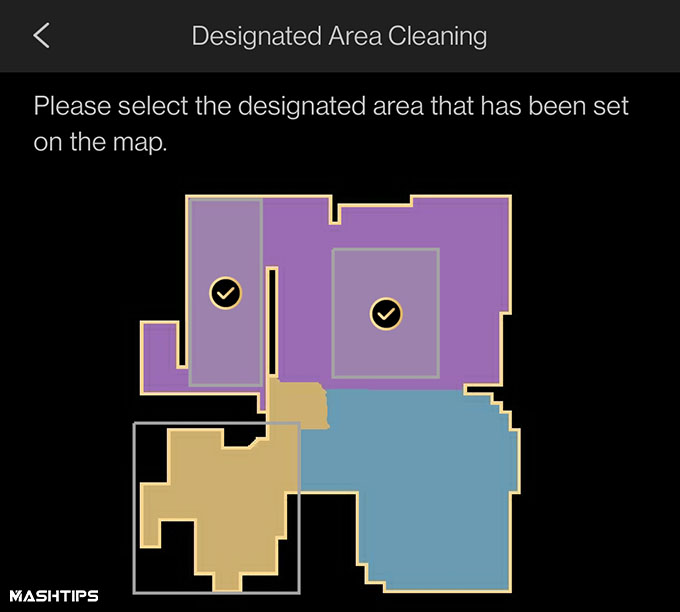 Trifo lets you choose certain rooms to clean, and avoid specific areas just by drawing them on the map. The app has other options including the toggles for motion detection, cleaning schedules, maintenance status, function reviews, find my robot and more. The Do Not Disturb mode lets you set a specific time you do not want the robot to run. Lucy will stay on the charging dock during the set time. The cleaning schedule allows you to choose time and cleaning modes.
The AI-assisted room mapping is pretty fun since it automatically names the rooms based on the objects it identifies. You can rename the rooms later as well. You can find the live location of the robot inside your house using the map. It also adds an arrow navigation key to control the robot manually.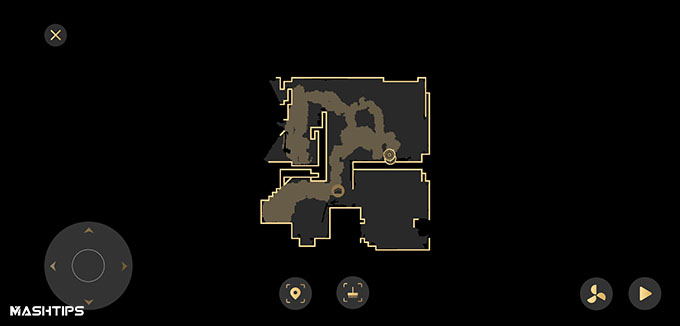 The suction controls are made easy with the modes for cleaning different surfaces. When you slide the suction control option, it will show you what can you clean up with the current set power.
Speaking of smart home support, the Trifo Lucy can go along well with your Alexa speakers. Once you link the Trifo with your Alexa account, simply say to your Alexa "Alexa, start Lucy" and it will start vacuuming. As of now, there is no good news for Google Home and Apple HomeKit users from Trifo.
Related: 15 Best Smart Home Gifts for Alexa and Google Assistant Users
Maintenance and Cleaning
Robot vacuums need proper and regular maintenance to keep them running smoothly over years. After nearly a week of cleaning the household, I decided to clean up the vacuum, from brushes to the dustbin.
One thing I frequently check is the side brush on a vacuum. Trifo Lucy has only one side brush, that too fixed with a screw. This is where mostly the long hair and threads get stuck. If you had gone through our review of iLife's V9e, that one had plug-and-play side brushes. It was quite easy to remove and snap it back in. But this time with Trifo Lucy, it was quite a task to get rid of those hairs stuck in the side brush.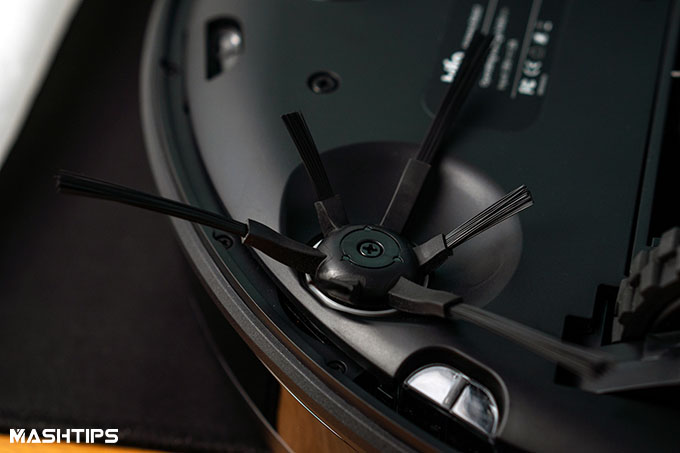 The main roller brush in the suction area is easy to remove with just a pull. Removing the dustbin also felt effortless with the push of a button. The HEPA filter does not need a separate compartment since it is attached to the dustbin itself; that was quite handy though. Cleaning other parts including the front wheel were not a big deal too.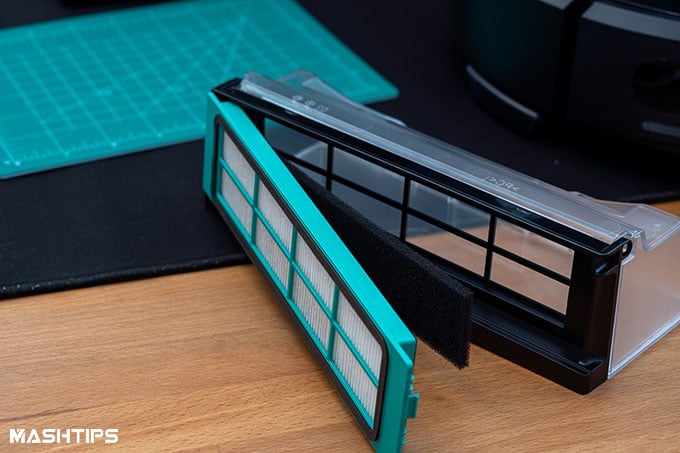 The mopping cloth is detachable from the mopping module. I could easily remove the cloth from it and put it in the washer for a quick clean-up. The front-facing camera is crucial for the robot to move and identify objects, so make sure to keep it clean with a soft microfiber cloth.
Battery and Charging
Trifo Lucy offers almost 2 hours of runtime, but the results were varying while we tested it on different surfaces. If you have no pets or kids at home, and simply trying to get rid of the dust off of the floor, Lucy is determined to run for around 2 hours. But that is not the case in most households. You would have a rug, pet hairs in some areas, chairs, and table legs blocking its way, and more which will affect a great deal of the battery runtime.
With its camera on, you can see around the house anytime anywhere. But that seemed to have reduced battery in my case. While it already uses the camera, watching live visuals puts extra strain on the battery.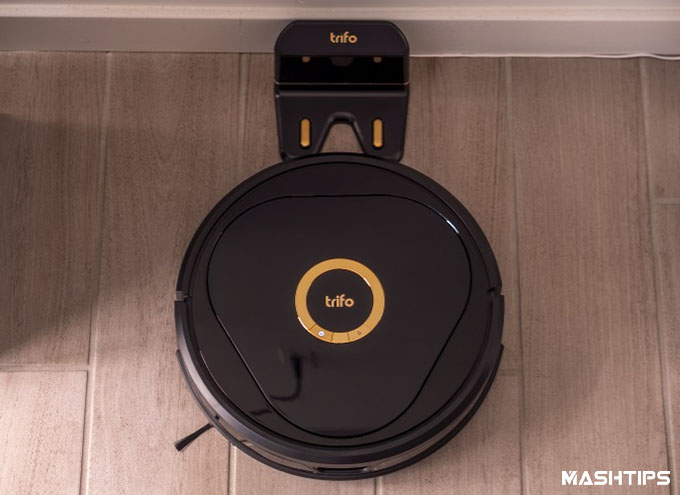 While the battery was running low, Lucy stopped doing all the vacuuming job and started returning to its base. The robot does not care to avoid any small things on the floor while on the way back to the base. Once the battery is fully charged, which takes less than a couple of hours, Lucy gets back to the job and finishes the remaining parts of your house in no time.
Talking of the charging dock, Trifo ships an ordinary charging base station with two pins that get aligned with the connectors on the robot automatically. There is no self-emptying option (maybe that's too much to ask for its price tag).
Trifo Lucy: Pros and Cons
What we liked:
AI-based mapping and navigation.
Intelligent obstacle avoiding.
Realtime home monitoring and intruder alerts.
Night vision capabilities.
What we disliked:
Time-consuming map creation.
Limited mopping capabilities.
Limited battery life with smart features enabled.
Key Features: VSLAM based navigation | Motion detection | Intruder alerts | Voice prompts | 3,000 Pa suction power | Night vision | No-Go Zones | Room mapping | Manual controls
What's in the Box
The Trifo Lucy is shipped in a compact package that measures only 15.6 x 18.5 x 6 inches. The robot comes with all the accessories fitted together, ready to run just an app setup away. Here are all the accessories and extras you get with the Trufo Lucy robot vacuum retail package.
1x Trifo Lucy robot vacuum
1x side brush
1x rolling brush
1x Mopping module with cloth
1x User manual
Pricing and Availability
Trifo Lucy, with all such smart features housed, sounds like an expensive vacuum. In fact, you can grab one from Amazon or Trifo's website at just $400 or below, which falls under the average pricing of good quality vacuums. Of course, you can get cheaper vacuums, but even the expensive ones will not have the advanced vSLAM navigation and home monitoring features. This award-winning robot vacuum with a mop is a great deal at this pricing.
Our Take: Should You Buy Trifo Lucy Robot Vacuum?
The Trifo Lucy robot vacuum is a game changer among the LIDAR-based vacuums out there. Its intelligent surroundings learning and adapting to your household area is quite a flex while your neighbor's robot vacuum could be found bumping into furniture and kids' legs more often. Anything larger than an inch is identified by Lucy and is avoided.
Another reason to pick this robot vacuum is its home patrolling feature with live camera visuals on your phone. Intruder in your house? Lucy will alert you. With all such smart features, this could be your next robot vacuum for your house. If you ask me, I would have a second thought about its mopping capability. Putting it aside, everything else is worth what you spend.