Google has a lot of products and services that can be used by everyone out there. While many of those products are productivity-based tools, Google also has a learning platform called Google Classroom. Schools, universities, and professors use this product to make it easier for students to submit work and assignments and participate in fun and games events.
Today, we will look at the best add-ons you can install for free to improve your Google Classroom session.
Install Add-Ons For Google Classroom
The most attractive feature of these extensions is that they are simple to install, and most are free to use (although some require a purchase after the free trial). Additionally, these extensions are only linked to your Google account, so you can use them on any computer if you are logged in with the same account.
Kahoot!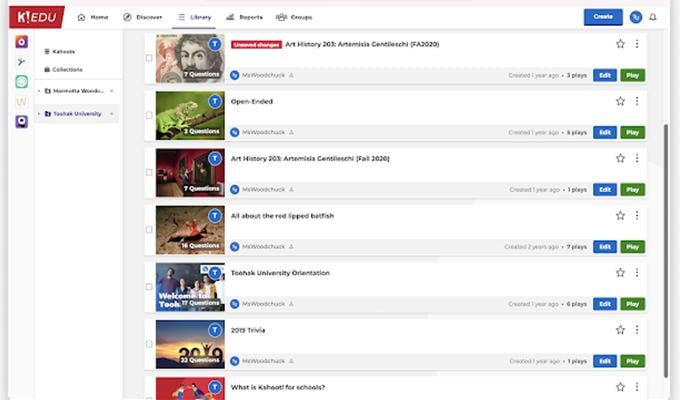 While the classroom is a great way to learn and explore new things across different subjects, it can get a bit boring for the students. With the Kahoot! Add-on, you can make your class more fun and interactive thanks to the millions of games that are tailor-made for classroom play. As long as the student and teachers are connected to the same school network, you can easily play and compete against each other.
Key Features: Assigns Kahottos To Students | Choose From a Large Library of Games |Set Timer Based Games | Choose games To Play at Own Pace | Provide Real-Time Feedback To The Challenge
Install: Kahoot!
10 Best Search Tools Inside Google Search Results
Edpuzzle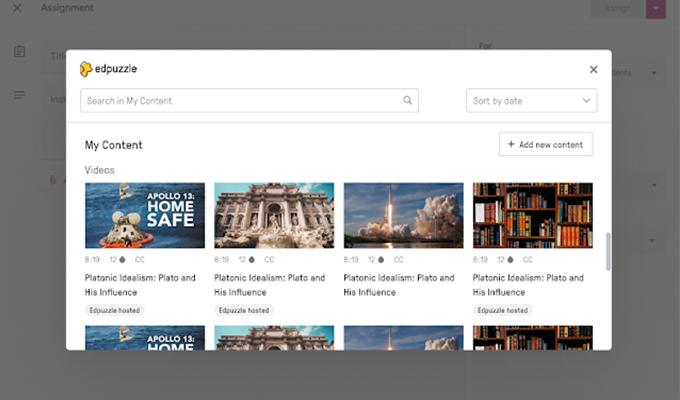 Edpuzzle is a simple and easy way for the teacher to create a quiz as well as frame questions that the students can answer. You can choose a video of your choice and then add your questions and comments. Once you have added the questions, let the students answer them. As and when the student answers the quiz, you will get real-time progress for each student.
Key Features: Easily Create Quizzes |Large Edpuzzle Video Library | Create Custom Questions | Add Comments | View Student Progress In Real Time | Easily Add Own Custom Video For The Quiz
Install: Edpuzzle
Genially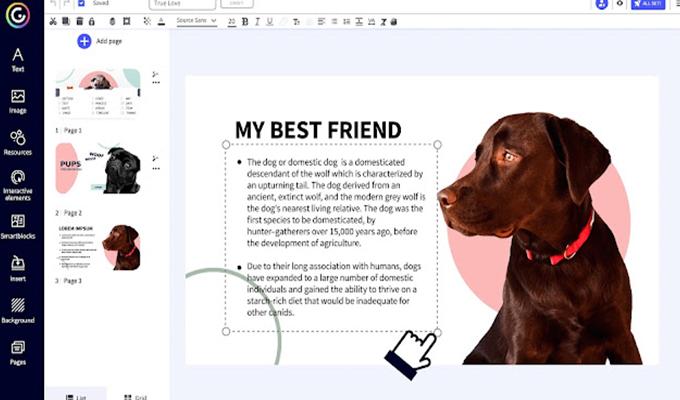 Teachers need to get their work made easier. So, with the Genially add-on for Google Classroom, you can now easily create fun and interesting classes thanks to genially. Genially has a ton of templates that can make learning subjects fun thanks to different animations and game-like options for the students. You can choose from multiple templates, storyboards, maps, timelines, quizzes, and a lot more teaching material.
Key Features: Multiple Template Categories | Easily Animate and Gamify Teaching Content | Easily Combine Audio, Video, and Images| Insert maps and Quizzes | View Real-Time Progress Updates | Library With 1000_ Templates
Install: Genially
Nearpod
Nearpod is similar to Genially. With Nearpod, you as a teacher can easily host classes to help the student remember and learn what is being taught easily. With the help of various interactive tools, you can take learning to the next level. You can use Nearpod to conduct various tests and assignments, which helps to not only bring in but also boost up classroom engagement. All students can also submit their assignments to the teacher without having to enter a code.
Key Features: Create Interactive Classroom Sessions | 20+ Assignment Features | Create Interactive Games and Activities | Students Can Easily Submit Assignments and Homework | Easily Review Submitted Work | Monitor real Time Student Progress
Install: Nearpod
Pear Dock For Google Classroom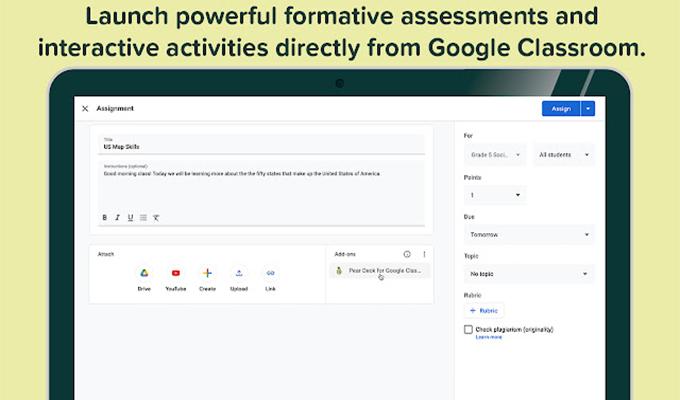 Part of classroom learning is creating and publishing assignments for the students so they can have a good memory of what was being taught in class. With the Pear Deck add-on, teachers can now easily create activities and assignments that can be sent to students immediately. When the students begin the assignment, you will get to track and view the real-time progress for each student's assignment.
Key Features: Create Assignments | View Assignment progression In Real Time | Easy To Use Tools For Assignment Creation | Free To Use Trial Period | Submission Notification When Student Completes Assignment
Install: Pear Dock For Google Classroom
Adobe Express For Google Classroom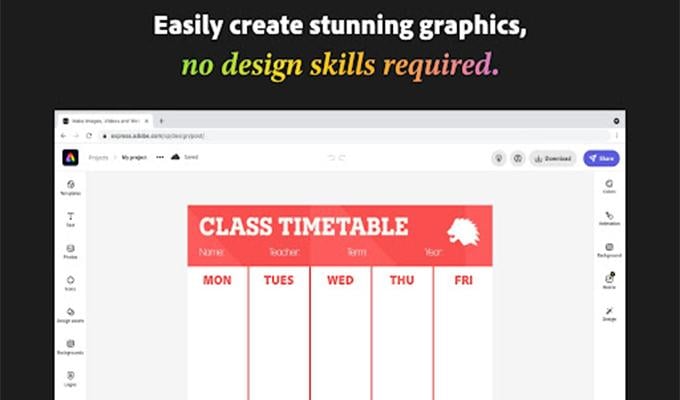 Get ready to bring creativity to the classroom with the Adobe Express add-on. Adobe Express is your one-stop shop for everything with images, audio, and video. You can easily create your posters, edit images and even create small short videos with this free online tool. Students, as well as teachers, can use Adobe Express to create web pages, posters, and different types of infographic material.
Key Features: Free To Use | works Online | Easily Edit and Create Images and Videos | large Library Of Stock Content | Create Web pages and Infographics | Easy To Understand and Use Tools
Install: Adobe Express For Google Classroom
Google Arts and Culture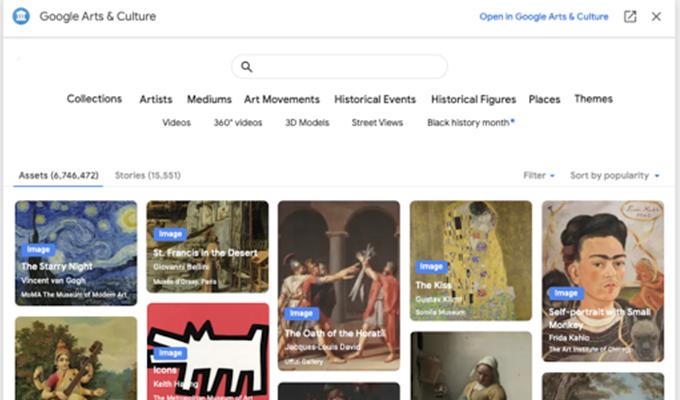 Teaching your class about arts and culture from around the world has not become simple and easy. With the Google Arts and Culture and-on for Google Classroom, you can easily video high-resolution images of different places and browse through content from 2000+ museums. You can also make use of Google tech, such as Street View, 3D maps, and a ton of other assets that will help in learning about art and culture. The add-on also has various games for you and the students to play.
Key Features: View hi Rez Images | Info From 2000+ Museums | 10,000 Learning Assets and Stories | Large Games Library | Free To Use
Install: Google Arts and Culture
Book Widgets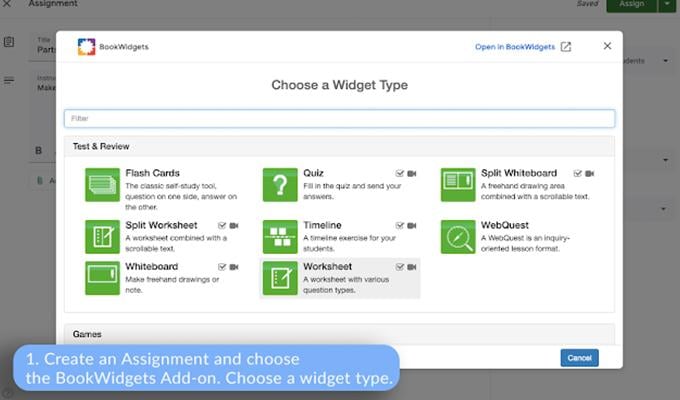 Book Widgets is your Google Classroom add-on that lets you choose from multiple templates the teacher can use to create assignments for their students. The add-on has more than 30 question types that support different purses taught in schools and colleges. These assignment tools also help the teacher know as and when a student needs new assignments or any help with the assignment.
Key features: 40 Exercise Templates | Supports 30 Types Of OCurses | Monitor Real-Time Assignment Progress | Review And Grade Submitted Assignments | Gardes Automatically Added To Google Classroom Gradebook
Install: Book Widgets
CK-12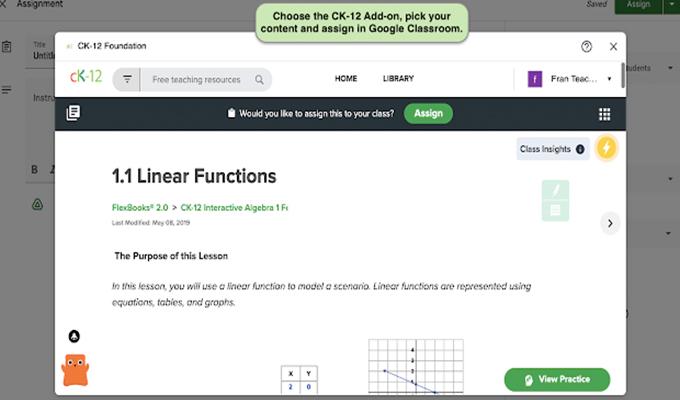 Since Google Classroom is all about learning online, having more digital material available to the students makes sense. With the CK-12 add-on, you and your students can easily get free access to many digital textbooks. There are also interactive practice sessions for students to test whether they understand what they have learned.
Key features: Multitude Of Free Digital Textbooks | Interactive tests | 5000+ Science and Math Concepts | Video Learning Content
Install: CK-12
Google Play Books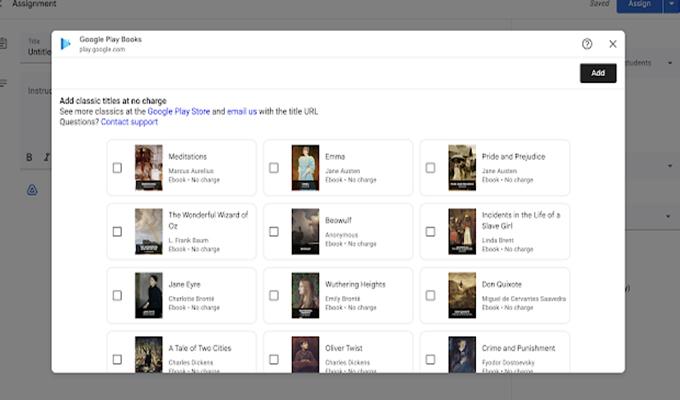 Having good learning material available at all times is important for the teacher and the student. With the help of the Google Play books add-on, you can access 1000s of ebooks at no cost. This add-on also helps the teacher to distribute ebooks and assignments with ease. You can use this add-on to get translations, look up definitions as well as use the bookmark option always to go back and read the specific book whenever you want.
Key features: View Digital Books At no Charge | Easily Share Books With Students | Easily Highlight Text | Add Bookmarks | Get Translations and Definitions | Adjust Font Size, Font Type, and Background Colors
Install: Google Play Books
These are the best add-ons you can install for your Google Classroom. Now, you cannot use your regular Google Account to get access to all of these specific add-ons. Only with a Google Workspace for Education license will you be able to install and use these classroom add-ons.
As technology continues to shape the future of education, embracing these add-ons ensures that educators are equipped to meet the ever-changing needs of their students. By harnessing the power of these best Google Classroom add-ons, we can unlock new dimensions of learning and equip students with the skills they need to thrive in the digital age.