Do love watching movies on your phone and TV after downloading them? Media servers are the best options to stream you local movie content and music to your household devices. If you have looked for media servers, you've most likely come across Plex. It isn't the only option, however, and there are some great Plex alternatives out there.
If for whatever reason, you don't like Plex, or it isn't working for you, we have some formidable Plex media server alternatives.
Best Plex Alternatives
Plex is far from the only media server available. There are quite a few Plex alternatives that offer similar free and paid versions. Some of these Plex alternatives are even completely free.
Kodi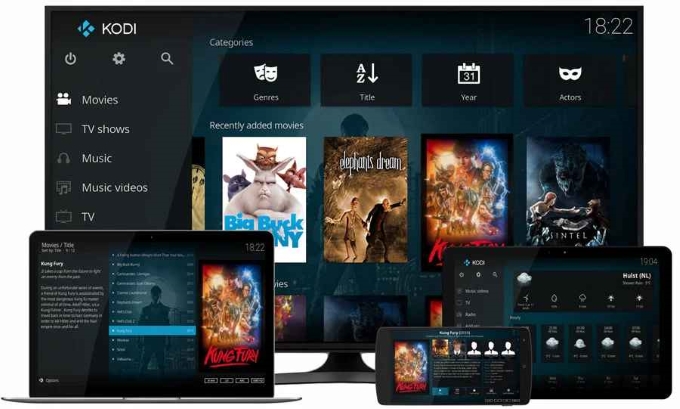 Kodi was originally designed as a local media player for the Xbox console. It was even named as Xbox Media Center. Kodi is an open-source project and is widely popular amongst power users. Kodi is, in fact, the basis for Plex. Just like Plex, it automatically retrieves metadata for your archived media. Kodi's open-source nature means it is very flexible and platform-independent.
It is available not only for Windows and Mac but also Linux, Android and iOS. There even are remote control apps for iOS and Android. It might come across as too complicated for some users, however. Kodi also allows you to watch free live TV through extensions, as well as do plenty of other things.
Pros
Available across every platform
Huge list of functionality
Extensive extension library
Good online support
Cons
Complicated setup
Not optimized for use on multiple devices
Download: Kodi (Free)
Related: How To Install Kodi on Fire TV / Firestick?
Emby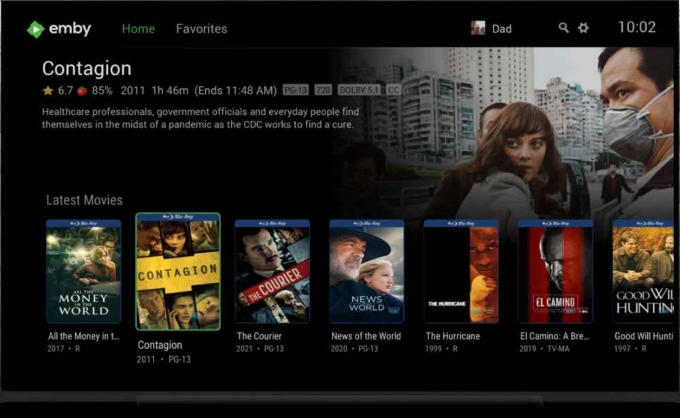 Emby is another open-source Plex alternative that's worthy of consideration. This largely royalty-free app provides all the multi-device media streaming features you may need. The media server is free of charge and is available for Windows, macOS, and Linux, as well as NAS and docker. The server is also recognized by any DLNA compatible devices. The configuration, like Plex, happens with a web interface instead of a platform-dependent app.
You can also create multiple user profiles with access authorizations so that children can't access adult content. Emby also offers apps (partly chargeable) for iOS, Android, and Windows along with apps for various smart TVs. It can also automatically fetch metadata such as album covers. There's also the Emby Premier package which provides additional features such as cloud and folder synchronization, backup, etc.
Pros
Easy and convenient user account management
Excellent platform support
Cons
Plugin support is limited
Some features are only available in the paid version
Download: Emby (Free)
Stremio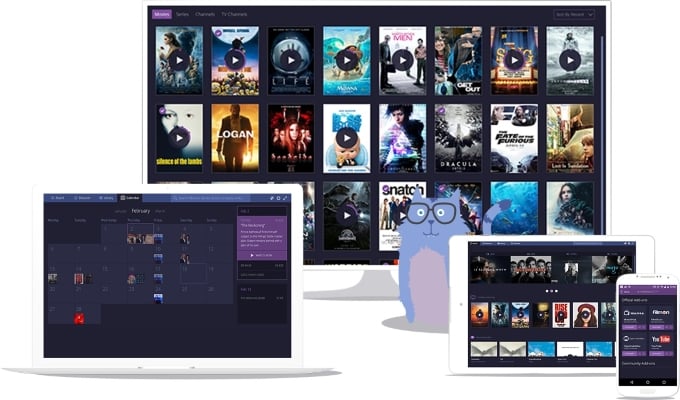 Stremio is not only a great Plex alternative but aims to be your one-stop for all your media needs. It does that by bringing all your content in one place, including streaming services such as Netflix. Of course, this is in addition to your local media content. Stremio focuses mainly on organizing content and making it easier to find. Through add-ons, you can integrate different providers with the Stremio interface.
A built-in calendar feature also allows you to easily keep track of upcoming movies and episodes. By integrating the various streaming services, Stremio is also able to show you where content is available as well as provide a price comparison.
Pros
Easy set up and use
Useful Calendar keeps track of new movies and shows
Price comparison between different services
Integration with various video streaming platforms
Cons
No music or image file organization.
Limited availability of add-ons
Download: Stremio (Free)
Related: 10 Best Free Cartoon Streaming Sites for Your Kids
Universal Media Server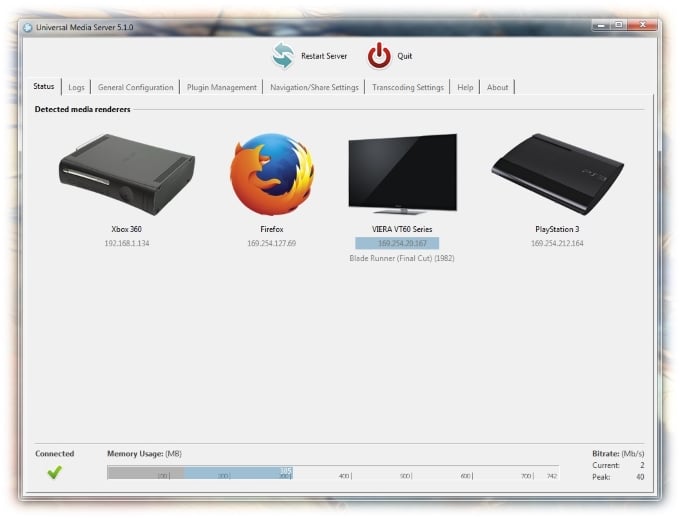 Universal Media Server is a spin-off from PS3 Media Server, and it is another open-source Plex alternative. This app supports both DLNA (Digital Living Network Alliance) and UPnP (Universal Plug & Play). This allows any devices compatible with either of the two standards to easily play music, videos, etc. Such devices include Android, iPhones, PlayStation, Xbox, Smart TVs, etc. Universal Media Server is available for Windows, macOS, and Linux.
This Plex alternative also has an optional web interface, and the functionality can be expanded with plugins. For example, a plugin can help you integrate a SoundCloud link into your media server. On the downside, though, there aren't any clients or apps to make access easy and convenient.
Pros
Optional web interface
Wide variety of supported platforms
Cons
Lack of client apps makes it difficult to access
Not user-friendly, complicated to set up and use
Download: Universal Media Server (Free)
Playon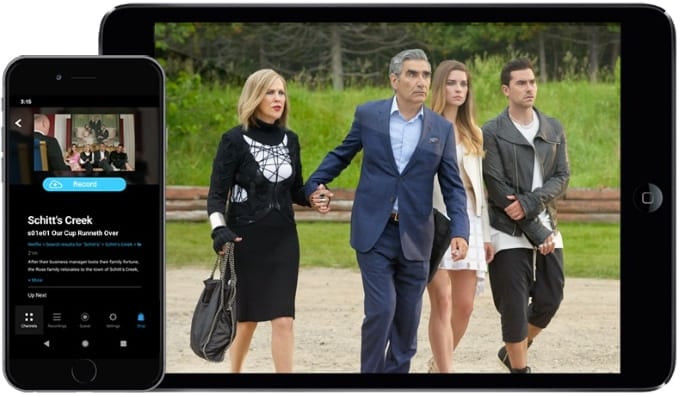 Playon is another great Plex alternative with a twist. The app allows you to record streaming videos from Netflix, Disney+, Hulu, Amazon, HBO, The CW, Peacock, and more. It does not exactly play videos already stored on your device but lets you record new content from streaming services. The recordings are stored locally and can work offline.
It also allows you to sync recorded content between devices and download them on several devices as well. Recordings can also be automated and can be done in 480p, 720p, or 1080p. The app offers a 7-day free trial, but there's no free version available.
Pros
Record video from Netflix, Disney+, Hulu, and other streaming services
Cross platform-syncing of recorded content
Available offline
Automatic recording
Cons
Does not play media files that are already locally available
Download: Playon (Freemium)
Related: 15 Best Media Player for Windows
Mezzmo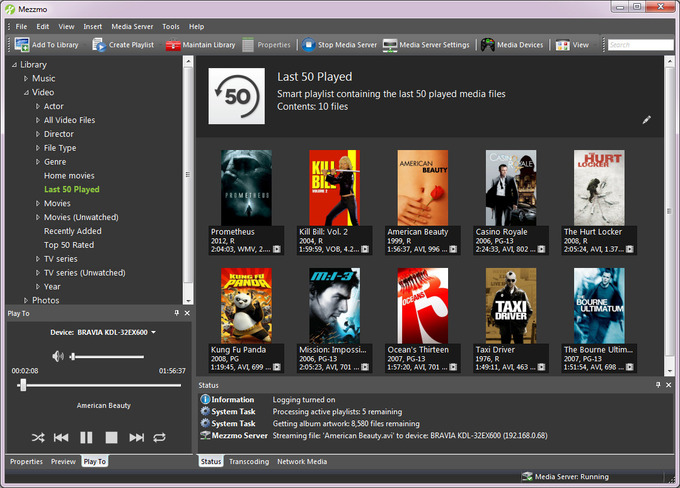 Mezzmo is a free media server and, thus, a Plex alternative. It boasts of an easy-to-use, fast, and highly configurable. Mezzmo works with all kinds of devices ranging from TVs, Blu-ray players, home theater systems, games consoles, and set-top boxes to tablets, smartphones, media players, Chromecast, and even web browsers. The server automatically finds all the media on your device and organizes them in your library.
You stream your content from any device on the same Wi-Fi network. But to access the content when you are not connected to the same Wi-Fi, you will need to use a web browser. Mezzmo supports both DLNA and UPnP standards. It can also automatically fetch metadata for your media.
Pros
DLNA compliant UPnP media server
Works with most devices
Download: Mezzmo (Free)
TVersity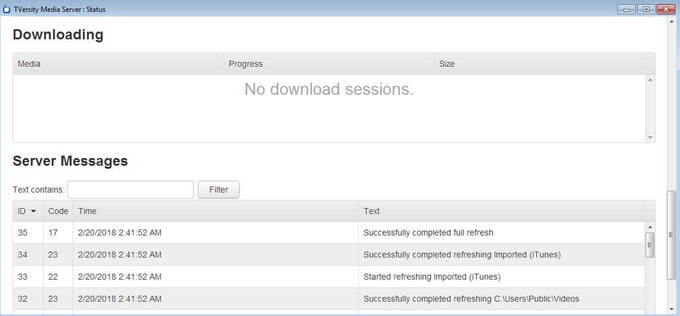 Unlike many other options on this list, TVersity is a proprietary service that allows you to stream your media content across all your devices. It supports both UnP and DLNA standards, maximizing the compatibility of devices. The server can also transcode files into supported formats if your current device does not support the media file format.
It automatically indexes your photos, videos, and music in the background, making sure your content is always up-to-date. TVersity also combines your own collection with free video streams, RSS feeds, and podcasts that are available from the client. The powerful search mask and integrated cache functionality make its file retrieval system fast.
Download: TVersity (Free, $24.99)
Related: Google News vs Feedly: Which Feed Reader to Stay on Top
MediaPortal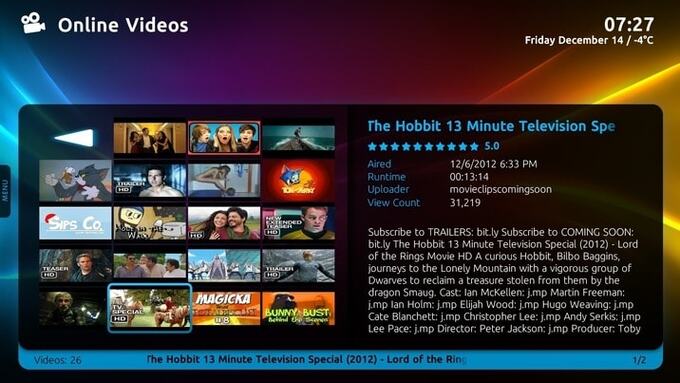 MediaPortal offers the usual basic media server features you can expect from any other options on this list. In addition, it also supports expanding the feature set through plugins and also supports various skins. The plugins allow you to do almost anything, just like Kodi. This includes watching live sports, news, YouTube, internet radio, etc.
It also has plenty of built-in features and can show you the current weather and the latest news. MediaPortal also allows you to watch and record live TV, group your channels, view the TV guide, etc. Listing all of its features would be a chore in itself. And keep in mind that for all the flexibility and features, you don't have to pay anything.
Download: MediaPortal (Free)
Today, we watch our content on multiple devices. The experience is pretty great with on-demand video streaming services. You can access content on any device and resume right where you left. Media servers are a great option in today's world of connected devices. They bring the same cross-platform, cross-device, and convenient experience with your local content.