The realm of Virtual Reality is expanding like none other and it's time for you to get the Best VR Headsets right now. The VR Headsets offer a much more engaging and exquisite way of how we see the digital world. They offer a captivating and immersive experience with advanced display quality, improved tracking, and ambient sensing. It doesn't matter if you're a crazy VR enthusiast or a newbie cause it's high time you get yourself a VR Headset as they're the path to the future.
Here, we've compiled a list of some of the best VR Headsets to look out for in 2023. Please take a look at what we've got in store for this time. 
Apple Vision Pro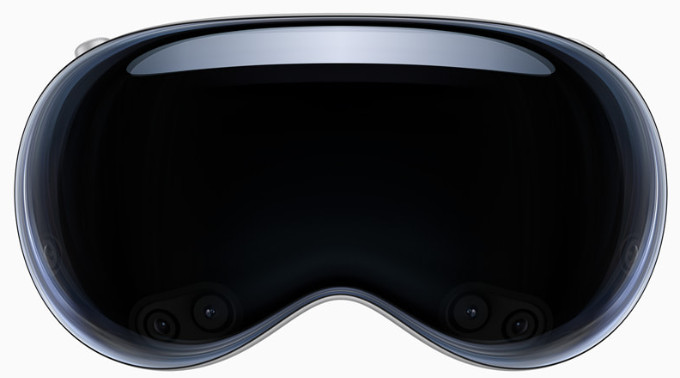 Pros:
Immersive Experience with High Resolution
Best Integration with Apple ecosystem
Cons:
Limited Compatibility
Higher Price
Key Features: High-resolution OLED display | Wide field of view | Advanced motion tracking | Intuitive controls with natural hand gestures | Seamless integration with Apple devices | LiDAR scanning | Spatial audio technology | Ergonomic design
The Apple Vision Pro is undeniably one of the best VR headsets of 2023, offering an unparalleled immersive experience. With its high-resolution OLED display and wide field of view, users are transported to stunning virtual worlds with remarkable clarity. The headset's ergonomic design ensures comfort during extended usage, while its seamless integration with Apple devices creates a cohesive ecosystem for exploring VR apps and games.
The Vision Pro takes user interaction to new heights with advanced motion tracking and intuitive controls, allowing for natural hand gestures and precise navigation. The incorporation of technologies like LiDAR scanning enhances depth perception and object recognition, elevating the sense of realism. With spatial audio technology adding immersive sound, the Vision Pro truly pushes hardware and software integration boundaries. For VR enthusiasts, professionals, and gamers, the Apple Vision Pro is a must-have device, offering an unrivaled virtual reality experience that sets it apart from the rest in 2023.
Meta Quest 2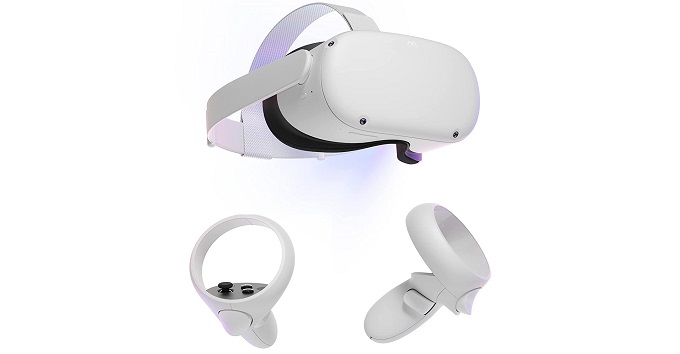 Pros:
Truly Wireless
Excellent display with sharp images
Easy setup
The vast availability of content
Cons:
Limited battery life
Doesn't offer the best fit
Key Features: Fast-switching LCD Display | Resolution: 1832 x 1920 pixels | Qualcomm Snapdragon XR2 Processor | WiFi and Bluetooth | 6GB RAM | 64GB/256GB Internal Storage | 3840mAh Internal Battery
The Meta Quest 2 is the best Virtual Reality headset that's available online. Formerly the Oculus Quest 2, This VR headset has been the best and the most trusted VR headset since the day it was released. It offers an immersive VR experience without the need for a PC and is truly wireless. It comes with Bluetooth 5.0 and has WiFi 6 for wireless connectivity. With a high res fast switching LCD display that offers a peak resolution of 1832×1920, this VR Headset is the best in town. The Meta Quest 2 features the Qualcomm Snapdragon XR2 processor and comes packed with 6GB RAM. There are two versions available; the 128GB as well as the 256GB. And thanks to the wide range of content, there'll be no stop to your virtual entertainment.
What's more, the VR Headset features inside-out tracking using inbuilt cameras. Thus, there isn't a need for you to equip any additional sensors. By the way, the inside-out tracking is accurate enough and provides better tracking of motion and position of the Touch controllers. There are also integrated speakers that come with Spatial Audio. Thanks to this, you can experience 360° surround sound, creating an overall immersive VR experience.
When it comes to battery life, the Quest 2 features a rechargeable 3460mAh internal battery, providing up to 3 hours of gameplay on a single charge. Furthermore, adjustable head straps and an IPD (Interpupillary Distance) adjustment enhance comfort, ensuring a perfect fit.
Related: 10 Best Oculus/Meta Quest 2 Accessories for an Immersive VR Experience
PlayStation VR 2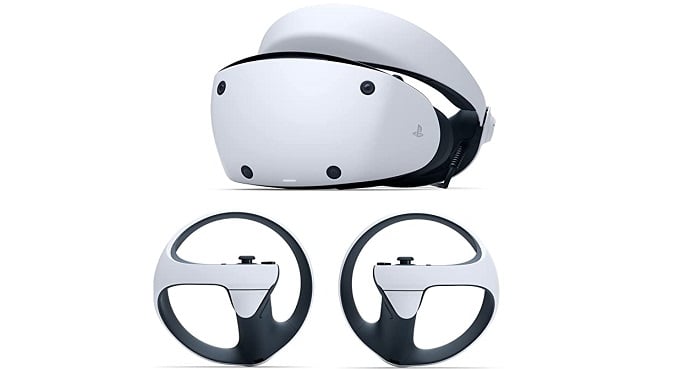 Pros:
Improved graphics and performance
Backward compatibility
Enhanced functionality and improved tracking
Cons:
Expensive
High accessory price
Designed to work only with PlayStation consoles
Key Features: OLED Display | Resolution:2000x2040p pixels | PlayStation Sense Technology | Bluetooth | 6GB RAM | 64GB/256GB Internal Storage | 4000 mAh Internal Battery | 4 Hour Battery Backup
The PlayStation VR 2 is the all-new VR headset made exclusively to meet the needs of PlayStation enthusiasts. It comes with some astonishing specs and with improved specs, the VR 2 has surely got pretty expensive. This VR headset for PlayStation comes and offers 4K HDR visuals, a 110°FOV, and state-of-the-art graphical rendering. It revolves around the PlayStation Sense Technology that elevates your VR experience through accurate eye tracking, headset feedback, and 3D audio.
The VR 2 features a dual OLED eye panel and offers a max resolution of 2000x2040p per eye. It even comes with 4 embedded cameras for headset and controller coordination. The IR camera on each eye module lets it keep track of your eye motion. This enables better motion sensing and in turn, offers a better VR experience. A thing to note is that apart from Bluetooth, there isn't any wireless connectivity available. Also, the connection to your PlayStation is still via the USB type C.
PlayStation VR2 (PSVR2)
PlayStation VR2 Sense technology: Eye tracking. Headset feedback. 3D Audio. Highly intuitive…
HP Reverb G2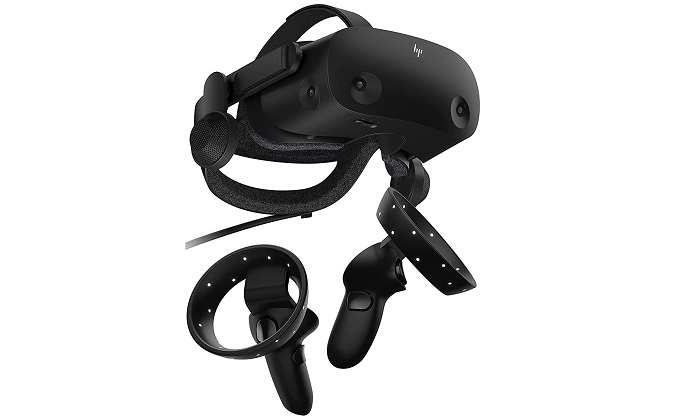 Pros:
High-res display
Minimal image distortion
Spatial audio that enhances audio quality
Accurate motion tracking
Cons:
Restricted motion due to wired input
Requires PC
certain VR applications or games may not run well
Key Features: Dual 2.89″ LCD Display | Resolution:2160 x 2160 Per Eye | 90Hz Refresh Rate | Integrated Headphones | Inside-Out Tracking | Windows Mixed Reality Technology | DisplayPort 1.3 and USB 3.0 Connectivity
The HP Reverb G2 is simply one of the best high-end VR headsets that you can get right now. Compared to the Quest 2 and the VR 2, this Virtual reality Headset is rugged in design and offers a comfortable fit. This VR gaming headset comes with a dual 2.89″ LCD display. It offers a combined resolution of 4320 x 2160 pixels, making it one of the few VR headsets that could run visuals in 4K HDR. there is also the added benefit of a 114°FOVcoupled with a 90Hz refresh rate that works flawlessly to give you the best VR experience possible.
The Reverb G2 features integrated speakers that offer spatial audio. What's more, the G2 comes with inside-out tracking, thus eliminating the need for external sensors of any kind. The handheld controllers connect to the headset via Bluetooth. But the headset requires a wired connection to your PC. Unlike the PS VR 2, which is exclusive to the PlayStation platform, the G2 is cross platform compatible. It even works flawlessly with Windows Mixed Reality and SteamVR.
Meta Quest Pro
Pros:
Offers a better fit than the Quest 2
Spatial audio is the best in class
Cons:
Expensive
Limited battery life
Key Features: Dual LCD Display | Resolution:1832 x 1920 Per Eye | Qualcomm Snapdragon XR2+ | 12GB RAM | Integrated Headphones | Inside-Out Tracking | Wi-Fi and Bluetooth | USB Type C
The Meta Quest Pro is an updated and most recent VR headset from Meta. It is packed with much more power up its sleeves and it even outruns the Quest 2 in certain aspects. This VR headset is for everyone, gamers, designers, and even professionals who aim to add a creative touch to everything around them. The Quest Pro could be said as Meta's initial step toward mixed reality. It comes with enormous computing ability and it gives direct competition to Apple's Vision Pro.
This VR headset comes with dedicated handheld controllers. It features inbuilt cameras and has self-tracking ability. Thus you get a better VR experience and excellent motion tracking. What's more, there is the TruTouch Haptics feedback. it provides you with enhanced tactile feedback, thus offering you a better and more realistic VR experience. The Meta Quest Pro runs on the Snapdragon XR2+ platform. There is also an added benefit of 12 GB of RAM. This VR gaming headset even offers the Passthrough Mode. It gives you a wider and more enhanced association with the virtual world without compromising on the real world.
Valve Index VR Gaming Set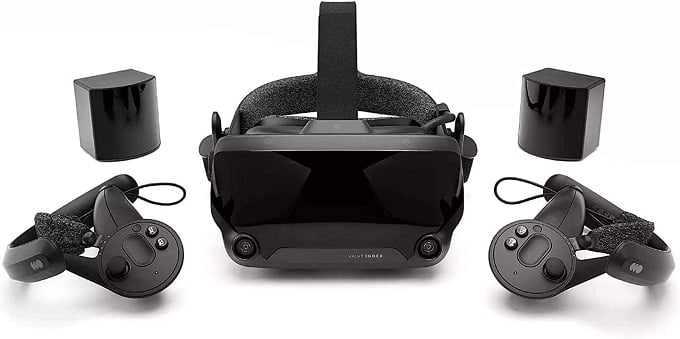 Pros:
Custom-fit and ergonomic design
Better FOV compared to its peers
Precise tracking
Cons:
Most of the features require a high end gaming PC
Relies on external sensors
Key Features: Dual 2.89″ LCD Display | Resolution:1440 x 1600 pixels per eye | 144Hz Refresh Rate | 130° FOV | Integrated Headphones | Bluetooth and WiFi | Lighthouse Tracking System
The Valve Index VR headset is not as bulky as it seems. It's rather simple, lightweight, and ergonomic in design. It features a dual LCD display that offers a peak resolution of 1440 x 1600 pixels per eye. It provides a great VR experience thanks to its sharp display and a 130° FOV. In fact, it's one of the best gaming VR Headsets that offers an astonishing 144Hz refresh rate, making it suitable for the hardcore gamers out there.
Unlike other VR devices that rely on Inside Out Motion Tracking, the Valve Index makes use of external sensors. It makes use of a Lighthouse Tracking System that includes base stations that track the accurate position of the headset and the connected controllers. Of course, it does come with its cons but at this price range, it's not much of a deal breaker.
What's more, like all VR devices, this VR gaming headset also comes features Bluetooth as well as WiFi. There are also integrated spatial speakers that offer 360° audio for an enhanced virtual reality experience.
HTC Vive Pro 2
Pros:
Better display and accurate tracking
Better fit
Comparatively affordable price
Key Features: Dual RGB LCD Display | Resolution:2448 × 2448 pixels per eye | 120Hz/90Hz Refresh Rate | Integrated Headphones |SteamVR Tracking V2.0 | DisplayPort 1.3 and USB 3.0 Connectivity
The HTC Vive Pro 2 has been around for some time and it's a great VR headset for beginners. It is solid in design and offers the best VR experience and is offer cross-compatibility across various gaming platforms. This VR Headset comes with a dual RGB LCD Display. It offers a combined resolution of 2448 x 2448 pixels per eye.
What's interesting about this VR gaming headset is that offers a refresh rate of 120Hz. There is also an option to scale down the refresh rate to 90Hz also. The Vive Pro 2 runs on the Steam VR 2.0 tracking technology. It allows a seamless and never ending connection with your controllers and gives you the best possible motion tracking. What's more, there is 3D spatial audio that could elevate your VR experience. Unlike other devices on our list, the Vive Pro offers better battery backup so that you get extended virtual reality once connected.
SAMSUNG HMD Odyssey+

Pros:
Dual AMOLED Display is excellent
Better fit and comfort
Easy setup
Cons:
Occasional tracking lag
Windows Mixed Reality has limited content
Key Features: Dual 3.5″ AMOLED Display | Resolution:1,440 X 1,600 Per Eye | Anti-Screen Door Effect Technology | 6GB RAM | Inside-Out Tracking | Spatial Audio
The Samsung HMD Odyssey+ is one of those VR headsets that have turned a lot of heads in the past. It's still one of the most suitable virtual reality headsets for beginners out there right now. Packed with a bunch of cool features, the HMD Odyssey+ offers a great virtual experience through its HD AMOLED displays and via its stunning 360° spatial audios. This VR headset for PCs offers a combined resolution of 2880 x 1600 pixels. This in turn produces sharp and lively images that enable you to experience the world of virtual reality like never before. What's more, the Odeyssey+ comes with the Anti-Screen Door Effect technology that reduces distortion and pixelation to the core.
This VR gaming headset comes with integrated speakers. There is 360° audio that enhances the overall VR experience. Also, with the Inside Out Tracking System, you get the best-in-class motion sensing, and that too without any external sensors or stuff. The inside-out tracking system utilizes inbuilt cameras to track the position and movement of the headset and controllers. This eliminates the need for external sensors and simplifies the setup process, offering convenience to users.
That's our list of the best VR Headsets to look out for in 2023. Our list includes some of the best and the most hardcore VR headsets that are guaranteed to elevate your VR experience. From the Meta Quest 2 to the Vive Pro 2 and the Odessey+, we've completely covered almost all the best VR Headsets that you can buy right now. If you're a hardcore VR enthusiast who look to enhance your VR experience, then make sure to get the best VR Headset that suits your needs from our list.