WiFi Thermostats are smart and advanced in technology that can be controlled remotely from anywhere from your smartphone. Smart WiFi thermostats can detect your presence and absence in the home and adjust the temperature level in the most efficient way to save energy.
WiFi thermostats are smarter than the regular thermostats, and the latest models are coming with additional thermal sensors and integration with smart home devices like Alexa, Google Assistant, and Siri. The next step of evolution is AI-based Smart Thermostats, those can self-adjust the room temperature by analyzing past history. Google Nest Smart Thermostats's biggest selling point is the self-learning capability, those can learn and decide the room temperature based on the past days' history.
To turn your home into a smart home and makes your life easy, we listed a number of Smart Wi-Fi Thermostats that monitor and control household appliances and energy consumption.
Nest Learning Thermostat 3rd Generation
Nest launched the first smart thermostat with a self-learning capability. This thermostat can self-learning your habit and adjust the room temperature accordingly within a week of installation. These Smart Thermostats can save your heating bill by 12% and also take care of the cooling part by saving around 15% a year.
The Nest is claiming that this Smart Nest Thermostat can save 50 % of the energy by efficiently adjusting the room temperature and controlling the power consumption. In addition to the dedicated smartphone applications, this Smart Thermostat is integrated to work with Amazon Alexa and Google Home assisted voice control.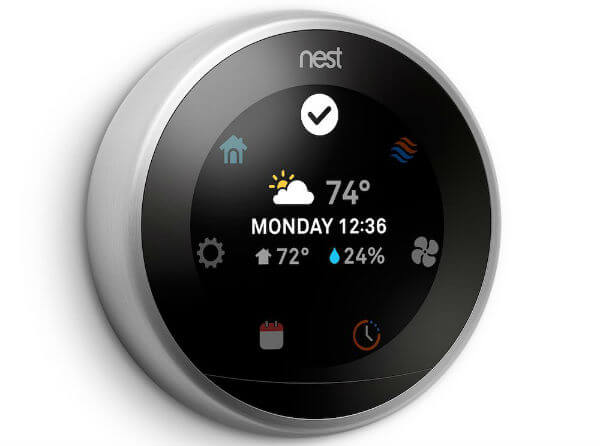 With the first ones in the market to have a star rating featuring energy-saving, Nest app indicates the energy consumed by each day, and the temperature at which maximum energy can be saved is indicated by Nest Leaf. Display time & temperature over a distance using the Far-field sensor when the thermostat detects your presence.
Smart Control: Amazon Alexa/Google Home | Smartphone: iOS/Android | Touchscreen: No
Related: Best Google Home Compatible Devices to Work with Google Assistant
Ecobee3 Thermostat
With additional temperature integrated with this thermostat, Ecobee Smart Thermostat can do more precise control by sensing the temperature from the additional thermal sensor. Ecobee works well with Amazon Echo, and also support IFTTT, Apple HomeKit, and Google Home. This Ecobee WiFi Thermostat allows users to monitor and control their appliances with the help of additional sensors if required.

Ecobee3 Thermostat lowers energy bills by saving 23% on an annual basis by controlling the appliances. Ecobee comes with a touchscreen and has options for adding additional sensors that can be installed in each room for more precise control.
Smart Control: Amazon Alexa/Apple HomeKit /IFTTT/Google Home | Smartphone: iOS/Android | Touchscreen: Yes
Related: 7 Best WiFi Mesh Routers to Ensure Maximum WiFi Range
Honeywell 
Lyric T5 Wi-Fi Thermostat
Honeywell is offering location-based control to control your home temperature in a more efficient manner. With Amazon Alexa and Apple. With Amazon Alexa and Apple Siri-enabled voice control, these touchscreen thermostats provide control over the temperature by picking up location.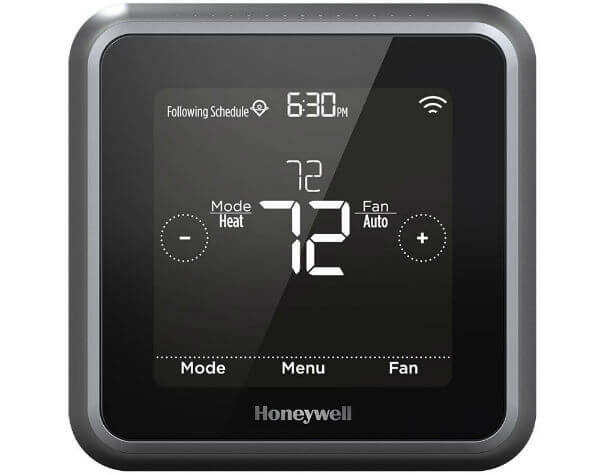 This WiFi Thermostats can also work with the smartphones and capable of sending the reminders to replace the filter and warn you in extreme temperature conditions. The Geofencing technology enables the thermostat knows when you're coming home and set your home comfortable for you just before you enter the house. This will alert the thermostat when you leave and switch your AC into the maximum efficiency mode.
Smart Control: Amazon Alexa/Apple Siri | Smartphone: iOS/Android | Touchscreen: Yes
Today's Deal: $41.00 Off
Lyric Round Wi-Fi Thermostat
This Smart WiFi Thermostat's adaptive recovery method enables them to determine the duration for achieving right temperature transition at the right time. The geofencing technic track user's position. This can turn on your room heater or cooler in advance to make you comfortable and also save energy when you leave home. The Smart alert send the push notification for filter change and extreme temperature conditions.
Smart Control: Amazon Alexa/Apple Siri/IFTTT/Samsung SmartThings | Smartphone: iOS/Android |Touchscreen: No
Honeywell Smart WiFi Thermostat
With Amazon Alexa as a voice assistant, these touchscreen support thermostat comes with a With the smart technology and efficient control, the energy can be saved on an annual basis. Advanced fan/comfort control and the indoor humidity sensor provide maximum comfort and can be controlled using a smartphone or tablet.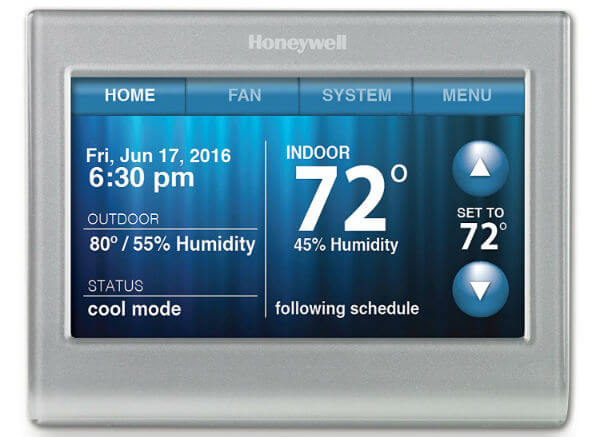 Locking Touchscreen enables data protection and smart security on your schedules. This touchscreen allows users to set their own favorite background image. When you set up this WiFi thermostat, you can change the color of the screen to match your interior, and also control from anywhere with iOS and Android devices.
Smart Control: Amazon Alexa | Smartphone: iOS/Android | Touchscreen: Yes
Today's Deal: $15.12 Off
Venstar T7900 Colortouch Thermostat
With Amazon Alexa based voice assist, this WiFi Thermostat can be controlled using iPhone, iPad, Amazon, Blackberry, and Android smartphones. This Smart Thermostat allows control over humidification and dehumidification, provides multiple stages of heating & cooling and dual-fuel capability. With the touchscreen and the ability to set a favorite background, they are equipped with adjustable timers and APIs for 3rd Party Monitoring and Controlling.
Smart Control: Amazon Alexa | Smartphone: iPhone/Android/Amazon/Blackberry | Touchscreen: Yes
Radio Thermostat CT50
Radio Thermostat CT50 enabled with Wi-Fi uses Wink App to control home using iPhone or Android. Providing multiple stages of heating and cooling, these thermostats are designed to work by determining the location of the user. When no one is home, they save energy and WiFi Thermostat set the home till the next return using geolocation. Open API enables the user to set their own interface and comes with Auto Change Over mode.
The power app of this WiFi Thermostat gives you runtime reports with minute-by-minute data about room heating and air conditioning systems. The alert notification warns you about the onboard filter replacement and compressor protection notifications.
Smart Control: NA | Smartphone: iOS/Android |Touchscreen: Yes | Buy from Amazon
Vine Smart Wi-Fi Thermostat
This Smart WiFi Thermostat allows control with the help of iOS or Android and provides multiple layers of encrypted security. Bright Colour 3.5" LCD Touchscreen with large dials and Programmable Nightlight that makes operation easier by providing better visibility. Using iOS or Android apps or Web portal makes energy schedule at ease. Many more advancements yet to come for smart homes.
Smart Control: NA | Smartphone: iOS/Android |Touchscreen: Yes
When you shop around for Smartphone gadgets for Google Home or Amazon Echo, these WiFi Thermostats should be number one on that list that works well with these Smart Home Device voice commands.