Are you worried about your WiFi security? Somebody already hacked your WiFi network? Well, there are good Android apps to test for vulnerabilities in your WiFi network allowing unauthorized users to gain access. These WPA tester apps are powerful enough to test your WiFi for possible vulnerabilities in the network.
Whether you want test home WiFi or office WiFi, you must have the best WPS WPA Tester apps for the Android devices in the play store.
Best WPA WPS Tester Apps in the Play Store
We've listed the best WPA WPS Tester apps for Android below. They can be installed on your smartphone to check the vulnerability of your WiFi router. If the router is vulnerable, your phone will automatically connect to it during the test.
1. WIFI WPS WPA Tester by Sangiorgi Srl
WIFI WPS WPA Tester is an android application to test your network vulnerability developed by Sangiordi Srl. It weighs around 6MB and is one of the top results in play store for the search word WPS Tester. It has an intuitive interface with color codes indicating the chance of successfully breaking into the network.
The main page lists all the networks in the range and displays a color code in the icon. Green indicates that the network can be most probably broken in. Yellow indicates an average chance while red indicates a secured network. Note that a green icon does not guarantee that the WPA WPS Tester app can definitely break into the network. Especially if it uses advanced security measures such as mac filtering for protection against unauthorized users.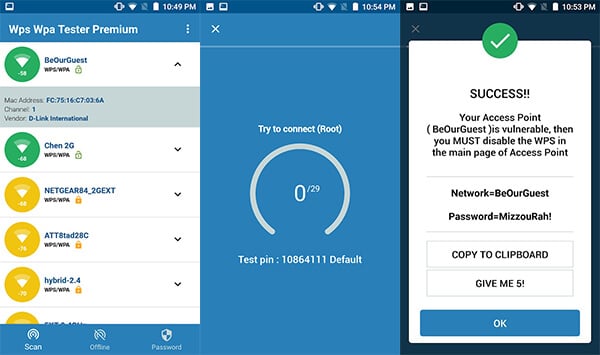 There are two ways in which the app can work – root and non-root. In the non-root mode which is the default setting, you can connect to a vulnerable network but cannot see the WiFi password. The root mode allows you to display the password of the connected WiFi along with enabling other advanced features. The use of the rooted mode in the app naturally requires a rooted device. It also has a pro version costing about $1 for users who want to use the app without the hassle of ads.
Download from Play Store: WIFI WPS WPA TESTER
2. WPS WPA Connect Dumpper by MarMosha
WPS WPA Connect Dumpper has almost all the features of WIFI WPS WPA Tester albeit with a not-so-impressive interface. It also has a list showing all the WiFi networks just like the WIFI WPS WPA Tester. WPS WPA connect has advanced features unlocked by rooting your device. Just like WPA WPS tester, you can only view the passwords of connected WiFi networks if you have root. One drawback of the app is that it does have a lot of intrusive ads.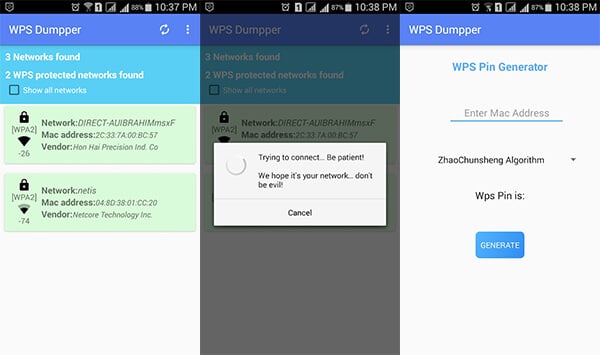 The app constantly reminds you not to attempt to break into networks other than your own. The app is only intended to test the vulnerability of your device, and we'll recommend sticking to its intended purpose.
Download from Play Store: WPS WPA Connect Dumpper
Related: How to See Saved WiFi Password on Android Device?
3. WPSApp by TheMauSoft
WPSAApp is another android app to test the vulnerability of your router. It searches for vulnerable WiFi networks in your vicinity and attempts to hack into them, provided that the WPS protocol is enabled.
Using WPSApp is very simple. After scanning for networks around the device, you'll see them listed with either a green tick, a red cross or question marks. Green ticks show that the WPS protocol is turned on, is vulnerable, and has a high chance of successfully breaking in. Red cross denotes that the network is secured and any attempt to try to hack it is futile.
These are routers which have their WPS protocol disabled or have additional security elements put into place. Finally, a question mark shows that even though the WPS protocol is turned on and that its pin may not be known. If that's the case, the app will try to attempt to connect by using the most commonly used WPS pins. Chance of success in such cases is very low.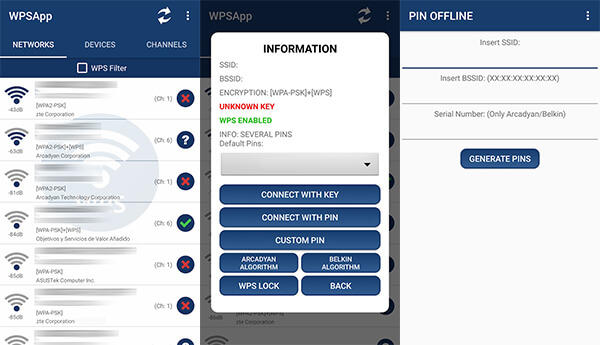 WPSAApp also has the ability to generate WPS pins from the SSID and BSSID of the WiFi network. SSID is the name of the WiFi – The name you see while searching for WiFi networks. BSSID is the unique mac identifier for the WiFi.
Download from Play Store: WPSApp
4. Wifi WPS Plus by Panagiotis Melas
Wifi WPS plus is another app to calculate and try out different WPS pins for different routers. We've found this app doesn't have an easy to use user interface like the other apps we've listed in this article.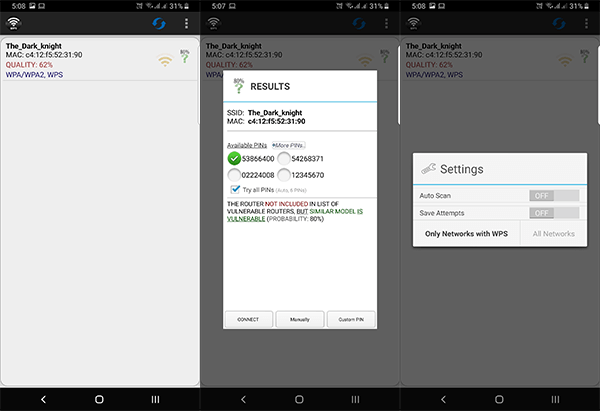 The UI reminds of Android KitKat era with a holo theme. It's not as user-friendly as the other apps but you can give it a shot if all other apps don't work as expected.
Download from Play Store: Wifi WPS Plus
Also read: How To Solve WiFi HotSpot Login Page Error on Android?
5. WPS WPA WIFI PIN TESTER by Jay Patel
WPS WPA WiFi pin tester is another app available in the play store to check for and connect to vulnerable WiFi networks. Similar to other apps in the criteria, this app uses color coding to show the vulnerability of networks. Green indicates that the network is open for WPS protocol attacks while red means that the WPS protocol is turned off and hence the network is secure.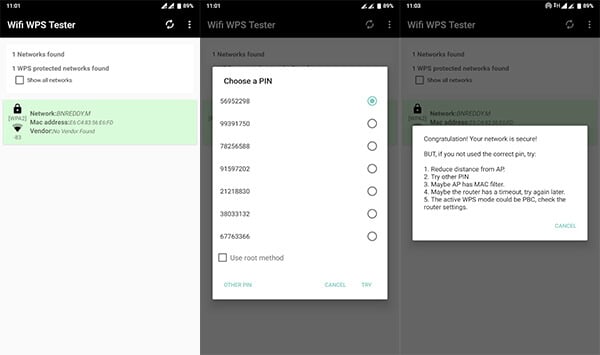 The app also has a WiFi scanner option which can list out all the devices connected to the same network as the phone. This can come particularly handy to weed out any possible intruders your WiFi. All other features are identical to the apps already listed above.
Download from Play Store: WPS WPA WiFi pin tester
6. WiFi WPS Tester by Infinit Group
WiFi WPS Tester is another of WPS tester apps in the Play Store. Unlike most other apps, it looks really good in the UI department.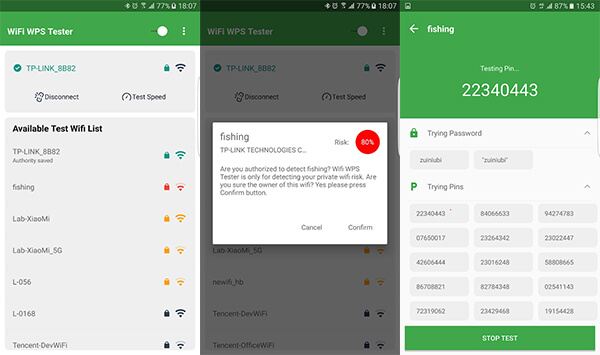 The app also claims to work on devices older than lollipop without the need for root access. That is something that we've not seen in any other apps we tested.
Download from Play Store: WiFi WPS Tester
7. WPS WPA WiFi Tester by khiloui
WPS WPA WiFi tester is an Android app by the developer khiloui which has similar features like all the other WPS tester apps. This app, however, has a very dated interface. The feature list also seems to be limited when compared with the other apps.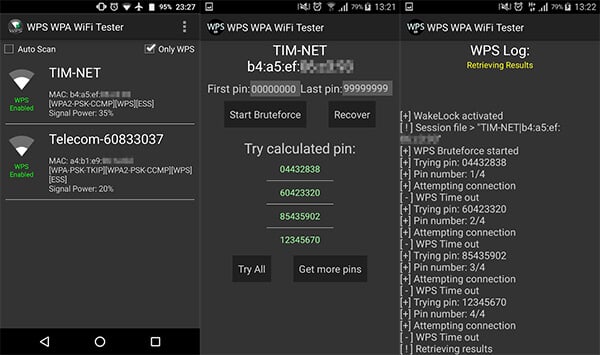 It also has a couple of features which require root access to work. One such feature is the ability to directly display saved passwords of WiFi networks that the phone has connected to previously.
Download from Play Store: WPS WPA WiFi tester
For those who don't know what is a WPS tester app can do for them please read below. We can give some idea about a WiFi WPS tester and WPS WPA tester apps below.
What is WPS & How Does it Affect my WiFi?
WPS stands for WiFi protected setup. It is a security standard that makes a connection between devices and routers much easier at a push of a button. It only works if your WiFi is protected with a password and uses WPA or WPA2 security protocol. If you look at the back of your router, chances are you will find a button dedicated for WPS.
There is a problem though. WPS enabled systems are much more prone to be hacked than WPS disabled systems and most routers have it on by default. The trouble with WPS is that there can also be a WPS pin used instead of the WPS button to connect. Anyone who knows this 7 digit pin can also connect to the WiFi without knowing the WiFi password.
How Do WiFi WPS WPA Tester Apps Work?
What these kinds of apps do is that they gather the make and model of the target router and attempts to connect by trying out different WPS pin combinations commonly used by that specific manufacturer. The WiFi successfully connects if one of those pins match. However, it doesn't mean that all WPS enabled routers are vulnerable. Most modern routers safeguard against such attacks by disabling the WPS altogether if many unsuccessful login attempts are detected. The WPS then stays disabled until the router reboots or the user manually re-enables it.
Permissions and Requirements for Android WPS WPA Tester.
Well, all of these apps are not made to work right out of the box. Some of these apps may need root access to Android to utilize all the features offered by the apps. Let's see few details about the permission requirement for WiFi WPS WPA tester apps for Android.
Root Access for WPA WPS Tester
WPS WPA Tester apps require different permissions on different Android versions. Users with Android KitKat or below require root access for the apps to work properly. This is a limitation of Android itself. The WiFi WPS Tester by Infinit Group claims to work around this issue. But considering that KitKat is a six-year-old platform, most users should be unaffected.
Most apps can successfully connect to WiFi by exploiting the WPS vulnerability. Yet, root access is necessary to show the actual password of the WiFi network. That is, you'll need to run the app across every phone you want to connect to the WiFi as the password cannot be displayed. All this can be rectified if you have root access.
Location Access for WPA Tester Apps
From Android Marshmellow, Android has put forward the requirement that apps require the location permission to scan for WiFi networks. That is a security feature of Android, and no workarounds are currently available. This means that you'll have to give the location permission when the apps ask for it. It'll simply refuse to work without it.
You can install these WiFi WPS WPA tester apps on Android and test WiFi networks. If WPS WPA Tester apps can break into your WiFi network, It means an unsecured network that anybody can barge in. Pick one of the WiFi WPS WPA Tester apps from here to test your WiFi network.