Your iPhone has a static MAC address that helps the networks you are connected to know about your device. Especially when you connect to a public Wi-Fi, they can identify you by your device MAC Address. It was merely impossible before to change or spoof your MAC address on iPhone unless you jailbreak your device. Well, no one suggests jailbreaking. However, there is now an easier way on your iPhone to spoof or change MAC addresses for iOS 14 users.
In this article, we will guide you through the steps to change the MAC Address on iPhone.
Change MAC Address on iPhone Without Jailbreak
Apple released the iOS 14 update with a more emphasized enhancement for security and privacy. Therefore, your iPhone will have tons of new security features if you are on iOS 14 or later. One among them is the Private Address feature that lets you hide your original MAC Address of iPhone.
You can enable the private address on your iPhone for a Wi-Fi connection. When enabled, your iPhone will always use a private MAC for the Wi-Fi network. Thus you can ensure your privacy when connecting to public Wi-Fi networks.
Follow the steps below to know how to change MAC Address on iPhone without even jailbreaking, unlike before.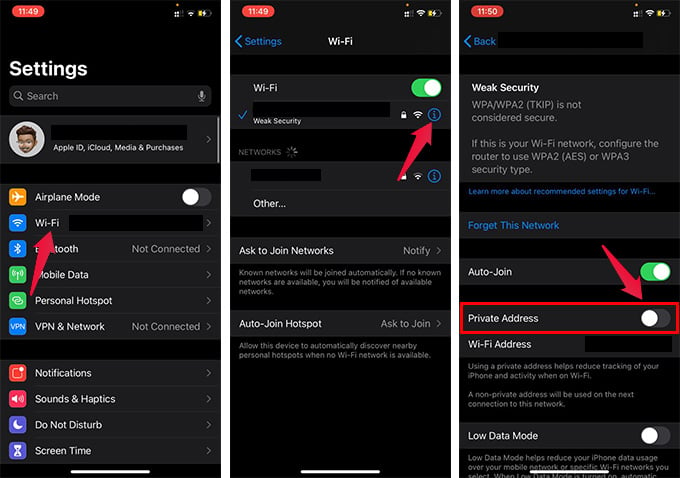 Connect to the Wi-Fi network you want to hide the iPhone MAC address from.
Open Settings.
Tap on Wi-Fi.
Tap the "i" icon next to the connected Wi-Fi network.
Toggle on "Private Address."
Reconnect to the Wi-Fi network.
When you reconnect to the same Wi-Fi, your iPhone will use a different MAC address. Thus, you can easily hide, spoof, or change MAC Address on the iPhone. This does not even require jailbreak or any third-party services. All you need is your iPhone with iOS 14 or newer updates.