Being an Android user can give us ample perks. Android offers the freedom to use a plethora of Apps of our choice and to customize the user's experience. But quite often we feel deprived as we miss out on certain features that get rolled only for the iOS users. One such featured that came with iPhone X in 2017 was the ability to use Animoji and Memojis.
In this article, we'll explain how to use Memojis on Instagram and show you the easiest method of getting this fun tool on your fingertips. Follow the steps here to create a custom Memoji for Instagram on Android.
To begin with, we need to download the Bitmoji app from the Google Play Store. Although there are several other Apps as well, Bitmoji is the most rated App and also aided with the G-board on your Android device which makes it easy to use. Bitmoji lets you create customized Avatar and use Memojis on Instagram through G-board on your Android phone.
Once you have the app ready on your phone, follow the below steps to initialize and create your avatar. You can look at the screenshots for a better understanding of the procedure.
How to Create Memojis on Android Phones
Launch the Bitmoji App on your Android device and sign up.

You can use your email id or sign up with your Snapchat account.

Once you log-in, you'll be prompted to click on a male or a female avatar.
Take your selfie when you get a pop-up request.

If you sign up with Snapchat, you'll see a screen with several options, like shown below in the picture.

Click on the Avatar edit option.

i.e. 3rd from the top right of your screen.

You can set up your avatar by following the procedure in a sequence prompted. You'll be able to use the same avatar Memojis on Instagram.
Save the customized avatar in your Bitmoji app.
On the home screen, you can now view several Memojis under different categories. You can tap on any of the Memojis and share it on the social media applications directly from the Bitmoji App. You'll see several options on the screen to share a Memoji.
How to use Memojis on Instagram?
Creating the Memoji for the Android device is an easy task with the help of the Bitmoji App. Now, we'll get to the real deal of how to use the same on Instagram chats. Using Memojis on Instagram can be fun. Here's the trick to do it. You'll only be able to use Memojis on Instagram if you sign up through email ID which is logged in your phone.
Open any Instagram chat and launch G-board on your phone.
Tap on the keyboard emoji icon.
You'll see several options to use stickers and emojis on the next screen.
Click on the Bitmoji icon on the G-board.
You'll be prompted to set up your Bitmoji before using it on Instagram on the next screen.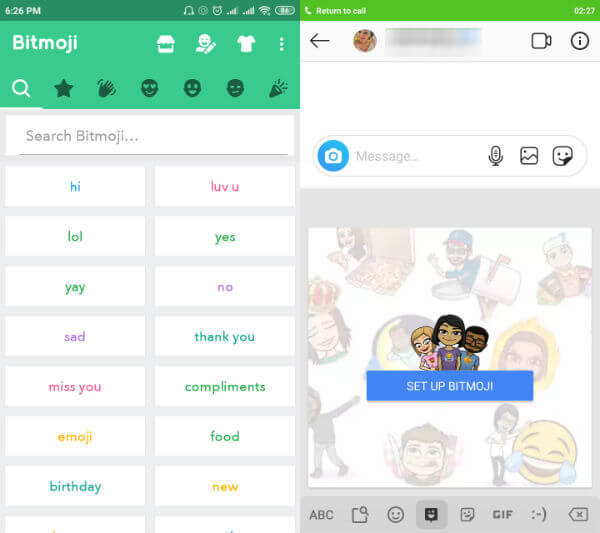 You can set up your Bitmoji avatar and use the Memojis on Instagram directly from the keyboard or the Bitmoji App. Share the Bitmoji on your Instagram DM and make your chat fun and lively.
Related: 7 Best Tools to Schedule Instagram Posts (Free & Paid)
Can We Use Memojis on Other Android Apps?
Bitmoji App allows the user to use the Memojis on all social media sites including WhatsApp, Instagram, and Facebook. However, this article mainly focuses you using Memojis on Instagram. You can use the same Memojis on WhatsApp through the G-board following the above-mentioned procedure. The Memojis on WhatsApp is shared as images.
Additionally, the Memojis can be shared to Instagram and Facebook stories as well directly from the Bitmoji App. For that, just launch the Bitmoji App and click on the desired Memojis. You'll see several options in a row on the lower side of your screen which includes Instagram stories and other social media applications. You can simply tap on any of these available options and directly share the Memojis.
Related: How to Get Animoji or Memoji Stickers on WhatsApp for Android
Android Apps to Use Memojis on Instagram?
There are several apps on PlayStore which allows the users to create Memojis for Android. These apps let them share it on social media apps. However, there isn't any dedicated app that creates Memojis solely for Instagram.
Memojis can be created similarly as the above-mentioned procedure through different applications and can be shared. For instance, Memoji App by Mohammed Amin Abedi on PlayStore lets you create Memojis for Android devices. The process of creating a Memojis is however similar to the one explained above. Another similar app on the play store is Memoji by NDT developers which lets you create Memojis for free.
Memojis are similar to stickers, which lets the user customize the avatar and make it look similar to them. These can be animated to make your chatting much funnier. It enriches your chatting experience with the ability to express yourself with Memojis.
However, The Android fans can breathe again since the void of using the Memojis on their phone can be eliminated. Although Memojis are not officially available for Android as an inbuilt feature, it can be used with a third-party app available on the PlayStore. By using the above-mentioned process you can download and use Memojis on Instagram DMs as well as on your stories.