Google Home devices are capable of doing lots of things, following the commands from the users. But, using the Google Home is not the same for every region, especially when it comes to the Asian regions like India where English is not the primary language. However, Google now allows you to customize the Home devices based on your regional preferences. It can now listen and speak various languages, do a variety of tasks, etc.
Here is a complete guide describing customize Google Home for Indian users.
Start Speaking to Google Home in Hindi
When the Google Home and the Assistant were announced for the first time, the only language it could interpret was English. Later on, Google continued to add more popular languages into the Language repository of Google. Recently, the company included a bunch of foreign languages as well, including Hindi for India. You can simply move to Hindi and make it your default speaking-language with Google Home if you are tired of talking English. Also, the localization of Google Home could bring more popularity from the region.
Changing the speaking language to Hindi will make it the secondary one, whilst the English (US/UK/Canada/Australia/India/Singapore) remains the primary speaking language for the Google Home. Hence, you could be able to command in both languages. Follow the below steps to change your speaking language into Hindi.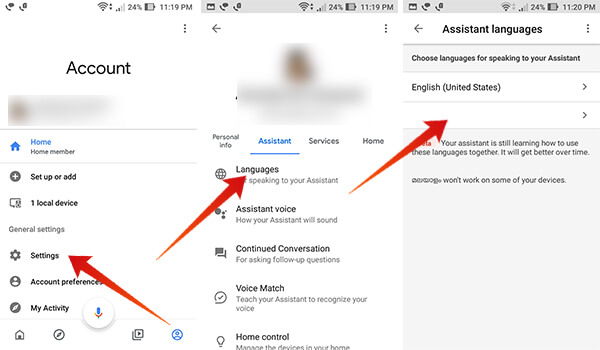 Open the Home app on your smartphone.
Go to the Accounts tab.
Tap Settings.
Choose "Languages" under the Assistant tab.
Under "English" you could find an empty field. Tap on it.
Scroll down and choose Hindi (हिंदी).
You are all set! Now, you can start speaking with your Google Home device in Hindi as well as English. You can trigger the assistant microphone using the same hot words "Hey Google" or "Okay Google." Assistant can switch between both the languages, based on which language you speak. In case you are speaking in Hindi, you will get replies in Hindi itself.
Related: How to Play Indian Songs in Google Home
Set up Indian Music Streaming Services
One of the challenges in setting up Google Home in India was the music streaming services. Fortunately, many popular Indian Music Streaming services including Gaana, JioSaav, etc. have tied up with Google on bringing their music into the Google Home devices. Here is how to set up an Indian Music streaming platform like Gaana or JioSaavn with Google Home.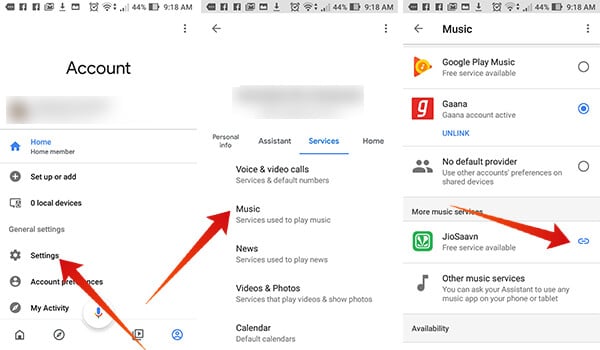 Open the Home app on your smartphone and go to the Accounts tab.
Tap Settings.
Swipe left and move to Services tab.
Open "Music" services.
Choose your Music Provider and Confirm to Link.
Authorize the Gaana or JioSaavn Account with your Google account.
Choose the connected service as your default Music Provider.
After settings up, your Google Home device will continue to stream music from the corresponding platform. You can simply ask Google home to "Play some music" so that it will start playing from the default music provider.
Also Read: How to Play Indian Songs in Google Home
Change the Google Assistant Voice
In case you are unaware, it is also possible to change the playback (Talkback) voice of Google Home device. You can choose between various voices, whether you want male or female, fast or slow accents, etc. The voice changing option in Google Home is considerably helpful for the non-native speakers, to switch between the best understandable voice.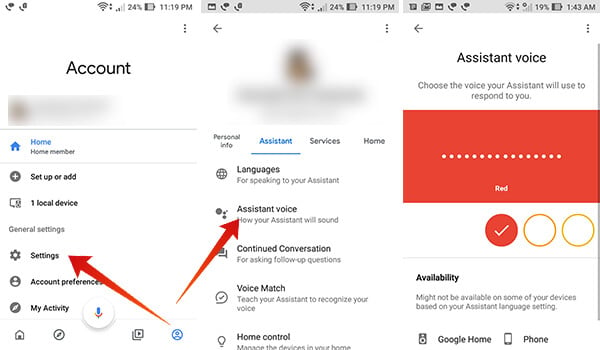 Open the Home app, go to Accounts.
Enter Settings and then Assistant tab.
Tap "Assistant Voice."
There you would see various color palette buttons, denoting Assistant voices.
Swipe right or left to choose between the default voice for Google Home.
When you choose a voice, the same will be applied for Google Assistant on Google Home, Smartphone, Chromebooks and Smart Displays.
Set up Voice Match with Google Home
Google Home is a commonly used device in a home or an office space. So, the device may not be able to identify each user using their voice. For that, you can set up the Voice match profiles, which Google uses to save your voice and match with it the next time you command the Google Home something. Voice Matching can also help Google Home or Assistant to understand better about your speaking accent. Here is how to enable or set up Voice Match on Google Home.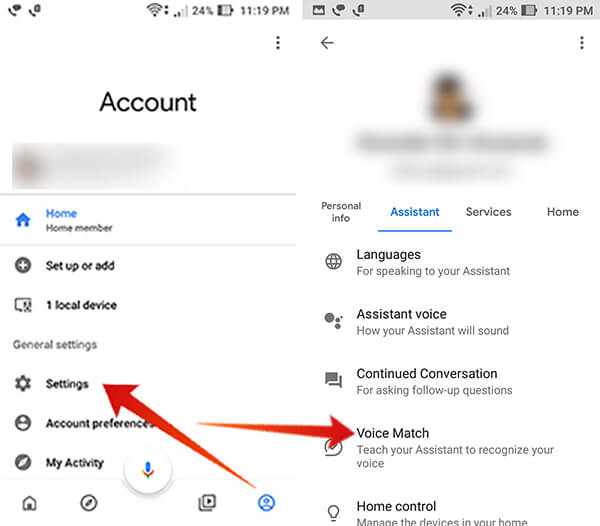 Go to Accounts > Settings from the Home app on your smartphone.
Go to Assistant tab and tap Voice Match.
Tap "Add Voice Model" and start doing as in the screen.
Your Google Home can provide your personalized results after matching up the voice with Google Assistant. The same can be done with any other users on the same Google Home device.
Also Read: How to Retrain Google Home to Recognize your Voice again?
Add Indian News Sources
Although there are various international news sources have been added to the Google Home by default, you may not get every local or national news within India through them. However, you could add several Indian news sites to listen to Indian news from certain sources like NDTV, Times of India, India Today, etc. Added services can be used with commands, and the default service can be from any of the listed platforms. Following steps show how to add Indian news sources to your Google Home.
Open the Home app on your Android or iOS smartphone.
Navigate to Accounts tab and then Settings.
Move to Services.
Tap News.
Tap "Add news sources."
Choose "English (India)" from the languages drop-down menu.
Check the news sites you want to add and then go back.
Finally, you can ask Google to read news from Indian news sites. However, the default new sources will be of the ones you have chosen recently.
Indian users of Google Home can now customize their device as much as they can. With the addition of Hindi as the primary language, Google Home can now act natively among Indian environment. Google Home's major opponent Amazon Alexa features a language teaching section where users can teach Indian languages like Hindi, from last year. In fact, Google is the only platform with fully-fledged Hindi speaking Assistant inbuilt.