VeePN is a Panama-based VPN service favored by many cybersecurity enthusiasts, with a combined base of one million users. The growing popularity can be easily explained by the number of available features, a wide server network available in every part of the world, and decent pricing.
The app supports most of the popular platforms and devices, including iOS, Android, Windows, MacOS, AppleTV, Linux, flagship routers and gaming consoles such as PlayStation, Xbox, and Nintendo. You can protect up to 10 devices in your household or workplace simultaneously with VeePN.
The service offers a server grid of 2500+ secure units from more than 48 locations around the globe. All the technical features you need in a good VPN are also here – EAS-256 encryption, custom protocols and kill switch protection. A clear description of subscription pricing and a strict No Log policy, along with Panama registration ensure that your Internet activities will stay, as they should be – private.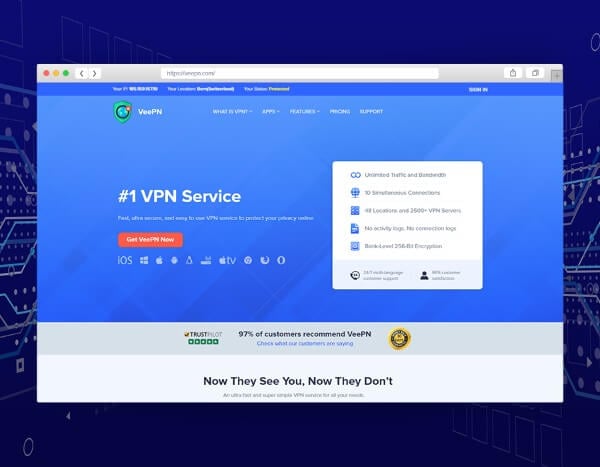 If you are experiencing some troubles on any step of interaction with the app, from downloading to connecting or changing preferred settings, feel free to direct your questions to 24/7 live support team. They are not only proficient in the related field of knowledge, but also are very warm and friendly. If you simply want to know more about the service but don't feel like reading today, open a chat window in the bottom right corner of the webpage, or in your mobile app, and pop a quick question.
Related: How to Use Netflix Party to Watch Netflix Remotely with Friends Together
Apps and Clients
The service supports most of the existing platforms and devices. As the installation and exploitation are very similar, with only slight differences caused by the platforms, we are going to describe it only once for Android-based systems.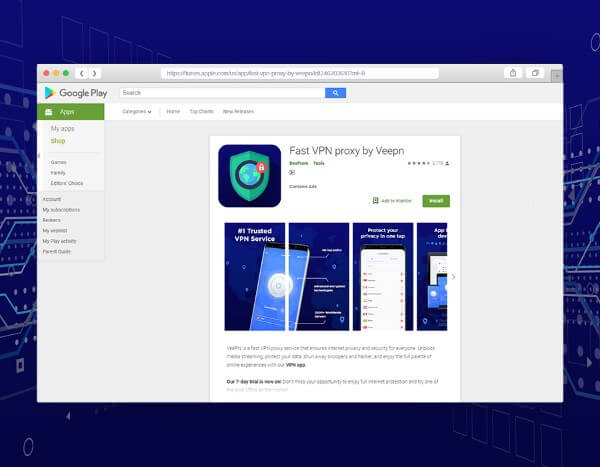 Currently, the Android version of the app has been downloaded 100,000+ times, and the app is rapidly gaining momentum. The installation process is standard – first, you click "Install," the app downloads, and then you open it with a tap. VeePN also offers its users an APK file in case Google Play is blocked in their country.
When you launch the application, it, quite predictably, asks you to log in. If you don't have an account, you can register right away in the app. After the first step is complete, you are redirected to the main screen, which looks quite simple – a big white button in the middle, your current connection status and a location name below.
Tap on the button to start working. The status below will change from "VPN is Off" to "Connecting," and then "VPN is On" at that. To disconnect, simply tap the button again – this is the case where the controls are intuitive, and you barely need any additional instructions. To change the location, tap on the location name at the bottom part of the screen. You can pick from the list of locations that opens, as well as add to the favorites for quicker access.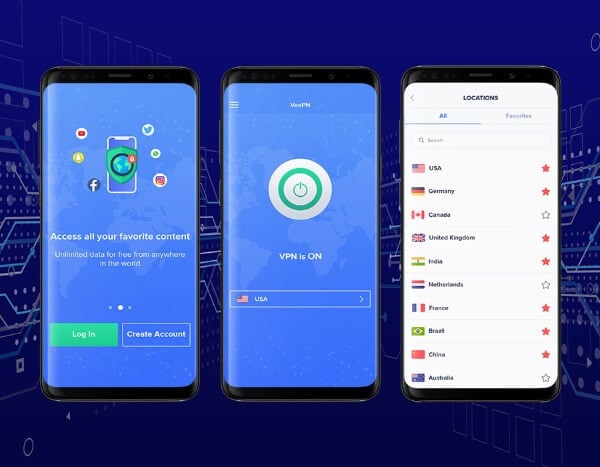 The app also allows you to change the encryption protocol. To do so, you need to go to the Hamburger menu (three parallel lines at the top-left corner), choose Settings, and VPN protocol. Now you can switch between four available protocols. The list includes IKEv2, OpenVPN, Smart UDP, and Smart TCP to find the optimal one for you.
The application does not have a lot of functions apart from the basics. On the other side, the absence of extra frills makes it lightweight and fast to operate. And what else do you need in a VPN app?
Netflix
Netflix is notorious for blocking some countries from accessing its content or showing users a heavily edited list of shows based on their location. Therefore, a VPN that can easily surpass geo-blocks and allow for an unhindered media streaming at full speed definitely will win a place in users' hearts.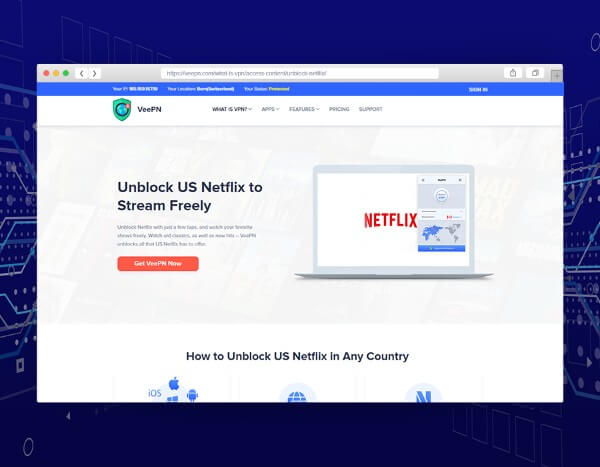 We checked the service using the three most popular services – Netflix, YouTube, and Spotify. To make sure you will be able to access British TV shows, we also checked BBC iPlayer for all the "Doctor Who" fans out there.
To check how the well the VPN works, we randomly picked five locations for each streaming service and tried to connect. The average connection time was 3 seconds, which to our mind is a rather impressive performance marker. Out of 20 servers (4 streaming services x 5 servers for each), only one failed to connect, and one server failed to unblock Netflix.
All the others worked fine and provided us with excellent streaming speed. As service providers put a lot of effort into blocking certain proxies, VeePN has shown impressive results. So, it overcomes the challenge most other VPN Services face with Netflix.
Taking into account a network of 2500+ servers in 48 locations, as you see on the website. Every user gets a good chance of success at unblocking Netflix, as well as other popular websites and services.
Also read: Audials One 2019: Lets you Legally Download Music, Movies, Shows & More
VeePN Plans and Pricing
VeePN offers four pricing plans, so every user will be able to find something suiting their needs. Every plan offers the full set of VeePN's features. The only differences being the duration of the subscription period and price.
You can choose to pay:
$10.99 per month for a monthly plan
$5.83 per month for an annual plan (total payment is $69.99, with 47% discount)
$2.78 per month for a 3-year plan (total payment of $99.99, with 75% off)
Alternatively, buy a lifetime subscription for $199.99, save up to 80% and enjoy high-level cyber protection forever.
The plans are so clear, so you get what you see. So, there is no need to worry that you will have to deal with sneaky marketing tricks. Furthermore, you do not need to provide your credit card data right away.
There is a trial version for the VeePN. So, you can test it for free, and only then pay for a subscription. The payment process is also a rather secure one. If you want to keep maximum anonymity, you can register using only your email, and pay with BitCoin. Other payment options include credit card, PayPal, Alipay, WebMoney, Paymentwall, UnionPay, Giropay, Sofort Banking, iDeal and more.
If you are not happy with the service or you simply have changed your mind for any reason, you can request a full refund within 30 days of usage. This rule is valid for any of the four subscription plans.
Final Verdict
VeePN is a go-to solution for cybersecurity newbies who decided to take their data privacy matters into their own hand. The interface is literally one-tap, and the functions are basic, so the user doesn't have much to mess up with. However, you still have one customizable feature to make your experience with the service smoother – the encryption protocols.
Another great argument in favor of the VeePN service is 7-day trial and 30-day money back guarantee. Therefore, you have plenty of time to make up your mind and decide whether you want to collaborate or not without losing your hard-earned cash.
---
This article has been sponsored by WEEDIT PHOTOS.