Since Windows XP, Windows has allowed users to change taskbar color. Starting with Windows 7, users could set the taskbar to be colored based on the accent color. This option has gotten a bit confusing to use in Windows 11, but it still exists.
In Windows 11 and the newer versions of Windows 10, the light and dark themes are the standard. These change taskbar color to light or dark along with the rest of the system. So, to be clear we're not talking about changing taskbar color to light or dark Windows colors.
Change Taskbar Color in Windows 11
If you've been playing around in the Personalization settings, you may have noticed that the option to change the taskbar color in Windows 11 is grayed out. For those of you who haven't even stumbled upon the option and for those of you who have, here's how to change the taskbar color in Windows 11.
Open Settings app from the Start menu or by pressing Window + I on the keyboard.
Click on Personalization from the left navigation column.
On the right, select Colors.
You can find the grayed out toggle to Show accent color on Start and taskbar under the Accent color section.
To enable this toggle, you'll either have to choose a dark theme for the taskbar. You can do this using either of the two ways mentioned below.

Switch to dark mode: Select Dark from Choose your mode drop-down menu.
Choose Dark mode for Windows and light mode for apps: Select Custom from Choose your mode drop-down menu, then choose Dark from Choose your default Windows mode drop-down menu.

Now turn on the toggle for Show accent color on Start and taskbar under Accent color.
You can set any color and change the taskbar color in Windows 11 likewise.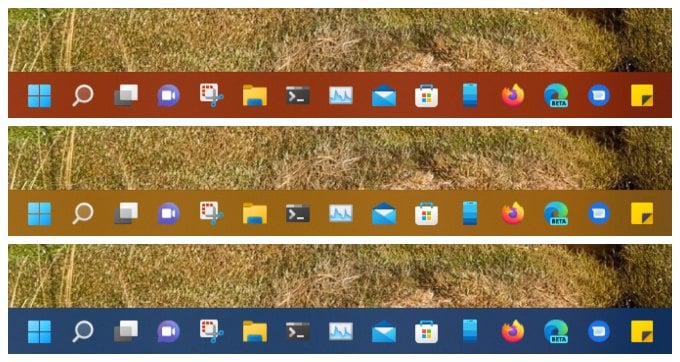 Related: Taskbar Height Too Much in Windows 11? Change Taskbar Size in Windows 11 PC with This Trick
Why is Accent Color on Start And Taskbar Disabled in Light Mode?
Unlike macOS, Windows 11 offers a bit more control over the light and dark theming. This feature is a carry-on from Windows 10. Windows allows you to choose a light or dark theme for the Windows shell, separately from the theme for apps. So you can have a dark taskbar and Windows shell with light-themed apps or vice-versa. In fact, Windows 10 debuted with such a theme where the Windows shell elements were dark-themed while the rest of the system was light-themed.
In addition to those choices, Windows also gives you the option to apply an accent color to the taskbar. As is typical Windows fashion, all these features came around at different times, with different teams in charge, with different visions. Naturally, these were not designed to work well together, but they've been made to.
Related: Move Windows 11 Taskbar Icons to Left or Center
Back when the taskbar got the ability to change colors, Windows did not have light and dark modes. The taskbar has always had a darker color with white icons and text. Microsoft even limited accent color choices so that users couldn't pick anything too light for white icons. To this day, you cannot choose a very light accent color for Windows. Even on Windows 10, the taskbar would always be a darker shade of the accent color if the feature to change the taskbar color was turned on.
For this reason, Microsoft perhaps decided to disable the ability for the taskbar to change color in light mode, instead of having to rework the whole system.